Birch Craft: How To Make Beaded Birch Candle Holders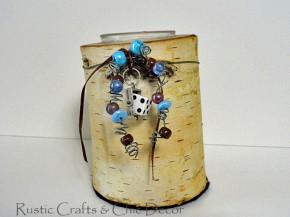 If you enjoy beading, then this craft is a fun alternative to jewelry.  I love the look of beads on twisted wire and like to adorn home decor items with beads to give them some extra pizzazz.  I have made a lot of birch candles but thought it was time to dress some up a little.  I used glass beads in natural colors to keep with the rustic theme.  For some extra fun try adding a special charm and some ribbon.  The candle with the dice charm would be good for a rustic game room.
Birch is a great tree to work with and the white papery bark  is such a clean crisp look that is very desirable for many craft projects.  There are several ways to gain access to birch logs for this craft  You can purchase birch logs from a place such as birchbarkstore.com or you can get a permit to cut trees from public land.  Another option is to wait for a storm and then search for freshly fallen birch trees to use.  Of course, if you have your own trees you can harvest or prune them as you wish.
Skill Level: Moderate
Materials Needed: birch tree sections, drill press with a circular blade or a drill with a large paddle bit, glass tea light holder, tea light candle, beads, beading wire, wire snips and polyurethane spray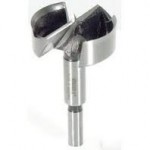 This is a Foerstner's drill bit which works great for drilling the tea light holes.
If you don't have access to birch, there are plenty of other trees that work great for this project.  We have done candle holders using different types of pine as well, which I will picture at the bottom of this post.
Instructions:
1.  You will first need to cut a section of tree in the size you want your candle holder.  Make sure the cuts are level so that it sits nice and flat.
2.  Next, you will cut a hole in the top, using your drill press or drill, to fit a glass tea light holder. Go just deep enough so a little lip of the glass stands above the wood.  I have seen other people make these holders by just pouring candle wax into the hole.  This looks like a fire hazard to me and I highly recommend using a glass holder to fit a tea candle.
3.  Coat the birch candle holder with polyurethane spray.
4.  If you want to add beads, it is real simple to string beads on beading wire, twisting the wire as you go to hold beads in place.  Cut a length of wire, with wire snips, that will wrap around the candle holder and twist in the front leaving enough length for beads and twisting to hang down (as shown).   Start by making a few twists at the end of the wire with a small round nose pliers, then began adding beads.  Twist the wire as you go to hold the beads in place and create spacing where you want it.  When you have the desired length, do the same thing with the other end of the wire.  Now wrap the wire around the candle and twist it together in the front.  The two beaded ends should hang down nicely in front.  If you want to add more strands (as shown), simply bead a shorter piece of wire and loop it to the main wire in front and twist a couple of times.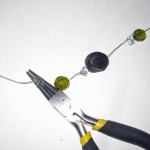 You can space the beads at your desired distance and hold them in place by the twist at the bottom of the bead.  You can also do an additional twist at the top of the bead to keep it from sliding but since they are just hanging it isn't really necessary.
5.  Place your glass tea light holder in your drilled hole and add a tea candle!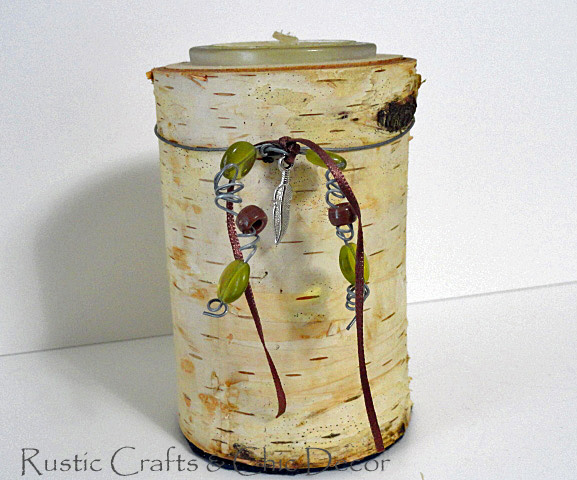 Here are some examples of tree candle holders using different types of pine.  You can see that each type of tree has it's own unique characteristics that provide a different look for a rustic setting.  Just tying a simple strand of raffia around the candles is an easy way to adorn them.