Building Tips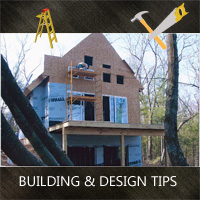 Before 2010, having our own cabin was just a dream.  We had traveled up to Northern Michigan many times and love the quiet beauty of the woods and water.  There is one particular area that my husband likes to go hunting and has always taken each of our kids for one on one camping trips.
Well finally, in 2010 our dream was becoming a reality.  We were able to purchase a nice wooded lot on a fishing lake from friends for a great deal.   And, this lot was in the same area that my husband hunts.  It is also fairly close to rivers and places we like to go on Lake Michigan.   Now we just had to figure out how to build something inexpensively!  So….we decided to build it completely ourselves….well not completely – we had a lot of help from some great friends!
Not only did we save a ton by doing the work ourselves but we also employed some rather unique but cost saving finishes that ended up adding a lot of rustic character.
From drawing up the plans, using computer software, to the whole construction process and then the decorating, we enjoyed every minute of it……well almost.  There were certainly some tough times, mainly for my husband.  When you are working on scaffolding, two stories up, to install tongue and groove pine ceiling planks, it can get kind of harry.  You would never catch me up there—–I'm terrified of heights!
I was better at giving instructions!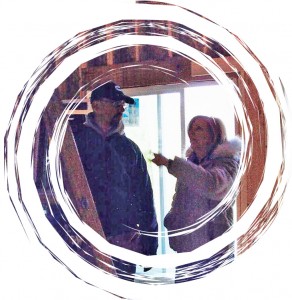 Let me introduce two of my favorite builders: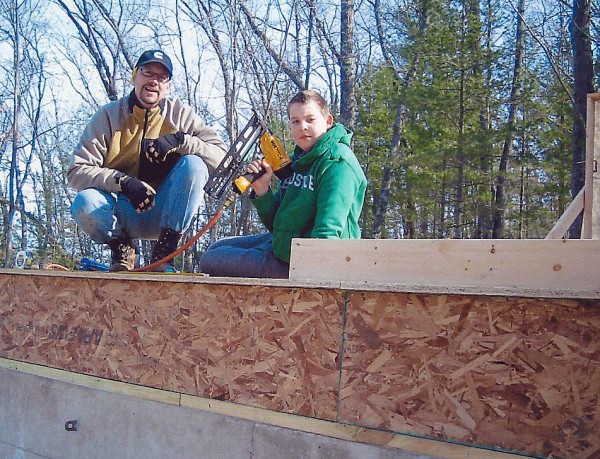 My husband and my son!  I can't believe how young my son looks there!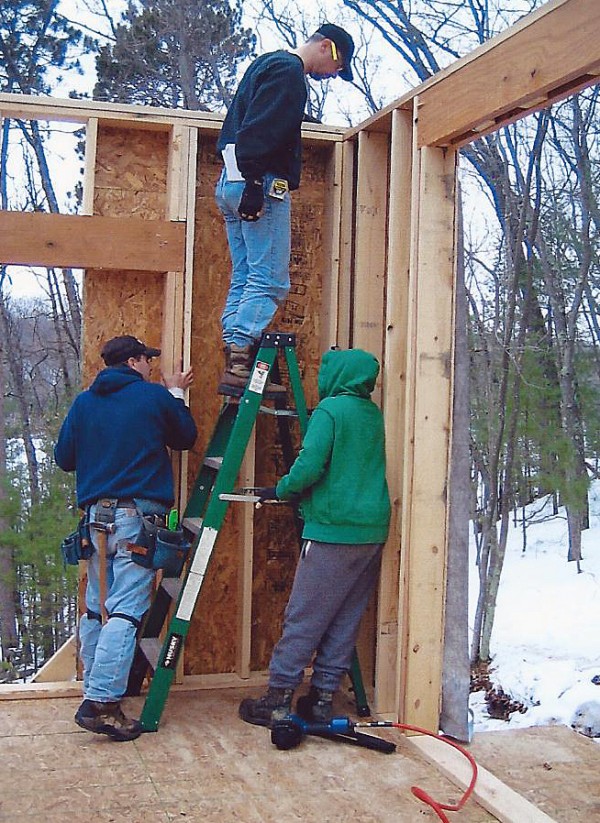 I'm not quite sure what they are doing here but I am certain they are working harder than what it looks.
And here is another of those scary high scaffolding jobs: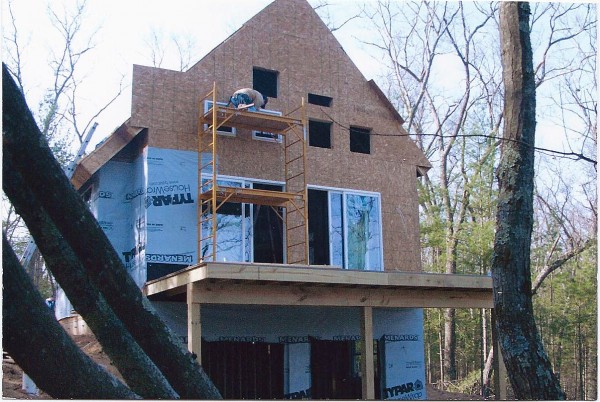 Anyway, I now would like to share with you some of the techniques that we used, which were a little off the wall but highly effective if I do say so myself.
First, let me give you a little peak into the main – finished – living area of our cabin.  It is so nice to be done even though we will always have little on-going projects of some sort!  At least we can sit here and enjoy it now between projects.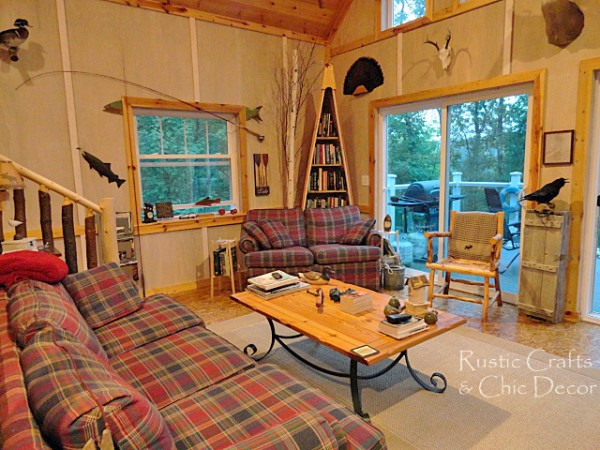 Now, I should start at the beginning.  Before we could build, we needed to have a plan.

Of course we didn't want to purchase expensive floor plans or have an architect draw them up for us, which would have been even more expensive.  So, we opted to design our own using design software.  I love this kind of work anyway so it naturally appealed to me.  However, the software was very user friendly so even if you feel a little intimidated, you might want to give it a try.
I had written an article for hubpages on my experience which you can read from the link below.
How To Create Your Own Custom Cabin Floor Plans
– You can save upwards of a thousand dollars or more by designing your own cabin floor plan with design software.  See what we did and view a basic video tutorial to get an idea of just how easy and fun this software is to work with.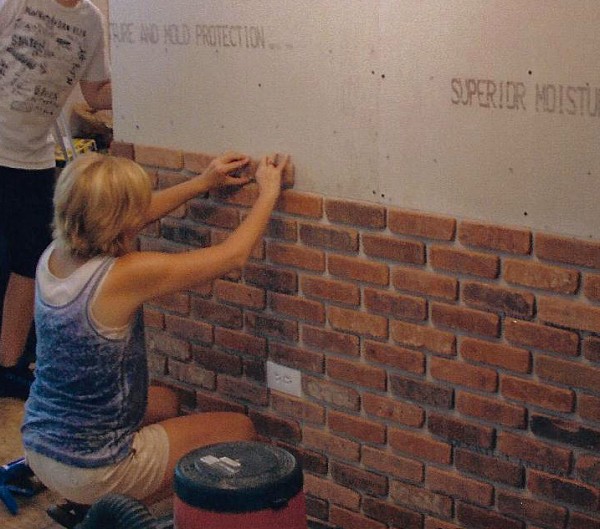 Installing a brick wall was my one design splurge that I just had to have for our kitchen eating area.  However, I saved a lot of money by doing the work myself.  You can see what this process was like at How to Install A Brick Wall – An easy way to install a thin brick wall without the use of a cumbersome grid system.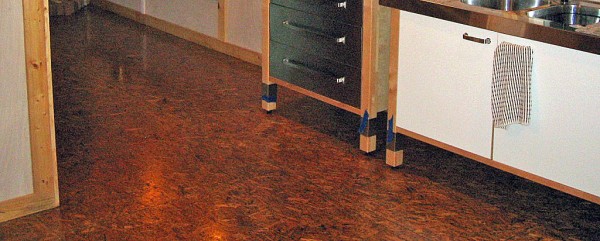 Instead of going with any type of traditional flooring, we simply finished the OSB floor with several coats of Varathane floor varnish for an inexpensive option.  We were happy with the warm and rustic look which has been extremely durable.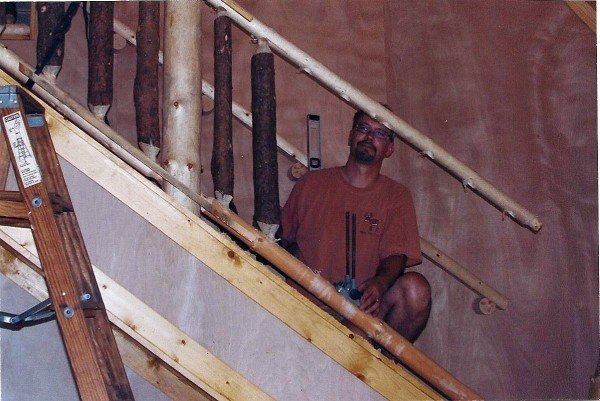 There is nothing cheaper than using the trees that you cleared from your lot to create a rustic railing!  We did have to buy a couple of special tools but we still saved in the long run.  See the tutorial here:  Rustic Railings – We show how to make a log railing from pine logs using tenon cutters and a circular drill bit blade.  See the pictures of these stairs in our cabin.

Instead of purchasing an inexpensive bathroom sink that would most likely be boring, we made our own out of cement.  See how we did this here:  Homemade And Inexpensive Cabin Decor – See how we made our own concrete sink and other items for our cabin interior.
We also made our own vanity for our second bathroom by purchasing a vintage desk and mirror set from a thrift store and repurposed it to fit a sink.  You can find more information on that here:  Cabin Bathroom Decor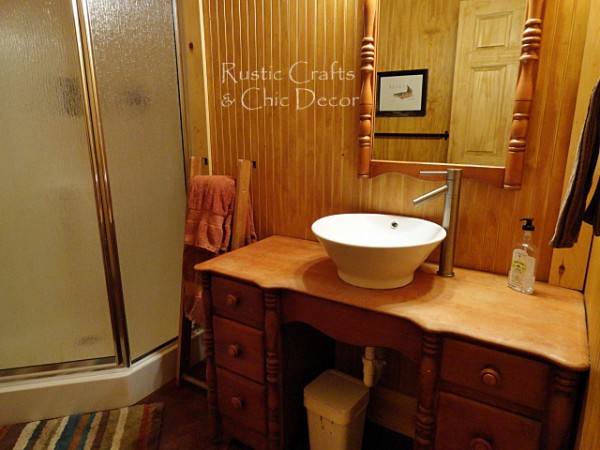 We also saved a little money in finishing the stairs.  I painted and stained them for a clean rustic look - Painting and Staining Stairs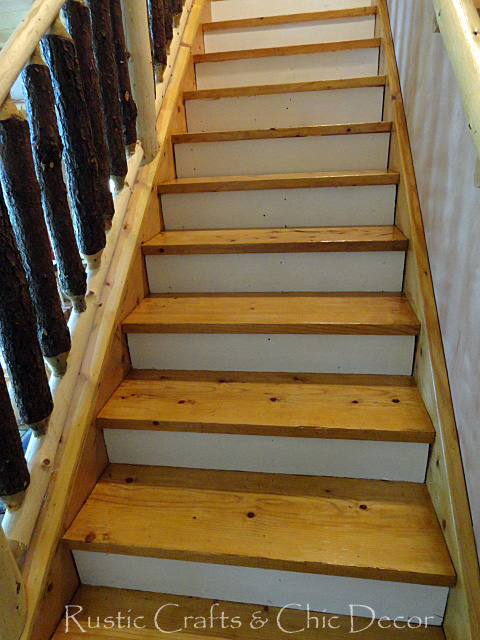 With a cabin, you need a lot of sleeping space, so we built a double set of bunk beds right to the wall - Double Bunk Bed Design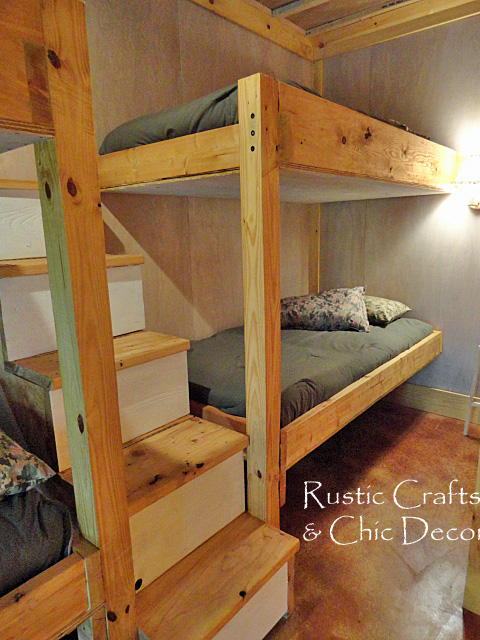 Lighting is another huge area where you can save money.  We made this kitchen dining light out of a vintage sifter: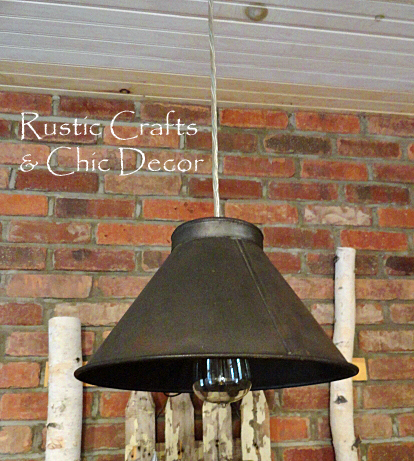 We also used our homemade birch wall sconces:
One of the most versatile and inexpensive solutions for kitchen cabinets and counter has to be with the Ikea brands.  We just measured our kitchen and then shopped first on-line with Ikea's convenient kitchen planner for dropping and placing cabinets to fit your dimensions.  Then, it was just a matter of going to the store with our list…..and a truck..and picking up our boxes.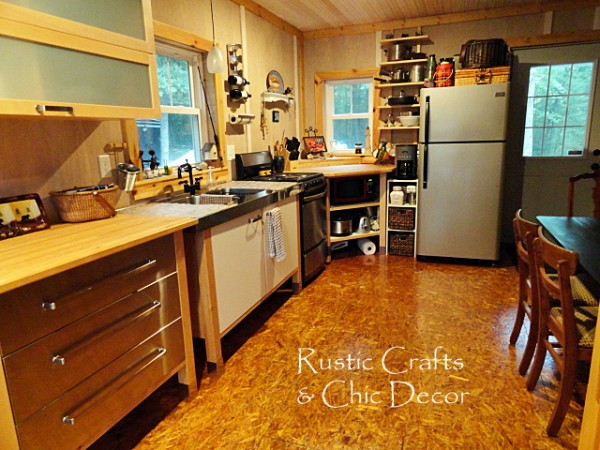 Some Extra Building Tips You Must Know About:
Always be aware of your surroundings! – We had a near miss where a friend absent mindedly stepped onto a board that had been moved just a touch.  It was placed over the opening to the basement below.  As the board started to fall through, his legs got power in the air (like a cartoon) and he just made it across to the other side safely!

Know where your left hand is when you are pulling the trigger on an air nailer with your right hand! – My son nicked his finger with a nail this way.

Loading the top of a jeep with too much lumber WILL cause the luggage rails to break!

Having your building site too far into the woods may cause the delivery truck to get stuck in the snow…on the train tracks….while a train is coming! – fortunately there was time for the train to stop.