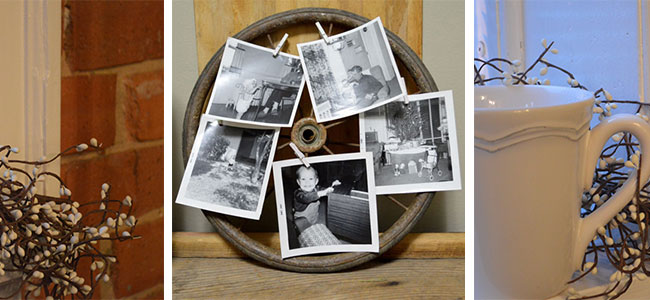 Birch Logs plus Antique Planter equals Rustic Wall Art
I love to come up with inexpensive and unusual wall art that makes a statement about the room it is representing.  Our little cabin dining nook was in need of something on the wall so we kept our eyes open not really knowing what for sure we were even looking for.  We knew we wanted to stick with the rustic theme but we also love the look of a New York Italian restaurant.
While staying at our cabin one weekend, we went on a shopping excursion which included one of our favorite stops to an antique mall.  I think we were in the store for exactly five seconds when I spotted the vintage picket fence planter.  I knew without a doubt that I had to have that and that it would be the perfect start to our wall display in our dining nook.  Luckily, my husband agreed.  Now with our first item purchased, we had inspiration and our wheels started turning.
The antique planter came with three clay pots but I was pretty sure I would be filling the planter with something different.  And, it didn't take long to figure out what.  As soon as we walked in the door of the cabin, with our treasured planter, I saw an empty wine bottle still sitting on the counter.  A bell went off in my head and I knew that would be the perfect thing to place in my planter.  I had saved the wine bottle because I liked the label so I figured, why not save the whole bottle and display it on the wall?
Once we hung the planter and placed the wine bottle inside, we were happy with the look but knew it needed more.  We couldn't quite figure out what we should add and called it a night.
Sometime during the night, my husband had a brainstorm.  We both love birch and had just cut some for some other projects.  He had the idea to flank each side with a birch log.  Making each log a different length gave us exactly the look we were going for.  This called for celebration so we cracked open another bottle of wine and toasted the completion of our project.  Of course, we also had needed another wine bottle to display so it was quite necessary to empty one more.