When my husband and I built our Northern Michigan cabin a few years ago, we incorporated several unique rustic elements.  Some were a bit un-ordinary like finishing the osb floors and using plywood on the walls with a white washed pickling stain finish!  Besides the rustic flooring and walls we also built a log staircase from the trees off of our property.
Having a rustic look that was still somewhat artsy and unusual was important to us.  That is why we also incorporated some handmade items into our cabin decor, like a homemade cement sink and a simple rustic storage tower for the bathroom.
One thing that I had looked for but didn't find, while we were building, were some unique and rustic switch plates that I liked.  Well…..I found some great ones now that were hand crafted by Mark Neracher of Rustic Switchplate Studios.   Mark was inspired to start creating these after a building project himself, also in Northern Michigan.
Rustic Switch Plates: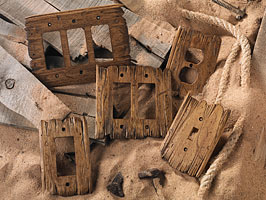 This is an example of just one group of four that Mark offers for sale.  I was intrigued by all of  his business offerings and had a few questions for him.  Here is our interview:
1.  How did you get started making your rustic switch plates?
I built a rustic cedar home on a lake in Northern Michigan that came with the standard white plastic plates.  With knotty pine tongue and groove ceilings, planked flooring, and lots of stonework inside, that didn't work for me.  I could easily visualize the rustic wood switch plates I wanted, so with some experimentation, I came up with the Old West style, which is now my top seller in the US and Canada.  Since, then, I have added three additional styles; Buckboard, Southwest and Northwoods.  Interestingly enough, I expected most orders to come from Northern and mountain states, but I have clients from coast to coast, and in such metropolises as Boston and New York City.
2.  What materials do you use?
I use poplar, a hardwood with a varied grain, ranging in color from tan to purple and sometimes black.  It's available in the required quarter-inch thickness, easier to carve and does not warp and crack like pine, and allows me a good grain that I can follow when carving.  The biggest challenge when carving the plates is working with thin material.  If I hold too tight, I can snap the plate along the grain.  Also, I have to be careful not to carve too deep.  Once the stain dries and the clear -coat sets, the plates are hard and durable.
3.  What technique do you use to the the unique rustic look?
First, I create a blank plate.  Then, depending on the style, I sand the plate into a specific shape.  Next is the fun part, carving the grain to make the plate look as if it has been beaten down by the elements.  For the final part, which I call "character distress", I hammer the plate with items from the studio, such as a brass padlock, a wood screw, and other items that give the plate my signature look.  For your information, I am replacing the Northwoods style because it is too similar to Old West.  I just carved some sample plates of the new style that look as if they were sliced right off a pine branch, complete with bark edges.  I'm so excited about this style that I am considering redoing the plates in my lake house.
4.  Do you offer these switch plates for sale?
All my plates are available at www.rusticwoodstudio.com.  There are four styles and seven colors.  Since I manufacture my own blanks, I can make any configuration.  I also work with my clients to create designs specific to their decor.  These designs. could be as simple as altering a current style, or creating a style unique to the tastes of the client.  The Clavo Series on the Custom Page is one example.  I am working with a ranch in Texas that wants their logo branded into the plates.
5.  What other items do you make in your studio?
I also carve rustic picture frames, mirrors, signs and other easy-to-ship accessories.  As with my plates, if clients are looking for something specific – like a rustic sign with their name on it – I will work with the on a design.  For frames and accessories, I get much of the material from local mills, but also used reclaimed wood that I find around the Phoenix area.  Unfortunately, the frames and accessories are not yet available online.   I am currently making samples to ship to my photographer in Dallas.  Send me an e-mail  if you have any questions, or would me to contact you – mark@rusticwoodstudio.com.
Thank you Mark for sharing your work!  I am very anxious to see your newest rustic switch plate design!