If you have ever done any kind of tile work in your house, you know that you will most likely have extra tiles at the end of your project.  Of course it is always a good idea to keep some on hand in case you ever need to replace a tile but chances are that you won't need to use all of your leftovers.
A good way to make use and recycle those mid size tiles is to make some very useful coasters.  Everyone needs coasters and even if you already have enough of your own, you could make a custom set to give as a gift.
The way to customize these for your own taste is to decorate them with some of your favorite magazine cut outs.  This is also a great way to recycle old magazines once they have been read.
Since we have a rustic cabin in need of some new coasters, I decided to make some using cut outs from a few of my husband's old Duck's Unlimited magazines.  The magazines are full of great little pictures so I had plenty of options to choose from.
Craft Skill Level: Easy
Materials Needed:
four to eight ceramic tiles
magazine cut outs
decoupage
soft bristled paint brush
thin rolled cork
exacto knife
E6000 craft glue
Coaster Craft Instructions:
Cut out pictures from a magazine and arrange them on each of your tiles.  Use one large picture to fit the tile or a collage of smaller pictures.
Brush decoupage on the back side of your cut outs and adhere smoothly to your tile.  Apply another coat of the decoupage over the front side of the cut out once it is in place.  Repeat for all of your pieces and let dry.
Apply another coat of decoupage over the entire surface of the coaster and let dry thoroughly.
Trace around the tile onto the rolled cork and cut the square out with an exacto knife.
Glue the cork to the back of the tile with E6000 craft glue.
Decoupaging is a great method to use for applying your cut outs since the decoupage provides a nice hard and waterproof layer to the picture once it is dry.  This is perfect for a coaster which will need to be able to resist water stains.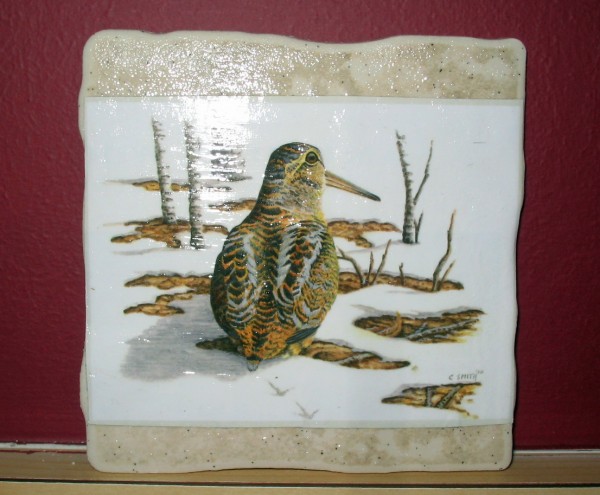 Happy Crafting!