You know you want to create something but you just haven't come up with anything to inspire your creative juices.  I know because I have been there.
Usually when I don't have something specific in mind, I fall back to…….what am I going to feel good about seeing as a finished project?
Hmmm…..What makes me feel good?
Well, I tend to be a positive thinker.  In fact, I have always told my kids, when they are feeling down, to start counting their blessings.  After a bit of eye rolling, they begin to list what they are thankful for and pretty soon are focusing on the positive.  Granted, teenage years were less compliant times so I put verses and motivational quotes on a white board  by our back door.
Anyway!  What I am trying to say is that for me my craft inspiration often times comes in the form of a verse or quote that keeps me focused on positive things.
Chalkboard signs are a great craft project that you can personalize any way that you see fit.  Not only can you write out or stencil your own personalized message but you can also create your own style by the type of frame you choose or build.
Here is an example of one of the chalkboards I made from an antique picture frame:
And, if you can't think of a special message, you might consider an object that makes you smile.  I happen to love birds so I made another smaller frame with my monogram and birds on a wire.
Old windows make another great backdrop for relaying a significant message.  I like to use a white chalk marker for writing out a message but you could use any color chalk marker, which erases very easily in case of a rare mistake……..or in my case lots of rewrites!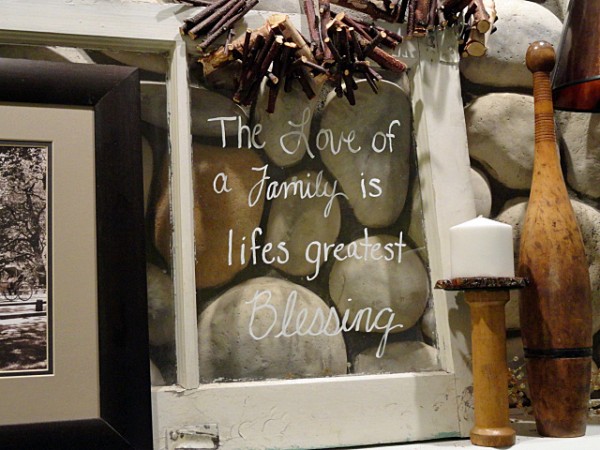 If you are after perfect fonts in your writing, all you need to do is first print out your message, in your desired styles, tape the paper to the back of the window, and then trace over the letters right onto the glass…….Simple!
Maybe you get inspired by sentimental objects.  That is something else that inspires me!  Family photos are great to incorporate into a craft project as well as any vintage items that have been passed down from other family members.
We have been the recipients of several cool vintage items that at first look seemed like they may not have a place in our home……at least not on display.
One of those items was an old heat register.  It was cool looking but it would need to serve a different purpose if I was going to truly enjoy it.  Well, remember I said that family photos were good to use in a craft project that would lift you up?  I had a few!
I chose some black and whites and came up with a way to combine them with the heat register:
Another vintage item that I had was an old green…..VERY green…..medicine cabinet door.  Since it was basically a framed mirror, I figured I could use if for a……..
mirror.
I gave it a fresh coat of white paint and then stamped the numbers, that were the zip code to the city of the house that the door came out of,
….at the top.
What type of things bring you joy?  Try to incorporate some of them into your next craft project and see how it makes you smile when you are finished!
Happy Crafting!