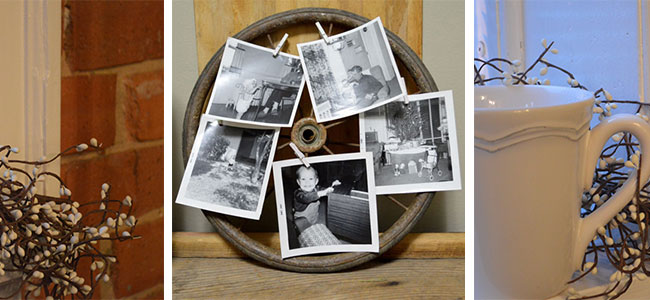 Craft Room Organization Using Recycled Materials For Storage
Organizing a craft room can be a stressful task.  There are so many craft supplies and little bits and pieces that finding a place for everything can seem impossible.  It's easy to stuff everything into a box but being able to find it again is the key!
I thought I would show you my craft room just so you could get some low cost options for getting organized.  I am a queen of recycling and my craft room in an excellent example of using old items, that were given to me, as storage items.  Hopefully these organizing tips will help to spur on some ideas of your own.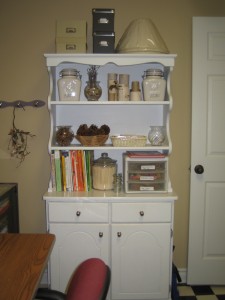 This hutch was originally a bright yellow kitchen hutch given to me by my parents.  It was from the colorful 70′s and had no place in current home decor….or maybe it did.   I painted it white - oh how I love paint! -  and put new knobs on the drawers.  Changing out the hardware also does wonders for giving old furniture a face lift.
Sitting on top of the shelf are two kitchen canisters that I don't use anymore in the kitchen.  I now use one for ribbon and the other for velcro.  The cool part is that they each have an embossed leaf on the face of them.  Since I have many rustic supplies in my room, these canisters fit right in.
I have several glass bowls throughout the craft room filled with stones, pinecones, buttons and beads.  These were left over from centerpieces that I had made for my daughter's graduation open house.  I can see all of my items clearly and I don't have to store away the glass bowls.  Think about what glassware you might have around the house that could store small craft supplies.
The mirrored shelving unit on the wall was passed down to us from my husband's grandparents.  I wasn't sure what to do with this antique.  The wood wasn't in perfect condition so I didn't feel bad adding some paint to it and hanging it up in my craft room.  It is perfect for storing small containers of paint and brushes.   Before throwing out any old shelving or furniture, think about what kind of storage use it could have.  Maybe all it needs it a little paint or hardware change.
I hung a length of wood underneath the shelving unit, with some hooks that I had attached, and hung small tin pails to hold bead accessories.  The tin pails were also left over from the graduation open house.  I had originally purchased the tin pails from Oriental Trading for a great price.  It may be a good idea to just purchase these for small items and make your own hanging system like I did.
This credenza was also given to us and yes I also painted it and changed the hardware.  I don't know what I would do without this storage furniture.  It provides me so much storage space, especially for scrapbooking storage.  I have a place for all of my paper, stickers, albums, cutters – all my scrapbooking supplies.
The last item I should mention is the cabinet next to the sewing machine, holding all of the fabric.  This used to be our stereo cabinet, back when stereos were big – I mean large in size.  I'm surprised we held on to it and I'm glad we did because this also makes a great piece of storage furniture in the craft room.  The top two shelves hold my extra fabric and the bottom shelf holds all of my patterns.  I like the fact that it has a glass door so I can easily see what fabrics I have on hand and get inspired to create based on what I see.
Here are a few close up shots to give you a little better idea on what the, out of the ordinary, craft storage looks like.  You can see that these storage containers and displays are quite functional.  I am always updating my room as I am adding new crafts.  Watch for my new ideas and storage and organization tools that I find while shopping.
I would love to hear from you as well.  What are some unique ways that you have come up with to store your craft supplies?  Leave me a comment and share your thoughts.