Creative DIY Storage Using Old Toolboxes
One thing that everyone could use more of is storage space.  We tend to collect a lot of stuff!  What can cause a mess real fast are all of those small trinkets and treasures or small supplies that  can be hard to find a home for.
It can also be hard to find enough room in closets or drawers to add yet another collection or container of small items to our already over packed hidden storage spaces.
That is where creative storage containers are a must for storing these items right in plain sight.  You may not have considered an old tool box as decorative storage, but they are actually perfect in a rustic decor setting.
I picked up this old rusty tool box from a barn sale with the intention of making it over for decorative storage.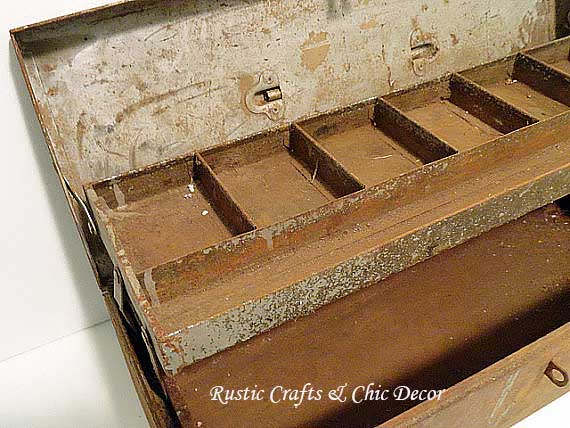 At first glance, the box make look a little too worse for wear.  However, I had some plans that were going to get it in perfect condition for storing craft supplies while at the same time adding some cool rustic decor to my craft room.
First I brushed it off real good with a small scrub brush to get all of the loose rust and dirt off.  I would recommend wearing goggles or glasses for this, if there is a lot of rust, because I ended up with some small dust particles in my eyes when I tipped the box over into the trash….oops.  Next, I wiped the tool box down with a wet rag.   It was now ready for a protective coat of polyurethane.
I initially brushed on a coat of satin polyurethane over the entire surface to seal the rusty finish and keep it from rubbing off.  Doing this also makes the finish a little darker like a brown rust instead of the natural orangy rust.  When the whole project was complete, I lightly sprayed the whole thing with some spray varnish.
Once the polyurethane was dry, I added other embellishments like vintage song sheets and burlap to line the inside and a couple of fun metal labels.  The song sheets and burlap were decoupaged in with Mod Podge which provides a nice durable finish.  I distressed the edges with paint to blend with the rustic box.  I also painted the inside of the lid.
And here is the end result: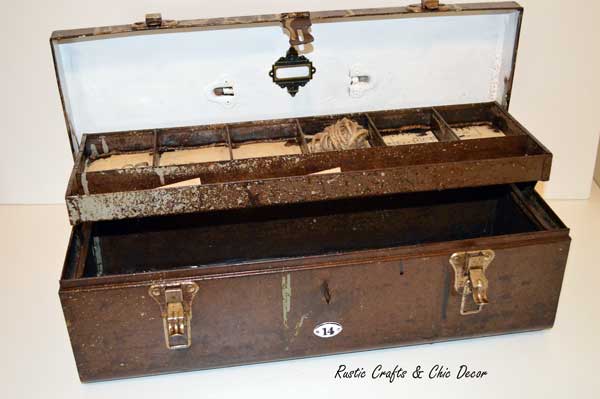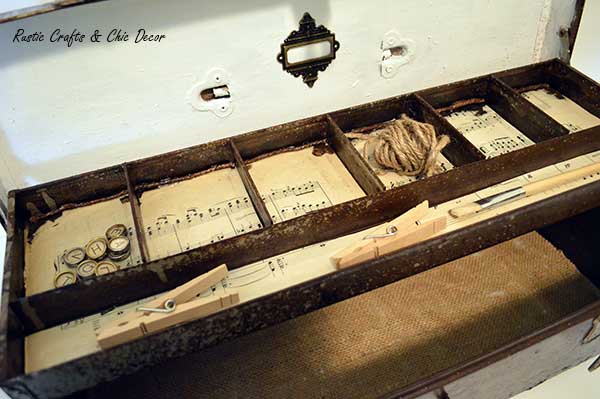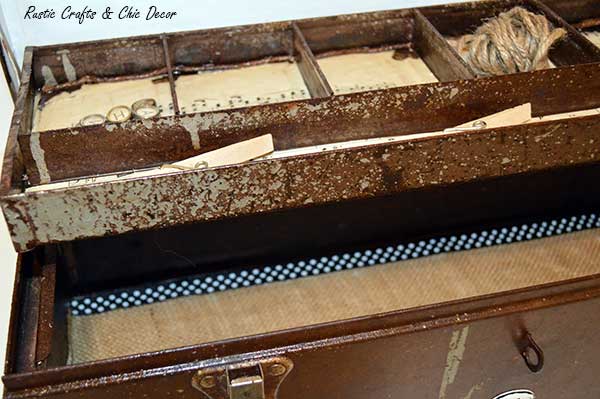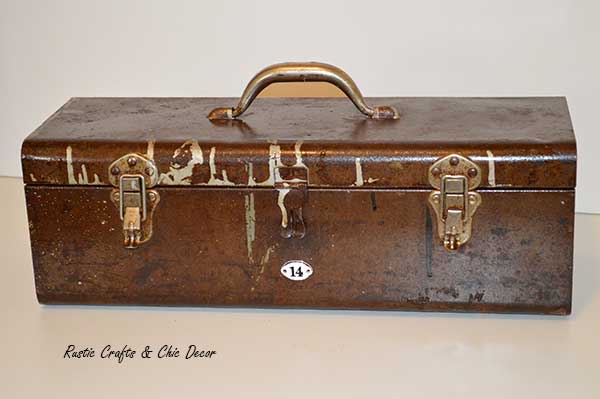 It is always tempting to keep these for my own craft room but I will be adding this one to my store!