Creative Flooring Ideas For Your Cottage
Flooring choices for a home are usually pretty easy to pick from. However, flooring for a cottage or cabin can be a little more tricky. Since most cottages are not lived in year round, they are often not climate controlled which could make you think twice about carpeting. Carpet can hold in moisture and smells which can be a consideration for cottages that are closed up for long periods.
Brand new wood flooring or tile are nice choices but can get rather spendy, especially for a second home. Therefore, I am going to look at some creative flooring ideas that are either upgrades to an existing wood floor or simply use the sub floor as the main attraction.
When we built our cabin, we decided to finish the OSB sub floor with a good floor varnish and we have been extremely happy with the results. You can see the tutorial for this project at my post Finished OSB Flooring Is A Great Inexpensive Option.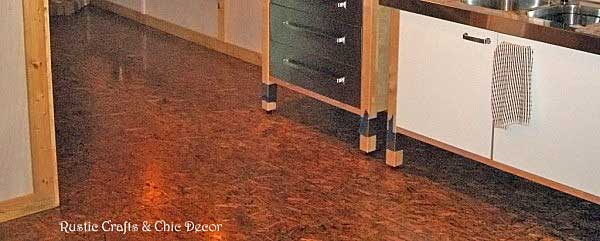 Here are some other fun and creative flooring ideas that I found:
Plywood Plank Flooring by Design Dazzle
This plywood plank flooring idea goes one step further than the finished OSB flooring. If you really prefer the look of a traditional wood floor, than this inexpensive option may be exactly what you are looking for. The wood planks are made from cutting strips out of plywood sheeting that goes over the OSB.  They are then stained and finished or they could be painted in a solid or patterned color for a fun look. Check out the tutorial at Design Dazzle for complete instructions.
Existing wood floors that are in rough condition and in need of repair can be given a crisp coat of paint, along with a little surface preparation, for a complete new look. White is especially fresh and inviting for a cottage.
Painted Rug by Down To Earth Style
Here is a fun idea for incorporating a painted rug into your floor design.  Check out to create this and other rug designs at Down To Earth Style.
Happy Decorating!