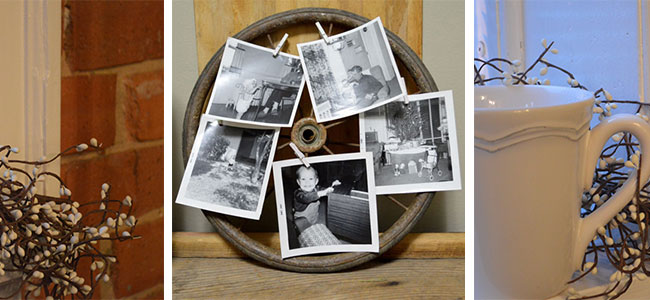 How To Make Floral Arrangements That Fit A Rustic Decor
I like floral arrangements but when I want to add an arrangement to a rustic setting I don't want it to be too dressy or traditional looking.  I want it to look more simple and natural.  These artificial floral arrangements are simple to do and would compliment a rustic decor because they are not too fancy.
The first arrangement has a lot to it but the choice of flowers are almost all wildflowers.  I did throw one big yellow flower in for a big wollup of color!   It looks as though someone went picking them along a roadside and brought them home for a vase.   The tall grass adds to the fresh from the field or roadside idea.  I chose to put them in a glass vase filled with natural Spanish moss to give a nice earthy feel to the base.    I bought all of my floral picks from a home decor store but you can find lots of options at a craft supply store as well.
As for the second arrangement, this is an example of a super easy option for rustic decor.  Simply fill a glass vase with river rock and some branch picks with colorful leaves and berries and you have a decorative arrangement.  The simple natural elements make a statement all on their own.
Instructions for the floral arrangement using a half round glass vase (the flat part will be against a wall or other background):
Supplies needed:
glass vase
dry floral foam
natural spanish moss
your choice of wildflower floral picks
Start by cutting the floral foam, with a serrated knife, to fit the bottom of the glass vase.  Next fill the vase part way with the spanish moss – just so it covers the foam and starts up the sides of the vase.  Begin sticking in your floral picks, putting the largest flowers in first and filling in with smaller ones.  Insert some tall grass throughout with a heavier layer of grass at the back.   Add more moss as you go so that the entire vase is filled when you are finished.  You could tie raffia around the vase for some added flare.
The second arrangement can be done super quick.  Simply lay some river rock at the bottom of your vase and stick in a few large branch-like picks.  They will hold secure as long as the base of your vase is narrow enough.  If you are using a larger vase, then you will need to use the floral foam first and then lay the rocks around the foam.  You could also use real branches instead of purchasing them.
Other great items to use in a rustic floral arrangement are cattails that you have cut and dried, dried baby's breath or other dried flowers and willow.  You could also use small pine cones at the base of your vase for a different look.
Another fun option is to cover a vase in birch bark and then fill it with your rustic floral picks.  I have also filled an antique binocular case with birch twigs for a fireplace mantel arrangement.  There are so many things you can do.  What ideas do you have for rustic floral arrangements?  I would love to have you share your ideas by leaving a comment.