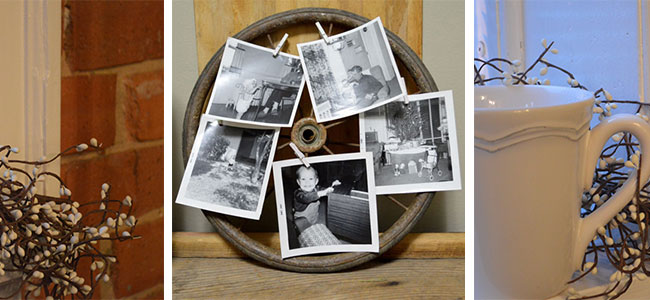 How To Make Gift Coasters From A Pine Log
Drink coasters are an item that pretty much everyone has in some form.  They are quite necessary to protect the fine finishes of our furniture.  It's nice to have coasters that are unique since they are so often on display.  I know of quite a few coasters crafts that are fun and tell their own story.  This is one that is pretty versatile for most people and they are super easy to make.
Not only is this coasters craft  easy to make, but the set  is also a popular item to give as a gift.   Many people are gravitating toward rustic accessories, probably because  there is just something about nature that is extra soothing.  The simplicity and natural style of these drink coasters work for almost anyone.
Skill Level: Easy
Materials Needed:
pine log (about 3 1/2 inch diameter)
varnish
felt
miter saw
leather string or raffia
circle template
scissors
glue
sand paper – medium and fine grit
Coasters Craft Instructions:
Once you find a good log from a pine or any other desired type of tree, you will need to cut it into slices with a miter saw.  Cut each slice the same width, somewhere between 1/4 inch and 1/2 inch thick, depending on what you prefer.  After cutting, you will want to sand the top side smooth first with medium grit sandpaper and then finishing with a fine grit.  If you are using a pine that is fresh and there is still sap oozing on the inside, you will need to first clean the wood with a mixture of half water and half bleach to stop the oozing.  Once dry, you can then sand.  After sanding, wipe off all the sawdust.  You are now ready to varnish.
To get a nice thick coat of varnish, I would use a brush on glossy finish.  Brush on two to three coats, drying completely between each coat.  Varnish both the top and bottom and sides to competely seal the coasters.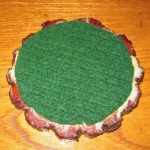 The back needs to be finished with felt to prevent the coasters from scratching furniture.  Using a circle template, trace a circle onto a section of felt the size of your coasters.  Cut the circle out and glue to the back of the coaster.  Do this for each one.
Your final step is to simply stack the finished coasters and tie them with a string of leather or raffia to make them a perfect gift set for someone on your list!