Here is a fun craft idea that also makes a great handmade gift for the drink lover on your list.  Custom coffee sleeves or bottle sleeves are much more fun and cozy to use than the paper sleeves given at coffee shops.  They are also a nice way to dress up your bottles at home while keeping your hand warm with that ice cold beverage.
Not only is this a fun craft to make but it is also a great way to recycle those worn out sweaters.  A sweater that has shrunk, is stained or is stretched out can be given new life by using the good parts.  The cuffs may be in perfect condition making them ideal for a diy coffee sleeve.  Using recycled materials in a craft is twofold.  You are helping the environment by eliminating waste and you are using no cost materials which save you money.  An ideal situation!
Skill Level: Easy
Follow these easy steps to make a custom coffee cup  or bottle sleeve of your own: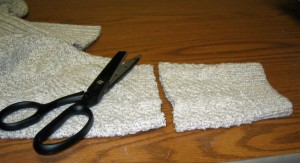 1.   Cut the end of a sweater sleeve off of an old sweater about four or five inches long, depending on how you are going to use the sleeve.  Four inches is good for a tall coffee cup.  Five is good for grande and up and also for bottles.  I cut mine at five inches for a bottle.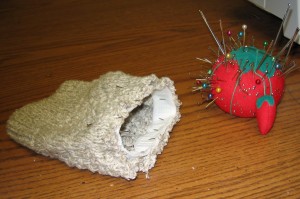 2.  Cut a piece of elastic or binding that fits around the bottom of a bottle or cup just right, do not pull tight.  Pin the elastic in place and sew with one stitch across the middle.  This is just to give it some extra stability, it won't be stretchy.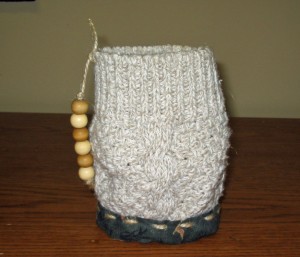 3.  To decorate the bottom, you can either sew in a ribbon around the edge or do like I did and sew in a strip of fabric.  I finished the edges first by making a seam with two pieces.  This way you won't have any unraveling of material.  I could have sewn on the fabric with thread but instead I handstitched the fabric on with a course hemp string to give a more rustic look.  Finally, I added a string of beads along the side of one for some extra flair.  You could also sew on some buttons or charms.  I want to do a red one with rustic tin bells for the holidays.  I may have to shrink my husband's nice red sweater….
4.  The finished product holds a bottle nicely and also works well for custom coffee sleeves.  Again, this craft project is a great way to use recycled materials whether it be old stretched out or shrunken sweaters or gloves that may be missing a mate.  There is now no need to throw out these items that aren't even salvagable for charity!  Turn these materials into great looking and fun handmade gifts for yourself or someone you love.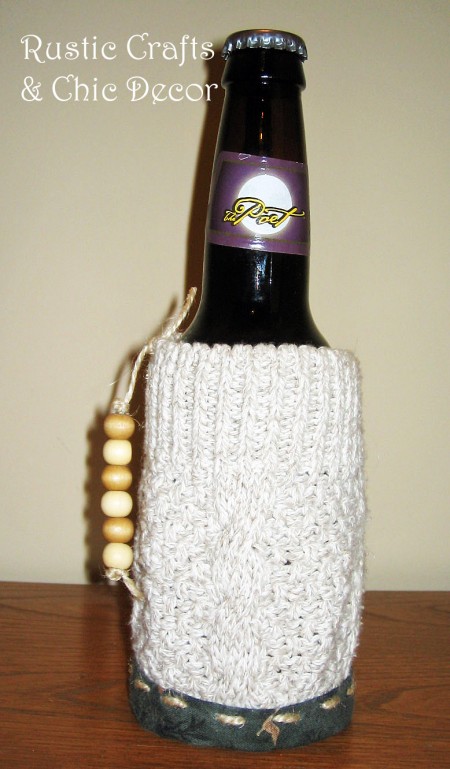 Use it at full size for the bottle sleeves or..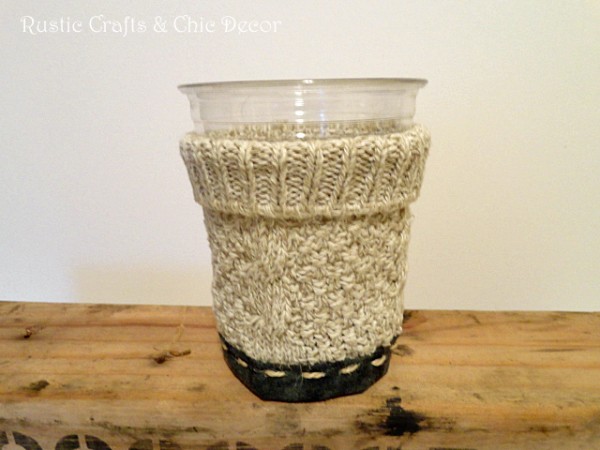 fold down the top for shorter coffee drinks!
Happy Crafting!