Rustic Button Craft On A Slate Roofing Tile
I like to use all kinds of funky materials in my craft projects, especially materials that offer a rustic feel.  I came across some leftover slate roofing tile, being sold at a flea market, that I thought would make a perfect back drop to a button craft I had in mind.
I loved the texture and coloration of the slate which was a mixture of grays and browns.  Anything that I decided to put on the slate would automatically be given a rustic nuance because of the background.
Another great thing about using a slate roofing tile as a base for a wall hanging is that the tile already has a set of pre-drilled holes that can be used to insert a wire hanger.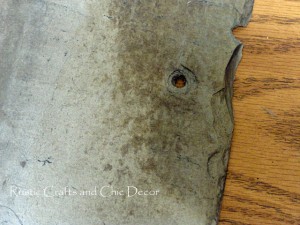 Here is how I made my button craft:
Materials Needed For Rustic Button Craft:
slate roofing tile
vintage mother of pearl buttons
birch branch
small unfinished wooden disc
paint
epoxy sticker
bark covered wire
2 larger buttons
jewelry glue
Mod Podge decoupage
small section of peaberries and clear button for optional bird-nest crown
Rustic Button Craft Instructions:
1.  Either free hand draw or find an image to trace onto the slate with a pencil.  For a button craft, a simple image like a bird silhouette is perfect.
2.  Begin filling in the inside of the image with your buttons.  I used a quick tack jewelry glue but any good tacky glue will work fine.  Overlap some of the buttons to get good coverage.
3.  For extra adhesion, I applies a layer of Mod Podge decoupage over all of the buttons once they were all glued down.  This assured that all the gaps where the buttons overlapped would be secured and sealed.  Don't worry, it does dry clear!