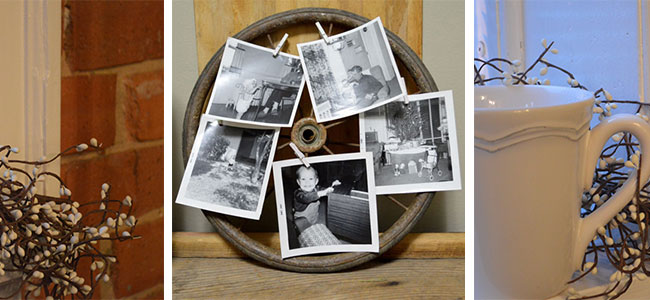 Eight Amazing Rustic Patio Ideas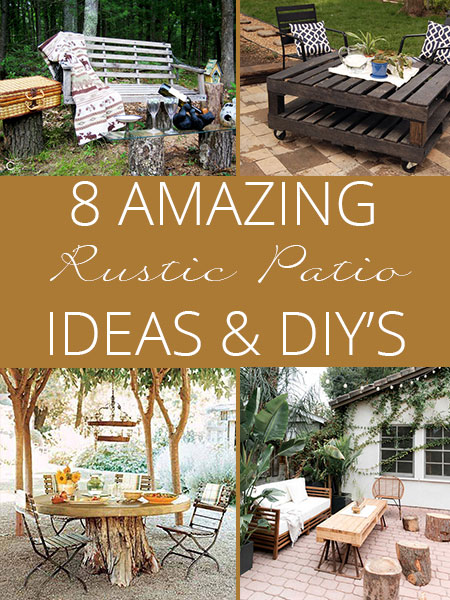 If you love the great outdoors, you will be wanting to spend as much time as you can in a natural surrounding. Our cabin is located in the woods and overlooks a small lake so we like to spend as much time outside as we possibly can. Besides having a deck and a patio right off of our sliders, I wanted to create a seating area that was a little more "in the environment".
The wooded area to the side of our cabin has a natural clearing and overlooks the lake. It provides the perfect setting for a natural or rustic patio area. I didn't want to take away from this natural setting and instead wanted to simply enhance it and at the same time create an area to sit and relax.
Since we had an abundance of logs, still leftover from the clearing of our property, I decided to make use of these in making a bench and a table. Two large logs made an excellent base for an old weathered porch swing. I just attached the swing to each of the logs with screws. We also had a section of clear tempered glass, leftover from the building of our deck,  that I could use for a tabletop. Again, I used two large logs as a base for the table but only laid the glass along the top when in use. For storage, I can just take the glass top off easily and store flat. The glass is almost invisible in the arrangement and blends well with the environment.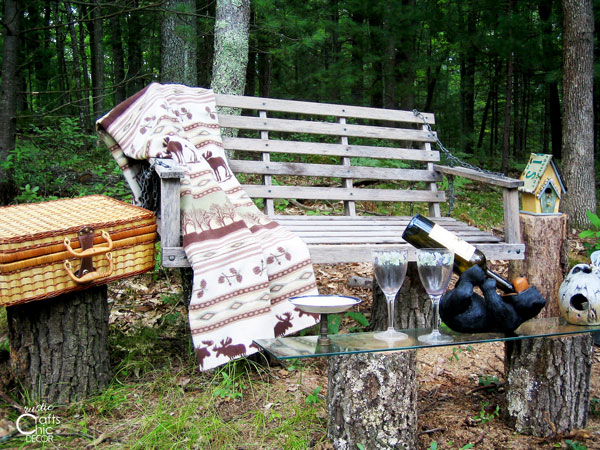 In keeping with this log theme, I found another idea from Rue Magazine using cut logs for seating in their rustic patio idea.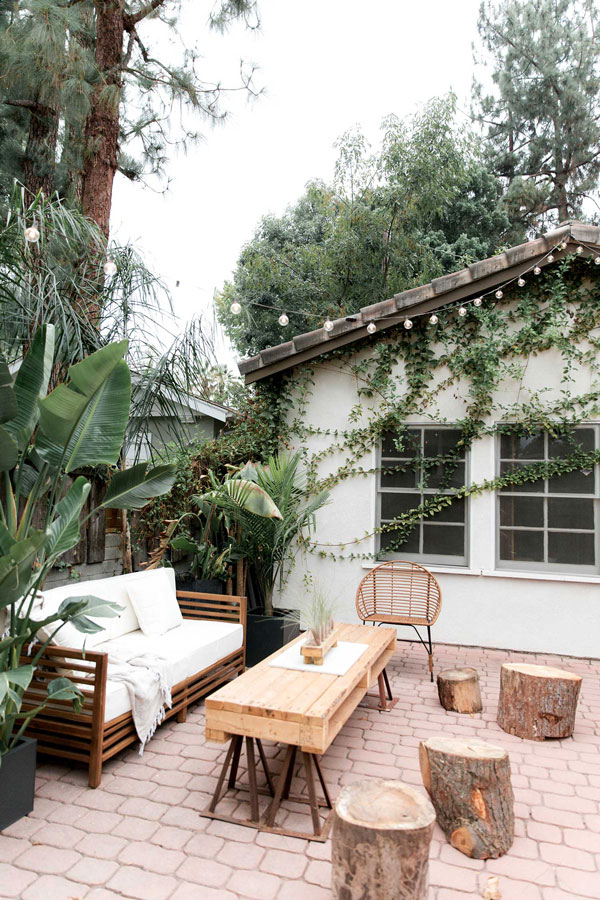 Somehow it is very inviting to come and plop down on a casually scattered log – around a fun rustic industrial pallet table – under a string of lights – in the great outdoors!
Maybe your idea of a patio space is a little more traditional. You can still get a rustic feel by the materials that you choose for your furnishings. I love this idea from Skona Hem using industrial metal chairs with a bulky weathered wood picnic table. The lighting and accessories are also very rustic industrial and give a feeling of warmth that enhance the surroundings.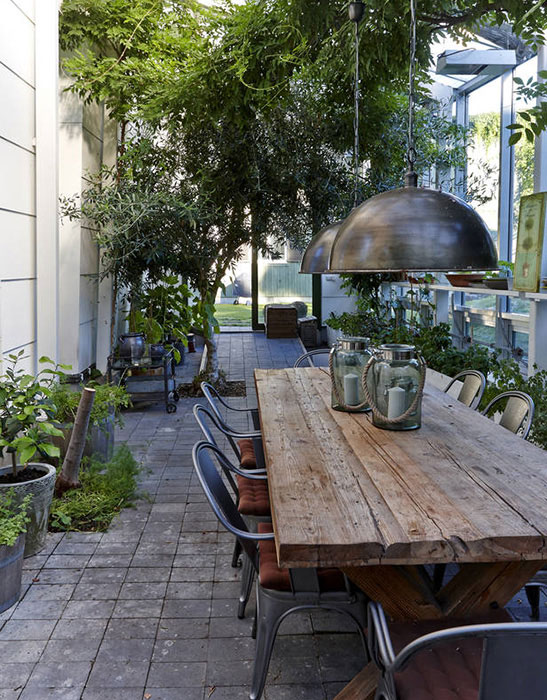 In the previous two examples, the addition of outdoor lighting adds such a nice ambiance to a rustic patio. However, if you don't have any over head covering or side wall, it can be difficult to figure out how to incorporate some outdoor lighting into your setting. This next DIY project by Home Depot offers an idea for creating your own string light poles to place wherever needed.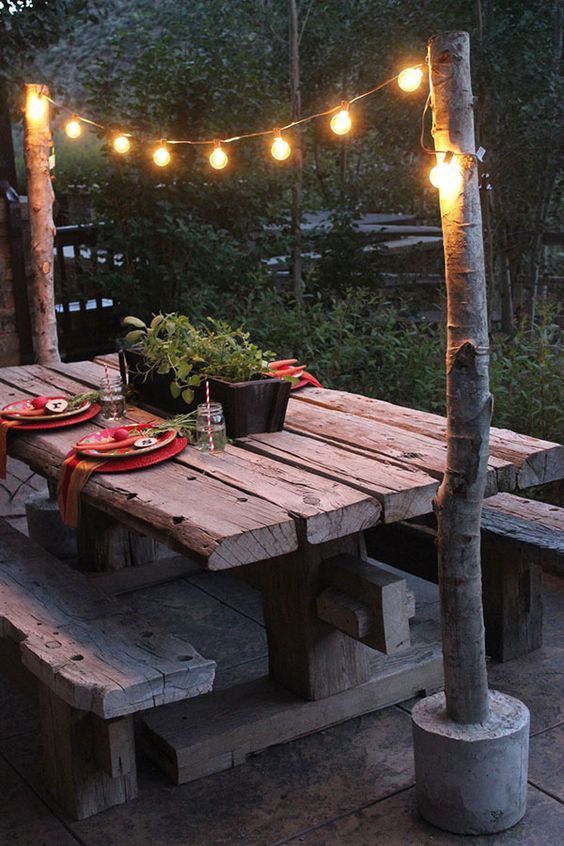 If you can mix your own concrete and get a hold of a couple of long logs, then this project is for you!
After seeing this next idea, I want to go walking through our woods in search of a large tree stump. I love this table with the tree stump base and what looks to be a concrete table top. The setting, via Iste On Blog, is beautiful too with the surrounding smaller trees.
If it seems a little complicated to find a tree stump and then pour a concrete top, I have a much easier DIY idea for you. Sometimes using rustic elements in a project is just not feasible but there is something else that is also very rustic – - – Pallets! This outdoor pallet DIY by Joy Ever After is fairly easy to put together and since the design in on wheels, is super easy to incorporate into your outdoor decor.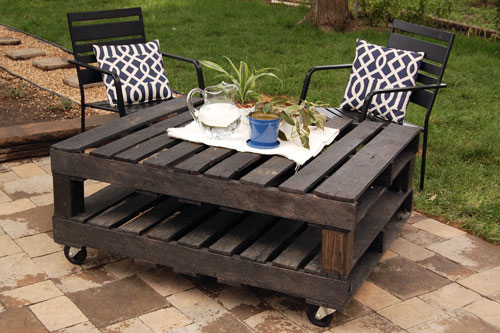 If you like the rustic patio ideas but need just a little more femininity and softness, you might prefer the following ideas that are a bit more rustic chic.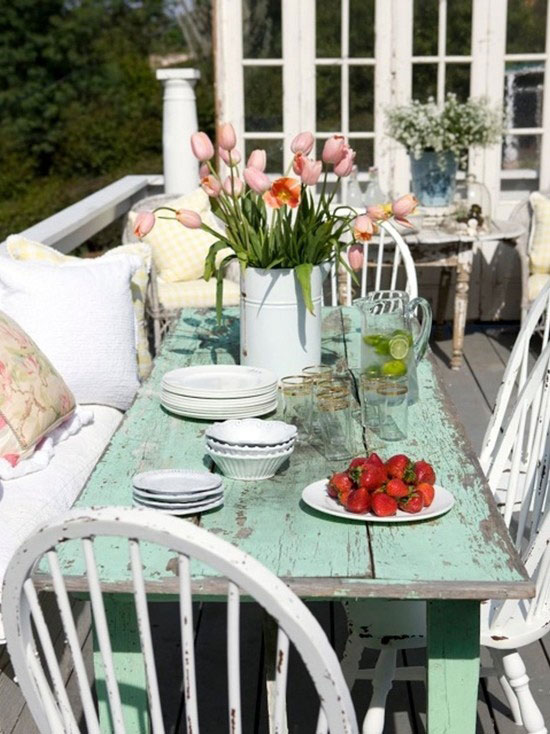 The table, in this example from Houzz, is still a rustic weathered wood but the addition of the pastel chippy paints adds a chic softness. The white chippy chairs are also a great rustic shabby chic touch that are popular in a farmhouse style. Vases of flowers continue to enhance the natural environment and add femininity.
Here is another similar idea by Me and Alice.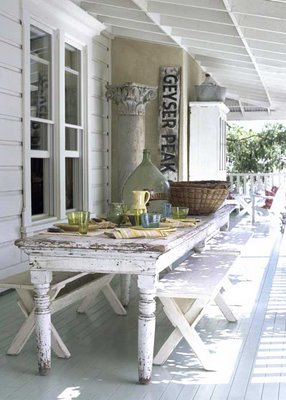 The all white rustic table and simple benches are so fresh and inviting. Any vintage accessories just add character and charm to the setting.
And finally, I absolutely love makeover projects! If you can recycle, upcycle or makeover what you already have into rustic fabulousness, then kudos to you! Here is some great inspiration for you from Seeking Lavender Lane. Deb took an outdated patio set, that was handed down to her, and gave it an amazing new rustic look. With a little bit of spray paint, a new DIY wooden table top, and a new purchased umbrella, the set looks like it is straight from a Paris cafe!