The kitchen is the heart of the home and a nice warm country kitchen makes an especially pleasant center.  Some of my favorite trends in country kitchen decor are the use of antiques, distressed furnishings and rustic colors. I have put together a collection of ideas to give inspiration for country kitchen decorating.  All of these country kitchen decor ideas use one or more of those favorite trends which I think are essential in a warm kitchen design.
Country Kitchen Decor: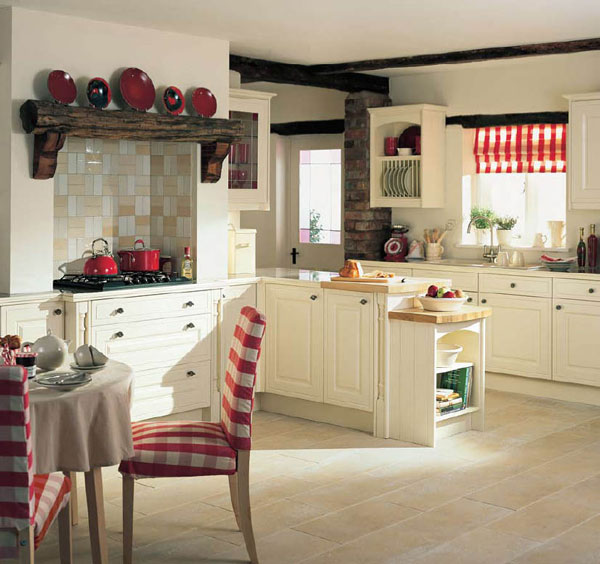 I love the distressed timber shelf and the warm red splash of color.  The wooden beams and brick wall also add a ton of character.  Did you notice the vintage kitchen scale on the counter?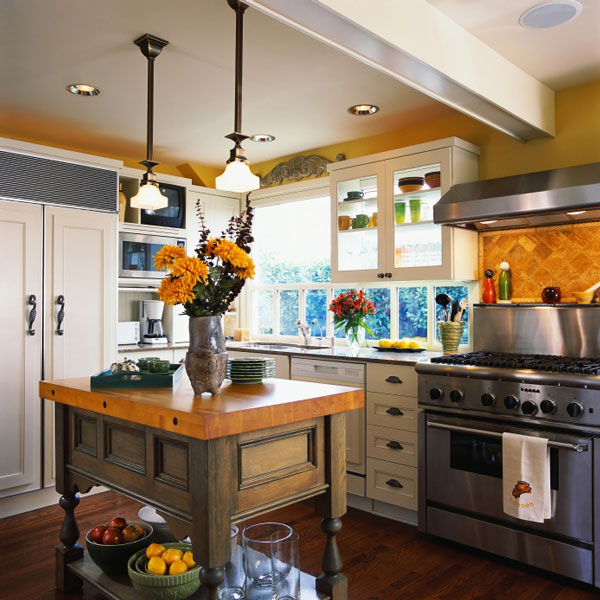 This one has a great butcher block island table that is set apart from the rest of the cabinetry with it's distressed finish.  The warm colors of the island, floor and the golden yellow wall color balance out the white cabinets perfectly.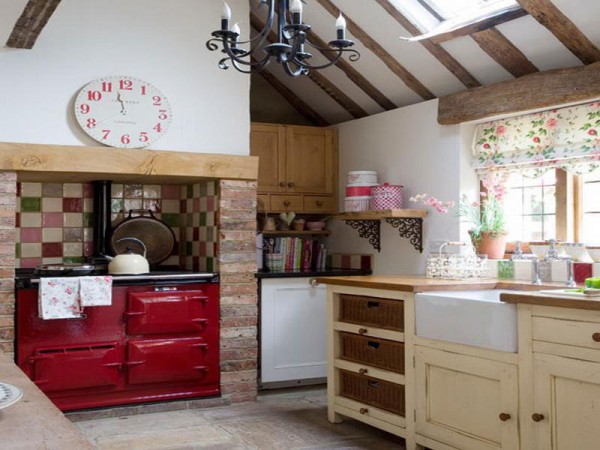 The cabinets in this kitchen our total country with the open basket design and the finish on the wood.  I am loving all of the other detail with the beams, brick and tile too!  The fact that you can get new appliances that look antique …..in fun colors to boot….is a definite plus.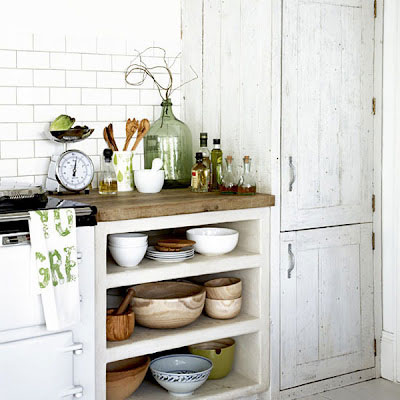 And finally, for a more neutral country kitchen, this one is a winner!  All the different textures of the woods and tile blend together for lots of character and warmth and make a nice back drop for all the vintage accessories.  Open shelving is a great way to show off a nice collection.
For a little bit more shabby chic style, check out my post Ideas For Decorating A Shabby Chic Kitchen.
If you want to see more of the antiques, see my post Decorating With Antiques In The Kitchen.
I hope you have been inspired!