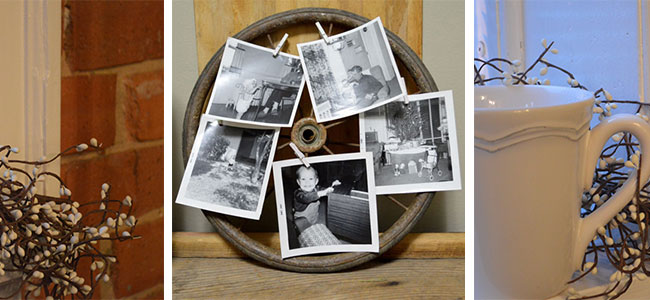 Rustic Craft: Fun & Whimsical Wood Flowers
These primitive flowers make a great accent piece in rustic decor or anywhere where a touch of nature and whimsy are in order.  They are so fun to make and are made almost entirely from natural elements – pine cone, tree branch slabs and birch branches or any type of branch.  The only other items needed are a flower pot or other container, two wooden beads, floral foam and paint if desired.
I purchased my pine cones on sale from a craft sale.  They quite often go on sale after Thanksgiving, making that a great time to pick up a bunch.  You can also collect pine cones from the woods.  Just make sure to dry them before using them in a project.  All you need to do is bake them for about an hour at a low temperature like 200 degrees.   Watch them carefully.  You don't want them to burn.  Since they may leak some sappy liquid, you will want to place them on an old cookie sheet or a sheet of tin foil.
Save any nice tree branches that you need to prune or that you find fallen in the woods.  If they are still fairly fresh they can be used in several different craft projects.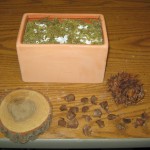 Tools Needed:  drill, floral cutters, tacky glue, table saw
Skill Level: Moderate
Rustic Craft: Wood Flowers
Step One:  Starting from the base of the pine cone, cut the scales from the pine cone with a floral cutter.  These will become the petals for your flowers.
Step Two:  Cut two slabs from a two to three inch diameter pine (or other) tree trunk, about a half inch thick with a table saw.
Step Three:   Start gluing the petals onto one of the pine slabs with some tacky glue until you have a flower design that you like.  Glue a wooden bead to the middle.  Cut some of the tough stringy strands left on the pine cone and insert these, with glue, into the middle of the bead to act as the pistil.  Repeat with second pine slab.
Step Four: Drill a hole, the size of your birch branch, into the base of the pine slab.  Cut your birch branches to the size that you want them to be when they are inserted into your florist foam and container.  The top end should insert into your pine slab at least one inch.  Place some tacky glue at the top of the branch and insert it into the drilled hole of the pine slab.  Push the other end into your container filled with florist foam.  Repeat with second flower.
Step Five: If desired, paint your flower pot in your desired color.  Glue small river rock around the painted pot to embellish.  Finally, glue natural Spanish moss to the top of your foam to cover completely.
Your handmade flowers are now ready for display!
Here is an example in a single flower pot: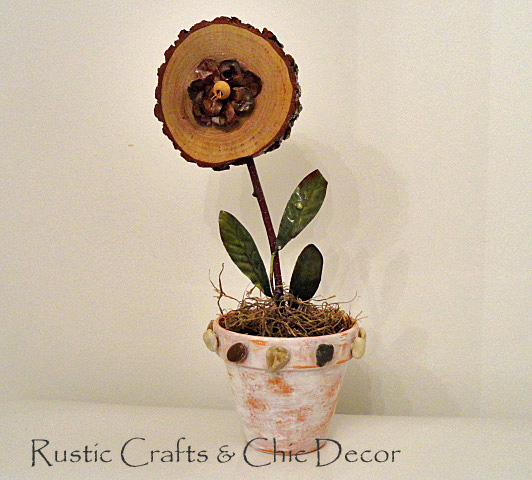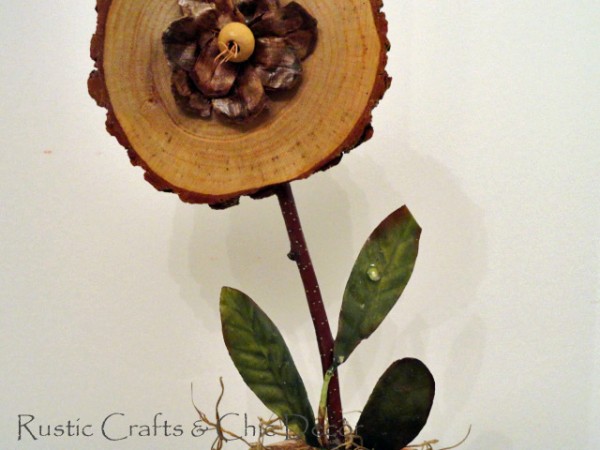 Happy Crafting!