See how easy it is to make your own faux snowballs to use in winter decorating. Use them as vase or bowl fillers to bring some of that outside beauty inside your home. My snowball tutorial is super easy and makes durable snowballs that will last for years.
Once the weather gets cold outside, I'm always looking for winter DIY projects that I can do while I spend more time indoors. This snowball craft is just the ticket for using up some of the creative energy. Although I have seen several snowball crafts that are for indoor snowball fights, this project is not that. These snowballs are for adults to use for some chic winter decor. For those who prefer to spend more time indoors during the winter, you can still enjoy the beauty of snow in the comfort of your own warm home.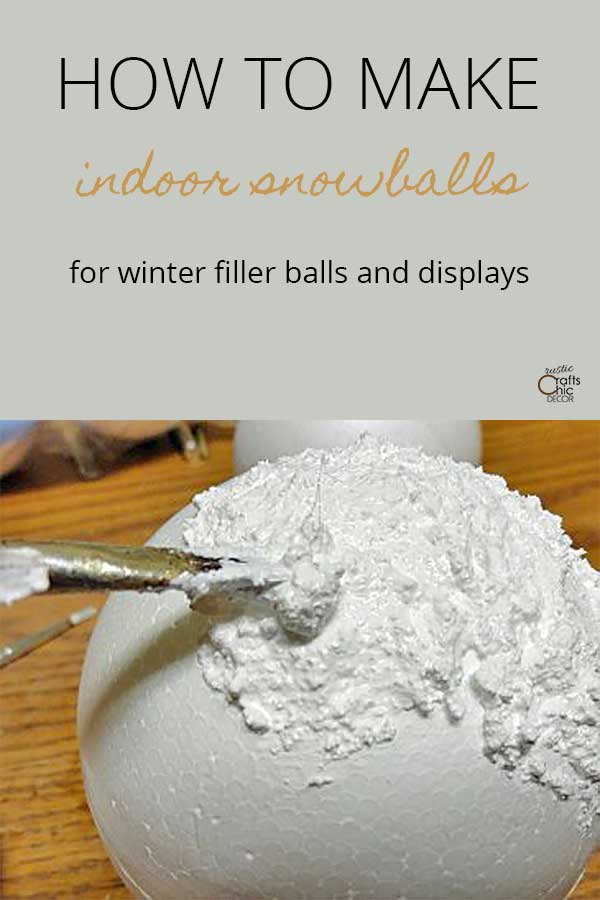 This post contains recommended product links. If you make a purchase through one of the links, I will earn a small commission at no extra cost to you.
Indoor Snowball Supplies
I love a project that only needs a few supplies! These snowballs only require three things and you can make several at a time.
Diamond Dust or iridescent glamour dust
an inexpensive or old paintbrush
How To Make Indoor Snowballs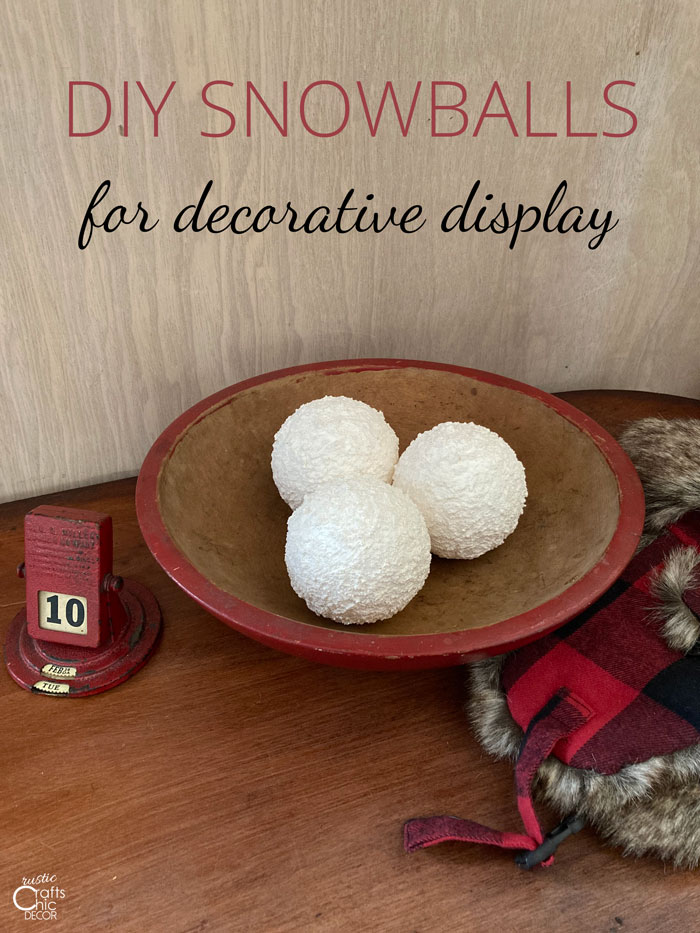 ***Tip: It's easiest to follow these steps to complete the top three quarters of the ball. Then once finished, flip the ball over and repeat the steps for the bottom. Place the ball in a small cup or dish while it is drying so it doesn't roll all over the place.
Step One: Cover Styrofoam Ball With Snow Tex
Using a stiff paint brush, apply the Snow Tex by dabbing and swirling it on. It should have a bumpy texture that resembles real snow. While the Snow Tex is still wet, continue to step two.
Step Two: Sprinkle Diamond Dust Onto The Wet Snow Tex
When you look at snow on a sunny day, you will notice that it sparkles like diamonds. By sprinkling Glamour or Diamond Dust over the wet Snow Tex, it takes on the look of real snow. This is my favorite part because it gives a beautiful glistening effect.
Since the iridescent Glamour Dust is getting harder to find, I recommend using Diamond Dust which gives the same look.
And that's it! Two easy steps for a fun winter DIY project to decorate your home. Now all you have to do is fill up some buckets, bowls, or trays with your snowball creations.
Ways To Display Decorative Snowballs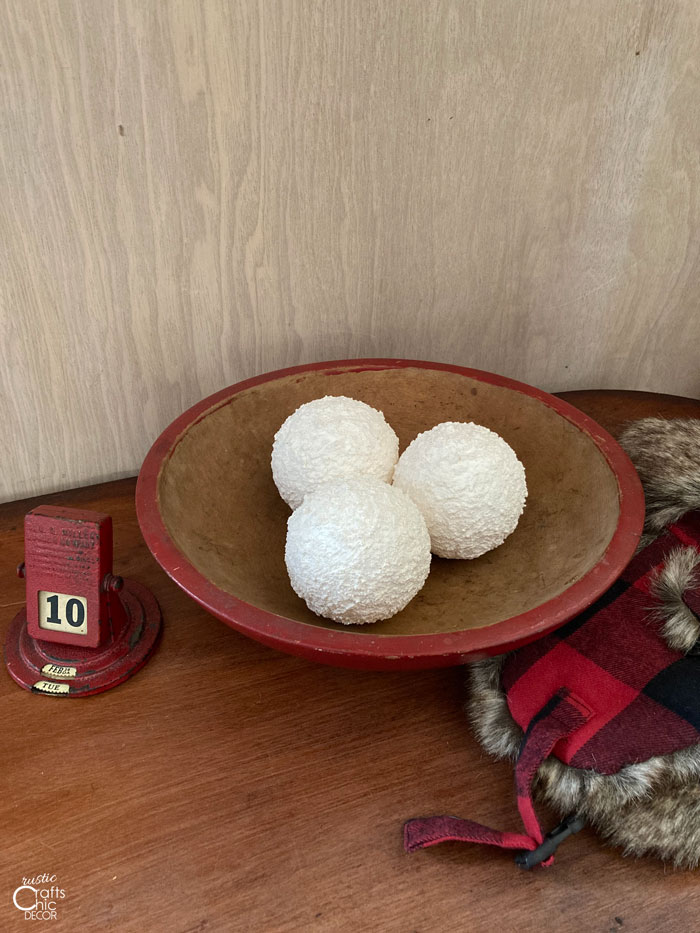 Simply place a few snowballs in a decorative bowl. It looks like these were just collected from the outside. However, these balls will never melt!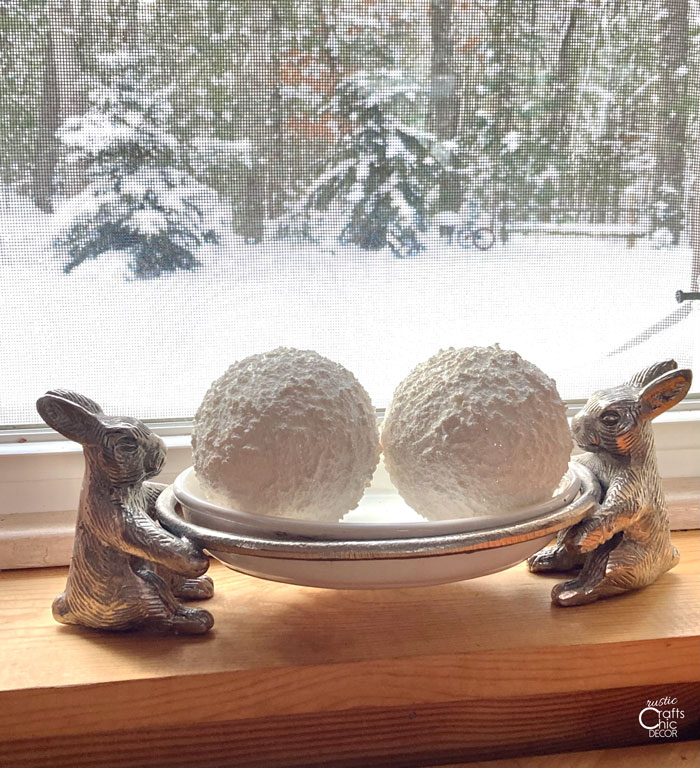 Place a couple of snowballs in a shallow dish on a windowsill. With the sun shining in, you really get to notice the glistening sparkle.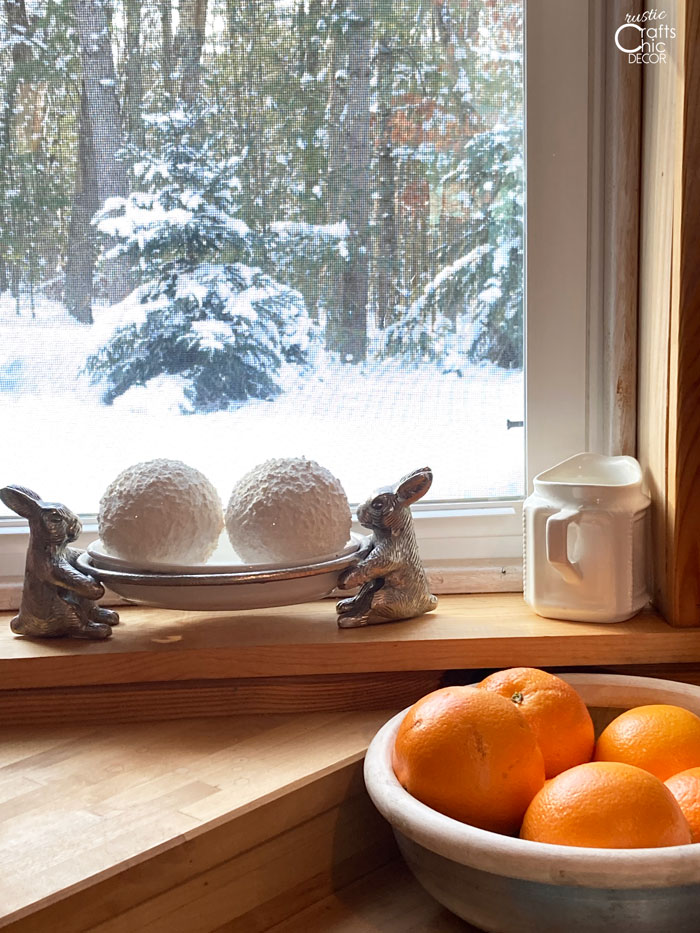 Another idea is to combine the snowballs with other types of decorative balls.  I have a large glass vase that I plan on filling with some of these snowballs and a variety of balls with different textures and colors.
It may also be fun to use a variety of sizes of Styrofoam balls for a more interesting look in a large bowl or to create snowmen for another fun winter craft idea.
The nice thing is that since this craft is so easy, you could fill the house with them!
Subscribe Now!
Don't miss out on any of the creative holiday or home decor projects. Subscribe now to get the latest craft projects sent directly to your inbox.