Valentine crafts for adults are probably more popular than crafts for kids. Because you can make things for decorating, entertaining and giving, there is an abundance of ideas. I put together this collection of 50 ideas for Valentine crafts for adults to inspire you.

Valentines Day is the most romantic holiday of the year so it is no wonder there are so many craft projects out there to help celebrate the occasion!
Craft Ideas For Valentines Day
1. Write A Message On Glass With 3D Paint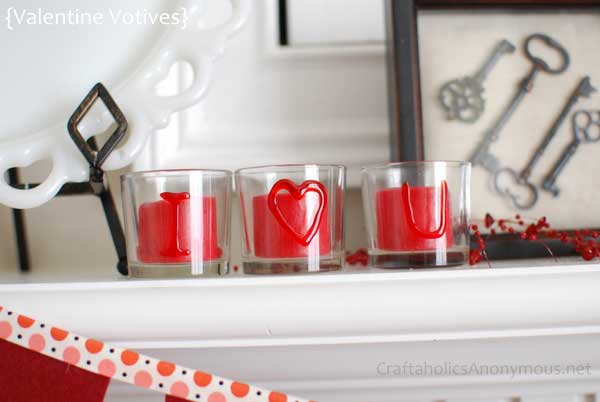 Use 3D paint to write out a romantic message on glass. These candle holders are a good example. You can also write on picture frames, glass vases, or wine goblets.
2. Fill A Drink Carrier With Champagne And Treats

Simply fill a drink carrier with champagne bottles and flowers or treats. It would be great to decorate and recycle a six pack container for this and fill with mini bottles and other goodies.
3. Make A Rustic Valentine Sign To Display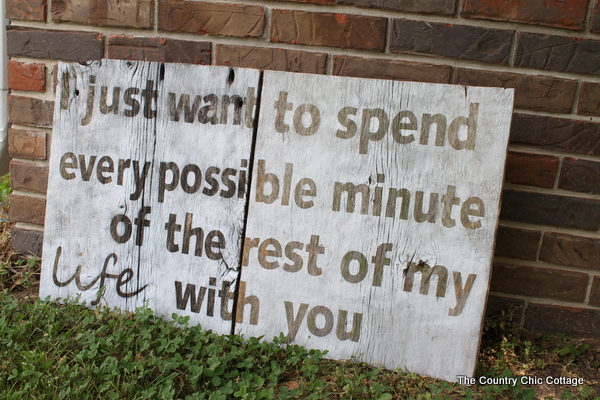 All it takes is some barnwood and paint to display a romantic sign for Valentines day or all year long.
4. Decorate Glass Water Bottles For A Valentine Table

You can purchase these water bottles or recycle other beverage bottles to use to serve sparkling water. Then, simply decorate with chalkboard labels and twine.
5. Make A Valentine Topiary To Decorate Your Home

These topiaries are easy to make and perfect for Valentine's day with the red, white and pink rosettes.
6. Create Some Valentine String Art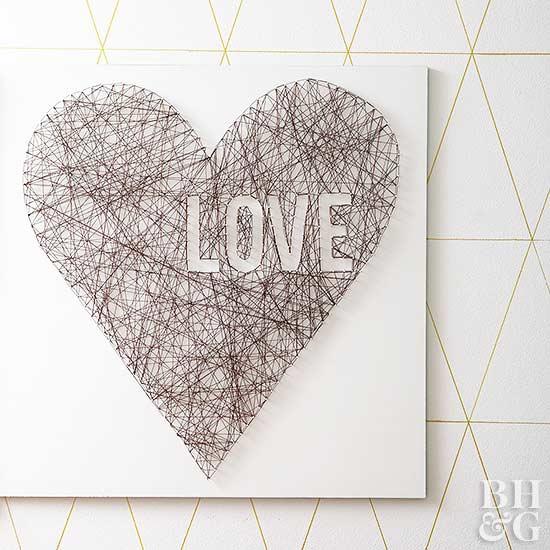 This art only looks complicated. The string heart is easy and fun to make.
7. Serve Your Treats On A Tray Of Love

This Pottery Barn inspired love art can be used as a tray or for wall art.
8. Make A Heart Out Of Buttons

Creamy buttons on a burlap base make such a rustic chic heart for Valentines Day.
9. Make A Sign With Tag Letters And A Frame

Use tags to make letters and then hang them inside a frame. Spell out a Valentine message to fit inside.
10. Create The Key To Happiness

Use graphics and frame the art for a festive valentine sign.
11. Make A Rustic Valentine Tree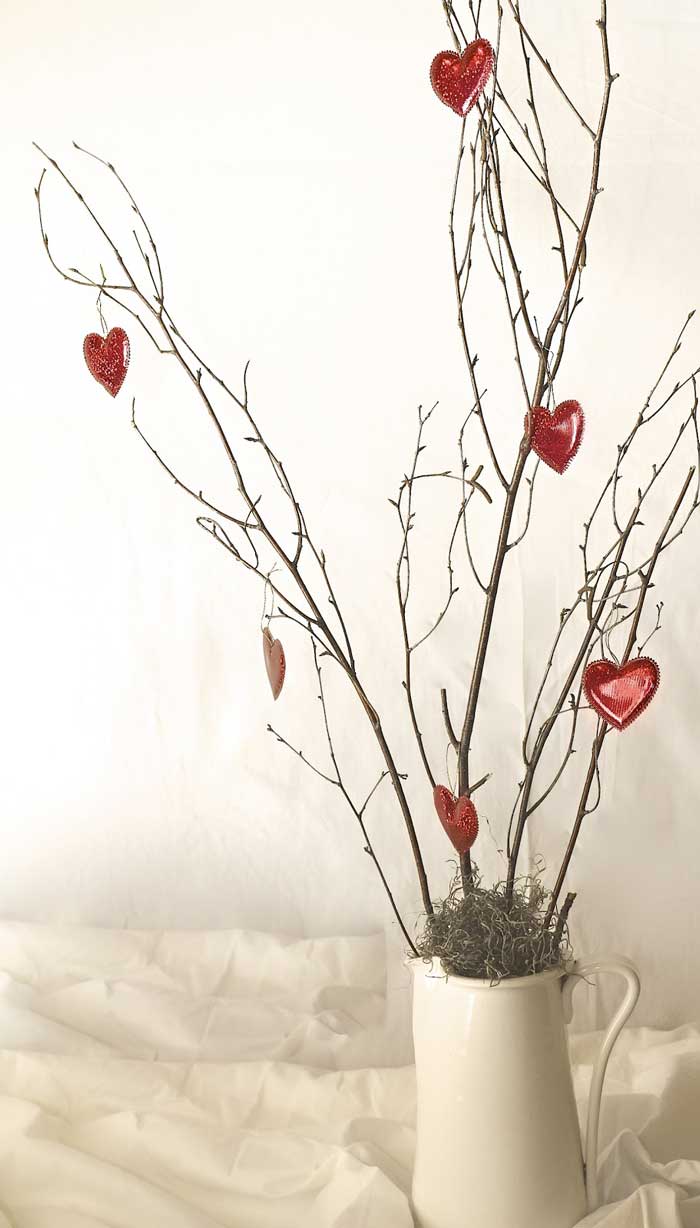 Rustic, simple, festive and chic. This Valentine tree is the perfect craft for holiday decorating.
12. Create A French Inspired Pillow

Create something French inspired to get in the Valentine mood. This valentine pillow is perfectly romantic.
13. Craft Some Felt Hearts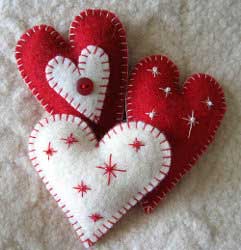 Make a handful of felt hearts to strewn about or create a garland with.
14. Make A Rustic Heart Out Of Wood

Create a heart out of wood for a rustic way to celebrate the holiday.
15. Use Paper For A Quick And Easy Heart Garland

Make paper heart garland to create a festive atmosphere for your party.
16. Make A Wreath Of Flowers

Adorn your door with a beautiful heart wreath made of flowers.
17. Create A Stack Of Cupids Arrows From Twigs

Twig arrows are easy and look great displayed in a stack or in a vase.
18. Cover Wooden Letters In Red And Pink Yarn

To give wooden letters a Valentine look, cover them in red, pink and white yarn.
More hearts to decorate in a rustic chic style and some decorative boxes to hold a special gift.
It's all about love with these decorative crafts!  And, who can resist the line up of chic mailboxes just waiting for all of the special valentines!
Believe it or not, all of these crafts are super easy to complete….which allows you enough time to take on several of these wonderful ideas!
From match boxes and old paper to juice can lids and a deck of cards, these crafts all use recycled materials.
A decorative sign, a tree of love, or a friendly game?  Which will you choose?
Some of the crafts work great for gifts or favors.
Wow!  we've already been through 48 amazing valentine crafts…..only two more to go….
Did you find a craft project that you will want to try?  How many?
Enjoy and have a festive Valentines Day!