Part of the fun of gift giving is in the gift packaging itself. If you have a lot of gifts to give, like at Christmas, the fancy wrapping can start to get expensive! One way to curtail some of the expense is by making your own bows. You can use things like scrap wrapping paper or tissue paper. However today, I'm going to show you how to make a bow out of vintage book pages or song sheets.
Whatever type of paper you use, the technique will be the same. I just like using vintage papers because of the neutral and nostalgic look. Most books are pretty small so you will get perfect bows for small packages. For those larger gifts, I like to use vintage song sheets as they are a larger sheet of paper making a bigger bow. You could also use newspaper for a neutral look. That way you have a little more flexibility on the size if needed.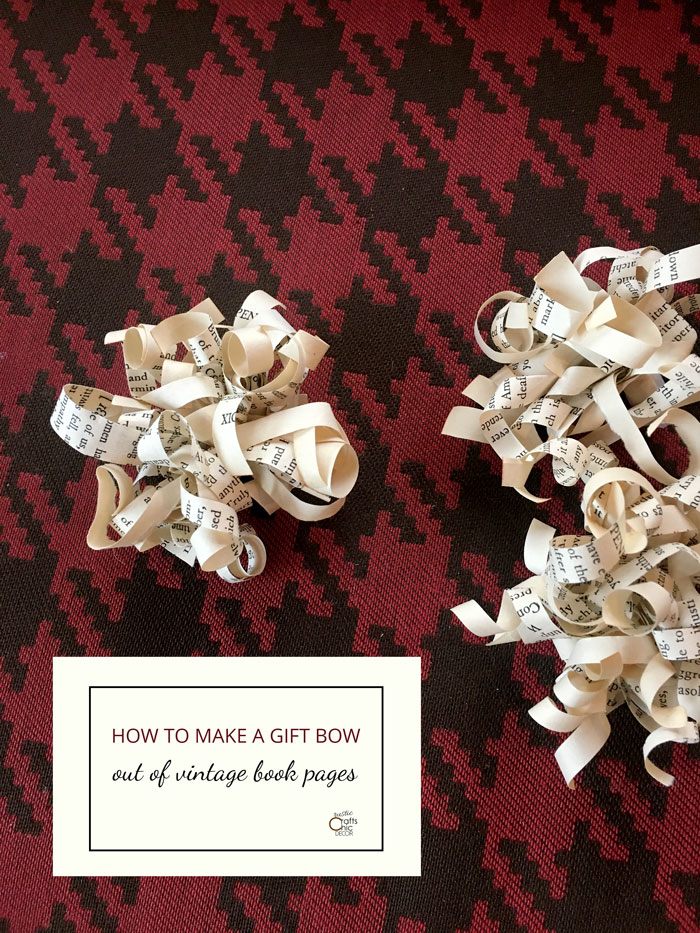 As long as you are saving money on the gift bows, you might as well make an economical choice for the wrapping paper as well. See how you can use grocery bags or Kraft paper for a warm look that will complement the homemade bows.
How To Make A Paper Bow
All you need for this craft are some book pages, scissors, and a little tape. If you don't have any old book pages, you can create your own by printing a page copy and aging it yourself. See my technique for aging paper for craft projects.
How To Make A Bow
Take A Book Page And Fold It In Half

My book page was 5 3/4 inches by 8 1/2 inches which is pretty standard for a hard cover book. The size of your book page will determine the size of your bow. Fold your book page in half, starting at the top of the page and folding down.

Fold Page In Half Again

Now fold the page in half the other direction, or from left to right.

Cut Narrow Strips

Starting at the unfolded edge at the left, begin cutting about 1/4 inch strips from the bottom. Leave about a half inch at the top uncut.

Unfold Once And Cut The Folded Seam

To make your last cut, you will need to unfold the book page once and cut at the seam.

Unfold Your Book Page All The Way And Curl Strips

Once you have your book page flat again, you can start curling the strips with a scissors. You will want to hold each strip at the bottom, while curling, so that the page is less likely to rip. Run the strip along the flat side of a scissors to curl.

Starting At The Long End, Roll Your Book Page Up

Once all of the strips are curled, at each side, you will need to roll your page up. This will begin shaping your bow.

Fold The Rolled Page In Half

After rolling, fold the bundle in half – curled edge to curled edge.

Wrap Tape Around The Folded Edge

To hold the bow together, you will need to wind a small section of tape around the folded edge.

Play With The Curls Until You Have A Shape That You LIke

Begin separating and stretching some of the curled strips to get the look that you want.
Variations In Paper Bows
Because different packages call for different size bows, you will want to vary your page sizes. To get a similar look to old book pages, substitute vintage song sheets for larger bows.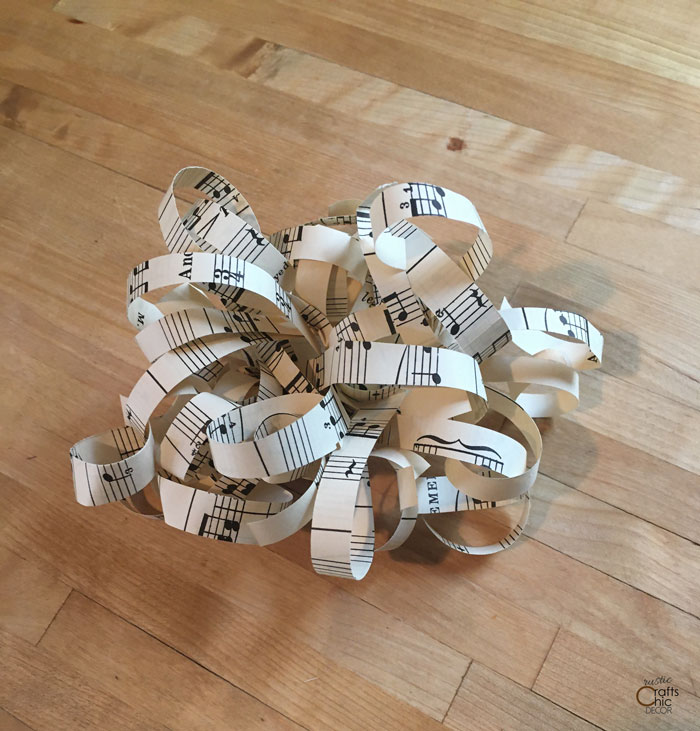 You can see that the look is very similar. Here they are side by side to compare the size difference.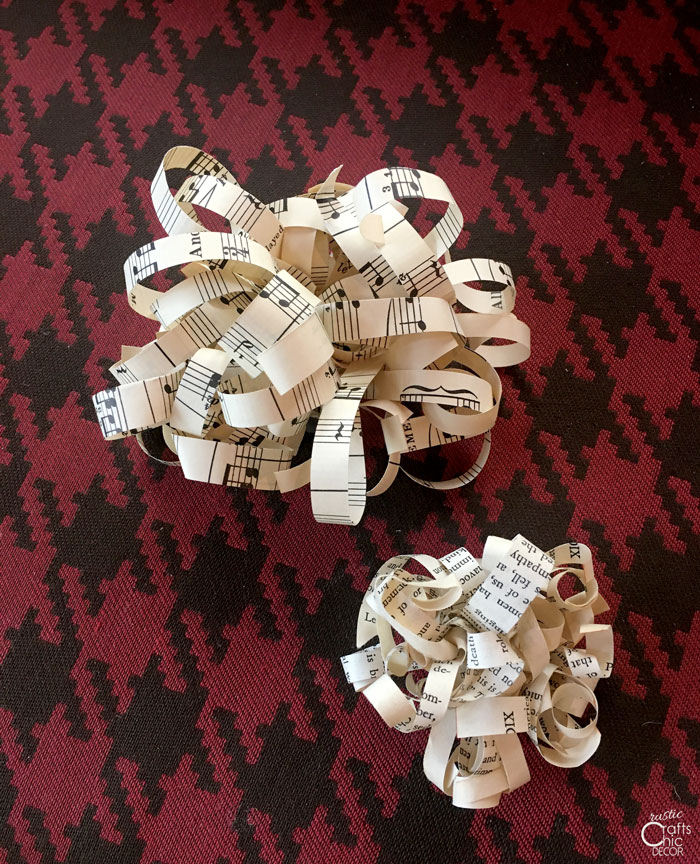 Now that you have an idea for a gift bow, it might spur you on to do a little Christmas shopping!
If you like rustic neutral bows, you may also want to check out how to make rolled burlap flowers which also make great gift package adornments.