I'm beginning to think that I might have an issue with collecting old game balls. There is something about old billiard balls or croquet balls that I find so appealing. I just love to display them decoratively. Now, my latest collection is vintage marbles. I just bought a mason jar full of them and will probably just set them out in a pretty bowl. However, there are also plenty of craft projects that I can do with them. If you are wondering what to do with old marbles, then you will definitely want to check out this collection of easy projects.

This post contains recommended product links. If you make a purchase through one of the links, I will earn a small commission at no cost to you.
Although I like the idea of using vintage marbles in these craft projects, you can also purchase any glass marbles from your local craft store. Whether you want to decorate inside, outside, or even yourself, there is something that you can do with one of these projects. And, if you don't have any old marbles, these projects may motivate to go out and find some. I often see jars or bags of marbles for sale at antique stores or malls.
With all of the different colors and designs of marbles out there, you should easily find colors to go with your design palette. Then, all you have to do is pick your favorite project to upcycle these little gems into some pretty home decor. Here are some creative ideas to get you started.
Rustic Marble Acorn Ornaments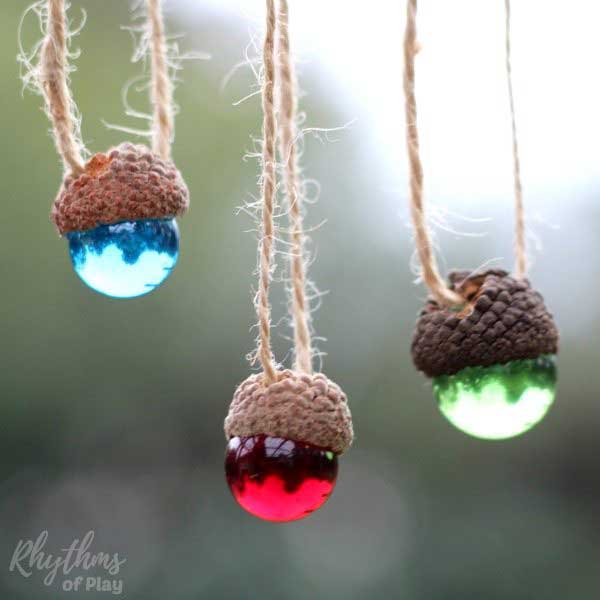 One of my favorite ideas for upcycling old marbles is to make some rustic chic acorn ornaments. The pretty glass bottoms are unexpected and give a touch of elegance to a basic acorn. At Christmas, these would be pretty hanging from the tree. However, they would also be pretty any time of the year hanging in a garden or from the top of a window.
Marble Vase Filler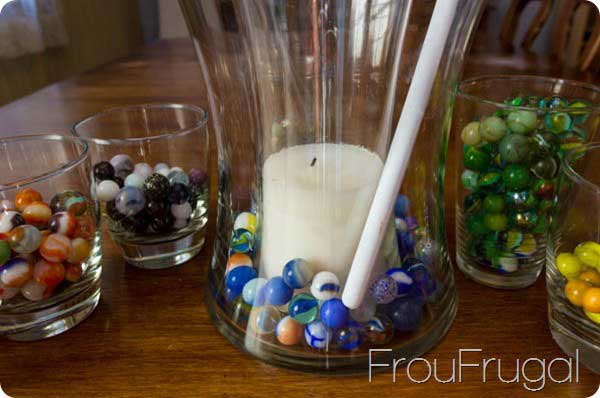 An easy and pretty way to use old marbles is to use them as a simple vase filler. Combine a variety of colors or separate them into like colors depending on the look you are going for. Besides a glass vase, these would be pretty in a wooden bowl or glass dish.
Marble Candle Holder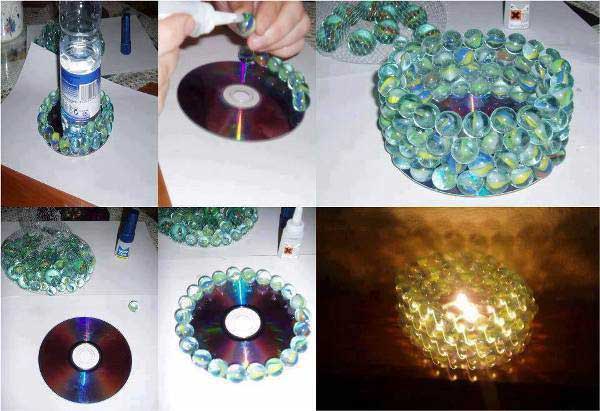 As long as you are upcycling marbles, you might as well recycle a cd or dvd as well. Combine the two things to make a pretty candle holder. The cd makes the circular base to build on. Then, just start layering on your marbles. For a smaller votive holder, try using a mason jar lid as your base.
Marble Grape Cluster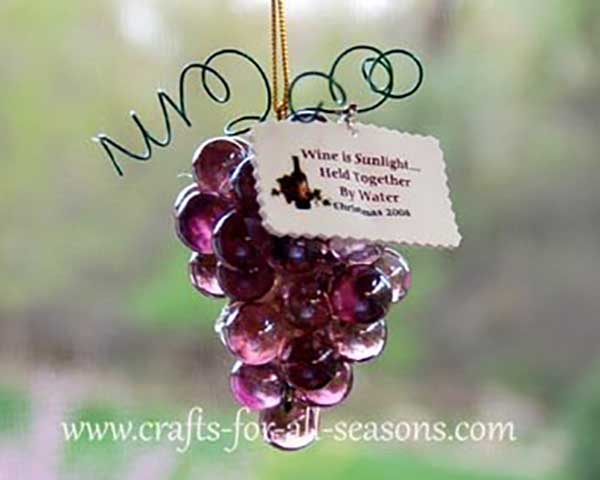 You may have seen pretty glass grape clusters for sale before. Now you can make your own by using your own marbles. The trick is finding enough of the same color to make a uniform cluster. This is one of those projects that you may want to purchase new marbles for.
Marble Stepping Stone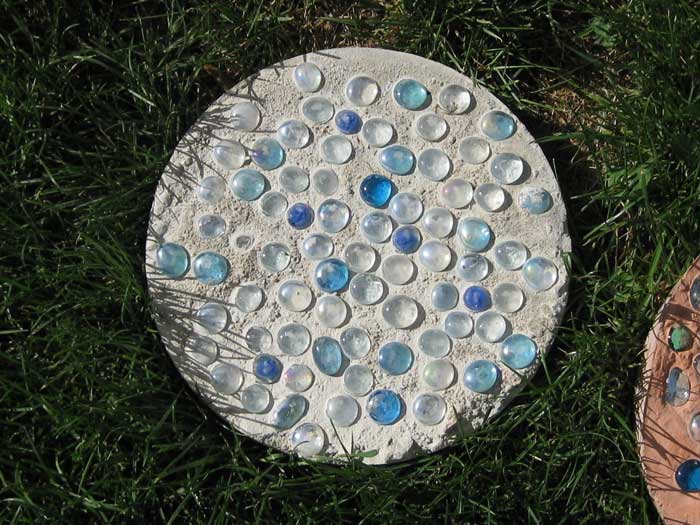 You probably have seen mosaic stepping stones before. With marbles, you can easily get the same type of look. This project uses flat bottom glass marbles but round marbles will work just as well. Create a variety of different designs by using an assortment of colored marbles.
Garden Fence With Marble Art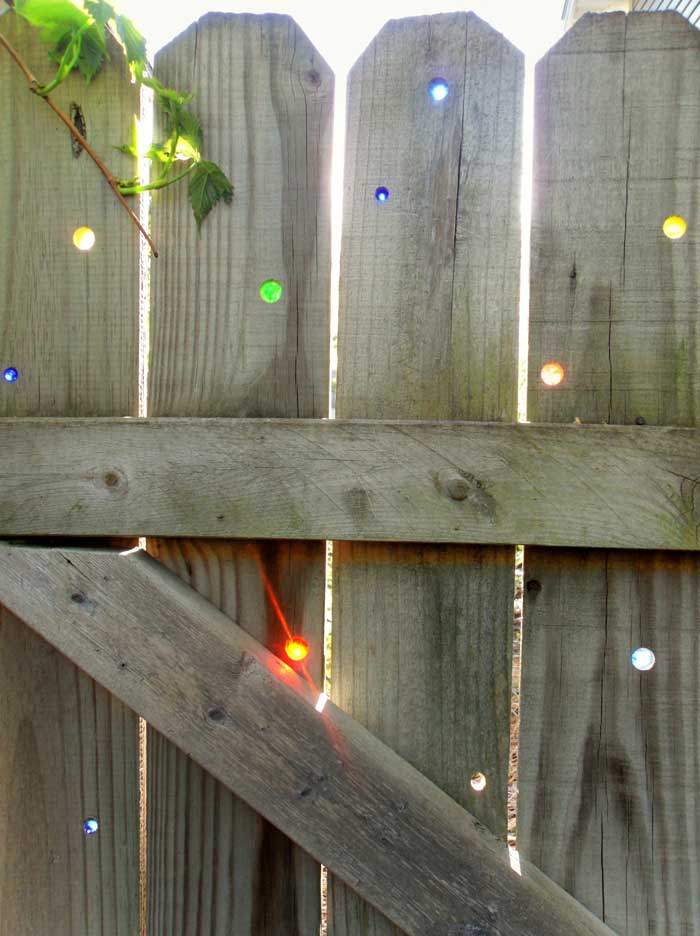 Create an interesting look for a garden fence with marbles. Just drill holes in the wood the size of your marbles. Then, insert the marbles and enjoy the look with the sun shining through.
Glass Marble Sun Catcher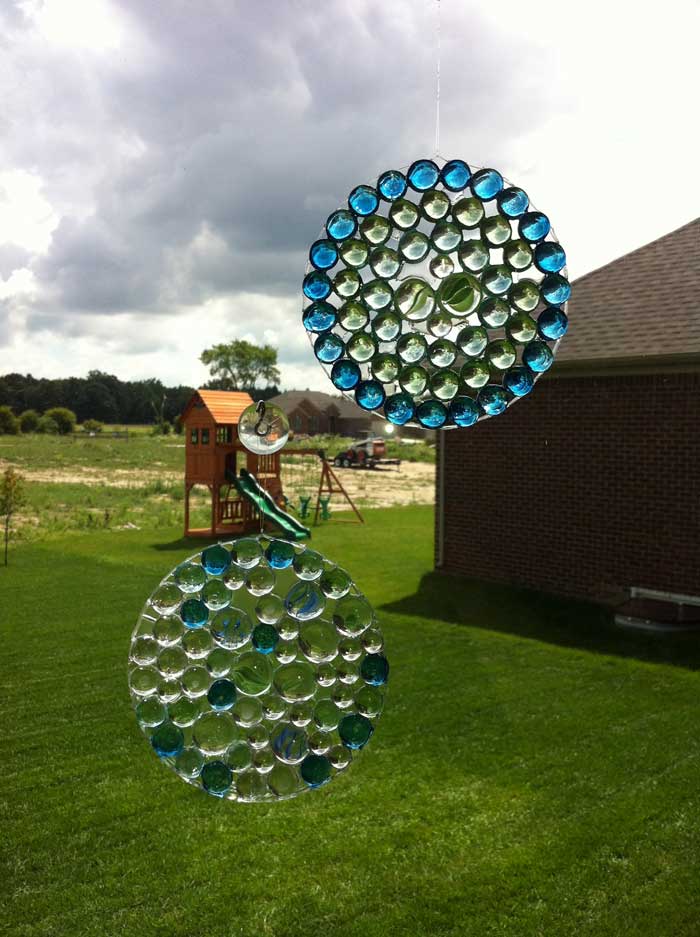 A similar idea is to make a round sun catcher to hang in your yard. As the sun strikes the marbles you get a pretty and colorful glow.
Marble Covered Path Light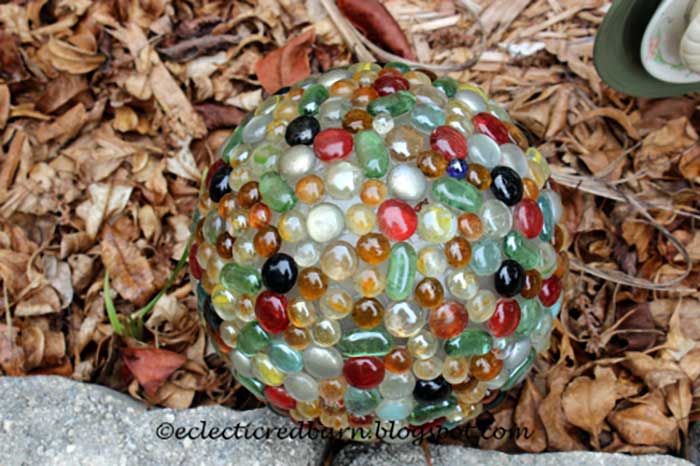 Path lights get a bedazzled look when you cover them with a globe lamp covered with marbles. The globe fixture will fit right over your path lights for a unique and interesting look.
Garden Gazing Ball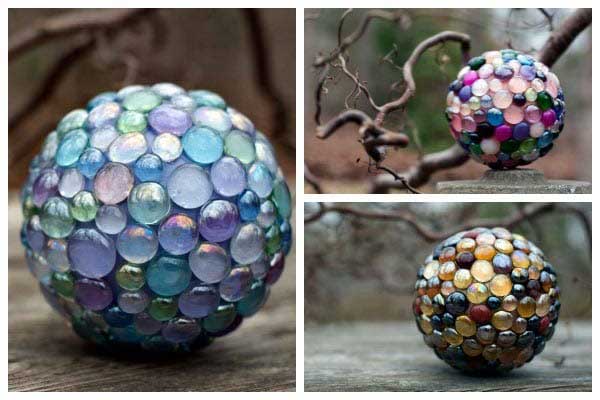 If you don't have any path lights, you can still enjoy a marble gazing ball. Just cover a bowling ball or globe with marbles and display in your garden for a burst of light and color.
Unique Bird Bath Display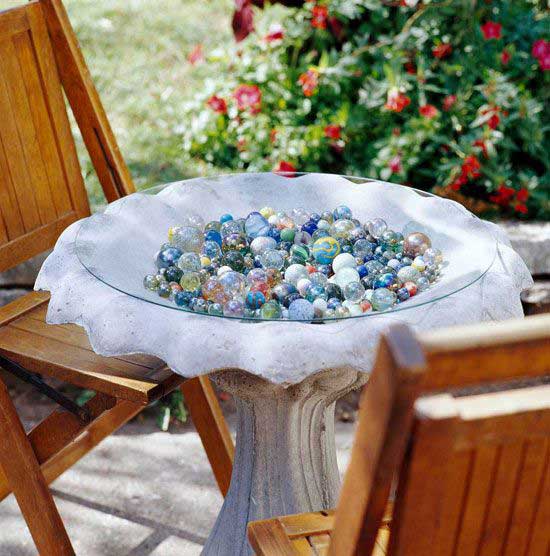 Here is an idea that is similar to a vase filler. Instead of filling a vase inside your home, fill up a bird bath outside instead. It's a great way to add color and interest to your patio.
Fried Marble Necklace

If decorating your home isn't on your to do list, you can simply decorate yourself instead. Create a necklace with an old marble for a fun look. To get even more sparkle, fry the marble first. By heating a marble, you can get it to crackle which is really pretty for a necklace.