Whenever you want to get a rustic or shabby chic look, a sure way to get started is to bring in some birch!   The difference between the two looks is basically whether the room is more masculine or feminine.   All you have to do to get a birch accessory itself to be shabby chic is too dress it up a little.
I love using birch logs for tea light candle holders because you get the look of pillar candles but they never burn down.  You simply keep changing the tea lights!  We find a lot of birch trees in the woods up by our cabin, however you can also buy birch logs from stores such as the Birch Bark Store online.
I have made birch and other wood candle holders before with a drilled out hole for the tea light holder.  For this craft, I decided to do it a little differently.  The instructions for the candle are a little further down.  Before I get to that, I will show you how I up-cycled an old mirrored pillar candle wall hanging that I used to place the birch candle.
This wall hanging candle holder was just stored away at the house.  It needed a little revamping: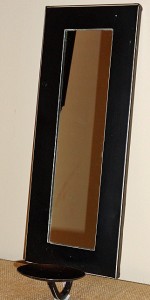 There was nothing wrong with it, it just did nothing for me.  A little excitement was needed.  Maybe some accessorizing like it was going out for a party!
The frame needed some pizzazz so I covered it with one of my favorite craft papers.  I measured and cut out pieces to fit just the face of the frame.  Keeping the sides black were a nice accent.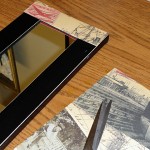 First I cut the top and bottom pieces and then I filled in the two sides.  To adhere the paper to the frame, I used Mod Podge matte finish.  I first secured the four pieces by applying the Mod Podge just to the bottom of the paper.  Once I had all of the pieces in place, I went over the entire frame with another coat of the decoupage.
When it was dry, I covered the seams with different sized pieces of burlap garland.  I used the Mod Podge to secure these in place as well.
Now I just needed to add my candle!
Candle Instructions:
Materials Needed:
birch log
round woodsie
acrylic paint
glass tea light holder and tea light candle
number stamp and stamp pad
burlap garland
six to nine inch string of faux pearls
tacky glue
1.  Pick your favorite number or any old number and stamp it on to the candle under the halfway mark.  You can really stamp anything you want.  I just really like numbers!
2.  Paint your round woodsie in the acrylic paint color of your choice.  I used slate to coordinate with the color in my paper.  You can buy the small wood shapes from any craft store.  They come in several thicknesses.  I used one that was 1/4 of an inch thick so that I would get a good base for the color.
3.  Once the woodsie is dry, glue it to the top of your birch log with tacky glue.  Make sure it is centered and level.  I had to add a little bit of wood putty to one side to get it level before gluing.
4.  Now glue your glass tea light holder to your woodsie.
5.  Cut a section of burlap garland from your spool to wrap around the birch.  Now cut the width to your liking.  The spool of burlap garland come about six inches wide.  You can buy this at any craft store also.
6.  Cut a section of faux pearls or other bling to add to your burlap.  I used old Christmas tree pearl garland.
7.  Tie the burlap around the birch with the pearls hanging through the knot.
8.  Add your tea light candle and you are done!
Here is the complete picture: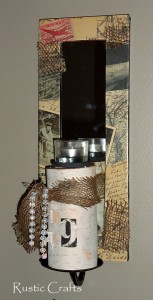 Happy Crafting!

This project is being linked to the following link parties:  Making The World Cuter Monday, Just Something I Whipped Up, Tip Me Tuesday @ Tip Junkie