If you have ever been faced with the daunting task of having to clean out an attic or storage area in your home, you know that it can leave you feeling overwhelmed with what to do with all of that……junk. At least in my home, that is where we seem to go with odds and ends that are not really throw away because maybe just maybe we can find a use….someday.
Well now is the time to go through and see what treasures you may have lying around that could possibly be re-purposed into something quite wonderful. I am going to show you some ways to re-purpose those odds and ends that will have you searching the neighbors house after you are through with yours!
First on the list is old drawers. I know I have one old drawer that was given to us from my in-laws. Where the rest of the dresser went, I will never know! The drawer is big, cool and vintage and that is why I keep it. Claire from The Rustic Pig had a great idea for turning an old drawer into a decorative storage box:

I have also seen old drawers put on legs and used as a fun new side table.
Next up, is chairs. For a while I have been collecting old chairs. I just have this thing for wooden vintage chairs that I can't pass up when I see a good deal. It's a sickness I think. Anyway, I have more chairs than people and need to repurpose a few! Here is a unique idea that I like by Spoonful Of Imagination: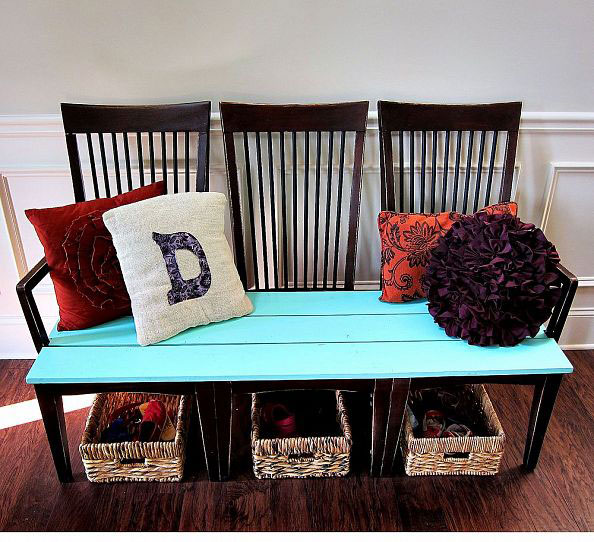 A bench can often times make more sense in an area, like an entry or mudroom, than individual chairs.
I did get a little funky with a chair that I had and repurposed it into a magazine holder:

So this project was a little wild for me! I tend to be a bit more conservative….even though I decorate a lot with industrial salvage…. But, this was really on the quirky side and I like it! I keep it in my office where it helps to inspire my creativity, although one daughter thought it looked like a torture chair with the antlers poking out at the top. I told her I don't plan on sitting on it.
How about old toolboxes? I love this repurposed toolbox by Anderson and Grant that can now be used for decorative storage: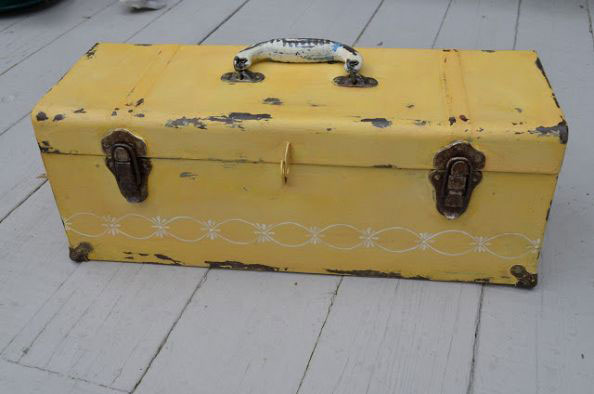 A little paint, a stencil and a finished inside makes this rusty old tool box a perfect storage container for craft supplies or any other household items.
Do you happen to have an old heat register just collecting dust? Put it to use, like I did, by turning it into a fun clipboard:

See how I made the clothespin clips for this at my trash to treasure post.
More Ways To Repurpose:
Have you repurposed anything recently? What ideas do you have?