There is something that is just so simply chic about a rustic old ladder when it is used in home decor. Sometimes the most interesting pieces used in decorating come from the most unusual and simplest of ideas. Decorating with a ladder is an easy way to bring in some rustic decor.
Why would an old ladder, seemingly useless in it's life, be so desired and sought after to use in home decorating? Maybe it is the simple lines that are relaxing to the eye. Or, the distressed finish against a smooth bare wall that creates such an interesting contrast.
A ladder definitely adds height and dimension to a space.
I know that I was very excited when my husband brought home an old metal ladder for me. I had been looking for a wooden one but I loved the shape of this one plus the rusted patina on it was perfect. I just cleaned and coated it with an acrylic sealer and it was all set to use in the house.

I have used this ladder simply on it's own, to display throws and also for shoe storage.
Inspiration For Decorating With Ladders
Here is another great example in a living room setting.

You don't even need anything else on the wall since the ladder adds enough interest.

I love this look of using a ladder to hang towels. It was a toss up for me on whether I kept my ladder at home in our bedroom or brought it up to our cabin for use in the bathroom like this. I will just need to find another ladder!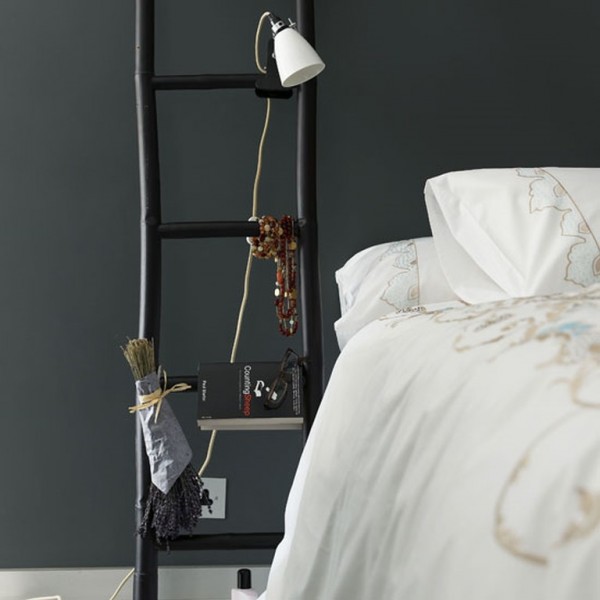 If space is tight for a nightstand, or even if it isn't, a ladder makes a great decorative alternative. I would have a book hung on a wrung at all times!

And, who doesn't need a throw close at hand in a family room? This is a simple chic way to store and display a nice comfy throw. The ladder, of course, looks great on it's own!