If you have a cabin or cottage on a fishing lake or river, you may want to carry the fisherman theme into the decor of your retreat. Maybe you just love fishing and want to dedicate a spot in your home for some rustic or vintage fishing decor. Either way, I have some fun ideas for you that I have used in my own home and cabin.
How To Play Up The Fisherman Theme
Most all of my decorating accessories come by the way of vintage treasures. My husband and I love to shop flea markets and antique stores and have collected several old fishing items. However, we also have some fishing decor that is just plain rustic.
Rustic And Playful

Before I show you some of our collection, I have to tell you about this fishing bear here! It would probably be a great accessory to have sitting outside, especially at our cabin, but I wanted to make a fun display on our stair landing. This is on the stairs leading to our basement, which is decorated very rustic, and I wanted to start setting the tone on the walk down.
I made the cat-tail display by inserting cat-tails into a section of birch log that had a large hole drilled out at the top. My husband drilled the hole easily with a drill press. I bought the little pine tree after Christmas one year on clearance. It works quite well for a year round decoration in this setting!
Vintage Fishing Accessories
We continued the fishing theme in a couple of different areas in our basement. The first spot was one dedicated wall in our game room.
Fly Rods And Net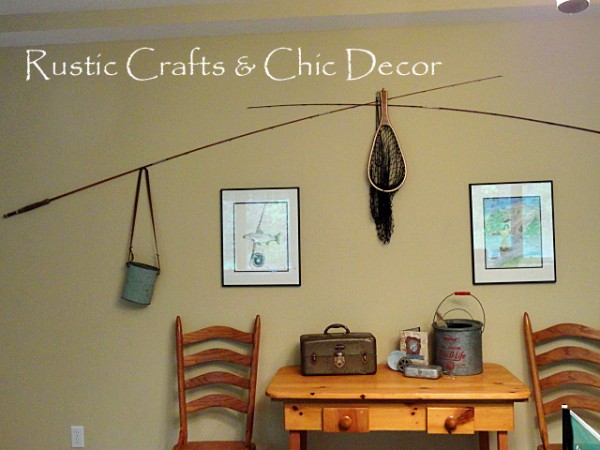 This is one big wall so we had plenty of room to fill up! We started by criss-crossing two old fly rods, which helped to take up a lot of the space. Then we hung a couple of fishing pictures and draped some fishing accessories at points along the rods.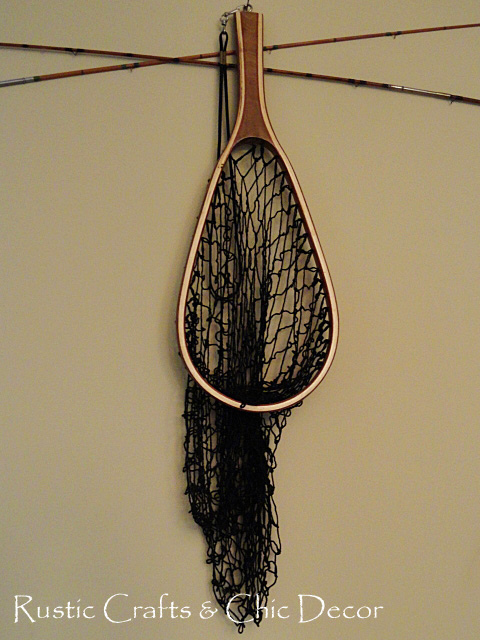 The center point was a good place to hang this fishing net to kind of anchor the rods in place.
Vintage Minnow Bucket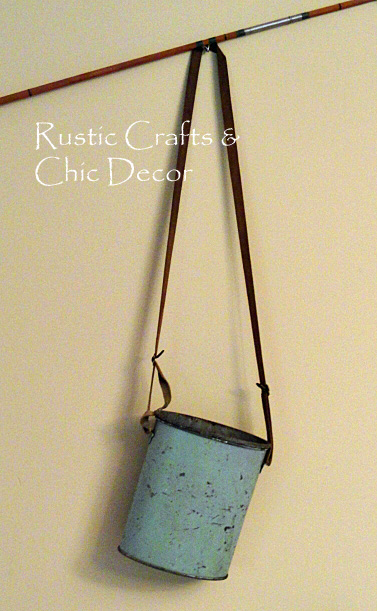 This cool vintage minnow bucket was just recently acquired and found a place at the end of our rod display.
Tabletop Decor
We also used this table in front of the wall to display a few more of our vintage finds.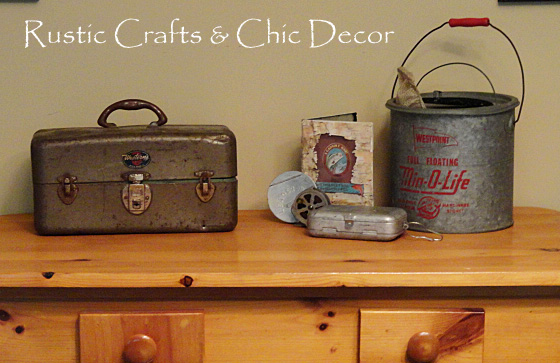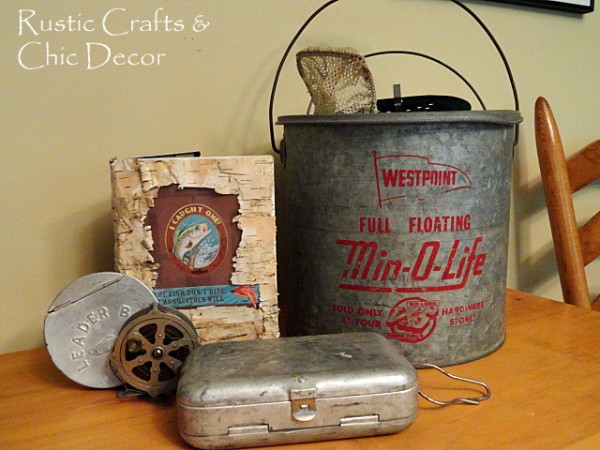 Besides the large tackle box, this more common minnow bucket, leader box, fishing reel and small tackle box make up the rest of our vintage items on display. I also had to add in the fly box that I made from a recycled dvd!
Fishing Shelf
Another spot where we have highlighted some of the vintage fishing paraphernalia is in my husband's trophy room. The room that was supposed to be dedicated to his hunting trophies but has somehow eeked through to the rest of the basement! Anyway, here is the shelf for fishing decor: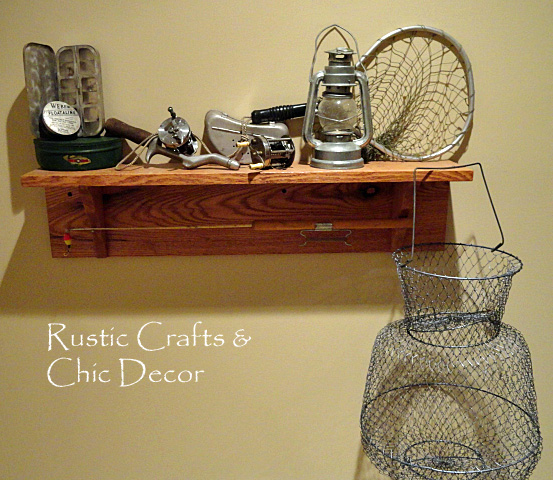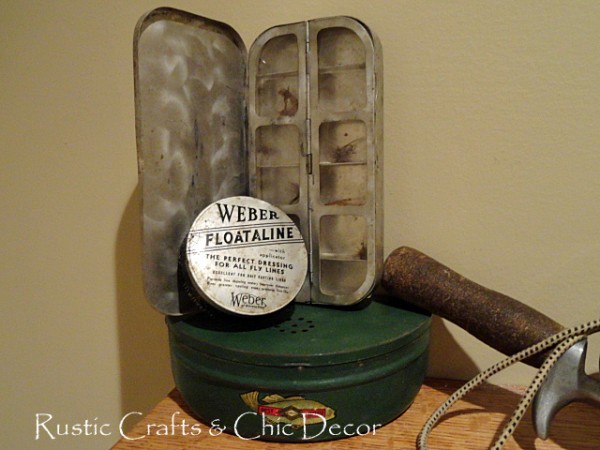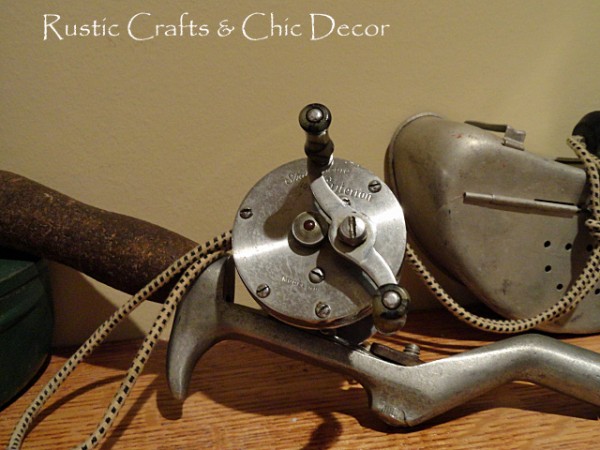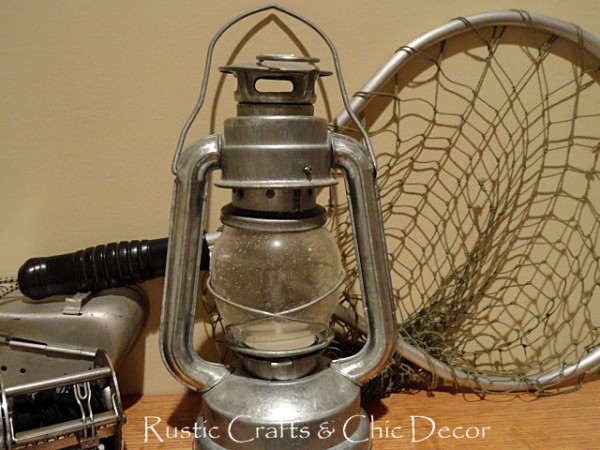 We used the whole shelf for display. Since a vintage fishing pole would be too cluttered to add to the shelf with the rest of the items, we hung it below the shelf from the brackets: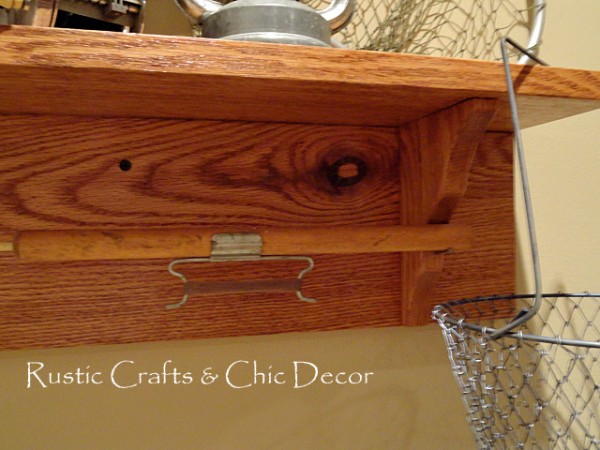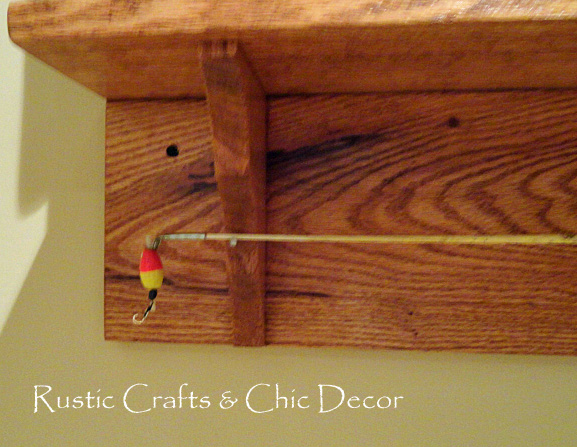 Finally, we also carried a little bit of the fishing motif to our fireplace hearth.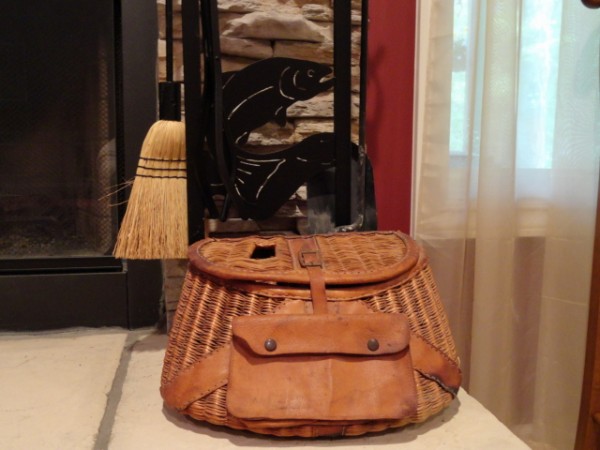 We placed one of our vintage creel's here as a nice base for the fishing inspired fireplace tools.