When it comes to rustic table arrangements, the centerpiece is what really sets the tone. I wanted something simple yet eye catching for our hickory live edge kitchen table. The table itself is decorative enough for me and it's small so I didn't need much. Since candle light always adds a bit of romance to a table, I decided that incorporating candles was a must. With that in mind, it really didn't take long to come up with this easy DIY table centerpiece.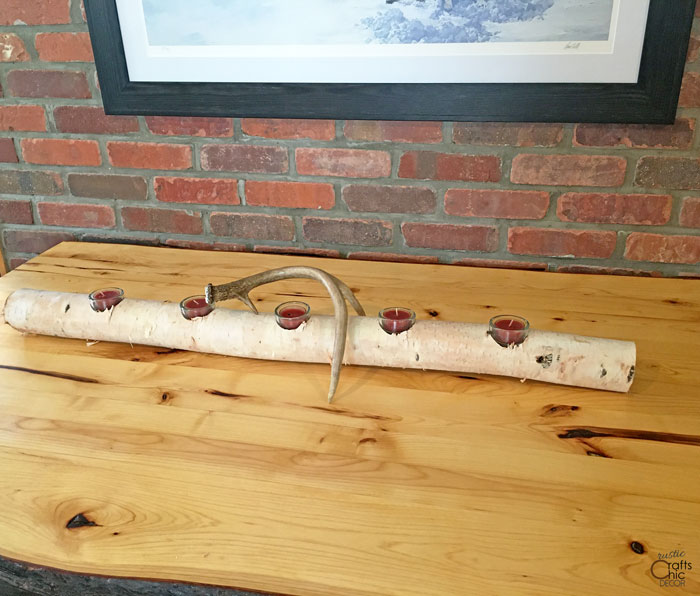 I have made plenty of rustic candle holders using birch logs over the years. For me, birch is the definition of rustic! This time, instead of using a small upright log, I used a long birch log to lay across my table. With a drill press and a circular Forstner drill bit, it is easy to drill holes to fit a glass tea light holder. Once the holes were drilled, I just plopped in the glass tea light holders and candles.
Originally, I was planning on using cream tea lights. I love a monochromatic look. But, since I didn't have any on hand and wanted the centerpiece completed quickly, I used a collection of burgundy tea lights that I already had. Now that I see it against the brick wall, I will probably just keep them in place.
I contemplated adding some greenery to this rustic centerpiece. However, I really did want to keep it as simple as possible. By draping one antler across the middle, I gave the log centerpiece just a little more oomph. Besides this being an easy DIY centerpiece, it is also very inexpensive. The only cost was for the tea lights and glass holders.
To keep the cost down even more, you can simply insert the tea lights without the holders. However, I think the glass adds a little chic. Since I wanted more of that glass to show, we drilled the holes more shallow. A deeper hole can make the candles flush with the top of the log.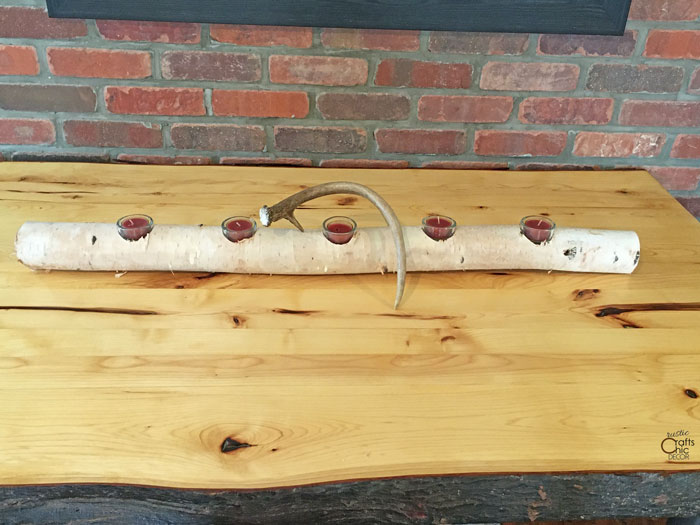 The nice thing about a long simple candle holder is that you can always add things around it for the different seasons. For instance, pumpkins and ghourds in the Fall or evergreen and holly at Christmas.