Have you ever redecorated or remodeled a bathroom and loved the look but still had to deal with the dreaded toothbrush storage dilemma? Since the best way to store a toothbrush is upright, where it can air dry, it usually means storage on your counter. Who wants to look at a bunch of toothbrushes when you just got it all pretty? I have come up with a solution, for a rustic bathroom, not only for the toothbrush holder but also the toothbrushes to use for a decorative look. See how to make this DIY toothbrush holder out of a birch bark tube from a log.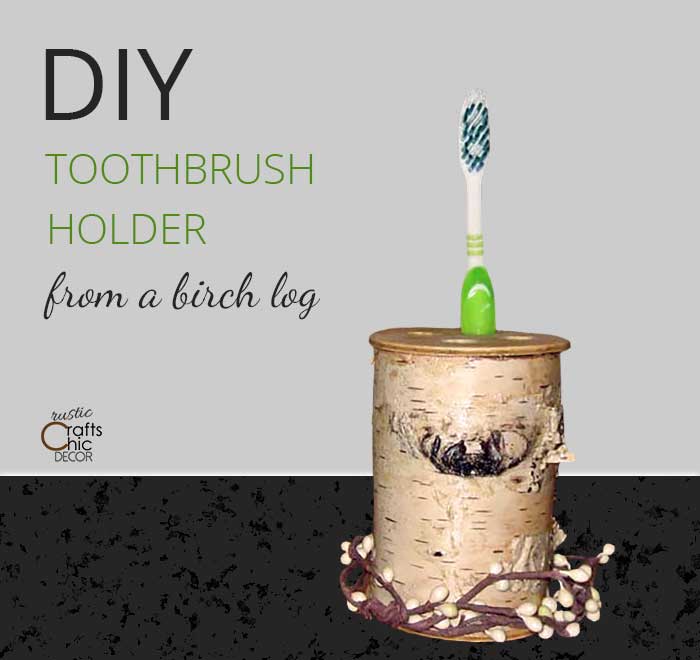 This post contains recommended product links. If you make a purchase through one of the links, I will earn a small commission at no extra cost to you.
I like having a decorative toothbrush holder but those colorful toothbrushes stick out like a sore thumb to me. However, I recently found these bamboo toothbrushes that I think would look great in a birch log toothbrush holder. Luckily, you can still tell the difference between whose toothbrush is whose by the colored bottoms!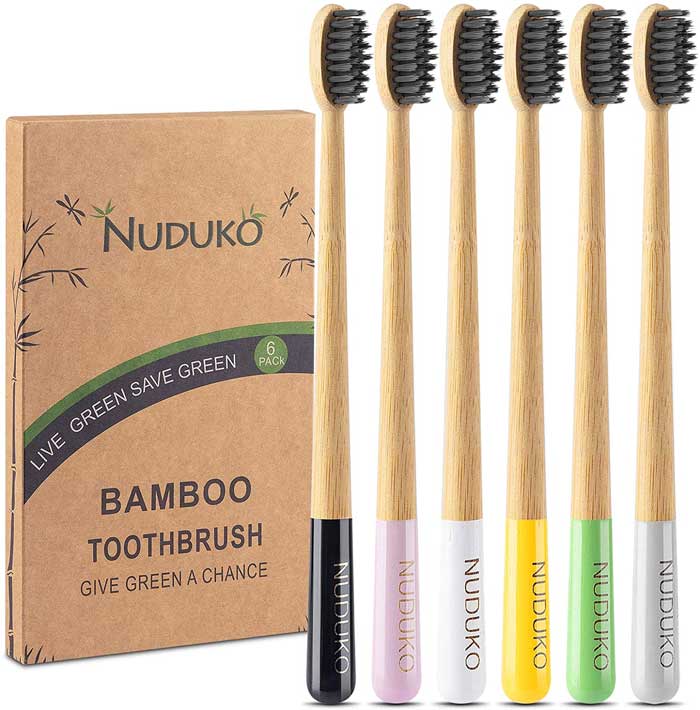 With a decorative log toothbrush holder combined with bamboo toothbrushes, you will have the perfect storage solution for a rustic bathroom. Read on to see how sanitary the DIY toothbrush holder is. You will even be able to easily clean out the inside when needed.
Materials Needed
birch log
mini chain saw or any saw that can cut a small log
two circle woodsies – the same diameter or a little larger than your birch tube
satin finish polyurethane for outside
gloss finish polyurenthane for inside
tacky glue
round file tool or sandpaper
pipberries (optional)
How To Make A Toothbrush Holder
Although you could make a log toothbrush holder by simply drilling holes into the top of a log, this technique is cleaner and I feel more sanitary. You will also be able to remove the top to periodically clean the inside.
Step One: Get A Birch Tube
Option One – Dry A Log
My birch log had been drying inside for quite awhile – I often have a shelf of birch sections to make birdhouses or candles. This particular log dried to the point that the outer layer separated from the entire wood inside. It was like the wood inside just shrunk making it easy to just slip the outer layer off.
This gave me the idea that if you dried the log in the oven at 200 degrees, for a couple of hours or so, you may be able to get the wood to separate that way. I've tried it with several logs and it works for some in just a couple of hours but others were more stubborn. It could be that if I continued drying the stubborn ones longer, then they too will separate.
Make sure to keep the inner wood if you want to make a log candle holder with it. I like the look of the bare wood log or you can even paint the log for a fun design.
Option Two – Find A Tube In Woods
Look for fallen logs on the ground. Depending on how long it has been there, the inner wood may have started rotting and separating from the outer layer. This outer layer can stay in great condition even after the inner wood has separated.
Step Two: Glue A Wood Circle To The Bottom Of The Tube
Use a strong tacky glue to secure a wood circle to the bottom of the birch tube. Apply the glue around the perimeter of the tube and then press it onto the wood circle. Let dry.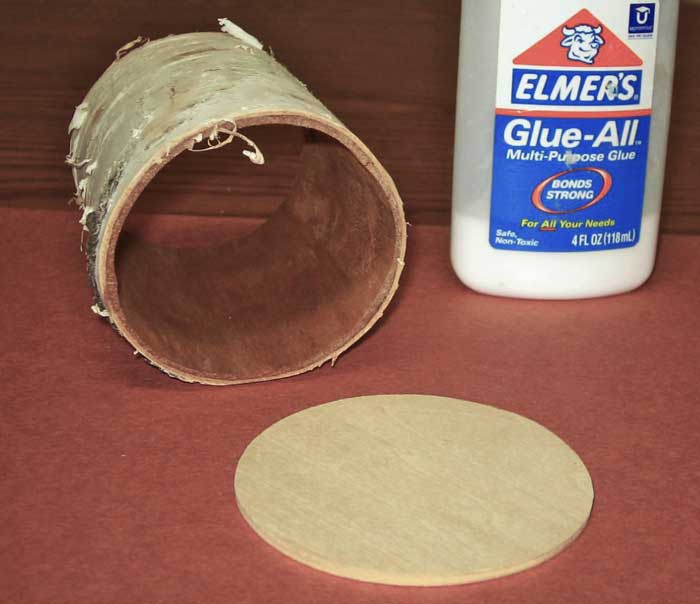 Step Three: Drill Holes Into The Second Wood Circle
Ideally, you would use a small circle spade bit for making perfect circular holes through the wood. I didn't have one small enough and didn't mind if my circles were irregular. So, I used the largest drill bit that I had and drilled a few holes to equal one larger hole. Then, I used a circular file to sand the holes into one solid shape. I repeated this a few more times so that I ended up with four holes in the top.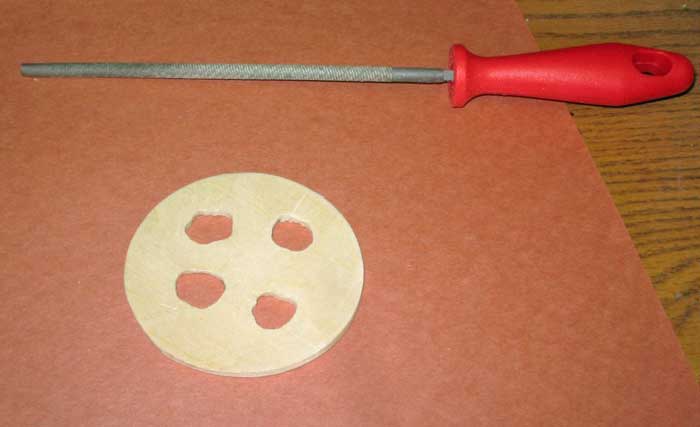 Step Three: Add Polyurethane To The Inside And Outside
First, coat the inside of the tube with a gloss polyurethane. Use at least two coats. This will seal and protect the inside making it waterproof from wet toothbrushes. Also apply the polyurethane to the bottom wood circle and the top which is still not attached.
Next, coat the outside with a satin polyurethane. The satin finish with give the bark a nice finished sheen but it will still look natural. You could also use a matte finish if you want the most natural look. This will still seal and protect the outside nicely.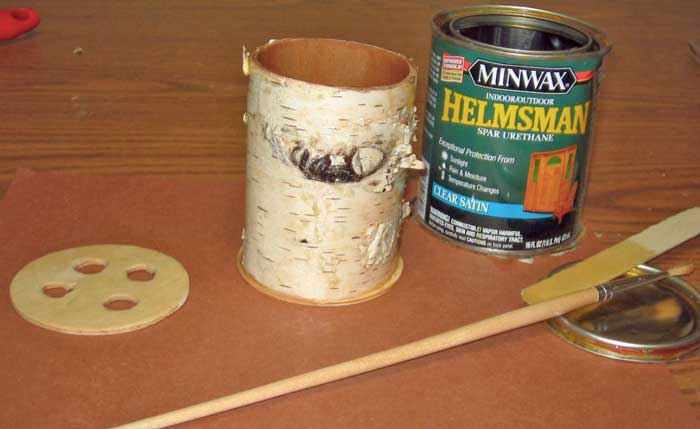 Step Four: Attach The Top Wood Circle
Once all of the urethane is dry, you can attach the top circle. Since you will want to be able to periodically remove the top, you will need to secure it with sticky putty. This is a reusable adhesive putty that never dries out and can be used over and over. It is enough to secure the wood in place but is also easy to remove. Whenever you want to clean the inside, just pop off the top and then resecure it when you are done.
Optional Step Five: Adorn With Pipberries
At this point you can either leave the toothbrush holder as is or add a touch of chic by winding a strand of pipberry garland around the base of the toothbrush holder.