Have you ever noticed how appealing tattered and worn suitcases or other vintage cases look? That is why they make such great home decor accents. I found so many things to do with old suitcases that can be incorporated into your home decor. Check out these creative ideas to add some rustic appeal to your home.
Vintage Suitcases Displayed As Home Decor

This case is unique in that it's wrapped with a belt. I just put it on top of a cabinet to showcase it as rustic vintage decor. The case is actually an old salesman case.

Suitcases with graphics are especially fun to display. Stack up some of your favorites for a fun look. You can also make use of the stack by storing things inside.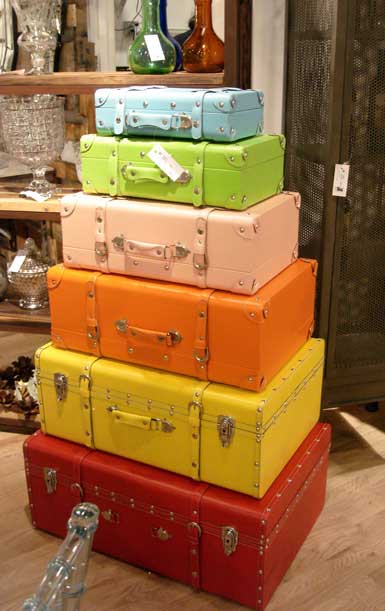 SOURCE: Belle Maison
This stacked set of colorful suitcases is a fun and cheerful display. It may be hard to find a set like this. However, finding suitcases in various sizes is easier. You could always paint old suitcases and then stack them to get a similar look.
Repurpose And Upcycle
If you don't want to display old suitcases in a stack or on their own, another idea is to repurpose a suitcase for another use. You can make tables, shelves, and other unique furnishings. Here are a few ideas for inspiration.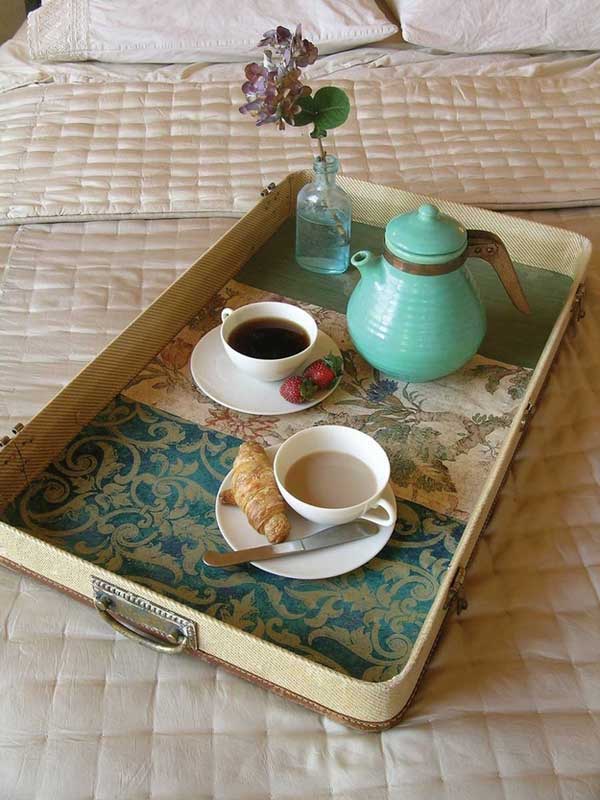 SOURCE: Mother Earth LIving
One ideas is to take a suitcase apart. The top can be repurposed and used as a unique breakfast tray. So then, what do you do with the bottom of a suitcase? The next idea is the perfect solution.

SOURCE: So Creative Things
You can use the bottom of an old suitcase to make a decorative ottoman! The variety of looks that you can get are endless. The color of the suitcase, the legs used, and the type of cushion are all variables that can change the look.

TUTORIAL: DIY Vintage Card Box
Another fun idea is to use vintage cases to make wedding card boxes. I used to make these to sell and they were extremely popular.