One great thing about creating an item to use in rustic decor is that you can easily use natural elements. And, what can be easier to find than sticks and stones? This rustic tissue box cover can be made very inexpensively with materials you find outside. So, start with a nature hike and collect your material!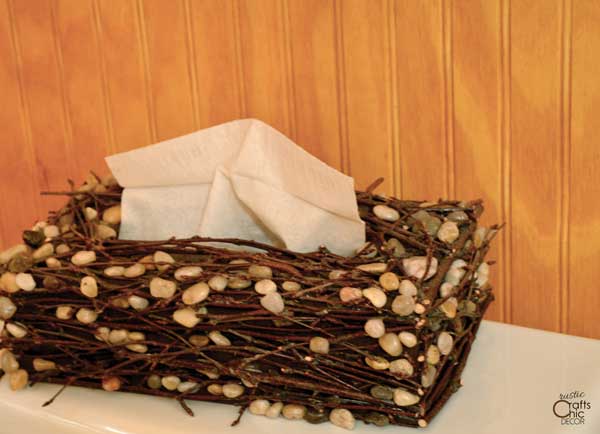 I like to use birch branches because of their color and flexibility. The thin branches can easily be arranged into position and adhered by bending and pressing. If a branch is too thick, you will be limited in placement and will want to use as straight as a branch as possible.
Even though this tissue box is time consuming to make, it is still easy to put together. I used small river rock, that you can purchase from a craft store, but you could also use any small rock that you find outdoors.
Rustic Tissue Box Cover DIY
Materials Needed:
a bundle of birch or other thin branches
small river rock
unfinished wood tissue box cover
brown acrylic paint
hot glue
brush on or spray gloss varnish
Craft Instructions:


1. Apply a coat of brown paint, to match the branches, to your unfinished tissue box cover. Because the majority of the box will be covered with sticks and stones, one coat is fine. This just gives a nice background to any bare areas.

2. With hot glue, adhere your branches to the box. Since the glue can leave thin strings, I like to remove those with a tweezers as I go.

3. Begin adding stones between the branches. Continue adding more branches and stones, overlapping some of the stones with branches. Once you get a few branches straight across, you can start to weave additional branches throughout. There will always be some areas of the branch that protrude out from the box, making this easy to do.
4. Once you are satisfied with the amount of branches and stones you have added to the top and sides of the box, you are ready for the final step. Brush or spray on some gloss polyurethane or varnish. This gives the whole tissue box cover a nice polished look.