One of my favorite things to do is to shop antique stores or flea markets for unique objects with fun character. I don't always know how I am going to use my findings but I usually figure it out at some point. That was the case with this unique bud vase. When I purchased an old test tube, I did have a bud vase in mind. However, at the time I didn't know how I would make it stand. The advantage of collecting enough things is that you end up with a lot of options for creating something new.
The easiest way to get inspiration is to lay out the found objects to get a feel for what may go together. Sometimes you get real lucky and other times you may gain an idea for something specific to search for. In my case, I got lucky. I had an antique cast iron shoe mold that had an opening in the top that was just the right size for inserting the test tube. It made the perfect stand for my DIY bud vase.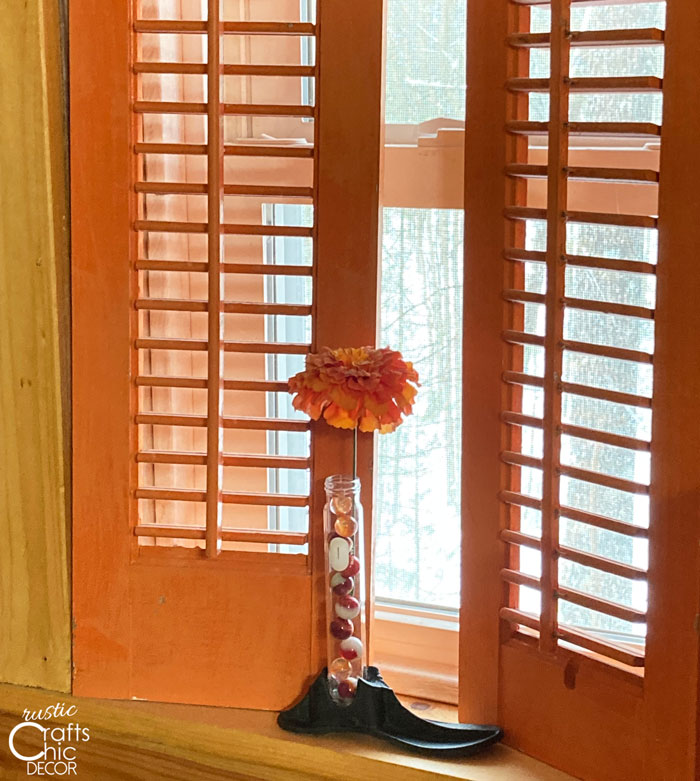 How I Made My Bud Vase
It was super easy to combine the two parts to create my vase. On it's own, the test tube would wobble in the shoe form. Luckily, the solution was to simply glue the test tube in place.
I filled the bottom of the shoe mold opening with hot glue and inserted the test tube on top. You can't get any easier than that!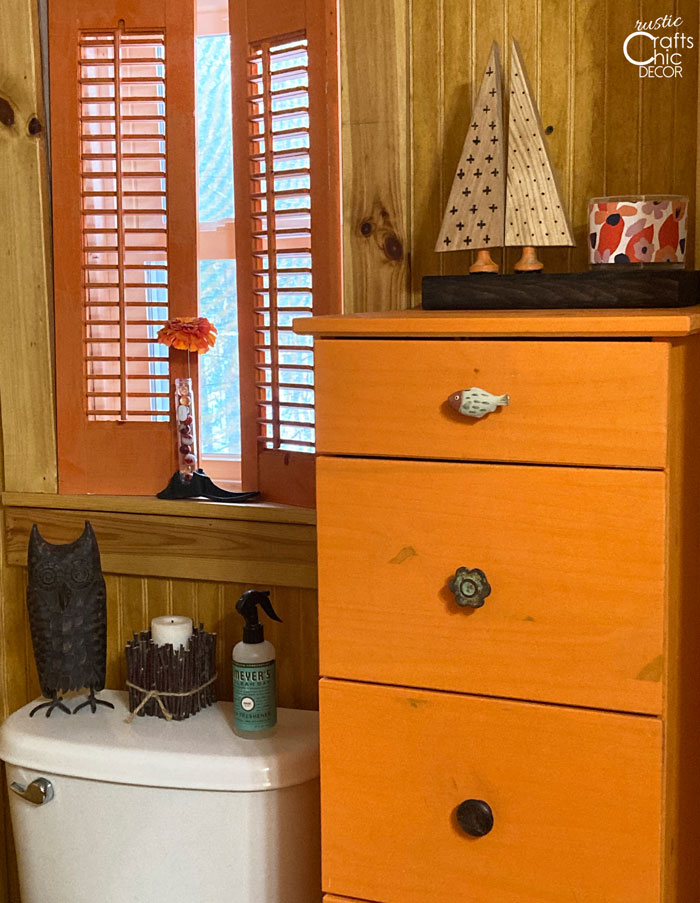 Bud Vase Display
When I don't have any fresh flowers to display, I like to at least display artifial ones. I also enjoy art and like to have unique and playful decor items set around. One fun item that I like to use in decorating is marbles. Since you can get them in so many different colors and sizes, there is a lot of opportunity for decorating with marbles.
The accent color in our cabin bathroom is orange so I picked an assortment of orange marbles from my supply. Then, I use those to fill the test tube with color and added a single flower.
Make Your Own Bud Vase
If you are interested in making your own similar bud vase, I have some resources you might be interested in. You can purchase cast iron shoe molds from several different sellers on Etsy. Just go to Etsy.com and search cast iron shoe molds. I'm not linking to any particular seller on Etsy since most of them have only one or just a few available. However, at least there are a lot of individual sellers!
You can purchase both test tubes and marbles on Amazon. I have provided the links below.