I was sorting through my very full closet the other day and came to the realization that half of my sweaters were no longer wearable.   They were either too short…I haven't grown taller so kind of weird.  Or they were a "what was I thinking" type of style.  Others were just plain worn out.
So I went shopping and bought new!
However, this left me with a pile of old sweaters to deal with. Some I gave to Goodwill.   The rest I was going to have to recycle in some way.   This was no problem since I love to use sweaters in craft projects.
Recycled Sweater Crafts
Make A Cozy Candle Holder
I made quick work of decorating a mason jar for a warm and cozy looking candle holder for this holiday season.

Candle Holder Instructions:
Fit a sweater sleeve over the jar and then cut it from the sweater.
Here is the jar turned upside with the cut sweater which overlaps the length of the jar: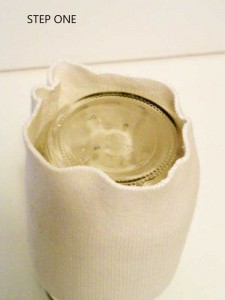 2.  Turn the excess fabric under and used fabric glue to adhere the sweater in place at the bottom.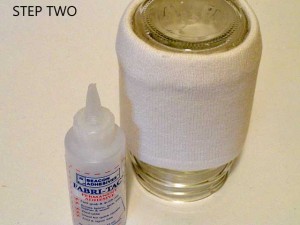 To give the candle holder a little more interest, I just tied a ribbon around the jar with an evergreen and some rusty bells!  Ta-da!
Cover A Pumpkin In A Sweater

My sweater pumpkin craft is a fun way to give a pumpkin, that may not fit your decor, an easy makeover.  I like to keep these neutral pumpkins set out for the entire Fall season.
Make A Pillow With A Recycled Sweater

Pillows are an excellent way to recycle old sweaters.  In fact, this is probably how I will use up the majority of my sweaters.  I keep seeing them at stores like Pottery Barn costing a lot more than what I can whip one up for!  For this one, I used a sweater for the back and 3/4 of the front.  It is more decorative and not so much cuddly.  A straight sweater pillow would be quick and easy.
Make A Sweater Coffee Sleeve

Coffee cozies make a fun gift item and they are also super easy to make.  I made this coffee sleeve with a little trim detail but you could also do it even easier by just folding the sweater under at the bottom and using fabric glue like for the candle holder craft.
I also have a plan for some Christmas hangings with red sweaters but I may have to go to the thrift store to pick some up.  Can you guess what they are?