Old sweaters with snags, stains, or style issues may not be good for wearing anymore but they can still be used in new ways. Just think about all of those decor items that you see in stores with knitted accents. You can get these same looks without having to knit a stitch. Upcycled sweaters can easily be turned into pillows, vases, cup cozies, and so much more. I'll show you 25 popular crafts, using old sweaters, that will turn your pile of misfits into beautiful decor accessories.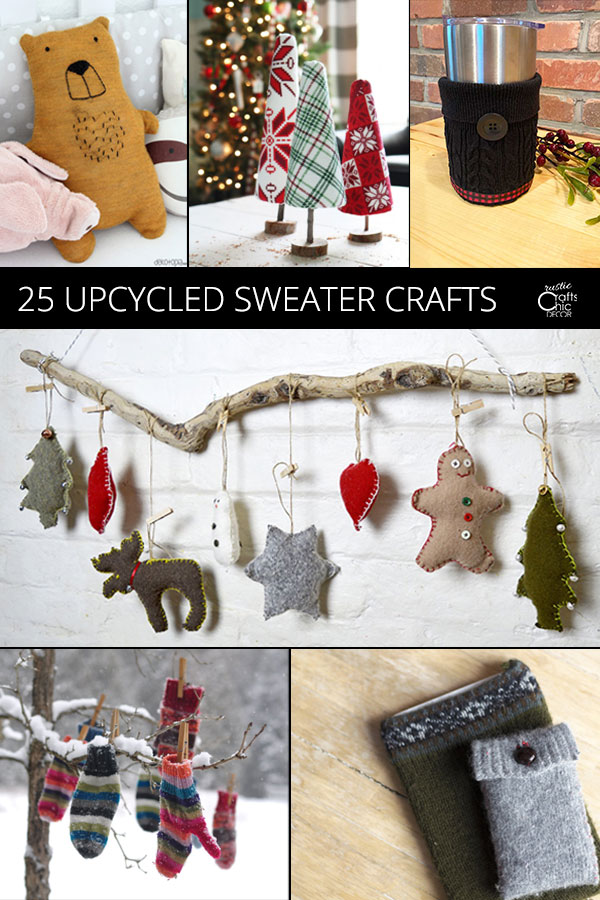 Repurposed Sweater Crafts For The Home
Make A Cozy Candle Holder
I made quick work of decorating a mason jar for a warm and cozy looking candle holder for the holiday season.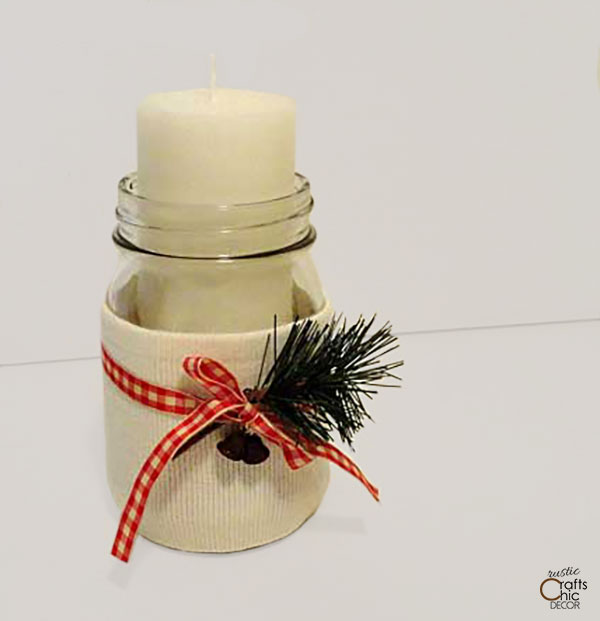 How To Make A Sweater Sleeve For A Candle Holder
First, fit a sweater sleeve over the jar and then cut it from the sweater. Here is the jar turned upside with the cut sweater which overlaps the length of the jar.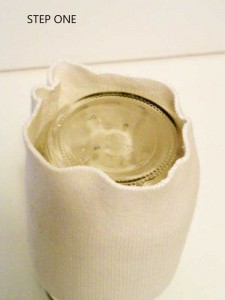 Next, turn the excess fabric under and used fabric glue to adhere the sweater in place at the bottom.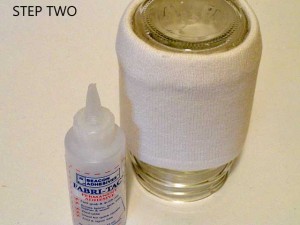 To give the candle holder a little more interest, I just tied a ribbon around the jar with an evergreen and some rusty bells!
Cover A Pumpkin In A Sweater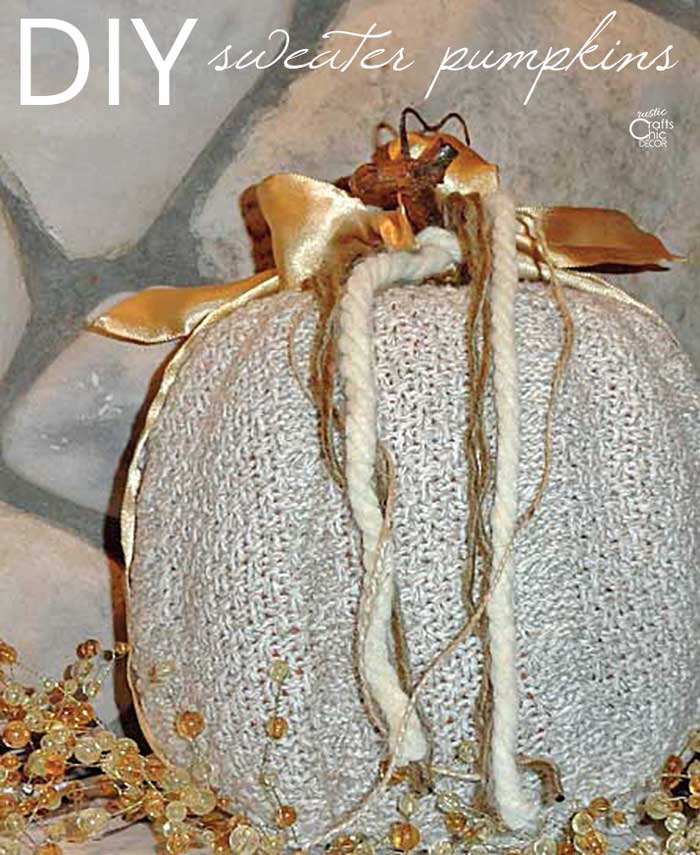 My sweater pumpkin craft is a fun way to give a pumpkin, that may not fit your decor, an easy makeover. I like to keep these neutral pumpkins set out for the entire Fall season.
Make A Pillow With A Recycled Sweater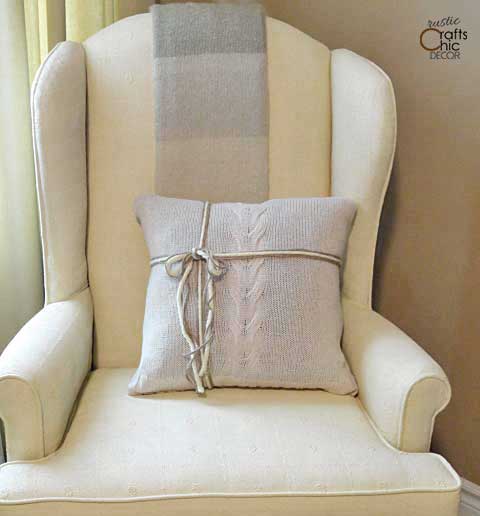 Using a large sweater to make a basic pillow is easy. This is your standard pillow design. However, I wrapped this particular pillow with yarn to look like a gift package. It gives me another fun piece of decor to use during the holidays. Speaking of holiday sweater pillows, do you have any old ugly Christmas sweaters that you don't know what to do with? It could be the perfect pattern for a festive pillow!
Make A Sweater Coffee Sleeve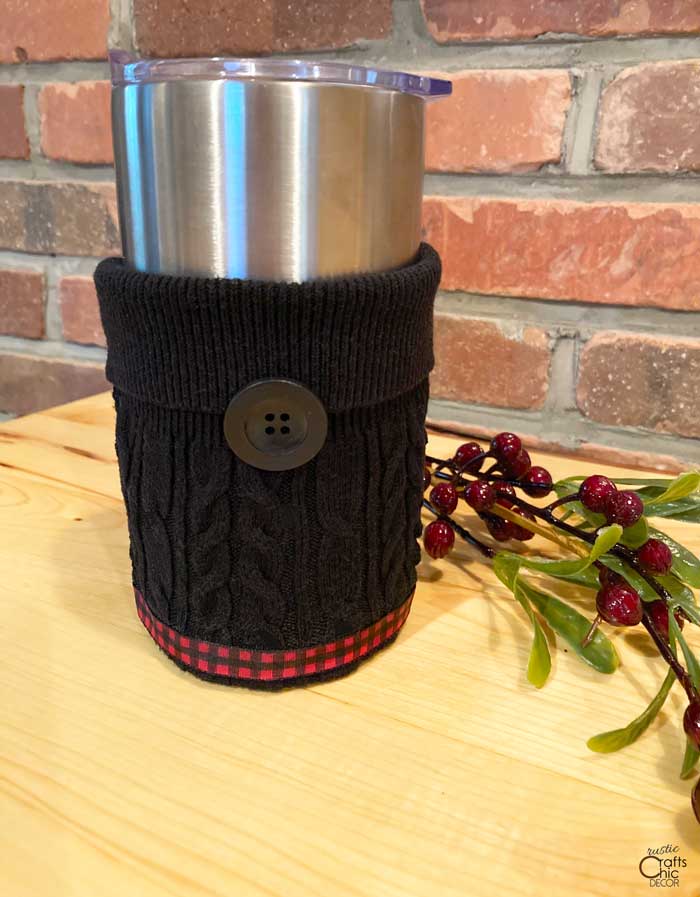 Coffee cozies make a fun gift item and they are also super easy to make. Using an old sweater sleeve, you can easily adjust the height to fit a small cup or a tall travel mug.
Christmas Sweater Trees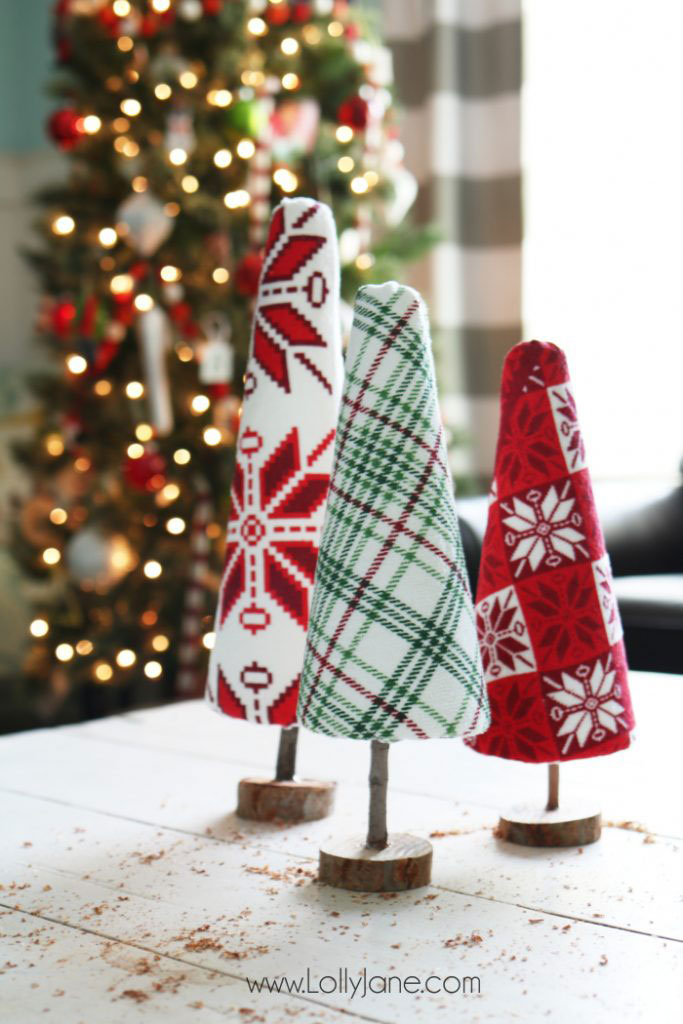 Little rustic Christmas trees look so festive when they are made using old Christmas sweaters.
Upcycled Sweater Lampshade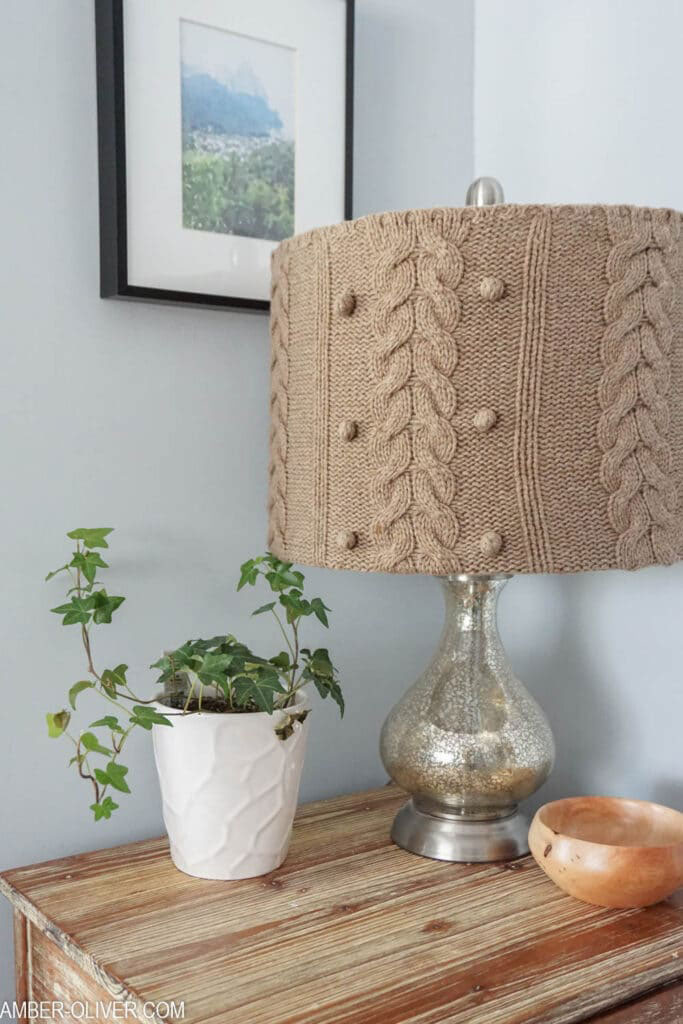 A great way to give a basic lampshade some warm character is to cover it in a sweater. The look will instantly cozy up a space without spending a dime.
Felted Wool Coasters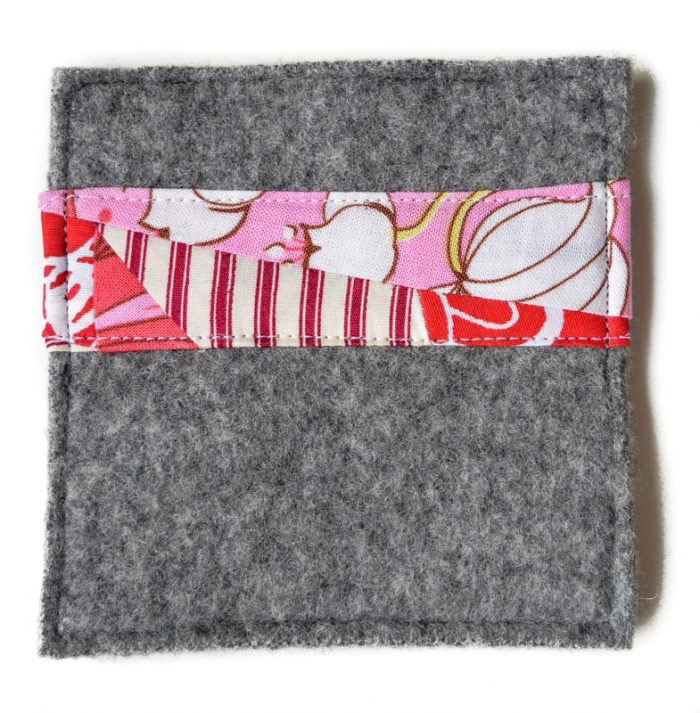 Felted wool sweater projects are so important to know about. That is, if you happen to accidentally shrink a wool sweater! This happened to me when a sweater got tossed in the dryer instead of set out to hang dry. Luckily, projects like these felted wool coasters are a way to still get life out of the sweater and make the accident not quite so devastating.
Shrunken Wool Sweater Pot Holders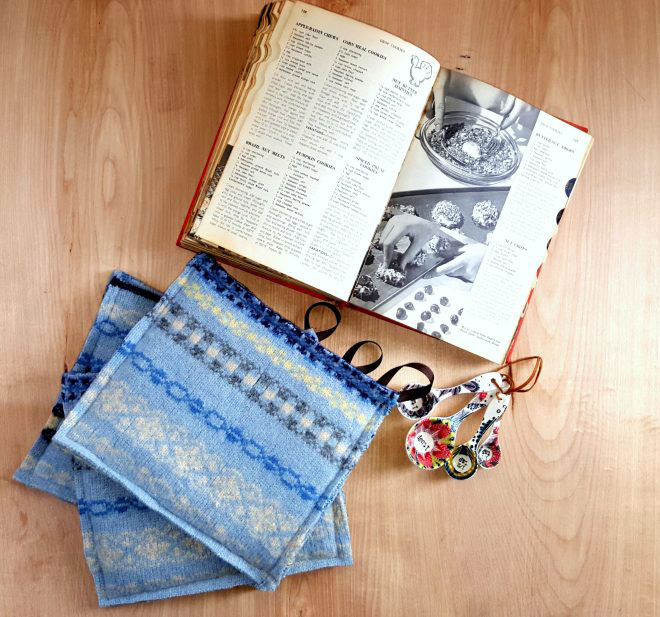 Another way to get some use out of a shrunken wool sweater is to make pot holders with what is left.
Cozy Christmas Ornaments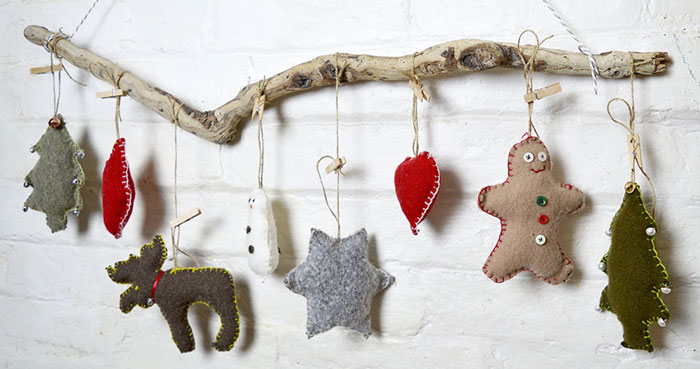 Using cookie cutters and old sweaters, you can easily make an assortment of ornaments for the Christmas tree.
Old Sweater Knitting Basket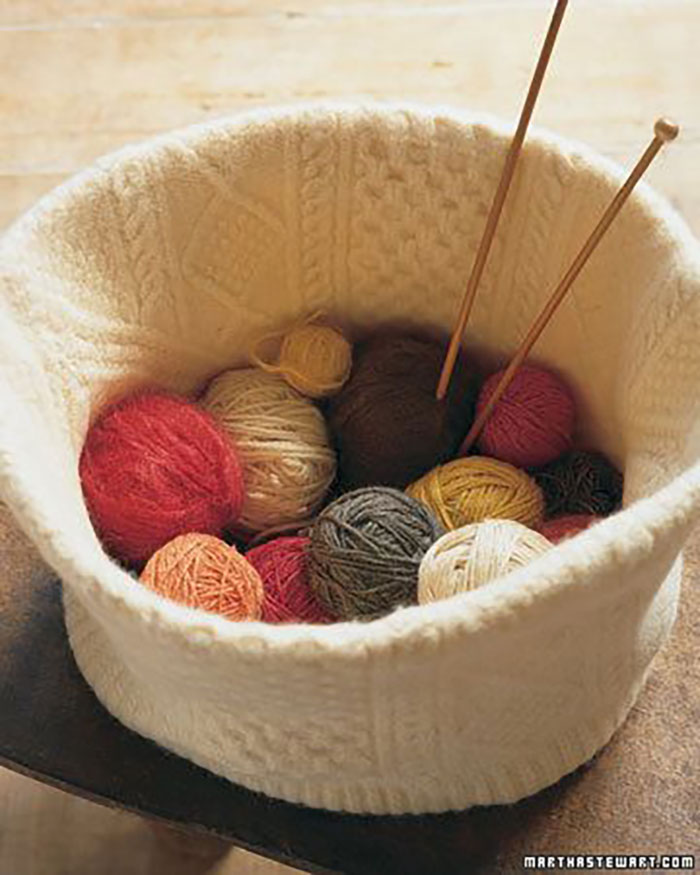 You may not want to knit your own basket but you can certainly make a basket from an old sweater to hold your knitting supplies!
Sweater Sleeve Wine Gift Bag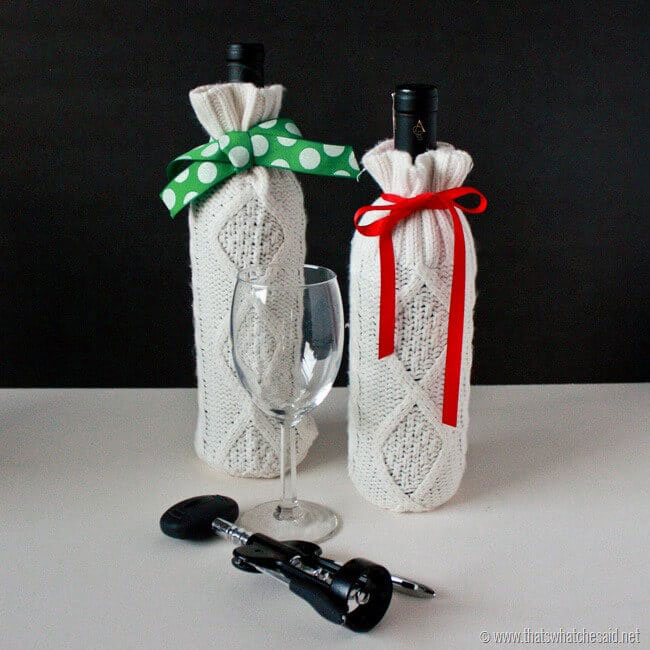 You can also use a longer sleeve to make fancy wine bottle gift bags. These are perfect for the holidays to add some warm cheer.
Warm Winter Weather Wreath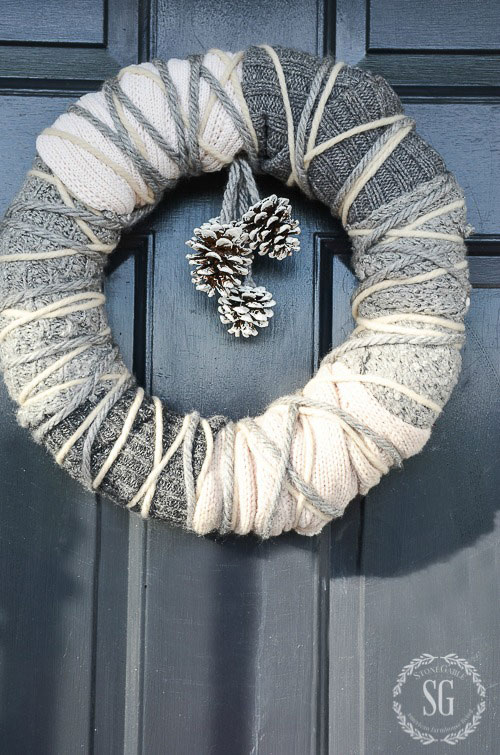 Use a variety of old sweaters to make a cozy winter wreath for your door.
Make Your Own Cozy Stockings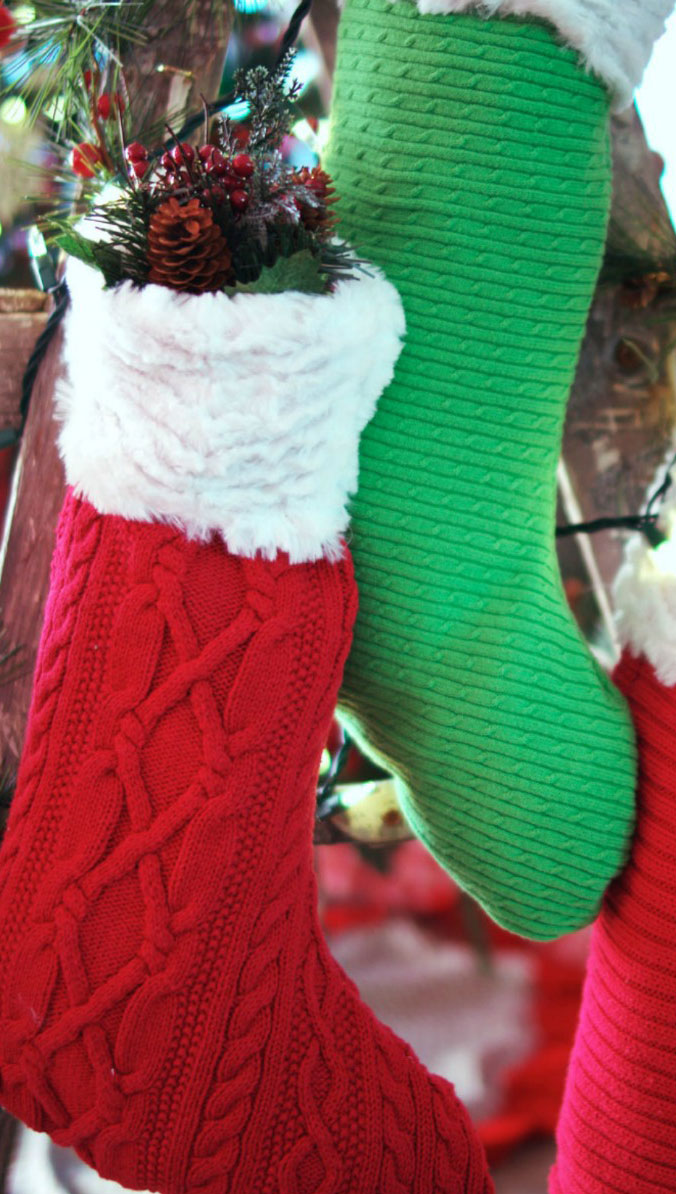 A perfect way to use old red or green sweaters is to make them into festive Christmas stockings.
Recycled Sweater Patchwork Blanket

Here is a great way to use up a bunch of old sweaters all at once. This is such a practical and cozy way to recycle sweaters. Make a blanket for each member of your family with their own old sweaters!
Cover A Vase In A Sweater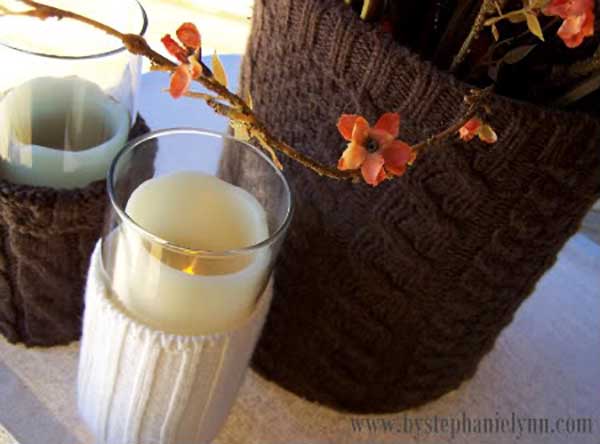 An ordinary glass vase gets a warm transformation by being covered up in a sweater. I really like the warm look of the orange flowers against the brown sweater vase. It makes a great decor piece for the Fall season.
A Sweater Snowman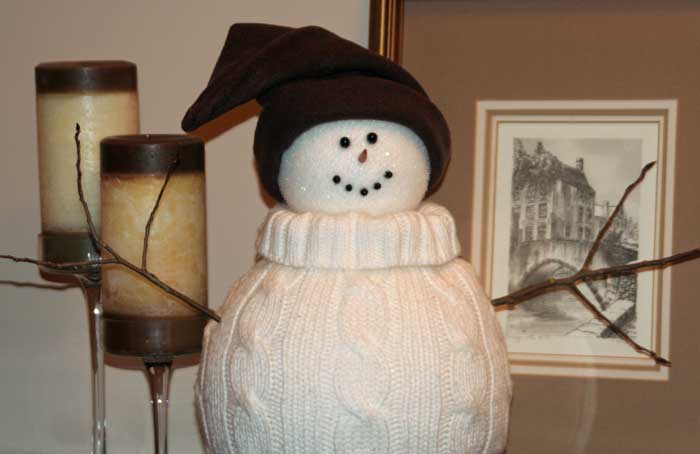 If you love snowmen as much as I do, you will definitely want to make this cute version. He sure looks warm and cozy with his winter sweater!
Felted Sweater Hearts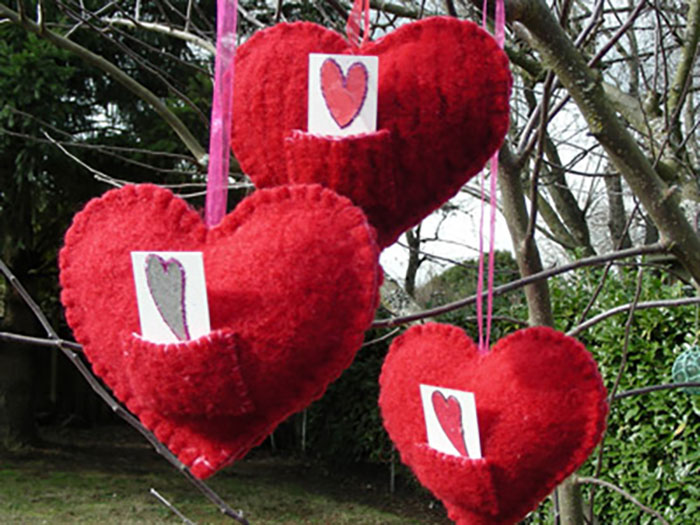 Decorate for Valentines Day with some handmade hearts made from an old sweater.
A Cozy Dog Bed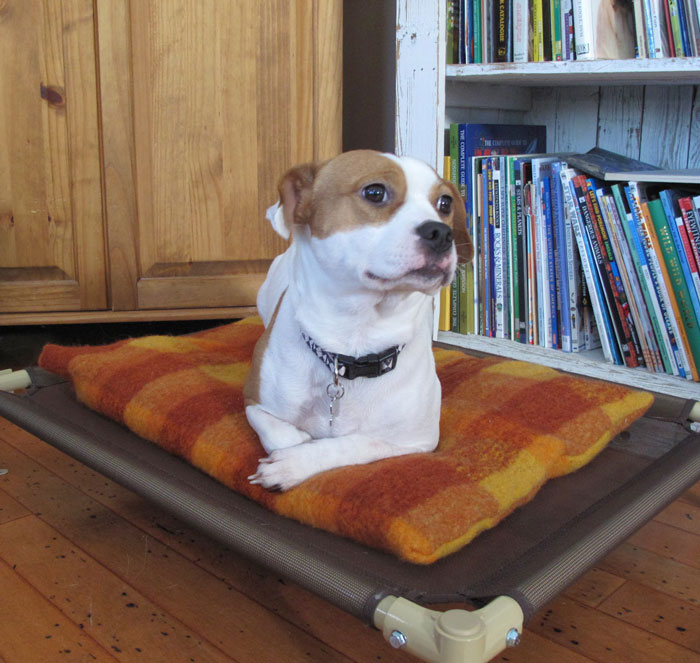 Your dog would love his own warm and cozy dog bed made from old and familiar sweaters.
Cozy Sweater Pouf Ottoman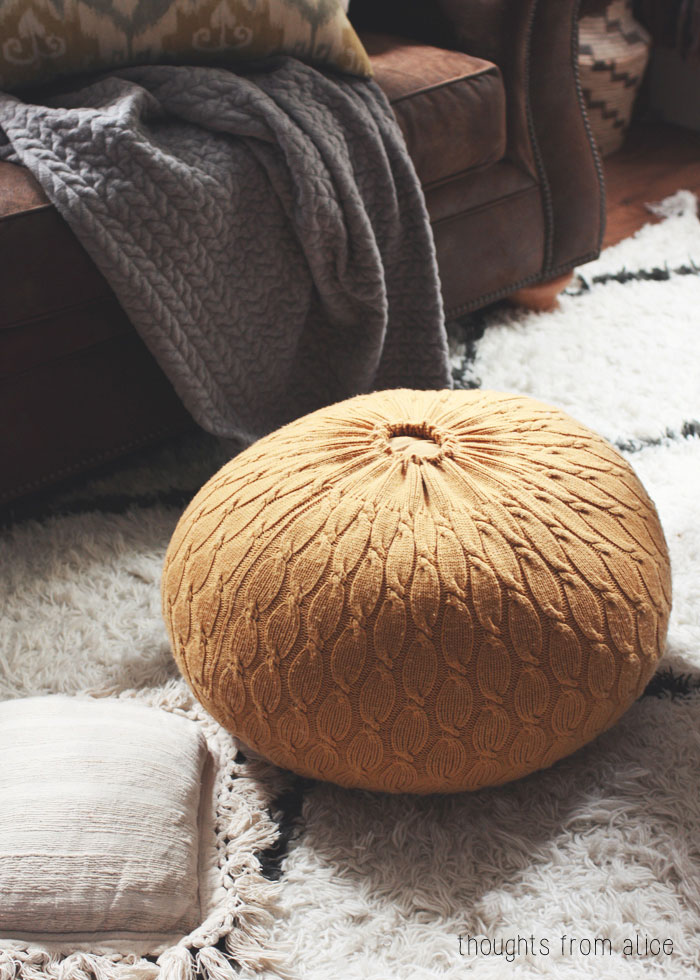 I don't know about you but I probably would have never thought to make an ottoman out of an old sweater. However, after seeing this cozy sweater ottoman, it seems like such an obvious choice.
Recycled Sweater Crafts For Personal Accessories
Besides accessories for the home, there are also lots of fun items to make just for yourself. Some of these ideas would also be great to give as gifts.
Mittens To Warm Hands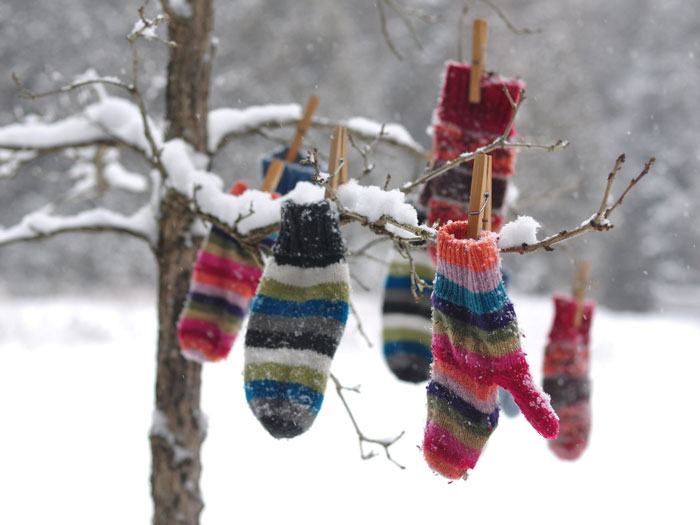 Don't let your hands get cold this winter when you can turn an old sweater into several handy pairs of mittens!
Make A Felted Sweater Handbag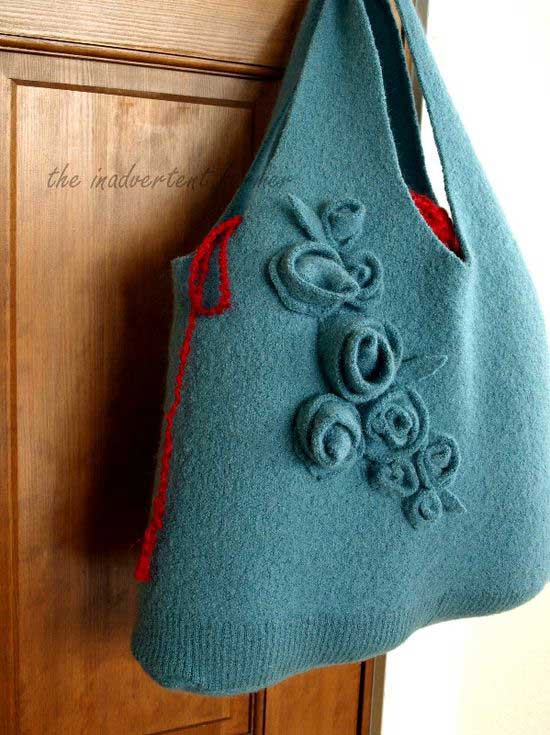 This handbag is so intricate and adorable that you would never guess it was made from an old sweater. I love all of the detail that you can make with the felted wool.
Make Easy Fingerless Gloves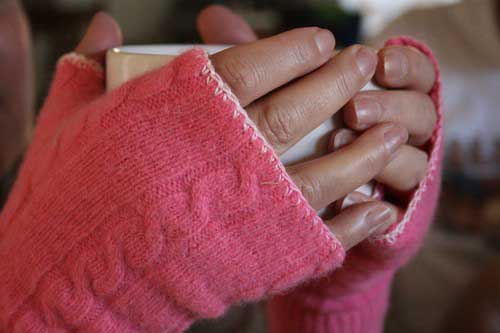 Fingerless gloves are super easy to make with a sweater sleeve. You basically take a sleeve and move it down to your knuckles. A little trim work and a place for a thumb is all that is needed.
Knit Hat Beanie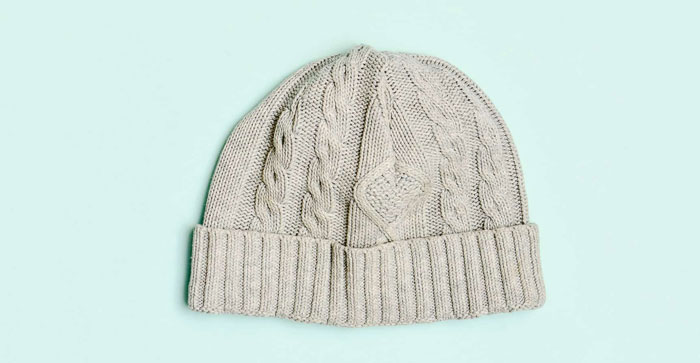 A warm hat is another much needed winter accessory that is easy to make with an old sweater.
Soft Ipad Sleeve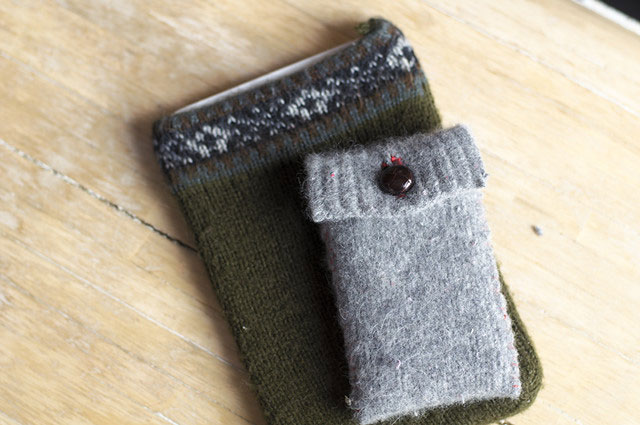 It's nice to have a sleeve to hold your ipad when being toted around. There is no need to spend a lot of money on one when you can easily make your own using an old sweater.
Soft Cuddle Bear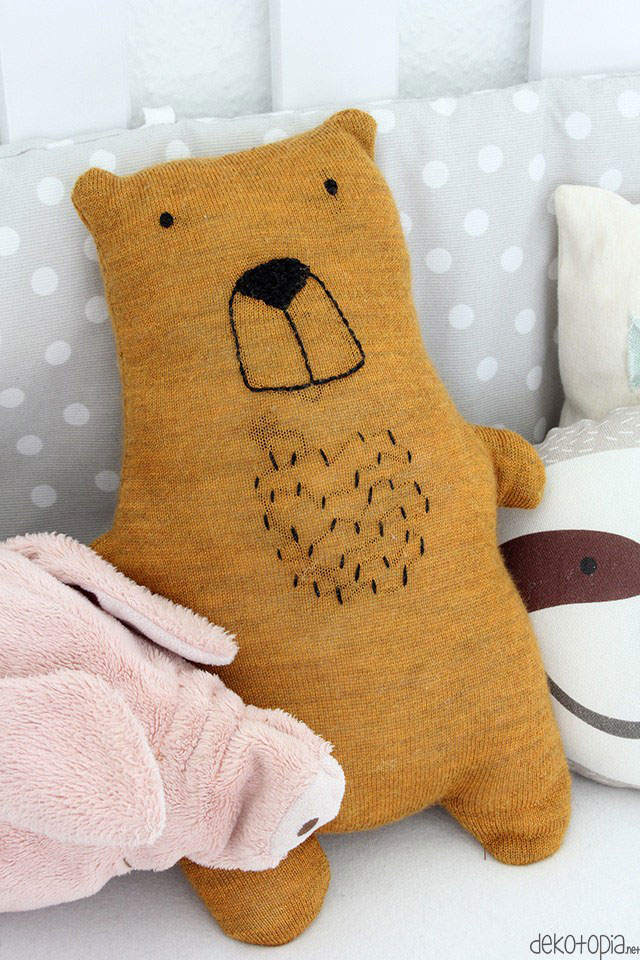 What better way to use an old sweater than to turn it into a soft and cuddly teddy bear! The simple shape is easy to sew.