I was sorting through my very full closet the other day and came to the realization that half of my sweaters were no longer wearable. They were either too short, out of style, or just plain worn out. However, before throwing them all out, I decided to hang on to them for some recycled sweater crafts.
Since I have never gotten in to knitting, the only way I can get that warm and cozy decor is by using old sweaters. Luckily for me, this is much easier than knitting. I also get to give an old sweater new life which is always a win win. Here are some creative ideas to consider if you have some old sweaters that you would like to recycle.
Recycled Sweater Crafts
Make A Cozy Candle Holder
I made quick work of decorating a mason jar for a warm and cozy looking candle holder for this holiday season.

Candle Holder Instructions
Fit a sweater sleeve over the jar and then cut it from the sweater.
Here is the jar turned upside with the cut sweater which overlaps the length of the jar: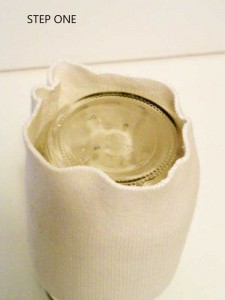 2.  Turn the excess fabric under and used fabric glue to adhere the sweater in place at the bottom.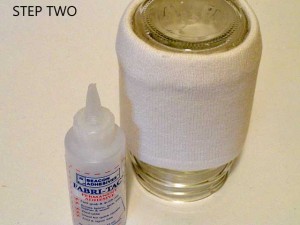 To give the candle holder a little more interest, I just tied a ribbon around the jar with an evergreen and some rusty bells!  Ta-da!
Cover A Pumpkin In A Sweater

My sweater pumpkin craft is a fun way to give a pumpkin, that may not fit your decor, an easy makeover.  I like to keep these neutral pumpkins set out for the entire Fall season.
Make A Pillow With A Recycled Sweater

TUTORIAL: How To Make A Sweater Pillow
Using a large sweater to make a basic pillow is easy. This is your standard pillow design. However, I wrapped this particular pillow with yarn to look like a gift package. It gives me another fun piece of decor to use during the holidays. Speaking of holiday sweater pillows, do you have any old ugly Christmas sweaters that you don't know what to do with? It could be the perfect pattern for a festive pillow!

TUTORIAL: DIY Sweater Pillow
Pillows are an excellent way to recycle old sweaters.  In fact, this is probably how I will use up the majority of my sweaters.  I keep seeing them at stores like Pottery Barn costing a lot more than what I can whip one up for!  For this one, I used a sweater for the back and 3/4 of the front.  It is more decorative and not so much cuddly. Who says you can't get creative with a pillow!
Make A Sweater Coffee Sleeve

Coffee cozies make a fun gift item and they are also super easy to make.  I made this coffee sleeve with a little trim detail but you could also do it even easier by just folding the sweater under at the bottom and using fabric glue like for the candle holder craft.
Sweater Sleeve Wine Gift Bag

SOURCE: That's What Che Said
You can also use a longer sleeve to make fancy wine bottle gift bags. These are perfect for the holidays to add some warm cheer.
Recycled Sweater Patchwork Blanket

SOURCE: Yellow Suitcase Studios
Here is a great way to use up a bunch of old sweaters all at once. This is such a practical and cozy way to recycle sweaters. Make a blanket for each member of your family with their own old sweaters!
Cover A Vase In A Sweater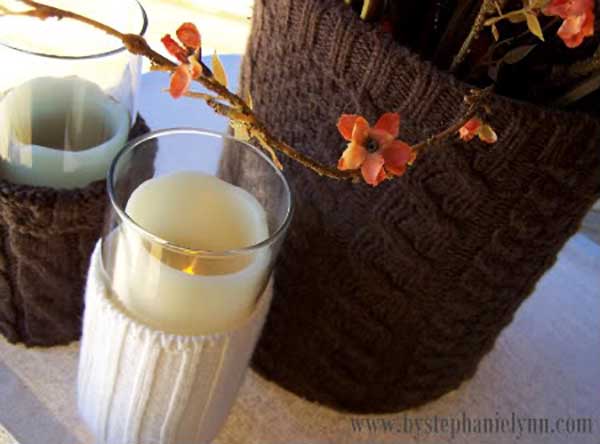 SOURCE: By Stephanie Lynn
An ordinary glass vase gets a warm transformation by being covered up in a sweater. I really like the warm look of the orange flowers against the brown sweater vase. It makes a great decor piece for the Fall season.
A Sweater Snowman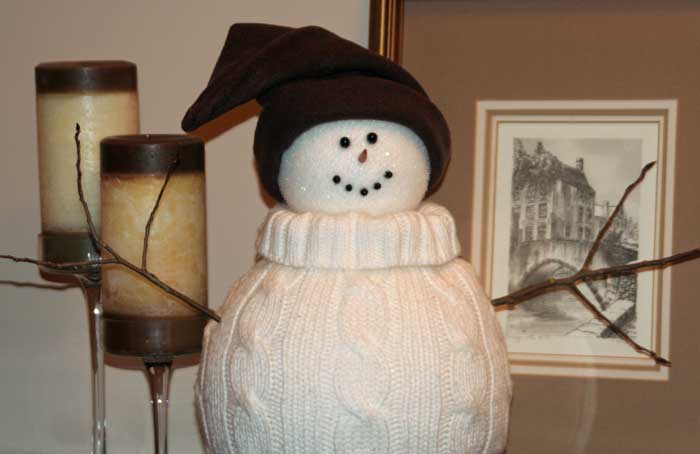 TUTORIAL: High Heels And A Hammer
If you love snowmen as much as I do, you will definitely want to make this cute version. He sure looks warm and cozy with his winter sweater!
Recycled Sweater Crafts For Personal Accessories
Besides accessories for the home, there are also lots of fun items to make just for yourself. Some of these ideas would also be great to give as gifts.
Make A Felted Sweater Handbag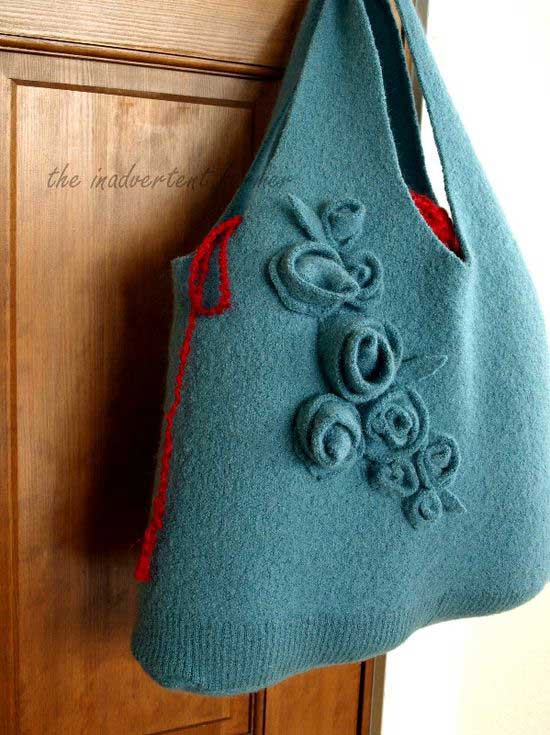 TUTORIAL: Sweet Grace
This handbag is so intricate and adorable that you would never guess it was made from an old sweater. I love all of the detail that you can make with the felted wool.
Make Easy Fingerless Gloves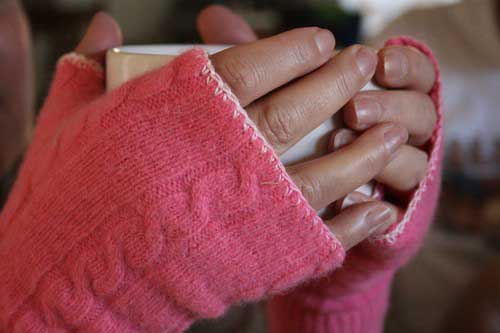 TUTORIAL: A Foothill Home Companion
Fingerless gloves are super easy to make with a sweater sleeve. You basically take a sleeve and move it down to your knuckles. A little trim work and a place for a thumb is all that is needed.
I also have a plan for some Christmas hangings with red sweaters but I may have to go to the thrift store to pick some up.  Can you guess what they are?