Have you found yourself with a collection of old jars around the house? I tend to keep empty jars for general purposes like pouring hot grease into or storing odds and ends. However, there are other ways to use old jars that are more decorative. Mason jars, in particular, have such a nice rustic appeal that make them fun to reuse. Other jars, like old candle jars, are also great to use for decor or organization. I'll show you some creative ideas for reusing old jars in your home.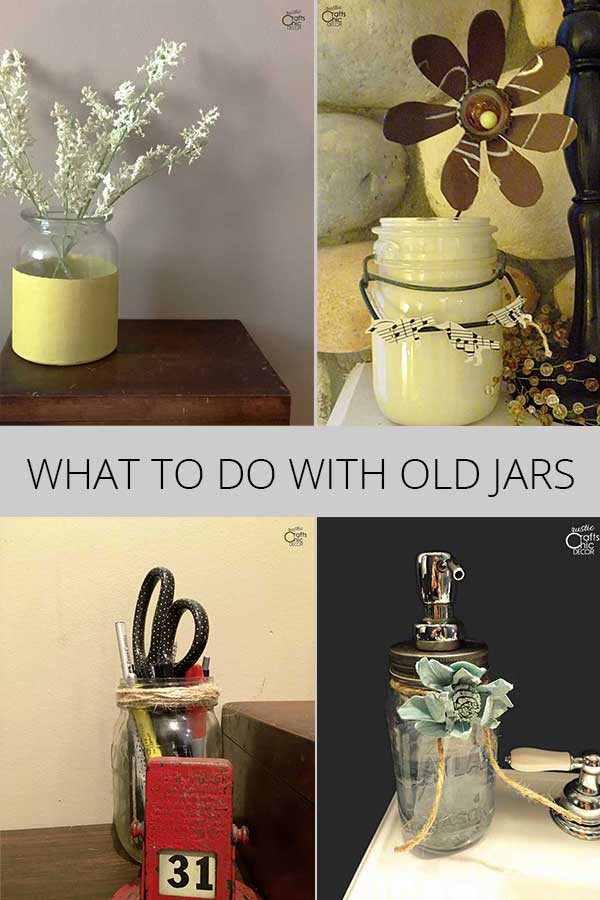 I'll start with a project that I just completed with an old candle jar. I am always in need of decorative vases so it made sense to transform my jar into a vase. All it took was some chalk paint and finishing wax.
How To Turn An Old Jar Into A Vase
This post contains recommended product links. If you make a purchase, I will earn a small commission at no cost to you.
There are a variety of paints that you can use to paint a glass jar. You can also paint either the inside of the jar or the outside. For my purposes, I painted the outside with chalk paint. I wanted a soft matte finish and also the ability to distress the paint just a touch.
MATERIALS
paint brush or sponge
fine sand paper
With chalk paint and glass, you need to put on thin coats and let it totally dry before adding the next coat.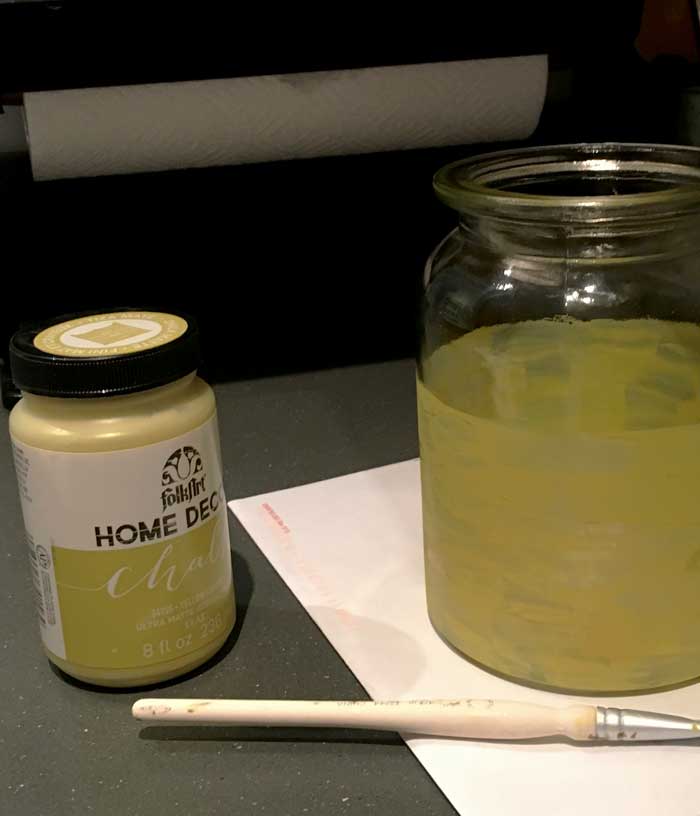 Instead of painting the entire jar, I only went three quarters of the way up. Normally I would have used painters tape to get a perfectly even line. However, I didn't have any so I just winged it. I kept my brush strokes going all in the same direction. With a sponge, I could have gotten a smoother finish but I will be distressing the paint anyway.
The first coat won't look very good but it will all fill in once all of the coats are on. It should take about three or four coats. I ended up coating my jar with four coats of paint.
After the final coat of paint, I let it dry for about two hours before sanding and applying my finishing wax. Since I didn't want to take a lot of the paint off, I used a very fine sand paper. It helped to smooth out some of the rough spots as well as giving me a slight distressed look.
I just applied one coat of wax to protect the paint and I was good to go.

Other Ideas For What To Do With Old Jars
Create Some Decorative Spring Decor
You get an entirely different look when you paint the inside of a jar. The look is especially glossy and clean. Use any acrylic paint for this and no brush is required! Just fill the jar with paint and then dump it back out. A nice layer will stick to the glass.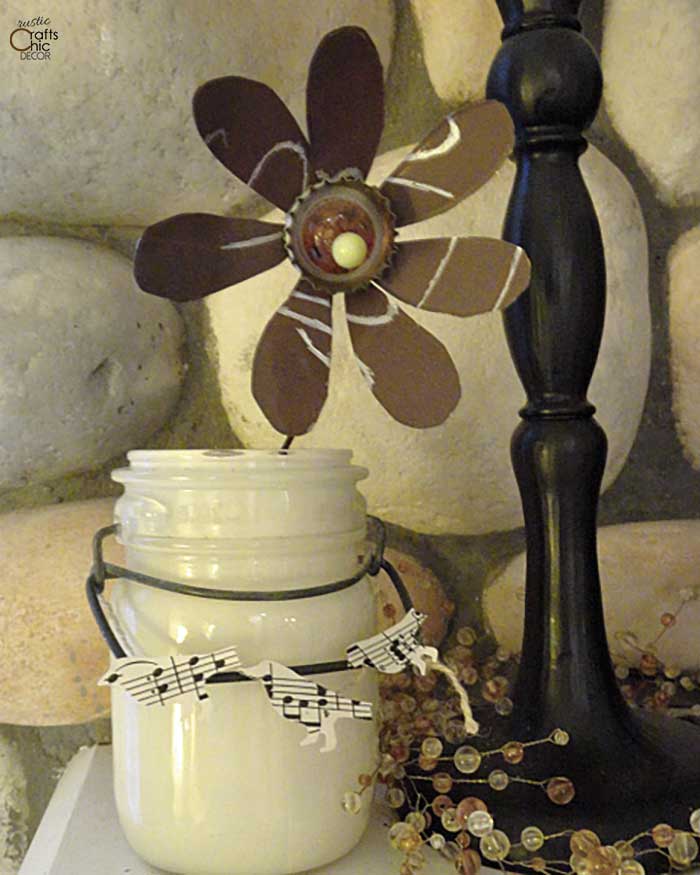 Add fun embellishments to a jar for a specific theme or style.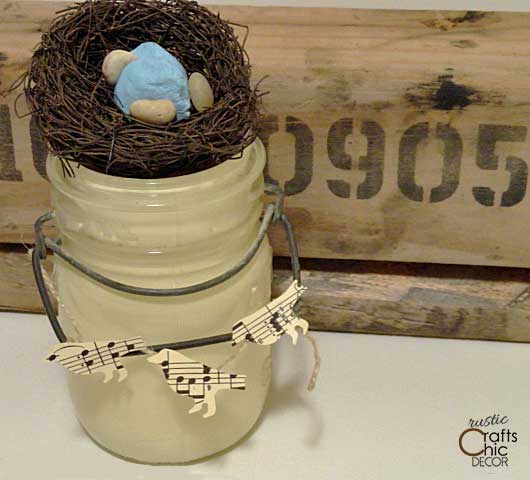 Make A Mason Jar Soap Dispenser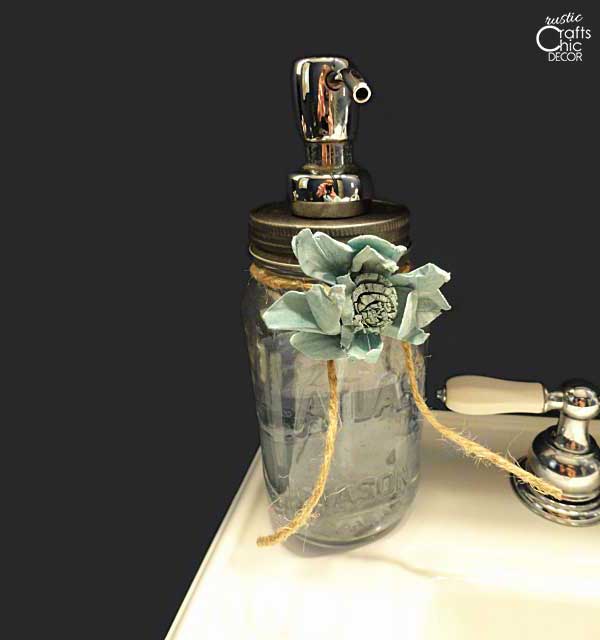 Any old jar with a lid can easily be transformed into a decorative soap or lotion dispenser. I like to use mason jars for this because of the graphics. However, any jar from your pantry would work. Think peanut butter or pasta sauce jars.
Recycle A Jar For Storage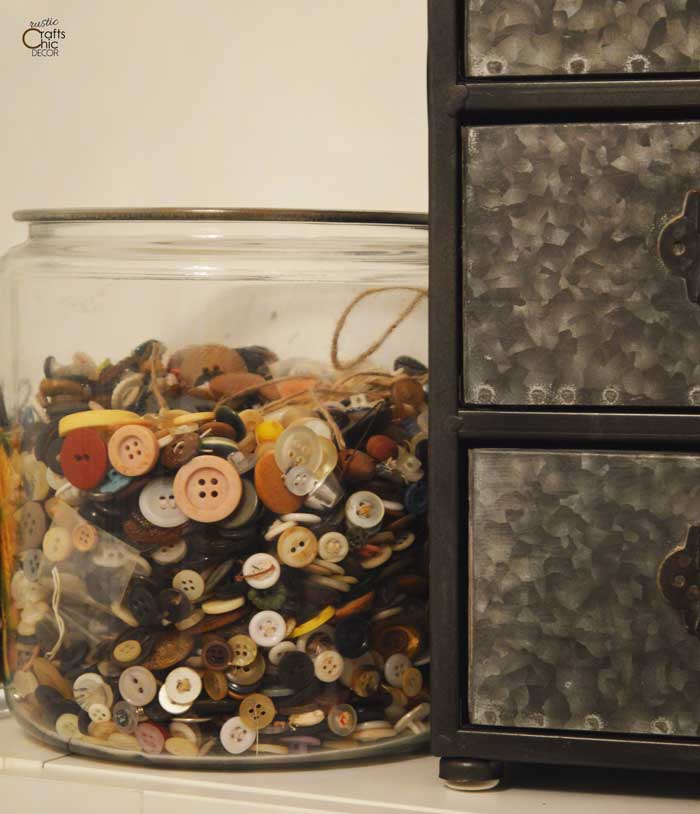 I love to use old jars for storage – especially in my craft room. Jars can hold all kinds of small supplies that are easily seen through the glass. Why buy expensive storage containers when you can repurpose an old jar?
Store Pens And Pencils In A Jar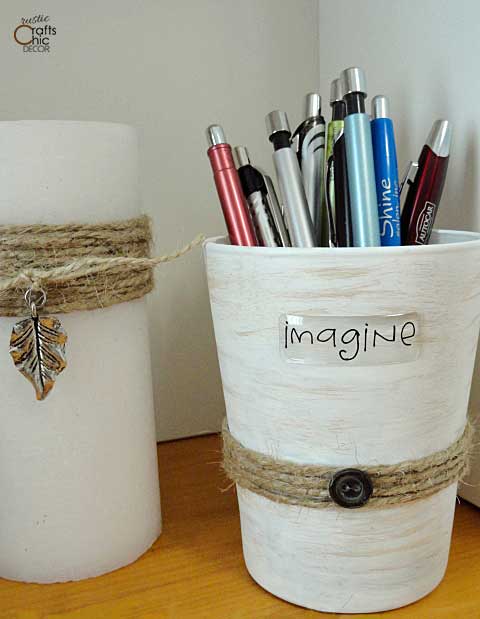 I actually used an old drinking glass for this pencil holder. However, the same thing can easily be done with a jar. Just paint, embellish and stick in some pens. Or if you want to skip the paint, just try winding some twine around the neck of the jar.

Make A Jar Picture Frame Vase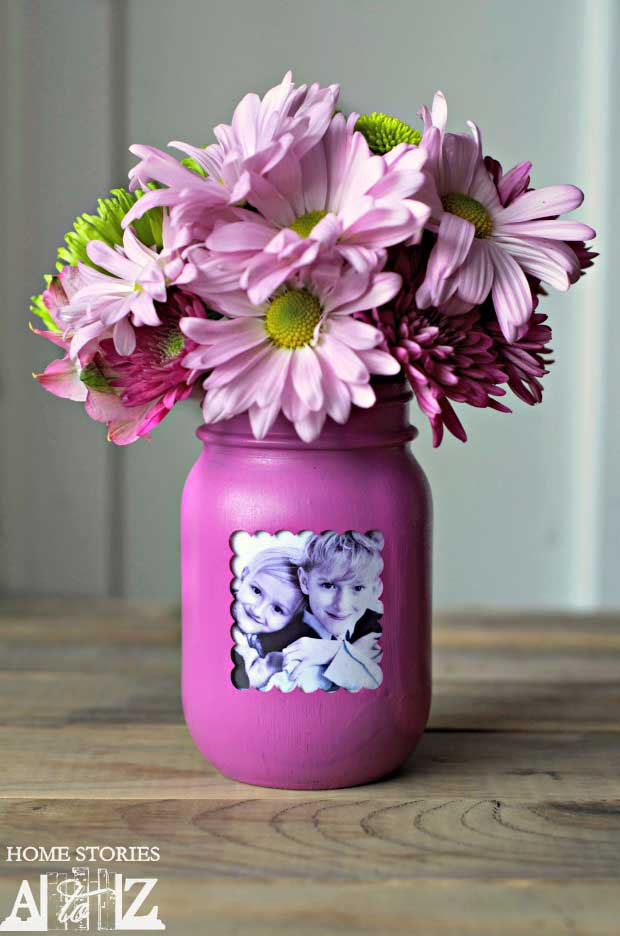 You can also create some decor that serves two functions in one. Insert a photo into a painted jar for a creative picture frame. Then, fill that same jar with a bouquet a flowers for some extra chic!
Wrap Jars In Twine For Rustic Decor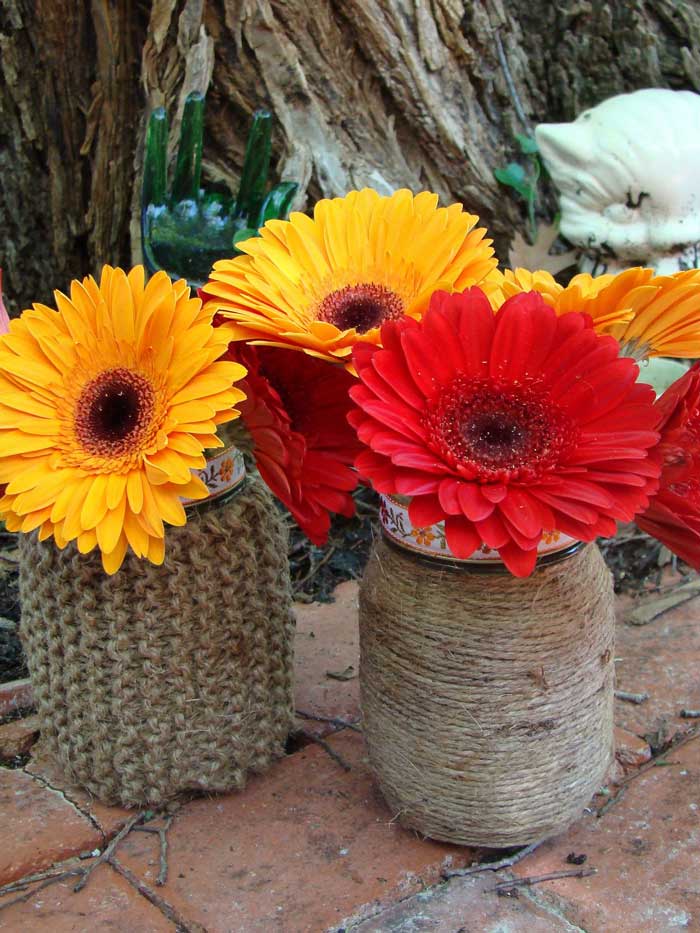 A glass jar gets a more solid and rustic look when it is wrapped up in twine. You could even create stripes by using a couple of different colors of twine.
Wrap A Jar In Fabric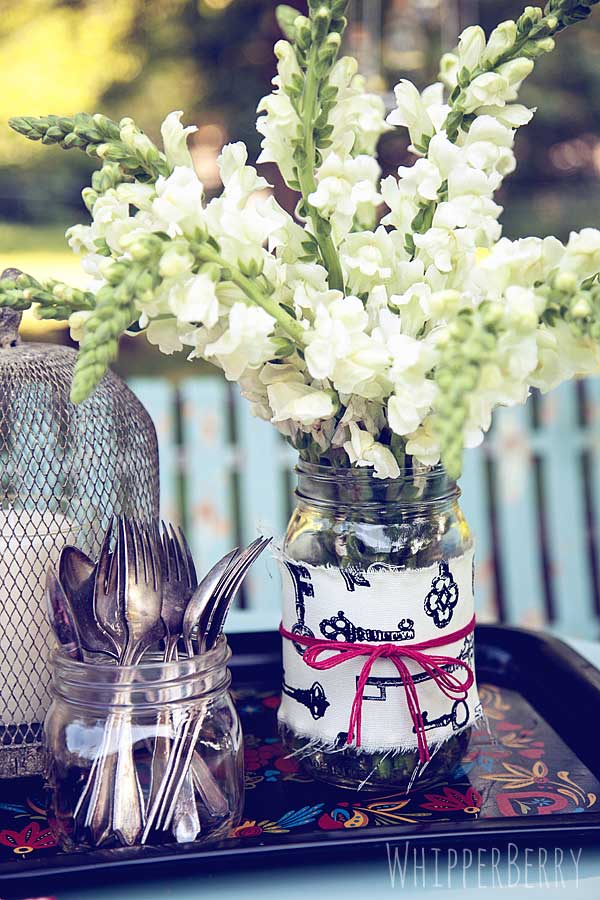 Use one jar for storing utensils at a picnic or party. Then, wrap another one in your favorite fabric for a pretty vase.
Surround Your Jar With Branches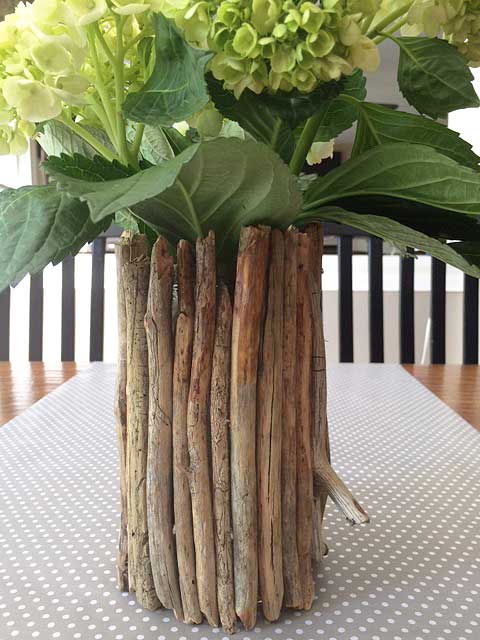 One of my favorite ways to repurpose an old jar is to make a rustic branch vase. All you have to do is glue branches to a jar. They just have to be a little bit longer than the height of your vase. Instant rustic decor!