A Vintage Toolbox As A Centerpiece
Did you ever have your mind set on buying something for a certain purpose and then end up using it for something else entirely?  Based on the title of my post, you may think that I went out to buy a vintage toolbox to use as a….. toolbox and then ended up using it as a centerpiece.  But no, I intended from the very start to use that toolbox for a decorative centerpiece.
I know that may sound a little strange but I had seen the long wooden boxes that are open and have a handle filled with candles or florals…..
and they look amazing!
The best part is….I found a large wooden one that will look so perfect on our large coffee table up at our cabin.
The only thing is, I thought of another use for it before I can bring it up there!
However, since I am so excited to show it to you…….I can never keep a secret!  I thought I would put together a quick centerpiece idea (before I have to take it apart for my other use…..which I will tell you about later).
First of all, here is the vintage toolbox as I bought it: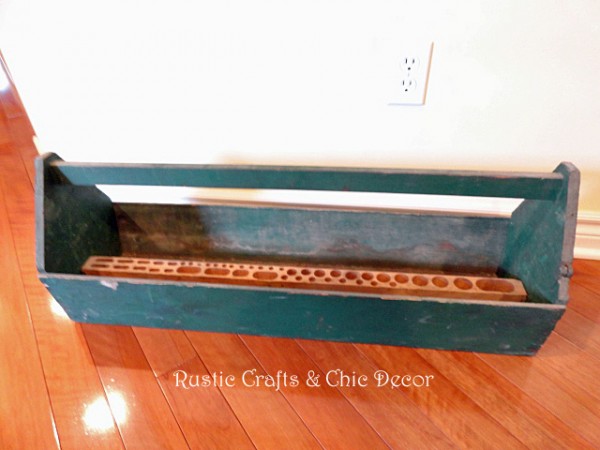 It needs a lot of cleaning and some little tlc!
I will probably paint it a distressed white when I used it for a centerpiece but for now it will be a shade of midnight garden: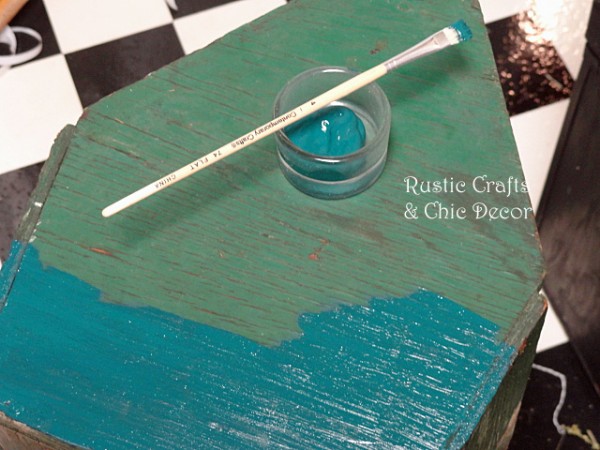 There is a very important reason for that color!
The nice thing about a toolbox is that they usually have inserts with holes and slots for tools.  These work out perfectly for inserting florals or anything else that you want to display in your box.
For this type of box it is especially fun to line up pillar candles.  I added whatever I had on hand to show the fun you can have with a toolbox.  I'll have to go out and purchase florals to go with our cabin colors when I do my centerpiece for real!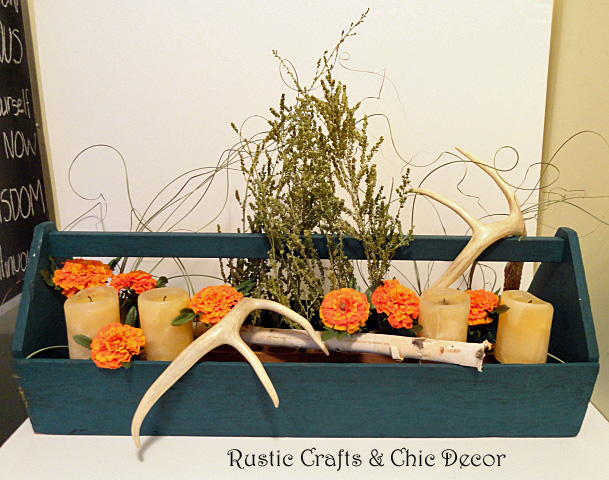 I always have birch logs and antlers on hand!
Now I am going to take my pretend centerpiece apart and give you a little glimpse at what I will be using the toolbox for first.
A little hint….the color of the toolbox is the same exact color of the bridesmaids dresses for my daughters weddings.
I also have been working on making brooch bouquets.  The idea hit me the other day, as I was staring at that wonderful vintage toolbox, that the toolbox was a perfect size for holding and transporting the bouquets.  They could also sit in there during the reception and make a beautiful table decoration.
So, with the help of my husband, we are going to make a fake top for the toolbox with holes cut out to hold the bouquets by the handles – walaa!!!
I have a couple more plans for the box too but I will be saving that tutorial for my wedding blog!
Oh, and here is a little look at a couple of the bouquets just propped up in the toolbox for now!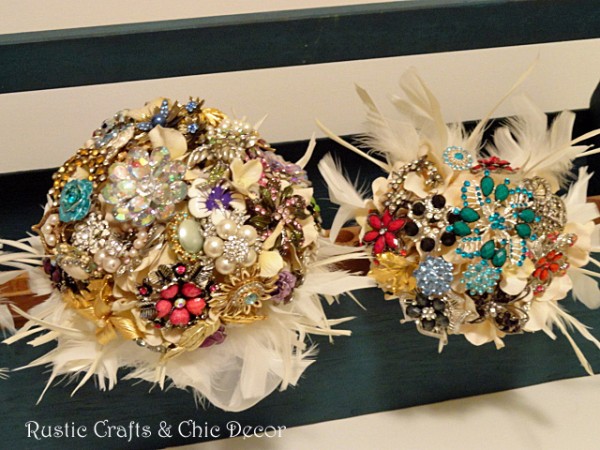 Happy Decorating!