Don't throw out your old screens! This is especially true if you purchase an old home to renovate. Some of those older screens are just busting with charm. Believe it or not, this makes them perfect to decorate with or repurpose into another functional use for the home. Just like old windows, vintage screens have a lot to offer with a little TLC. If you are having trouble visualizing a use, don't worry! Here are some of the top uses for old screens inside the home.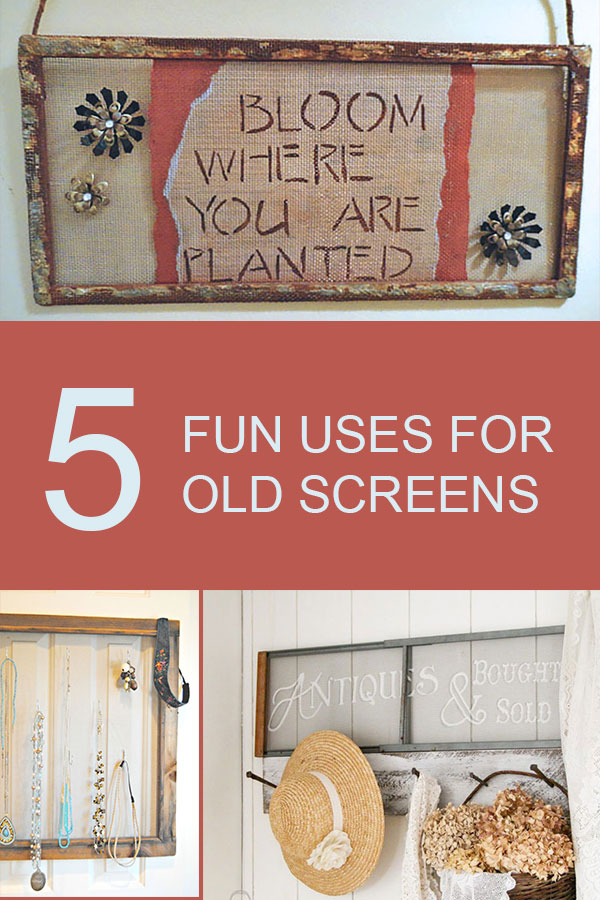 Top Uses For Old Screens
Turn A Small Screen Into A Rustic Sign
Even if you don't have any old screens just lying around, you can find them for sale at flea markets or antique stores. I picked up this small screen from an antique store.  It is very rusted and old and I of course just loved the look!  I figured it would be perfect for some wall art.
Since I had some steampunk-style metal floral pieces on hand, I decided on the theme "Bloom Where You Are Planted".  The metal flowers compliment the frame nicely I think.  I attached the floral pieces and rhinestone centers with jewelry adhesive:

Then, I stenciled my message on a vintage newspaper print paper and decoupaged it onto the screen. Finally, I decoupaged a coordinating paper to the back to add a little more color and bring out the rusty brown on the frame.
For hanging, I attached a section of bark-covered wire with E6000 craft glue.  I was going to keep this for myself but ended up selling it.  Now I will be on the lookout for more unique old screens!
Paint Directly On A Screen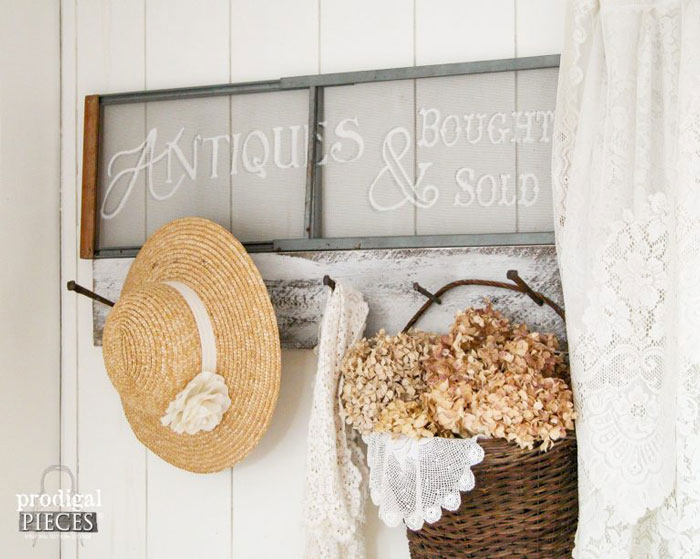 Source: Prodigal Pieces
Out of all of the uses for old screens, signs are probably my favorite. You can easily paint directly on a screen to make any sign or graphic. A chic idea is to use white paint. It's subtle but still easy to read.
Use Old Screens To Make A Breathable Hamper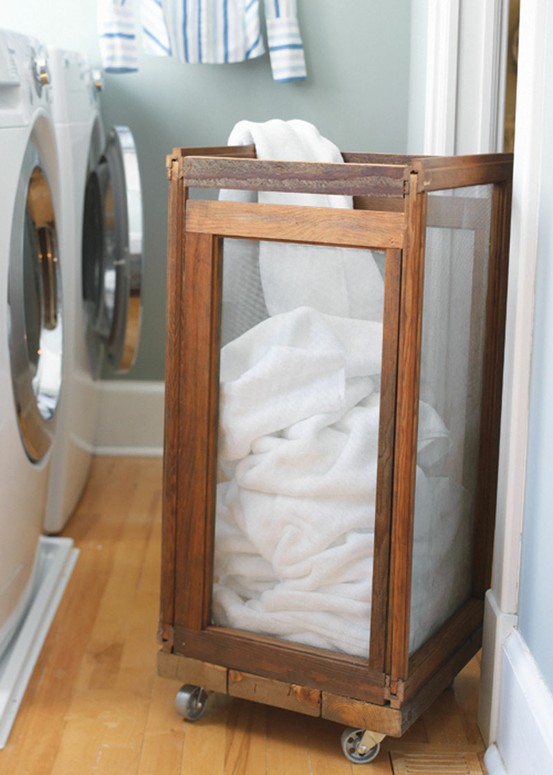 Source: Country Home
A very functional use for old screens would be to make a hamper like this rustic-looking one.  The airflow that you get through the screens is perfect for a hamper. Since the hamper is so decorative, it makes doing laundry more fun…..o.k. that's a stretch! It does make a laundry room more inviting though.
Create An Ornament Display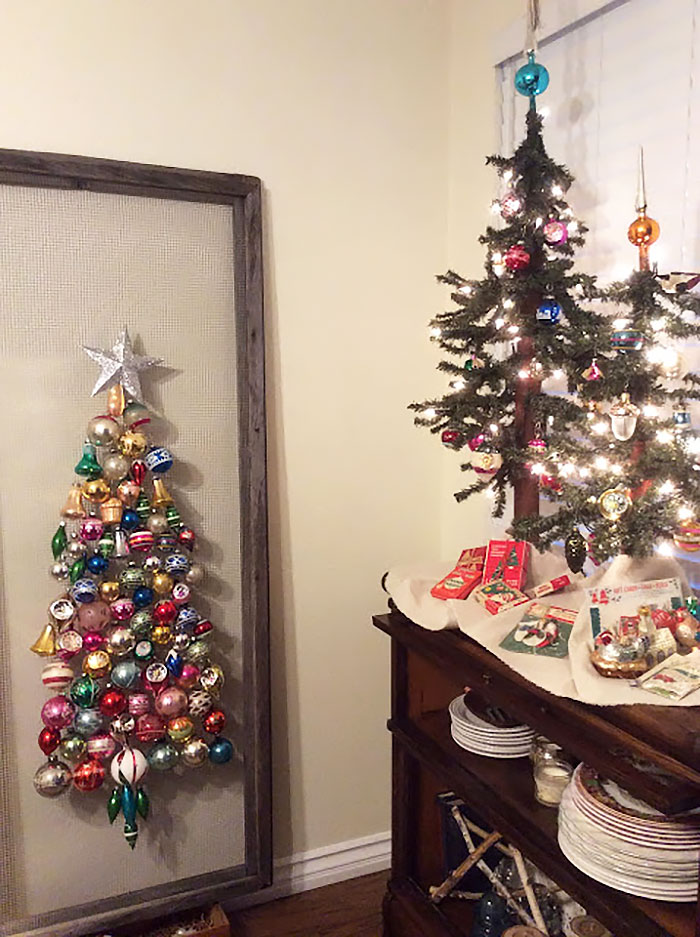 Source: Fresh Vintage By Lisa S
When you have more than enough Christmas ornaments for your tree, hang them on a screen! This makes such a pretty display for the holidays. This particular screen was from an old door which is a perfect size for all of the ornaments.
Make A Jewelry Holder With A Vintage Screen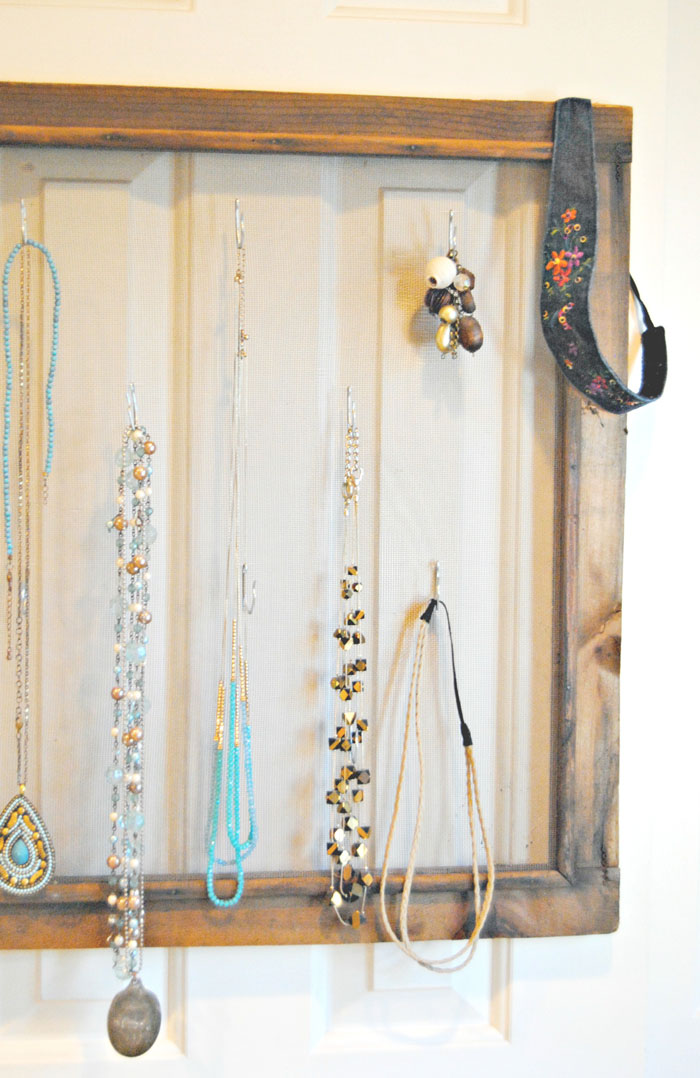 SOURCE: The Painted Home
Jewelry organizers are very popular and using a screen to hold earrings and necklaces is a perfect idea. The old screens with wood frames are charming enough to have on display.
Create A Photo Holder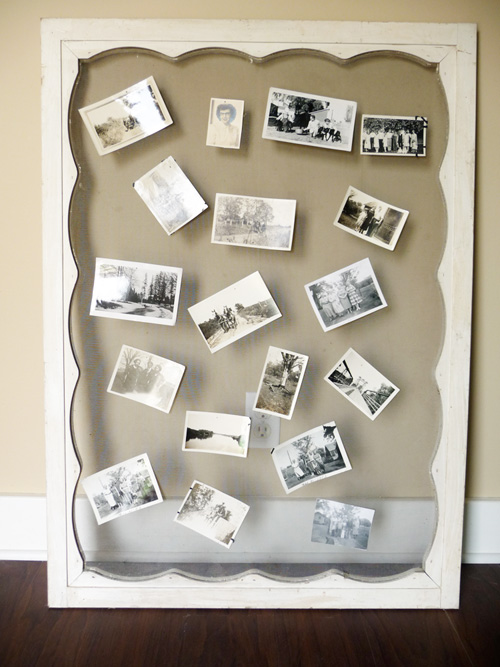 SOURCE: Salvaged Curiosities
Along the same lines as the jewelry holder, this screen holds photos. This example, for a picture board, uses straight pins to attach the pictures through the screen.  Since screen mesh is made of metal, you could also make a message or picture board using magnets.