I have posted about decorating with old windows but why not make use of those old screens as well? There are so many different ideas for using screens in your decor or as functional houseware items. I came up with a list of the top uses for old screens inside the home.
Top Uses For Old Screens
Turn A Small Screen Into A Rustic Sign
I picked up this small screen from an antique store.  It is very rusted and old and I of course just loved the look!  I figured it would be perfect for some wall art.
Since I had some steampunk style metal floral pieces on hand, I decided on the theme "Bloom Where You Are Planted".  The metal flowers compliment the frame nicely I think.  I attached the floral pieces and rhinestone centers with jewelry adhesive:

Then, I stenciled my message on a vintage newspaper print paper and decoupaged it onto the screen.  Finally, I decoupaged a coordinating paper to the back to add a little more color and bring out the rusty brown on the frame.
For hanging, I attached a section of bark covered wire with E6000 craft glue.  I was going to keep this for myself but ended up selling it.  Now I will be on the look out for more frames!
Here are some other ideas for using old screens.
Make Screen Leaves That Look Like Lace

SOURCE: BHG
An unlikely addition to your dinner table is window screening material. However, that is exactly what was used to make these decorative leaves scattered on the plates. The leaf cutouts are enhanced with gold paint and a puffy pen to give them a festive look. These would be perfect for decorating a table at Thanksgiving or for any Fall dinner party.
Use Old Screens To Make A Breathable Hamper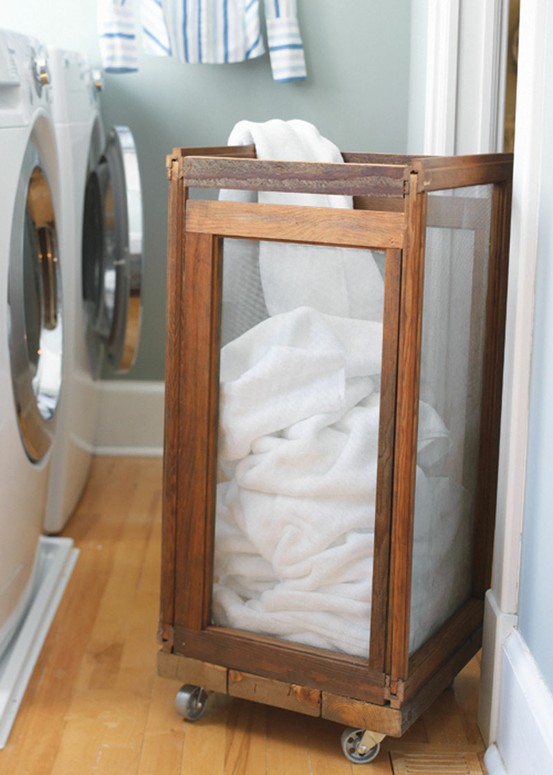 SOURCE: Country Home
A very functional use for old screens would be to make a hamper like this rustic looking one.  The air flow that you get through the screens is perfect for a hamper. Since the hamper is so decorative, it makes doing laundry more fun…..o.k. that's a stretch! It does make a laundry room more inviting though.
Make A Holder For Earrings With A Screen

SOURCE: Dream Green DIY
Jewelry organizers are very popular and using a screen to hold earrings is a perfect idea. Just place a section of window screen into a picture frame and get a great organized for earrings.
Create A Photo Holder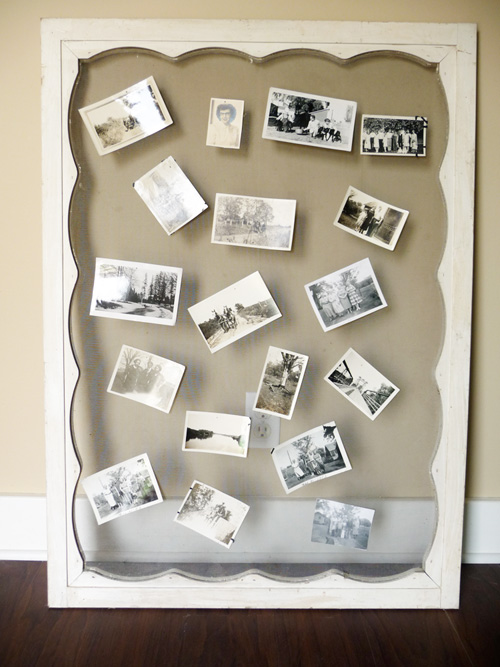 SOURCE: Salvaged Curiosities
Along the same lines as the jewelry holder, this screen holds photos. This example, for a picture board, uses straight pins to attach the pictures through the screen.  Since screens are made of metal, you could also make a message or picture board using magnets.