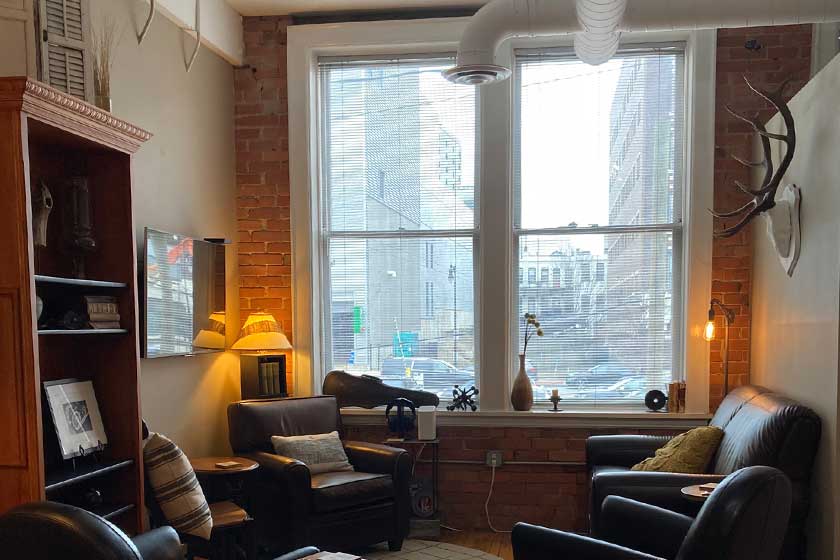 Once upon a time, home decorating was all about brand new finishes and elegant and chic decor. One would never have thought of going to the plumbing department to shop home decor pieces. Or, the ductwork that was always bulk-headed and left hidden, forget about it with industrial style decorating. Now those metal ducts are the coolest thing ever. In fact, you will be surprised at how many industrial decor ideas are a matter of going back to the basics!
The trend started with old buildings being renovated into lofts or apartments. Many are left with open ductwork and exposed brick walls. Wood floors are typically old and weathered and oh so charming. The style has really taken off and can easily be incorporated into any type of house. Once you see these unique industrial decor ideas, you just might fall in love yourself!
Best Industrial Decor Ideas
You most likely have seen little bits and parts of industrial decor in farmhouses, modern rustic homes, and even in your basic ranch. Even if you don't go full out loft style, there are aspects of it that are easy to incorporate in your decorating. I picked some of the best examples of industrial decor ideas and DIY projects that will fit into any home.
1. DIY Faux Wood Beam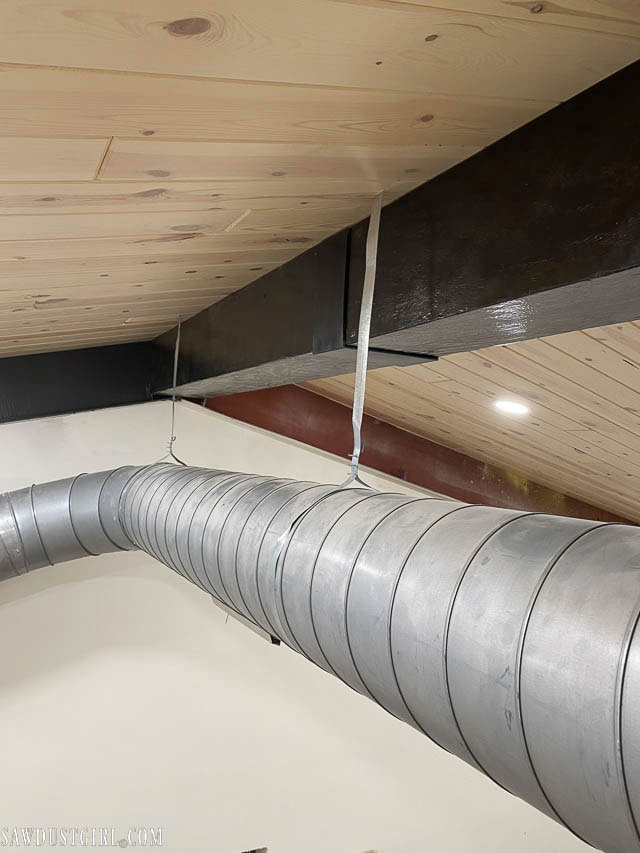 Wood beams are quite popular in an industrial style space but what if you don't have an original old beam in your home? You may be surprised that you can make your own and have it look distressed and old. See how Sawdust Girl accomplished this with her newly installed large beam.
2. Industrial Calendar DIY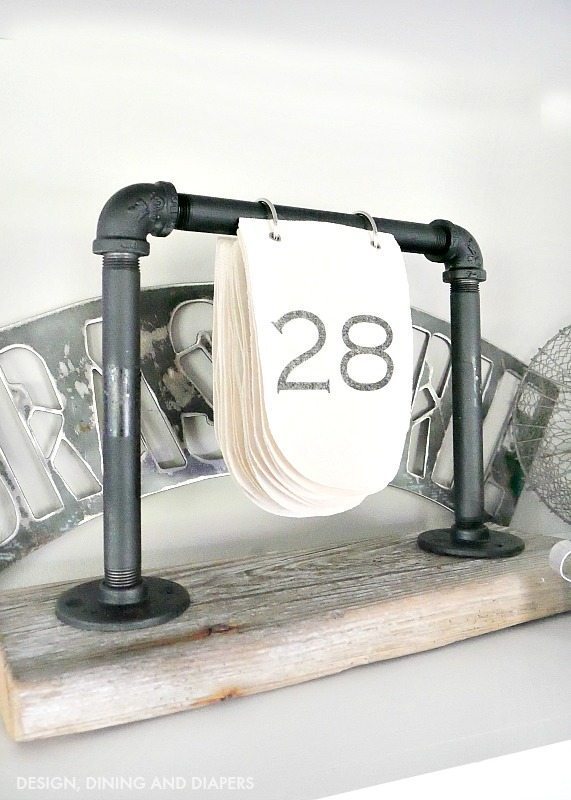 All you need for this fun industrial style calendar is some plumbers pipe, reclaimed wood, fabric banners and paint. It's a fun look for a desktop or shelf.
3. DIY Minimal Hanging Frames With Black And White Photos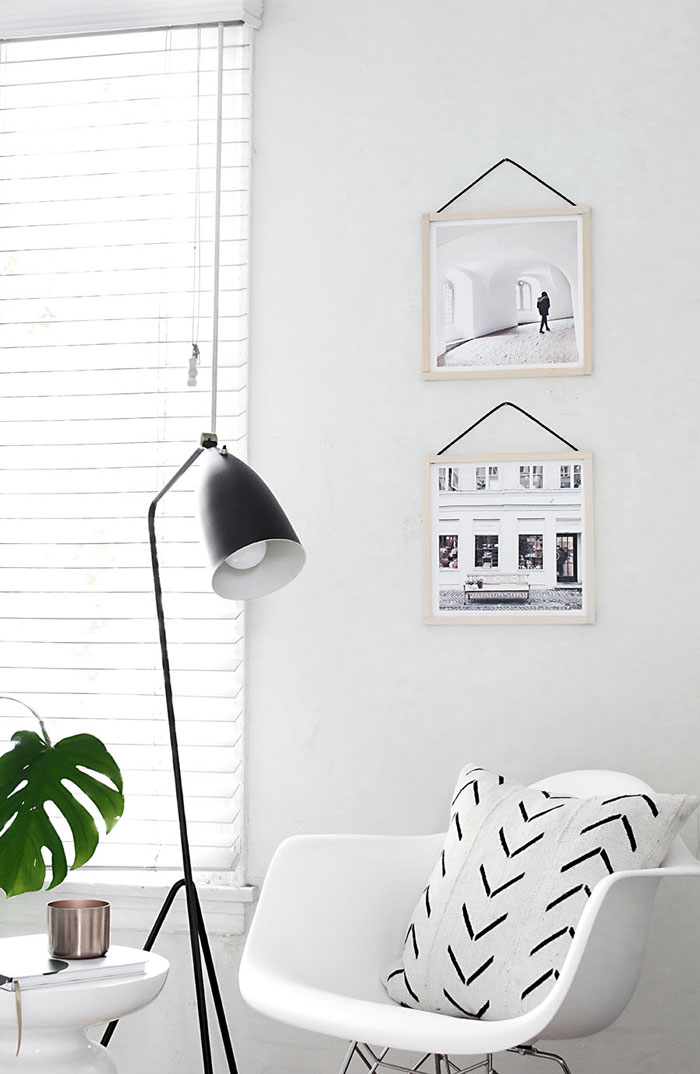 These sleek and simple photo frames displaying black and white photos are a perfect accent for an industrial style. The best part is that they are easy to make. And, if you take your own pictures, they are inexpensive too!
4. Industrial Style Geometric Wreath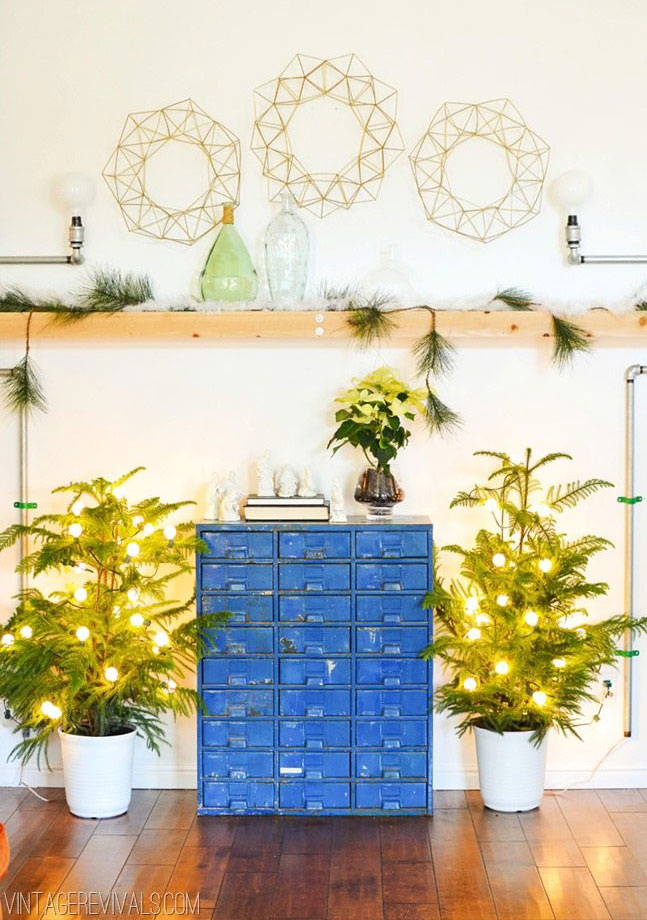 There is so much unique industrial styling going on here. The vintage blue metal cabinet is such a nice focal point and the fun industrial lights make their own statement. To top that all off, the three geometric wreaths are something that can be made yourself by following the easy tutorial by Vintage Revivals.
5. DIY Vintage Industrial Pendant Light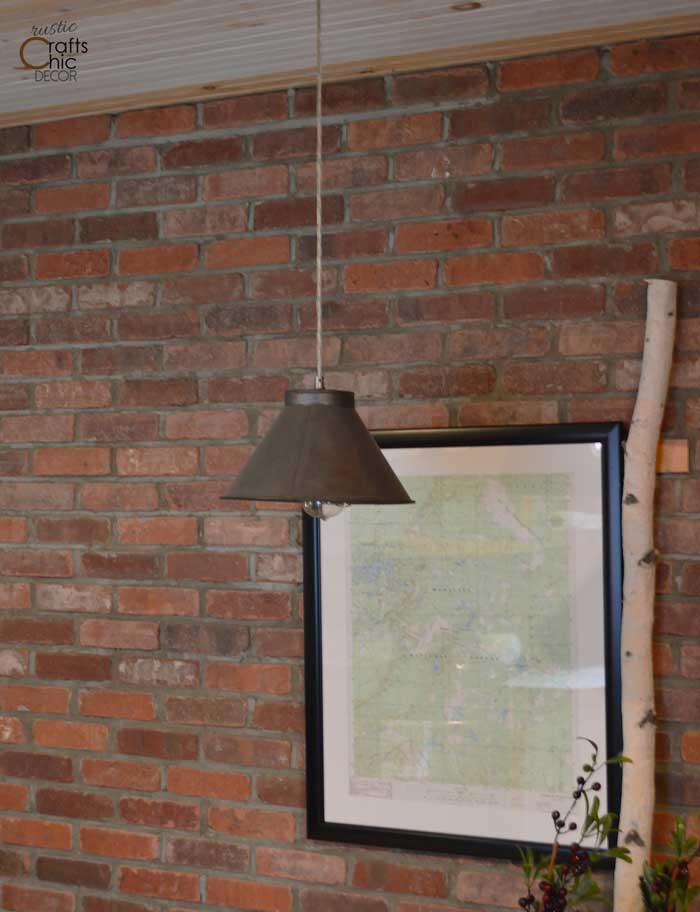 A vintage kitchen sifter becomes an industrial pendant light with just a little tweaking. The look is complete by adding an Edison style light bulb.
Related: Modern Rustic Decor Ideas
6. Industrial Plumbers Pipe Shelves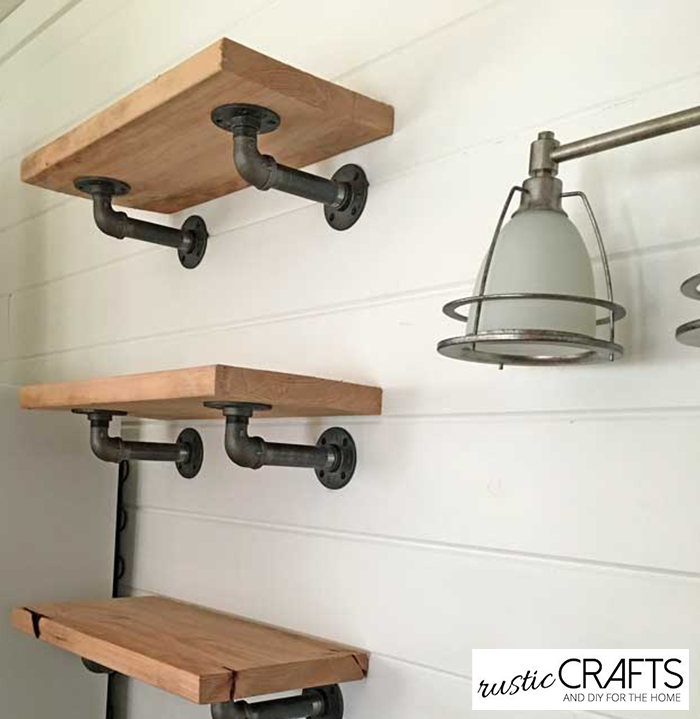 Using construction grade 2×6's and plumbers pipe for brackets, it's easy to create open shelving with an industrial style.
7. Industrial Style Live Edge End Table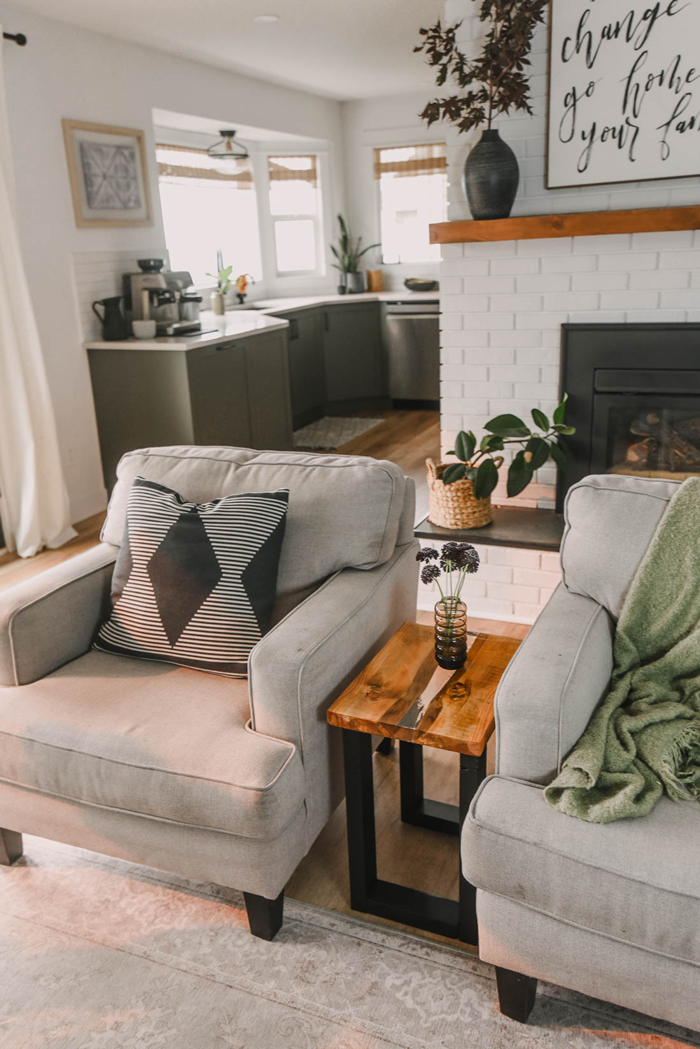 A live edge end table top looks especially industrial with table legs that have seamless and simple styling that look like iron but are wood painted black.
8. Fun Pallet Coffee Table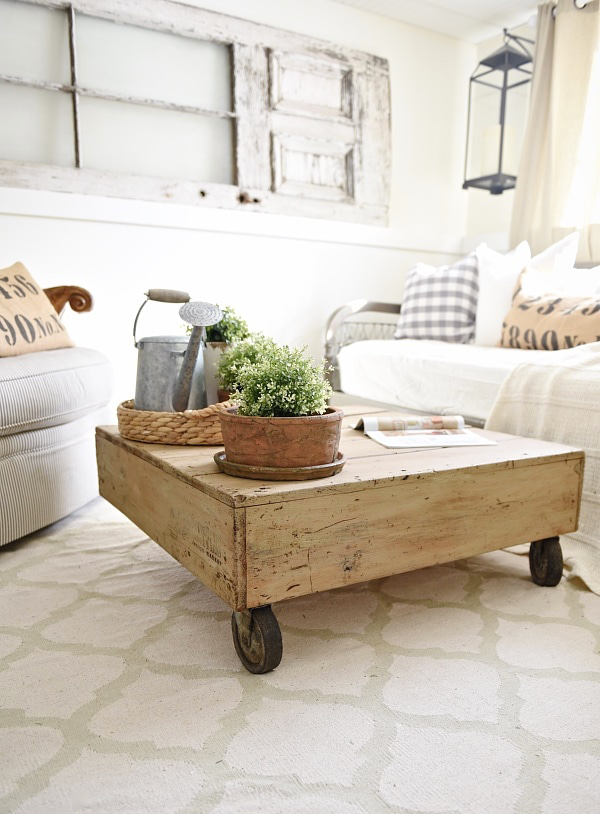 It's amazing how pallet wood and old caster wheels can look so cool in a home. This coffee table makes quite the statement piece that is both rustic and industrial.
9. Use Plumbers Pipe For Table Legs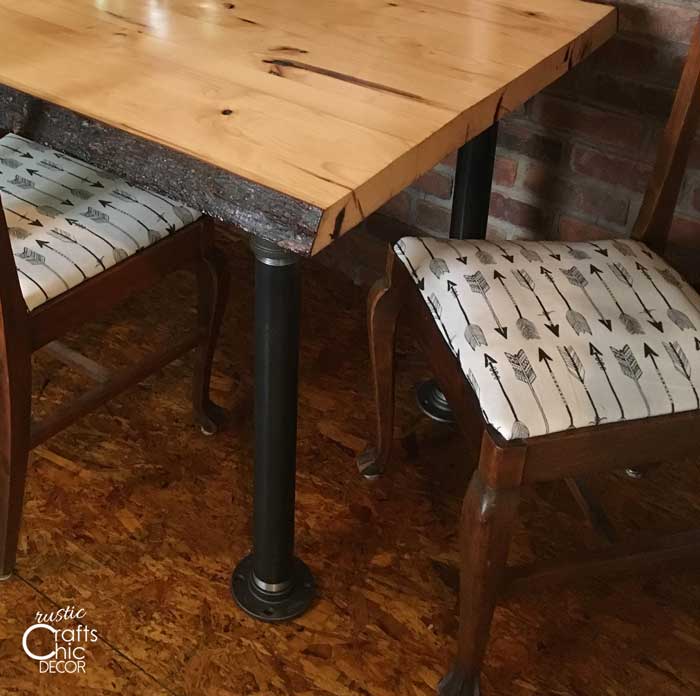 Usually the first thing I think of with rustic industrial decor ideas is plumbers pipe. It is so hot right now. Since plumbers pipe comes in so many different sizes, it's easy to find some to work as table legs. This was the perfect industrial touch to our rustic table. There are so many other things that you can make with plumbers pipe for home decor. Check out these other rustic crafts using plumbers pipe.
Rustic Industrial Decor Ideas
10. Create A Rustic Industrial Office Space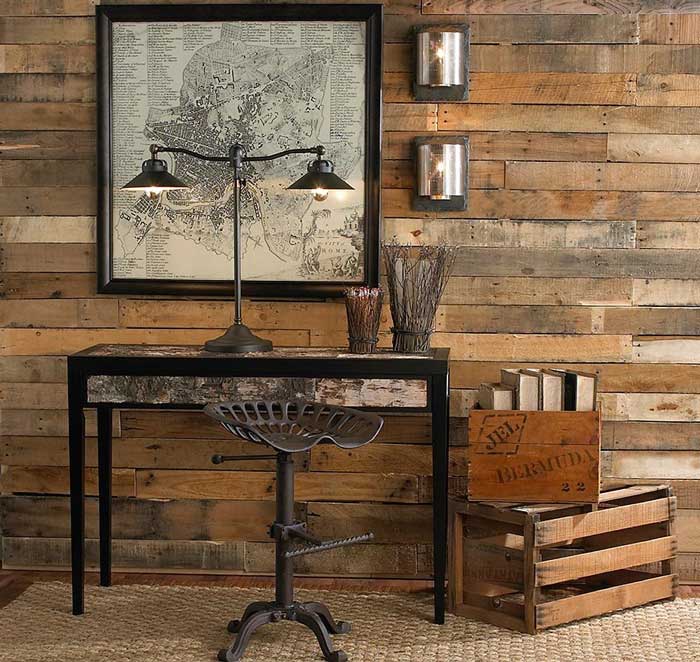 This rustic industrial office space is so warm and inviting. I love the tractor seat stool along with all that salvaged wood on the wall. The room is just full of rustic goodness!
11. Exposed Brick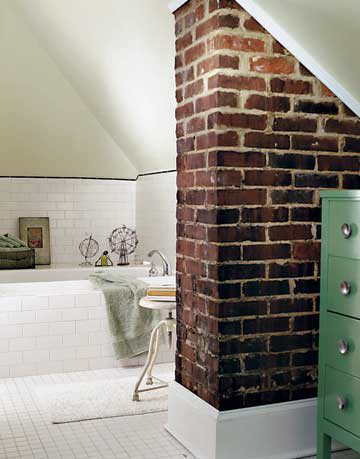 Warm brick and small white tiles are a perfect combination to create a rustic industrial style. Other ideas for a bathroom are concrete sinks and vintage lighting.
12. Pipe And Wood Shoe Rack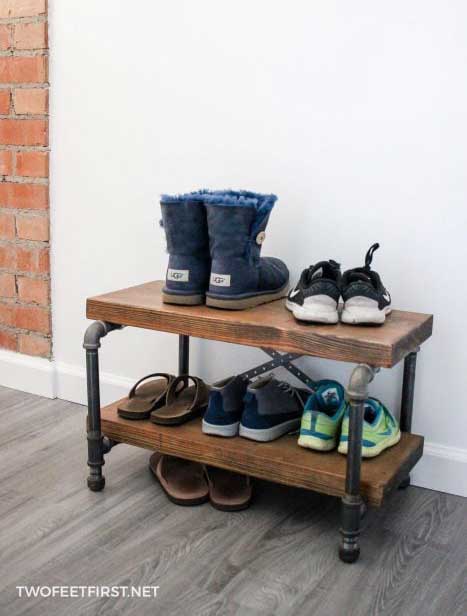 Shoe racks are normally not the most decorative item in your house. However, this one made from thick wood and plumbers pipe, gives a pile of shoes a stylish place to stand.
13. Concrete and Wood Firewood Storage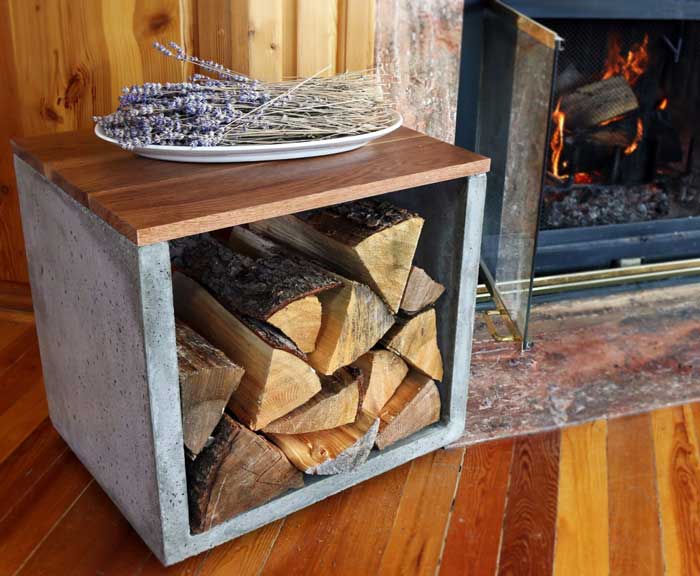 Molded concrete is another industrial element that can look amazing as home decor. This clever fireplace storage box also acts as a decorative side table.
14. Metal Wall Baskets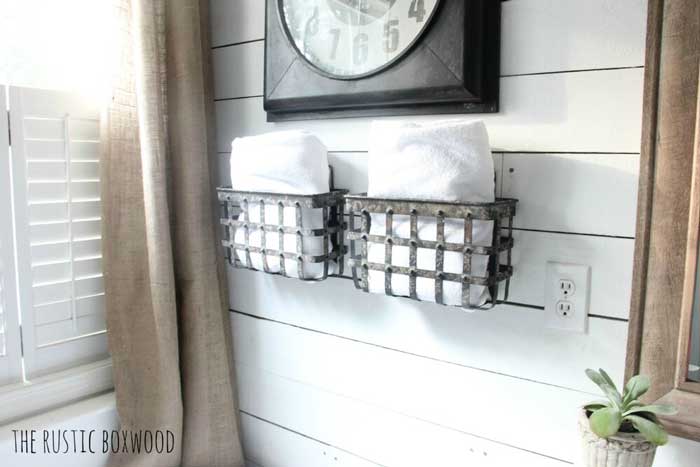 Storing towels in metal wall baskets just amps up the style in this beautiful bathroom remodel. The industrial touch is clean and adds character.
Inexpensive Industrial Decor Ideas
15. Faux Galvanized Metal Barstools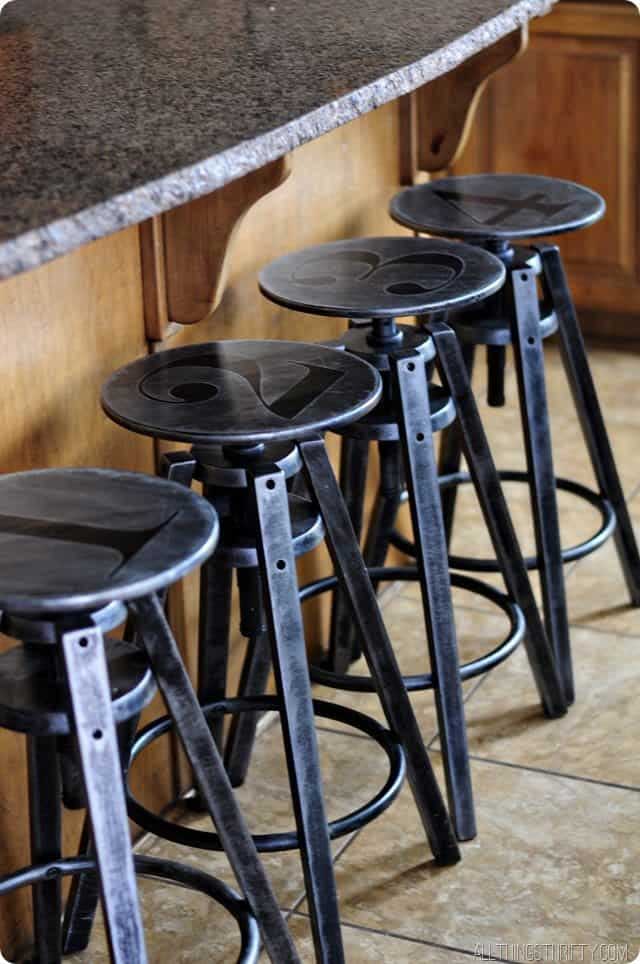 Even if you don't have true metal accessories, you can create the look yourself by painting with a galvanized metal look. These barstools look authentically industrial because of the painting technique.
16. Shop Lockers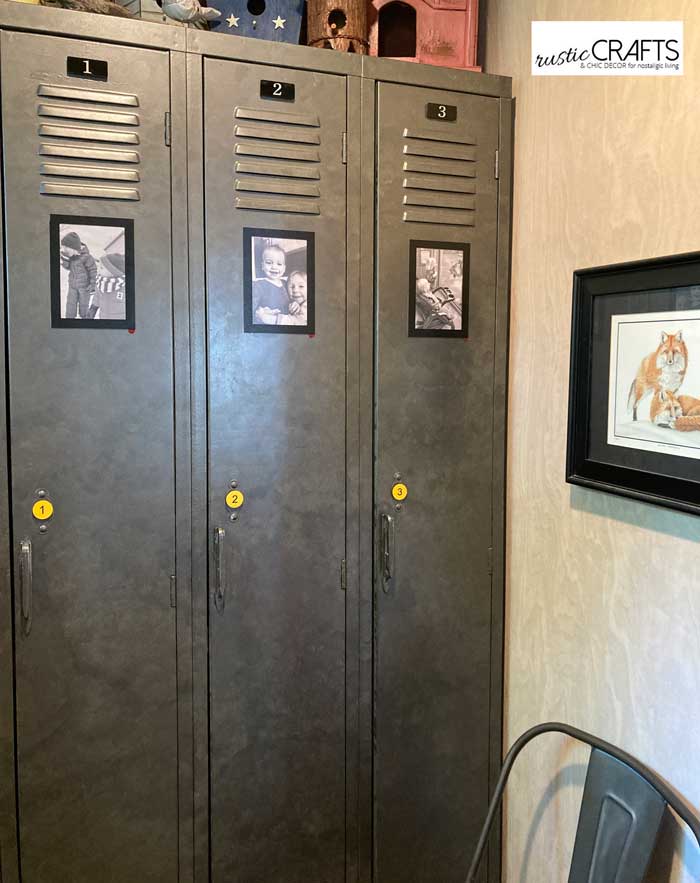 Old shop or factory lockers are nice for storing coats and shoes in an entry way or mudroom. Depending on the condition of the lockers, you may want to modify them just a bit. These lockers were pretty greasy and had lots of scratches in not a nicely distressed way. To update them, I just painted them to look galvanized and it really freshened them up.
17. DIY Industrial Mirror: Ikea Hack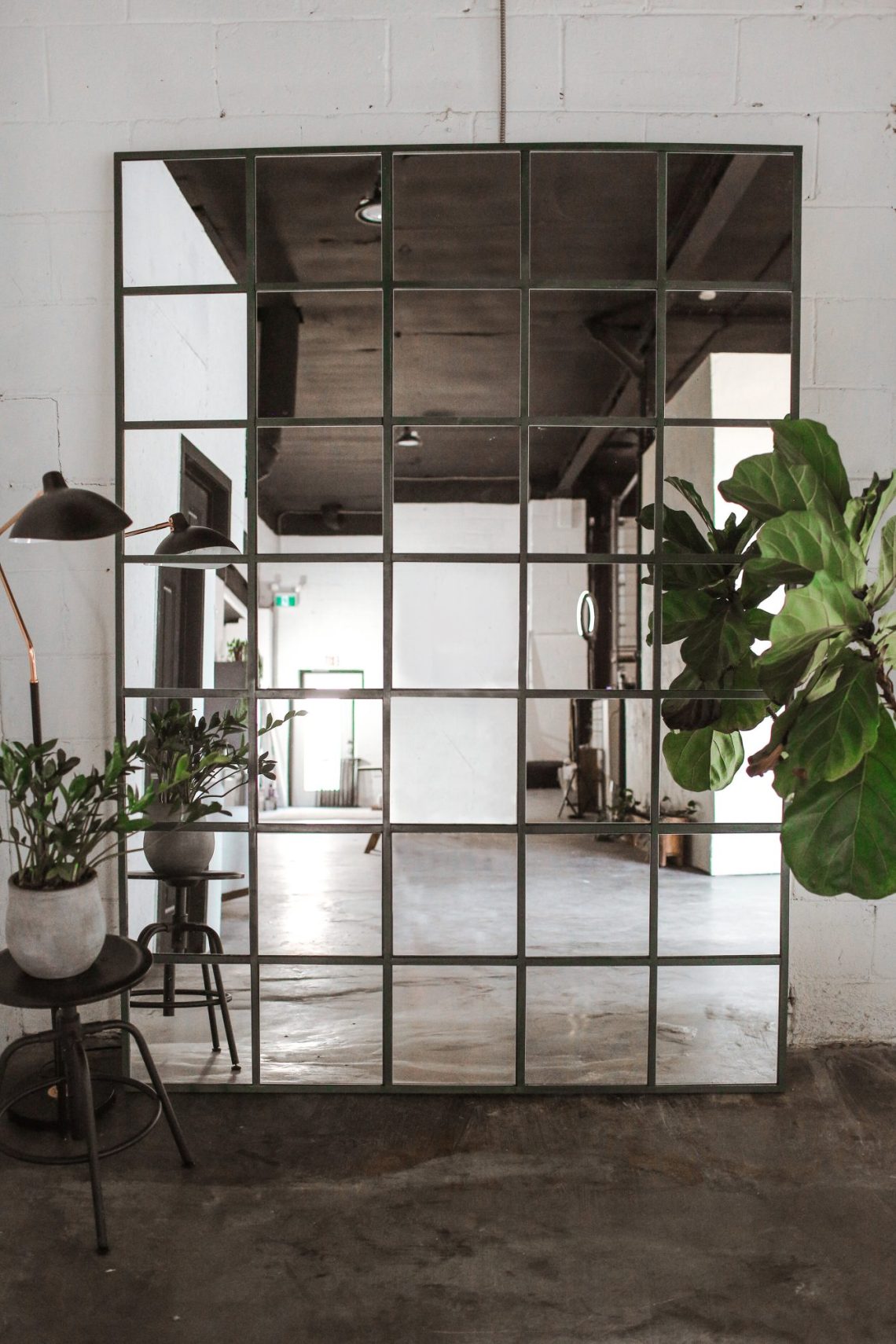 Would you believe that this awesome industrial mirror was a DIY project made up of small Ikea mirrors? A genius idea for a big focal statement.
18. A Footing Form Becomes Art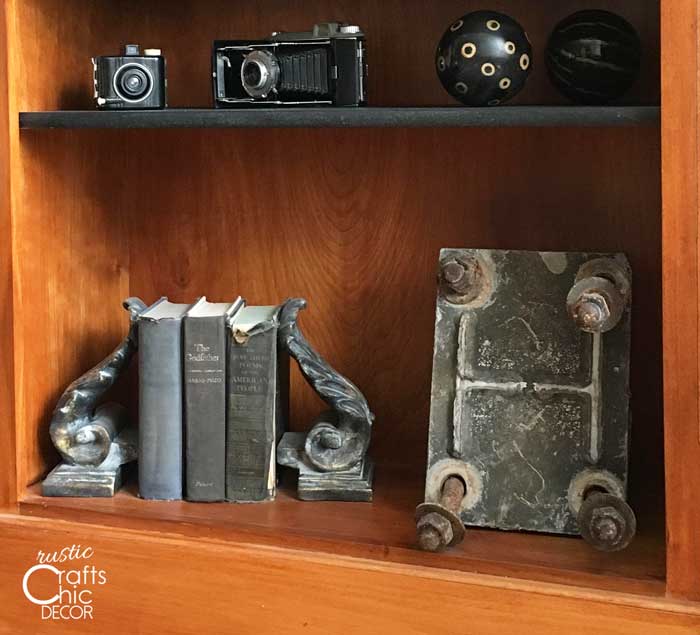 This salvaged metal piece looks like a monogrammed H. Since our last name begins with H, it seemed appropriate to display it as a funky monogram. Who would have thought that an old footing form, used in construction, would ever be displayed as art in the home? See more ways to decorate with architectural salvage.
19. Old Pulley Light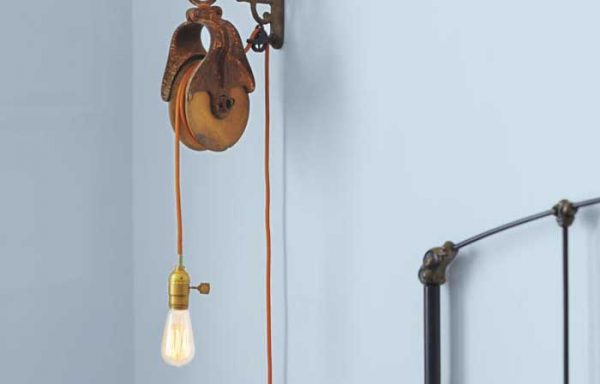 An old pulley makes the perfect base to roll a cord on to hang a light bulb. This kind of lamp is so simple and yet so stylish.
20. Rolling Bar Cart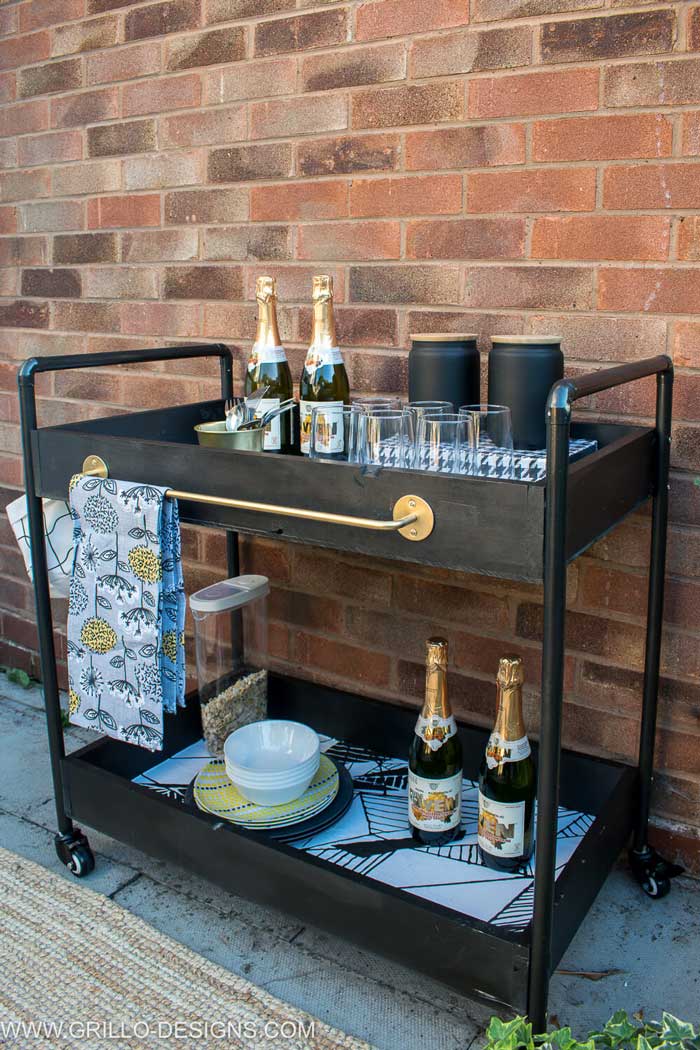 This gorgeous bar cart is made up of copper pipe and wood. The black paint ties it all together for a super sleek industrial look.
Unique Industrial Decor Ideas
21. Copper Pipe Shelves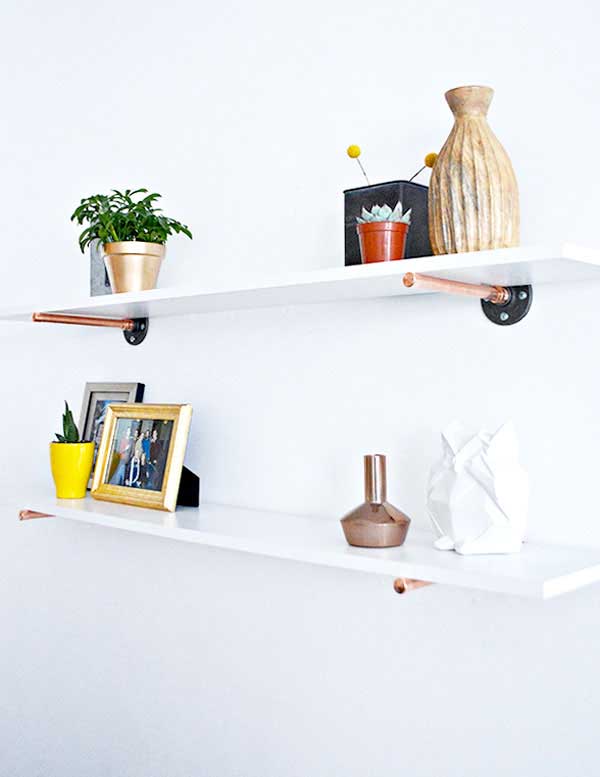 Here is another take on plumbers pipe shelving. The copper pipe and white shelves are super clean and slick.
22. Industrial Metal Ladder Shoe Rack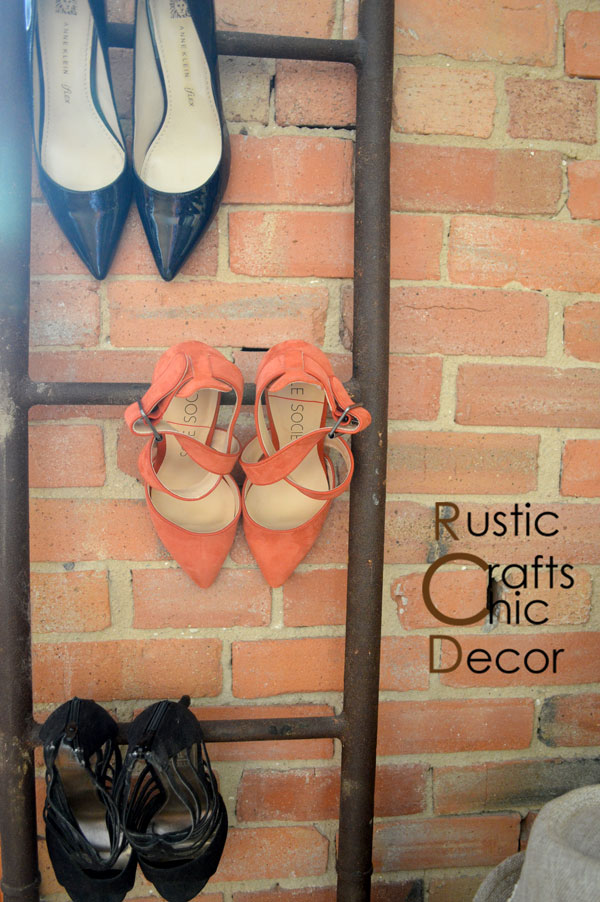 When you have too many shoes, you need to come up with some unique ideas for storage! An old metal ladder adds a fun industrial accent to a space and provides functional use for shoe storage.
23. Live Edge Wood And Steel Base Table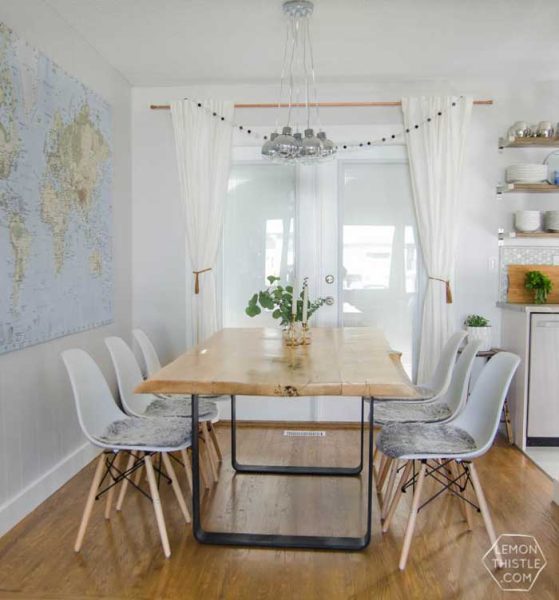 The clean design, light wood and simple metal frame on this table make a beautiful and chic table for any kitchen.
24. Industrial Machinery Vanity Base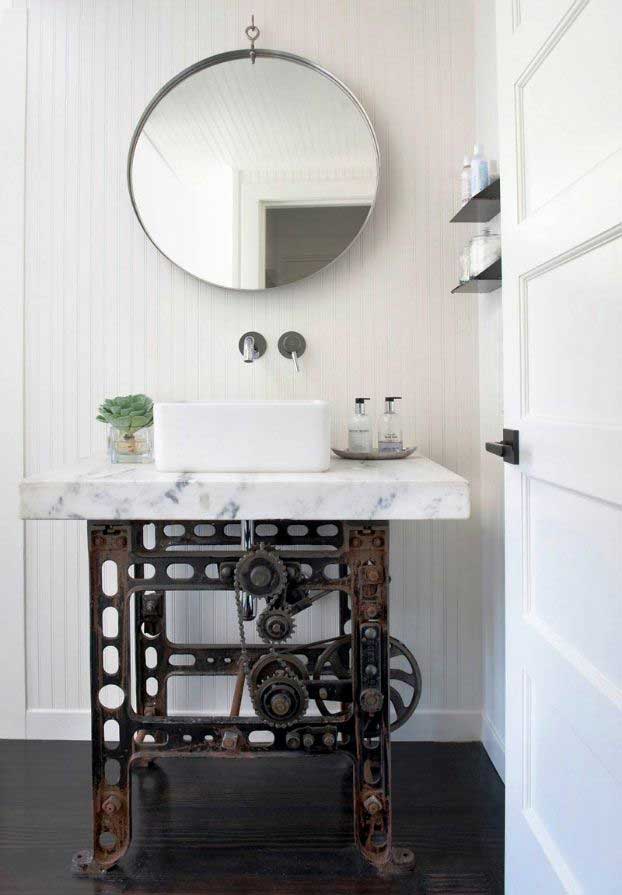 Found on Curated Interior, this cool bathroom vanity has an industrial feel in a big way. So, the next time you are looking to make your own bathroom vanity, you might want to check out a metal salvage yard first! Who knows what cool things you could find!
25. DIY Industrial Nightstand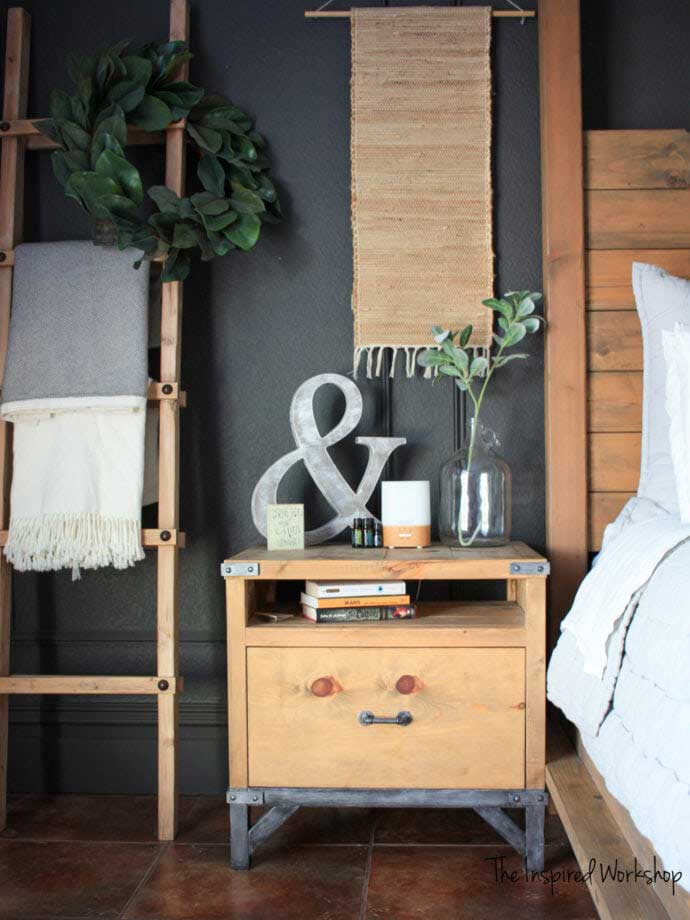 This wooden nightstand has a very industrial look with the pipe drawer handle and metal corners.
26. Plumbers Pipe Corner Wall Bookshelves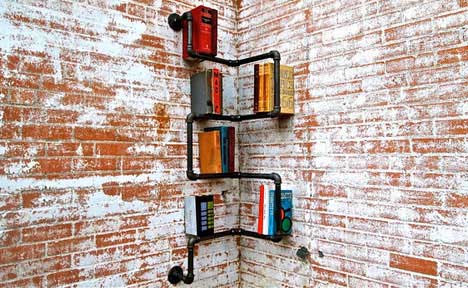 You can configure all kinds of things with plumbers pipe. Don't have room for traditional bookshelves? Just weave some pipe into a corner to fit your books there!
27. Faux Industrial Pipe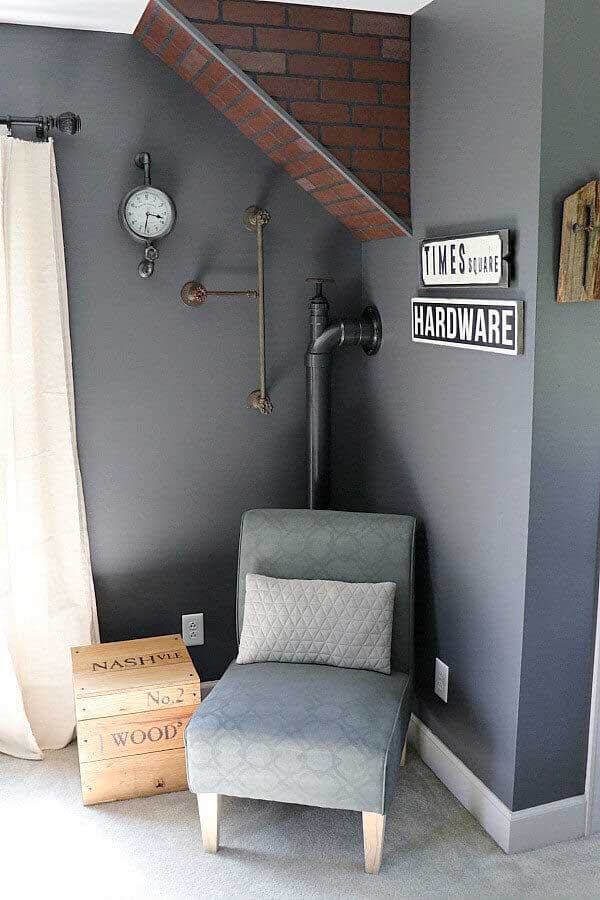 This room looks so authentically industrial, however, it is all DIY. The biggest pipe coming out of the wall was made from white pvc pipe and elbows that was painted. Such a fun idea for a teen bedroom!
28. Metal And Wood Bed DIY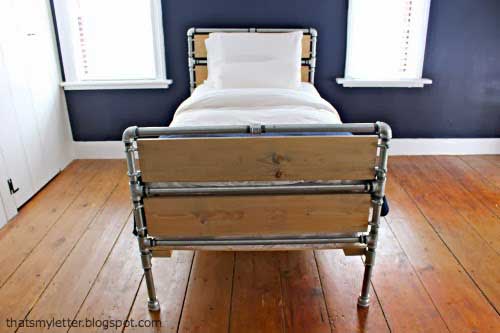 You can even go industrial with a full bed project. Again, the versatility of plumbers pipe comes in handy for a project like this.
29. DIY Industrial Shelf Stand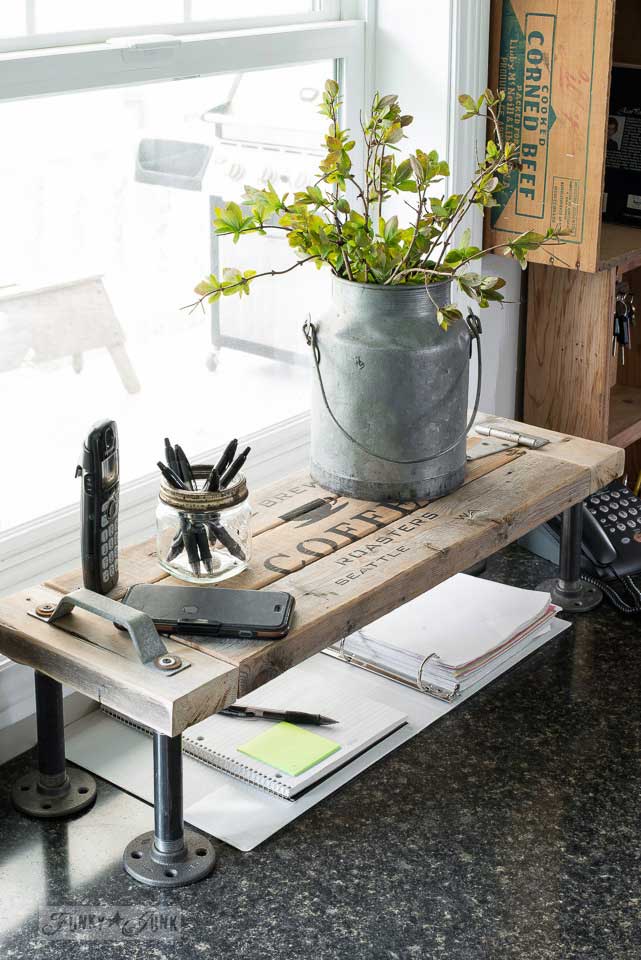 Using reclaimed wood, pipe, metal hardware and a stencil, you can create a fun elevated stand to shelve your accessories.
30. DIY Industrial Chalkboard Signs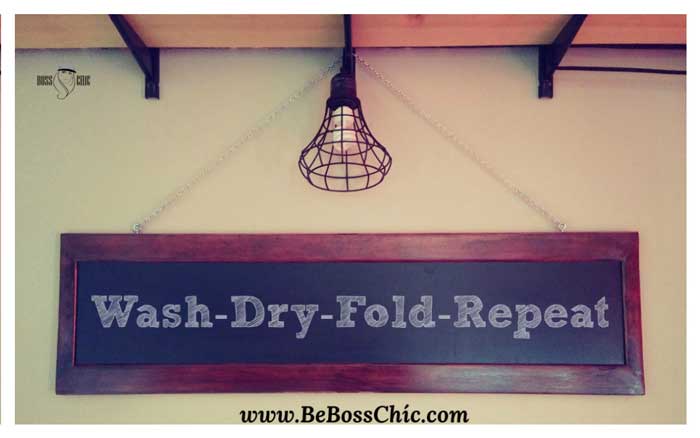 This fun sign was made with an old console table. It was painted to look like a chalkboard and with the chain has a great look for any industrial space.