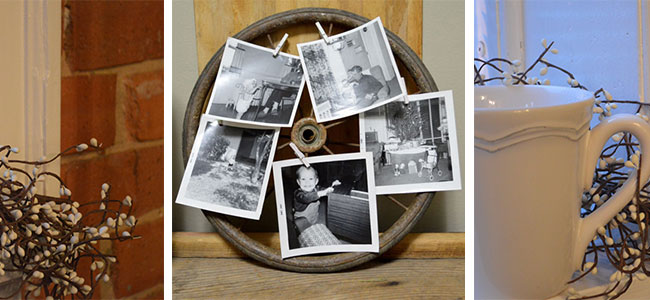 DIY Lamp: Make Your Own Birch Lamp
The Start Of Our Craft Business
It all started with a forest of birch trees and an idea for lamps. Why not bring some of that beautiful nature indoors?  When my husband and I started our craft business, lamps were our primary art/craft item.   Each lamp would have its own unique look because no two trees look exactly the same. We would build floor lamps, table lamps and wall sconces and sell these at local craft shows and a few area rustic stores. Since the lamps were so unique, we couldn't just put a plain shade on them so we also crafted shades to coordinate. Our favorite shades were simply made by weaving birch twigs through the top and bottom of a plain shade that we bought wholesale.
Where To Find Birch
You can purchase birch logs, bark and twigs from people who grow and harvest birch just for this type of use.  One place that I have found birch for sale is at birchbarkstore.com .  If you intend to create many things with birch, you can grow and harvest your own birch trees.  This will take a little while to get started though.   But, if you transplant fairly good sized trees you will be able to prune branches in no time.  The other way is to go out into a woods containing birch trees right after a storm.  Chances are you will find some fallen trees that you can use.  Freshly fallen trees are the best for most lamp projects since they wouldn't have had a chance to rot yet.  The last suggestion for finding material for lamps is simply to cut the suckers that grow straight up from a large birch tree's base.  This is what we typically would use. These root suckers make great lamp material and they don't harm the tree when you cut them off.  The suckers can actually get out of control so it is a good idea to cut these anyway.  You still may need to get a cutting permit if you are on state or federal land.  You may also be able to get a permit to cut down some of the trees, on state or federal land, or at least prune some branches.  If an area is real thick with trees, they may want it cleared out a little bit.
Preparing The Birch For Use
Before using any of the cut or found birch in a lamp project, it is important to prepare it for use. Purchased birch should already be cleaned and dried. Birch for table and floor lamps is too big to dry in an oven so it is best to stack loosely in a dry area after cleaning. I use a solution of two parts bleach to one part water to disinfect and help dry out the wood. Don't worry about rubbing off that first layer of dirty bark. It flakes off real easy and the next layer will be just as nice! You will be left with a smooth, non-flaky surface of birch to work with. The final step of the lamp building will be to spray the birch with polyurethane which will seal and protect the birch.
Deciding What To Build
Once you get your birch, you can decide what type of lamp you would like to build.  Floor lamps are probably the most time consuming to do because of their size.  The long and thin suckers are great to use for floor lamps. We almost always grouped several suckers together for a floor lamp and sometimes the birch pieces would even wrap around each other for a very artistic look. Wider birch trunks are great for table lamps but the thinner trunks, branches or suckers also can be grouped together for a nice creative table lamp. Any scrap pieces are great for making into a wall sconce!  The lamp making procedure is basically the same for all of  them, the difference of course is in the design which can be almost anything as long as it is functional.
These wall sconces are fairly quick and easy to make.  We have them all over are cabin!  They are great for a little accent lighting or reading light.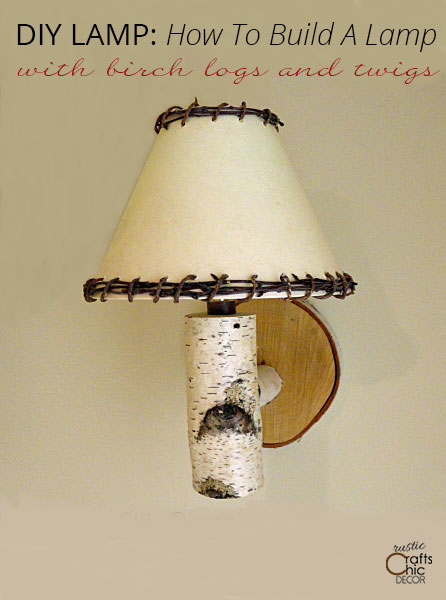 You basically just need to purchase a lamp wiring kit and fit the parts into your wood by drilling holes where appropriate.  We also used oak bases for our floor lamps. You can make a base from any type of wood that you want and finish it with paint or stain. Just use wood large enough to make the lamp stable! Here is a diagram of the basic lamp parts in a kit: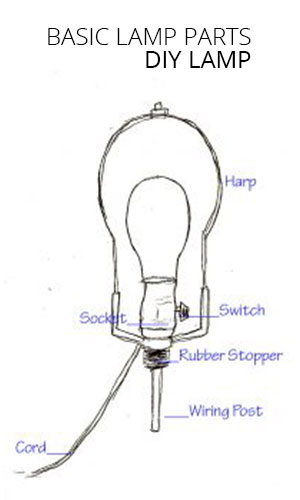 DIY Lamp Instructions:
1. Drill a hole through the birch where you want to run the wire and rod or threaded post through. Use wood glue to secure the posts in place. We  used  posts at the top and bottom of the floor lamps to also aid in securing the main log to the wood base.
2. Attach the rubber stopper into the top rod or post end.
3. Add the optional harp, depending on the type of shade.
4. Screw on the socket cap.
5. Strip the wires and wrap around the coordinating screws.
6. Place the socket shell over the bulb socket.
We used clip on shades for the sconces so didn't need the harp. Also instead of having a cord hanging down the wall for our wall sconces, my husband hard wired these right into the wall switch. This is something I would recommend doing only if you are familiar with working with electricity. If not, consult an electrician!
A floor lamp is a little more tricky but uses the same exact procedure.  You just need a very long drill bit to drill a hole from the top of the log and also the bottom.  We then just cut a slit in the middle of the tree log to join the two holes in an area at the back of the lamp.  The cord just gets tucked in here and is not visible……our little secret (or at least it was!) These two floor lamps are ones that we kept for ourselves. The first one is my favorite and is an example of how the birch suckers can wrap around each other for an artistic design.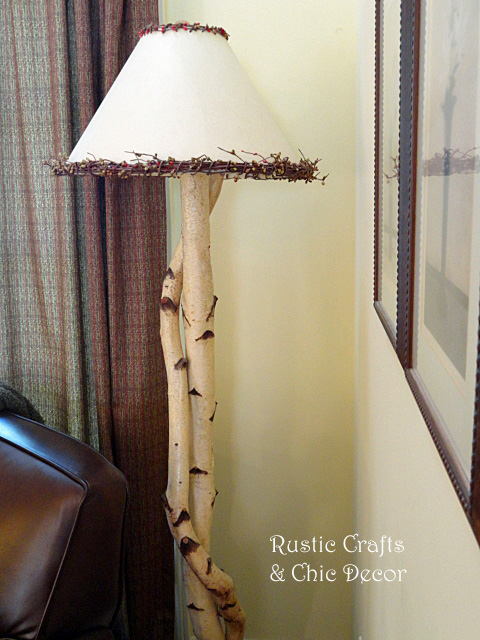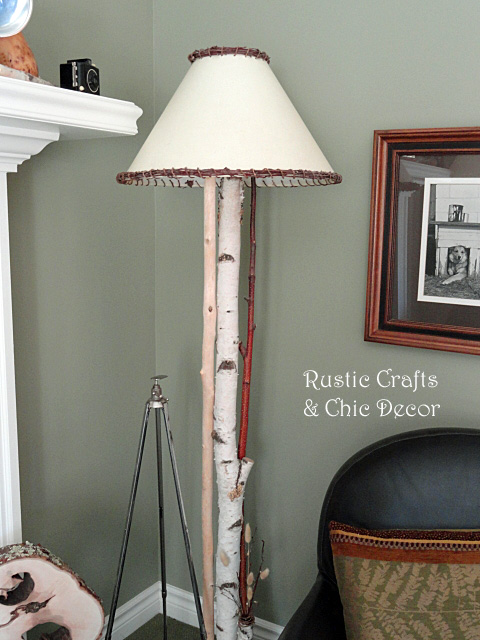 Another great look for a lamp is to use pine and peel the bark off.  If the wood underneath is still sappy, a good way to clean it is with a mixture of bleach and water.  It cleans it up perfectly and it stays sap free.  Any tree can work for this art, either with bark on or bark off.
The designs can be so versatile, especially with how you coordinate the lampshade, that the lamp can fit in with almost any kind of decor.  It doesn't have to be just rustic.  I have put birch lamps with peaberry lampshades in with a traditional decor and they looked whimsically natural and made a fun accent piece.  Another area I tried was in our study which again was a warm traditional style with brown leather arm chairs.  The lamps looked perfectly natural and warm behind the chairs and in front of the fireplace.
I wanted a rustic chic table lamp for my home office so I added a little bling to the branches on the shade. For a little bit of whimsy, I also wood burned a heart into the birch trunk with my husband and my initials – very girly and fun!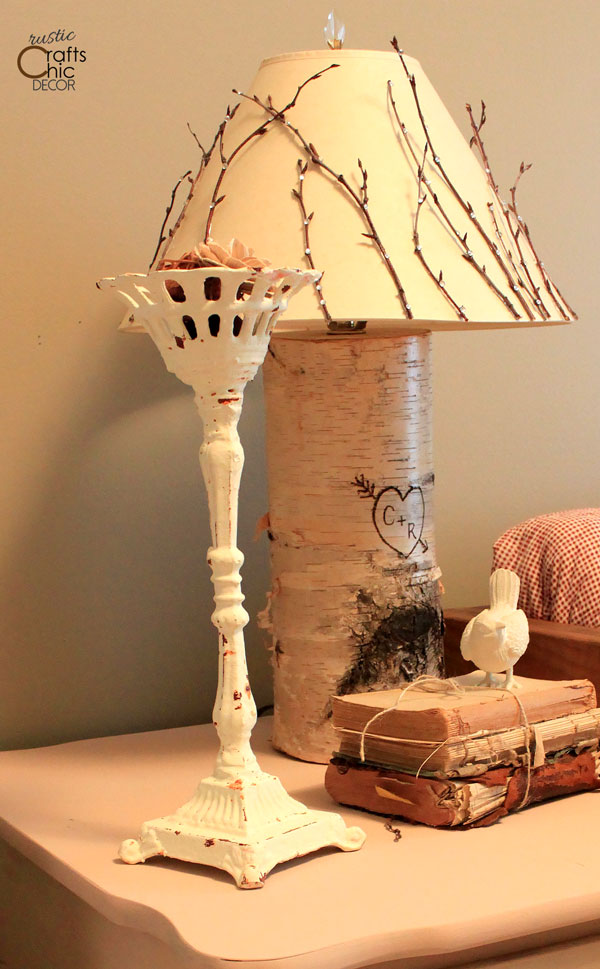 For complete instructions on making your own rustic lampshade and more details on lamp design go to:  How To Craft A Whimsical Lampshade.
Happy Crafting!