One item that is easy to pick up at flea markets and yard sales is old canoe paddles.  You could use them for there intended purpose or you could have a little fun with them in your decorating. I found several ways for decorating with canoe paddles that are easy and fun.
I love to use them as part of my rustic decor both at home and at our cabin.  There is just something about an old worn paddle that feels homey and warm.
Kayak paddles are fun too but you need a larger space to fit one of those.  We have one above a window seat at our cabin and it takes up the entire eight foot header.
I like to group several paddles together in different shades and heights, like the ones shown here.  There is always a corner somewhere that a grouping of paddles can warm up.
You can also make decorative accents with paddles or display them on the wall.
My husband made this shelf, for our rustic bathroom, using a couple of short paddles for the sides:

We also had a blank small wall in our basement, which is also rustic in theme, that we thought we would fill with a couple of canoe paddles:

A very simple idea that ties in the area with the rest of the basement.
More Decorating With Canoe Paddles
Here are some more ideas that I found using paddles:

I found this picture on Pinterest and think it is a fantastic idea!  I love all of the different heights and shades of the paddles that make up this head board.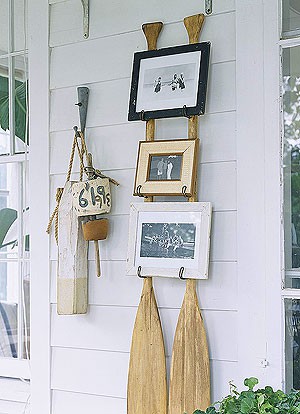 I like this idea from Better Homes and Gardens for a framed picture display.  This DIY is easy to do with just a couple of paddles and some wall hooks.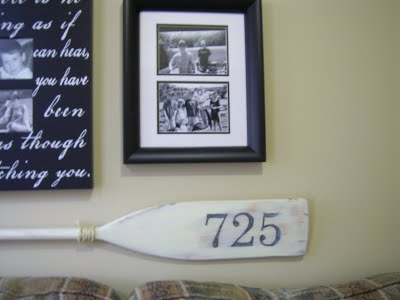 For a more shabby chic style, you could always distress paint a paddle and add some vintage numbers.  I love this idea!
If you haven't collected paddles before, do you think you will start now?