How To Decorate With Canoe Paddles In Unique Ways
Have you every wanted to take a canoe paddle out of the garage and hang it on the wall inside your home instead? This probably wasn't one of your first thoughts. However, distressed wooden paddles have a certain charm that can add warm character to a home. In fact, decorating with canoe paddles is becoming quite popular and it's something you may want to consider after seeing how they're used.
If you don't have any old canoe paddles lying around, they are easy to pick up at a flea markets or a yard sales. You could use them for there intended purpose or you could have a little fun with them in your decorating. Besides simply putting one on display, there are several things you can make, like a headboard, with one or more paddles. I found several unique ways for decorating with canoe paddles that are both easy and fun.
Best Ways For Decorating With Canoe Paddles
I love to use a variety of paddles for decorating our cabin. Being that our cabin is on a small lake, it makes paddle decor even more fitting. However, no matter where your home is, if you like a rustic style, you can get away with using paddles as decorations.
Kayak paddles are fun too but you need a larger space to fit one of those. We have one above a window seat at our cabin and it takes up the entire eight foot header.
I like to group several paddles together, in different shades and heights, and tuck them in a corner to warm up the space. In a similar way, you could group several paddles together to hang on a wall. However, besides simple groupings, there are lots of things that you can make with paddles.
A Bathroom Shelving Unit
My husband made this shelf, for our rustic bathroom, using a couple of short paddles for the sides.

You could also make a longer shelving unit using full size paddles instead. All you have to do is attach wooden shelves to the paddle sides with screws.
Rustic Space Filler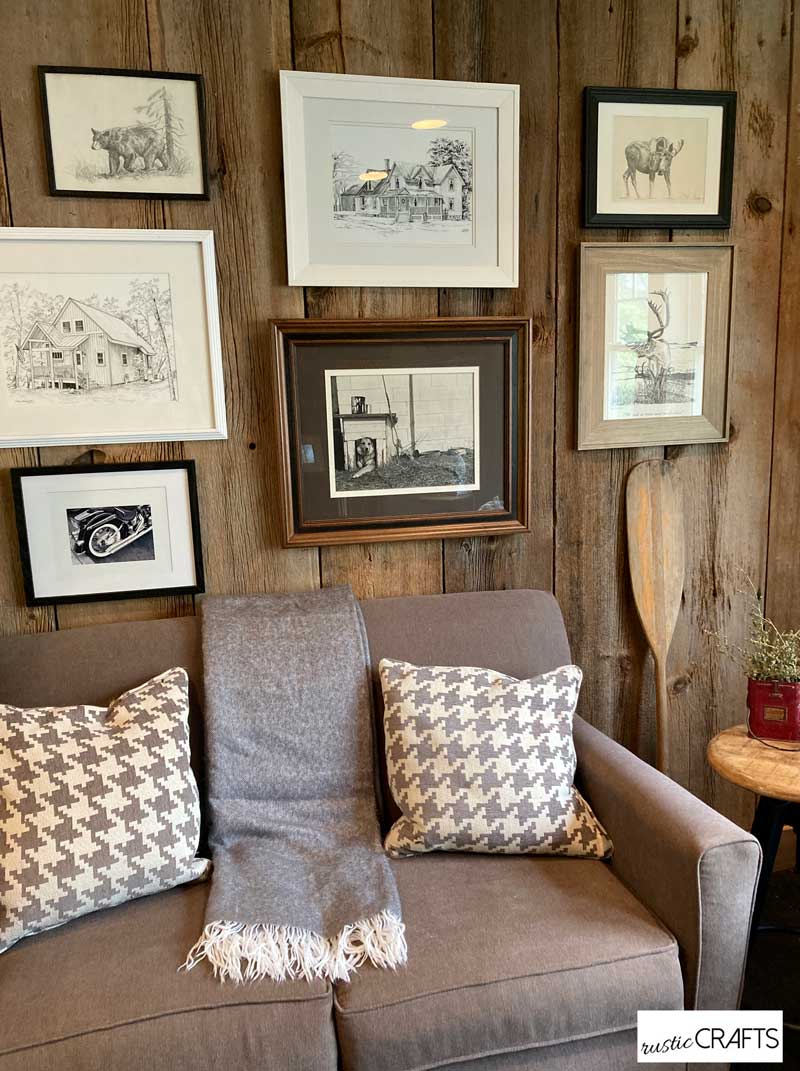 One of the simplest ways to decorate with a canoe paddle is to lean it up against a wall. In this case, I had an awkward space at the edge of my gallery wall where the loveseat ended. The paddle fills in that space and makes everything more cohesive.
Canoe Paddle Porch Decor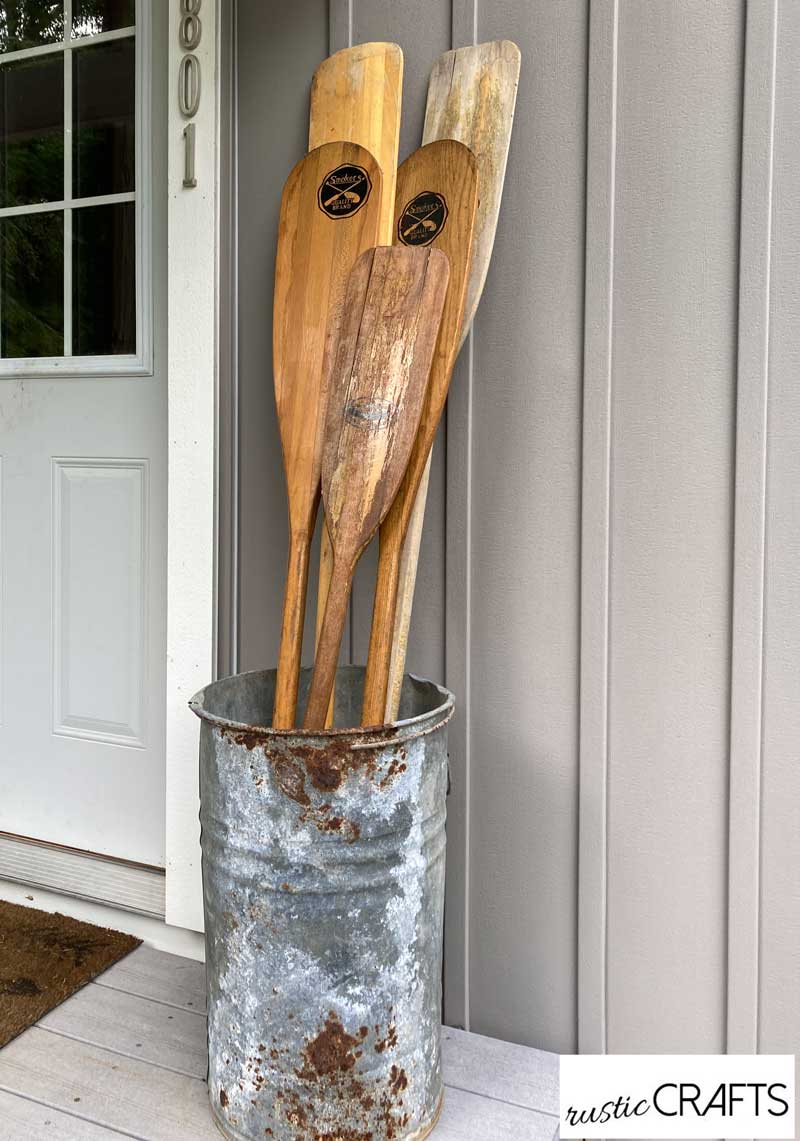 For someone who tends to kill any plant or bush that can't fend for itself, a container of paddles works better than a sensitive bush. If you use old canoe paddle to decorate outside, it's a good idea to cover them with polyurethane to prevent additional weathering.
Subtle Decorating With A Canoe Paddle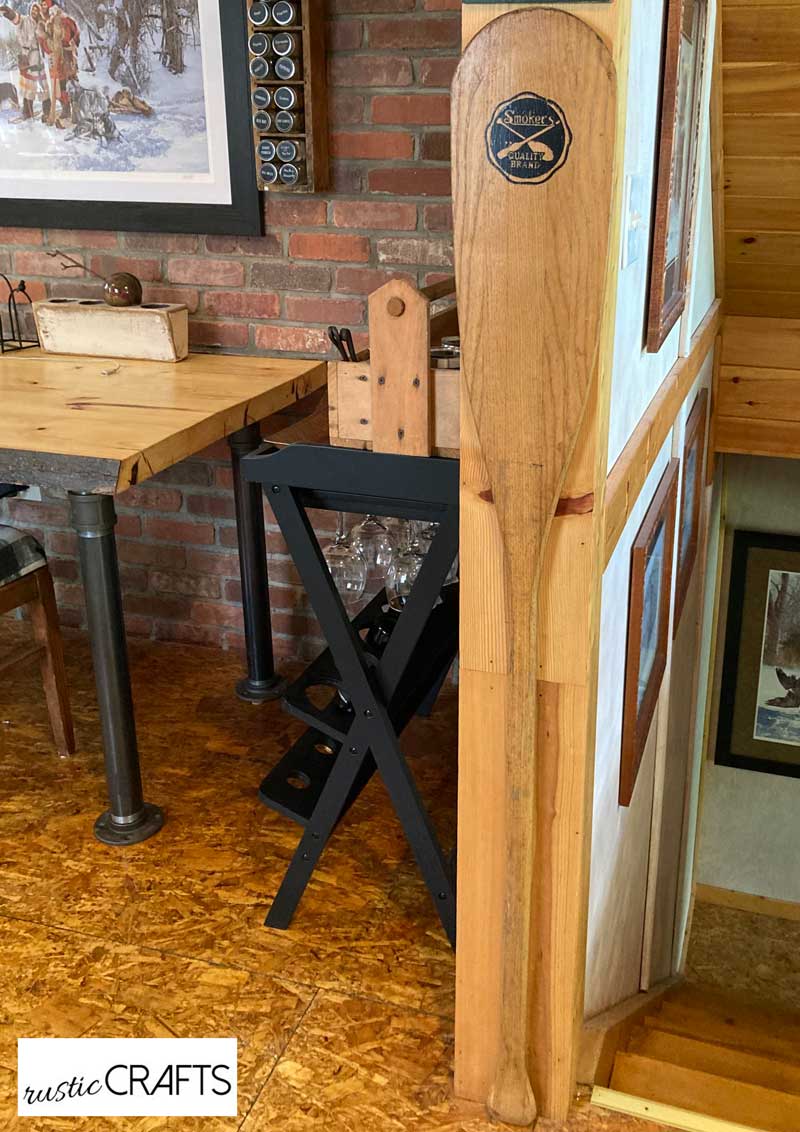 Sometimes decorating with a canoe paddle just means adding a little texture in a subtle way. This paddle is leaning against trim that is about the same color as the paddle. It could be easy to miss if it wasn't for the graphics.
More Decorating With Canoe Paddles
Canoe Paddle Headboard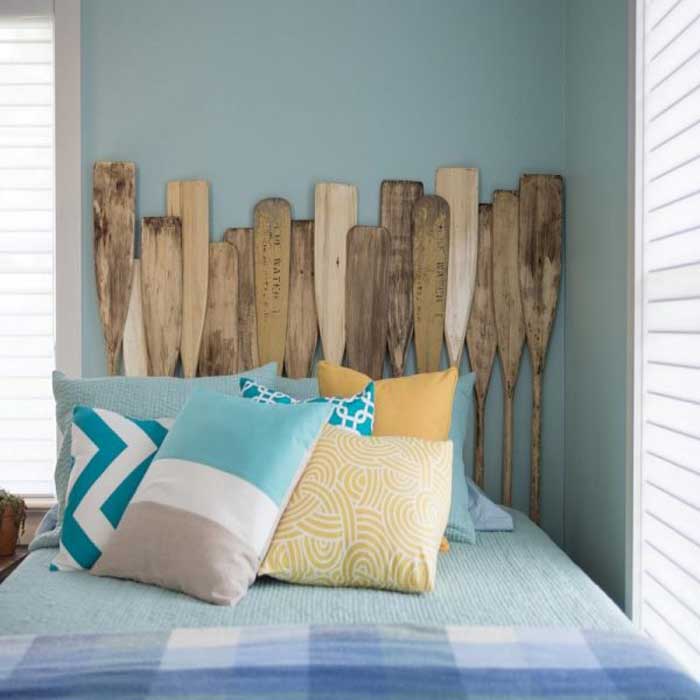 Simply line up a variety of canoe paddle behind your bed or secure them to a piece of thin wood first. A 1×6 or thin section of plywood would be all you need to secure the paddles together with screws. Or, you could use a fast bond construction adhesive to adhere each paddle in place.
Canoe Paddle Hook Rack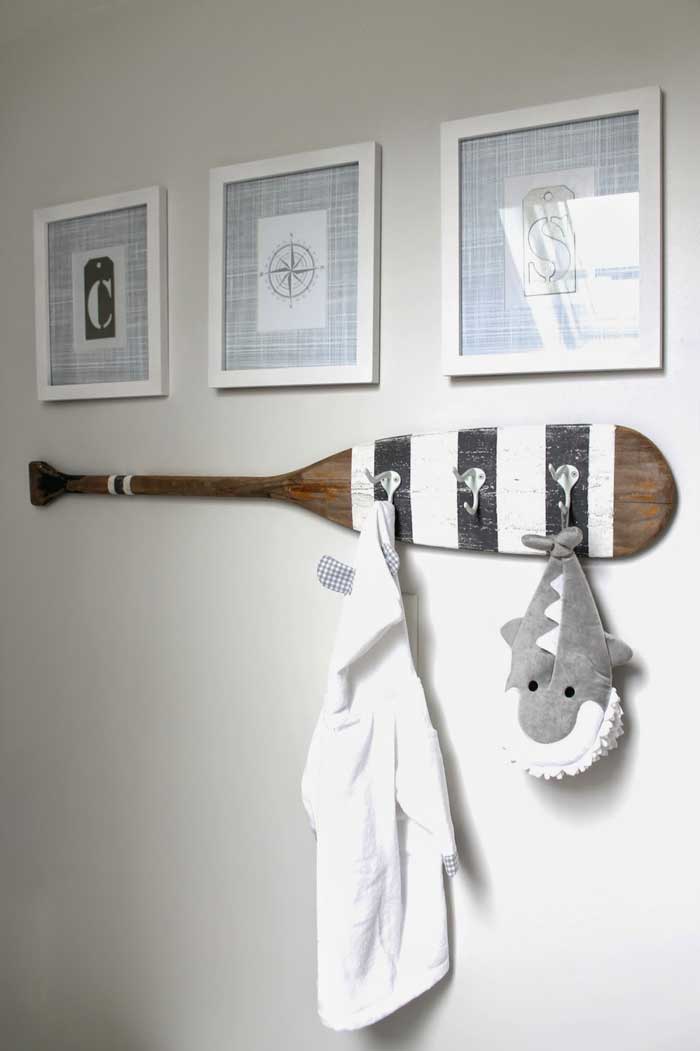 An easy idea, using just one paddle, is to hang it on a wall and add hooks to it. Use it in a kids room, entryway or mudroom for hanging necessities. And, you can leave the paddle plain or paint something on it.
Related: Vintage Decorating With Boat Oars
Canoe Paddle Picture Frame Display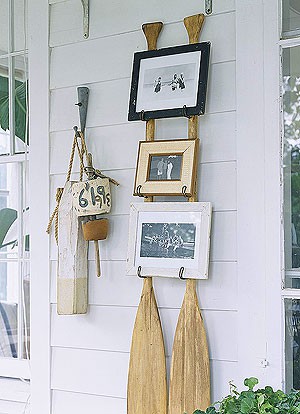 I like this idea from Better Homes and Gardens for a framed picture display. This DIY is easy to do with just a couple of paddles and some wall hooks.
Painted Paddle Decor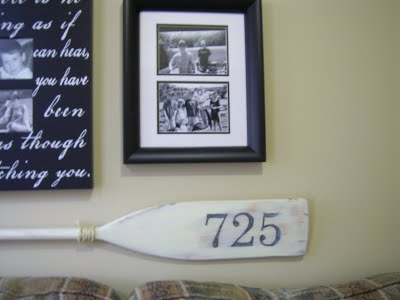 For a more shabby chic style, you could always distress paint a paddle and add some vintage numbers. I love this idea!
If you haven't collected paddles before, do you think you will start now?