If you own a rental property, or are thinking of buying one, chances are that is going to be an older home or an older multi-family home. These existing homes can be the most affordable, to purchase as rental properties, as they typically need a little (or alot) of work. However, it's also important to have them look modern and appealing to attract good renters. So how do you do that without breaking the bank? One way is to make rental property upgrades yourself. If you don't have to pay someone else to do the work for you, you can save a ton of money on labor.
You also don't have to do everything at once. Pick and choose the areas that are in the most need of repair and get those upgrades done first. Then, do some simple upgrades to the rest that will add a little wow factor that will appeal to potential renters. Any upgrades that you do will make your property stand out from the rest and allow you to charge more for the rent. People are usually more willing to pay for a place that is kept up with then to settle for a mess with lower rent. And, when people care about these things, they will usually want to keep the place nice as well. This is a win win that makes all that hard work worth it.
In most cases, you will want to concentrate on upgrades to the kitchen or the bathroom. These are the areas that potential renters will be looking more closely at.
DIY Projects For Rental Property Upgrades
If you are handy, you can do most of the work yourself. Even if you have to hire out electrical or plumbing work, you'll still save a bundle on what you can do. This bathroom, in one of our rentals, got an updated look with some easy updates that really didn't take us too much time.
We didn't like how the shower stall stuck out from the bulkhead. The tile was dark and dingy, especially for such a small bathroom. Someone had added shelves at one point and I applaud the idea. However, the shelves would slide all over and the space was much too deep to be functional. We found things that a dropped off the back of the shelves and into that deep cavity. And finally, there was no vanity light installed. The wiring was just covered with a plate. Luckily, we knew we could tackle all of these projects.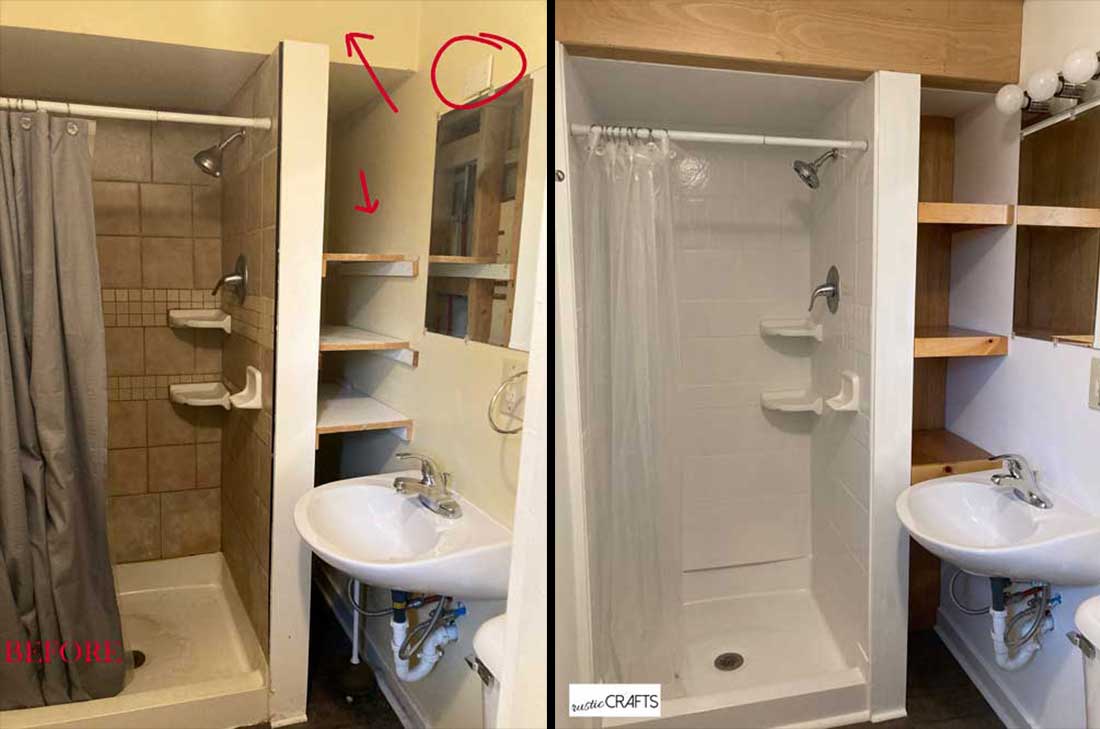 Paint Tile
The first project that I did was to paint the tile white. I thought it would be a nice clean and crisp look. We wanted to get this taken care of right away so that we could use the shower later.
Since I had painted tile before, I knew it could be done. Check out my project for painting kitchen tile to see how it is done.
I hadn't painted tile in a shower before though so I was a little concerned about how it would do with water. Since we stayed at the rental the three weeks we were working on it, we had the opportunity to take several showers. The paint was rock solid! I first cleaned the tile and grout really good and let it dry.
I used two coats of Zinsser Bulleye primer the first day and two coats of high gloss enamel paint the next. Then we came home for a few days and let the tile dry and cure.
Add/Update Lights And Fixtures
You can change the look of a bathroom easily by changing or adding light fixtures or plumbing fixtures. In our case, we simply added a vanity light where there had been one at some point in the past. Then, we put in a nicer shower head and a sink faucet that had better flow than the previous one. Changes like that aren't as noticable but could keep renters happier with the performance.
Build Shelving
My husband took care of the bulk head above the shower and the shelving unit. Since I was planning on painting the walls white, I wanted to add some warmth with wood. So, he built out the bulk head and faced it with wood. He put a false back into the space beside the shower that didn't go any deeper than what could be usable. Then he constructed built in shelves with a thicker front on them to make them look more beefy.
Related: How To Update A Kitchen
Paint Cabinets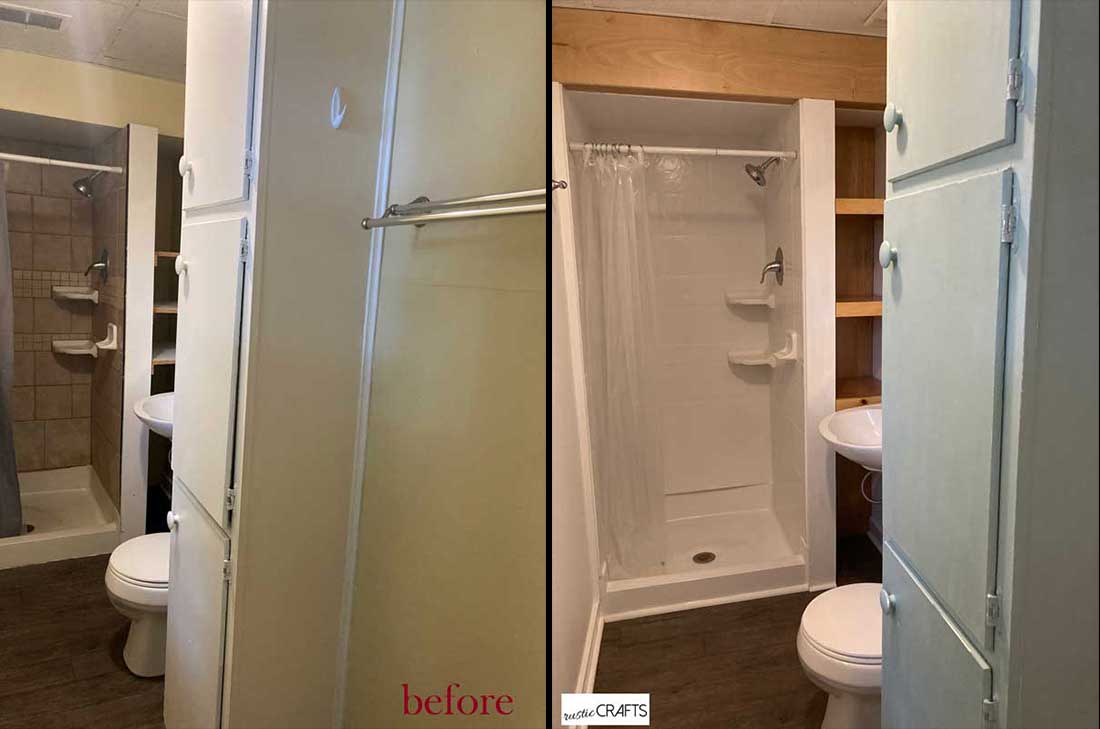 Whether in the kitchen or the bathroom, painting cabinets is something that you can do to give old cabinets a more modern update. Since I painted the bathroom walls white, I thought it would be fun to paint the bathroom cabinet for some contrast and to add a little splash of color. I used Serenity Blue chalk paint to bring in a calm spa feel to the space.
How To Upgrade A Rental Property To Make It More Appealing To Renters
Update Paint On Walls
Just updating the paint on the walls can be enough to give a substantial upgrade. We've seen all kinds of colorful walls in rentals that do a good job of dating the place. A fresh coat of neutral paint can do wonders.
Refresh Paint On Trim And Doors
Even if all of the trim and doors are painted white, they might have chips and discoloration that make a space look tired. You'd be surprised at how a fresh coat of white trim paint can really brighten the whole space.
Change Out Or Add Cabinet Knobs
Another quick fix that can be done in kitchens and bathrooms is to simply add or change out cabinet knobs. You can even DIY your own knobs!
Add Barn Doors/Rail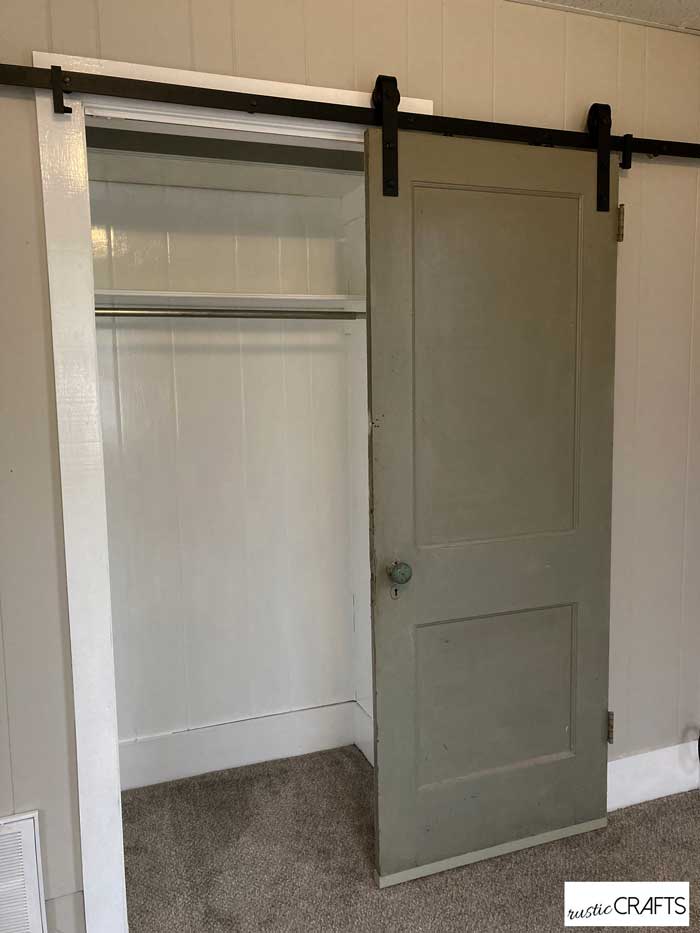 Adding a sliding door to a closet gives an updated look for a pretty low cost. The closets in this home didn't have the bifold doors anymore. Since most people like to be able to close their closets, we needed to add back doors. Instead of buying bifold doors that can be difficult to work with we opted for installing a barn door rail. Then, we took a shopping trip to the local architectural salvage store and picked up a couple of old doors for $25 each.
It's kind of funny to think how hard we work to give the space a more modernized look and then we shop for the most old and distressed doors that we can find!
Add Chalkboard Paint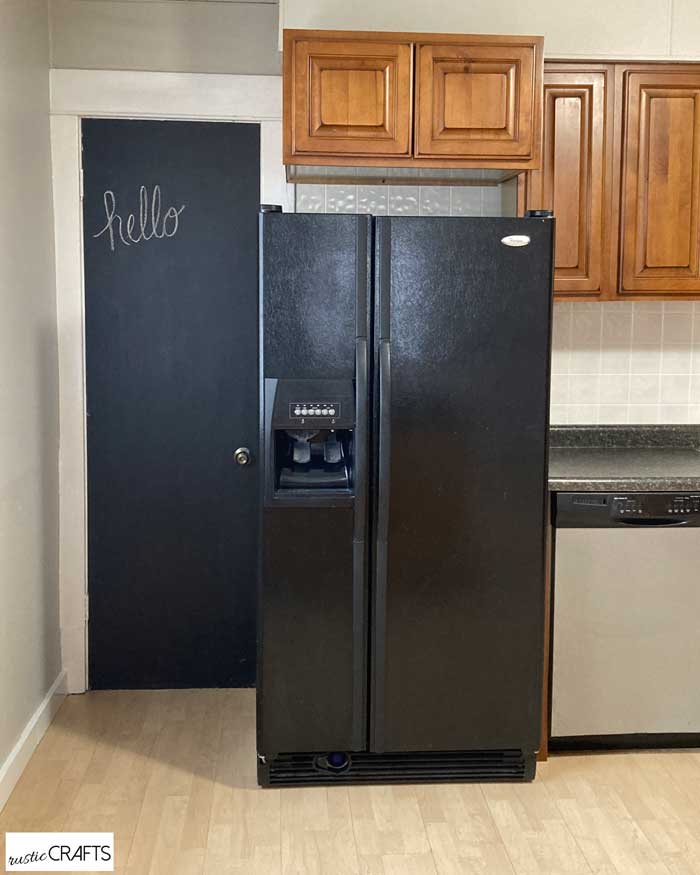 We didn't have to do too much in the kitchen of this rental but there was an awkwardly placed closet that I wanted to have a little fun with. I love using chalkboard paint and decided to make the closet door look like a framed chalkboard instead. It adds another little farmhouse touch that hopefully makes it look a little more homey. I debated painting the door knob too but left if for now.
Rental Property Upgrades That Increase Home Value
Besides the rental property upgrades that have already been discussed, like updating the bathroom and kitchen, there are a few other things that can both increase the value of the home and make it more appealing for renters.
Open Up The Space
If you see areas where you could improve the traffic flow or add additional space, it might be possible by tearing down a wall or two. As long as it's not a supporting wall, you can go ahead and get out that sledge hammer! We did a lot of that on a home that we renovated and flipped. It's amazing what a difference it makes.
Related: Home Renovations And Property Flipping
Install New Flooring
Whether you install higher end flooring or just simply replace the carpet, it will have an impact on the value of your home. We installed new carpet in the bedrooms of our rental and it improved the look and smell dramatically. Our carpets were beyond cleaning but sometimes a good professional cleaning does the trick as well!