The life of a wooden shutter does not have to end when it is taken off the exterior of a house.  It may be weathered and worn but this is the exact look that is perfect for interior decorating!  That is, of course, if you are in to shabby chic or rustic decor.  Decorating with shutters is a popular design choice and there are several ways to incorporate them into a room.
For example, I needed a window covering for the small bathroom window in our cabin.  I didn't want to go with traditional curtains or blinds so when I found a set of bright orange shutters, I knew I found the perfect solution.  They were a perfect size to simply sit on the window ledge, offering privacy with a little bit of rustic whimsy.
There are plenty of other ways to decorate with shutters, though, that don't even involve windows.  I found some of the best ideas to share with you.  All you need to do is find yourself some shutters!  Many can be found at antique stores, flea markets, Craigslist and estate sales.
Decorating With Shutters: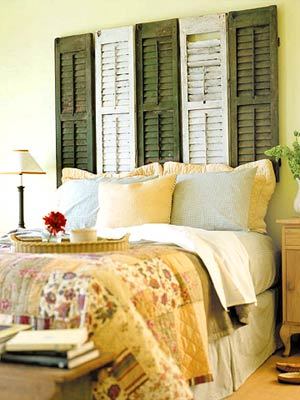 1.  Shutter Headboard – I love unique headboards and these shutters make up a headboard that is full of interest.  Using two different colors creates a fun pattern and added style.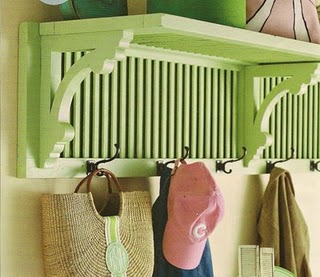 2.  Shutter Shelf – Make a great looking shelf by incorporating a shutter into the design!  This is a fun look especially with the fresh coat of green paint.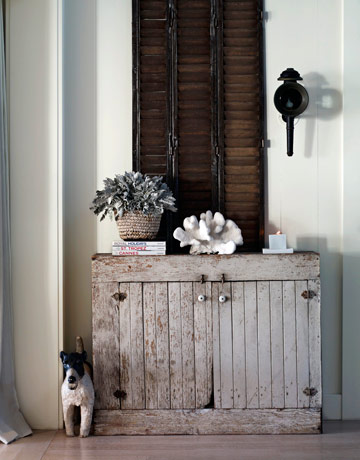 3.  Shutters On The Wall – Simply hanging shutters on the wall as is, stained or painted adds tons of textural interest.  They work great to break up a large bare wall.
4.  Use a shutter as a table top for a sofa table!  This fun idea can be easily made with the tutorial provided by HGTV.  Just click on the photo for full instructions.
Have you used shutters in your decorating?  Share your ideas with us!
Happy decorating!