Architectural salvage items can make some of the best home decor accents for a rustic or farmhouse style home. One item in particular is old wooden shutters. Although they may no longer be suitable for using outside, decorating with old shutters inside the home is hot.
When I shop the architectural salvage stores, I'm amazed at how many varieties of old wooden shutters there are. I've also seen them at resale shops or antique stores. Because of all of the rustic chippy character, decorating with old shutters has become a hot trend. Whether you want to simply display the shutters or use them in a fun DIY project, the look is warm and appealing.
Vintage Shutters Decor Ideas
Turn Shutters Into A Window Treatment
Instead of using curtains or blinds to cover a window, use vintage shutters instead. Depending on the size difference between the window and the shutters that you find, you can either hang them of display them on a sill.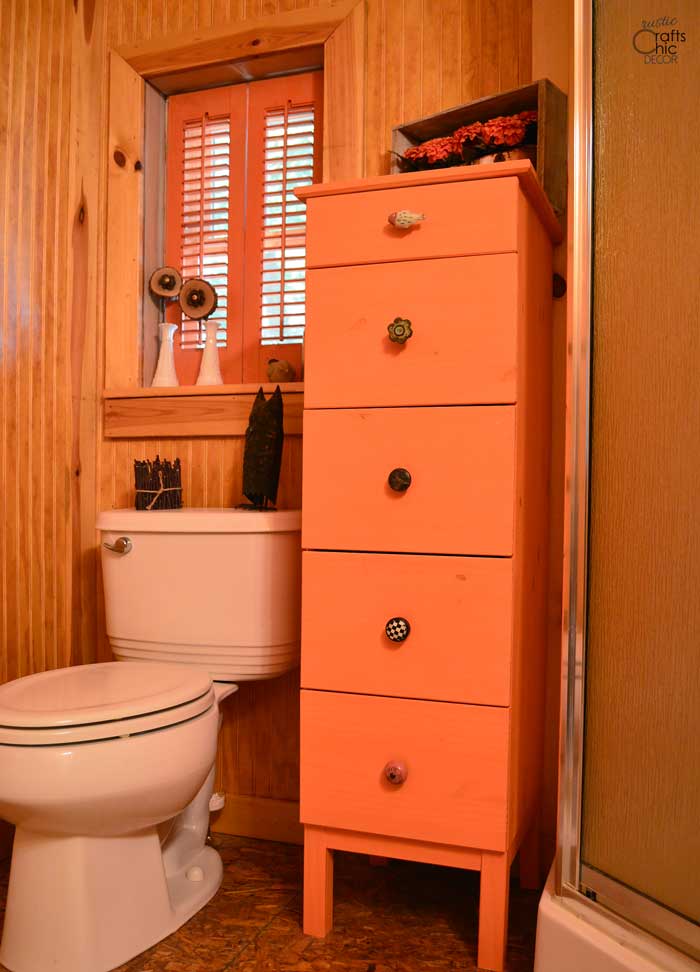 I happened to get pretty lucky when I found a set of shutters that fit perfectly over or cabin bathroom window. Originally, I thought about painting the shutters a more neutral color other than the original orange. However, the orange ended up inspiring my accent color for the bathroom. Since I wanted our bathroom to be whimsically rustic anyway, the pop of orange was perfect. I found a paint color to match when I finished the tall dresser storage.
Use Shutters To Add Height To Furniture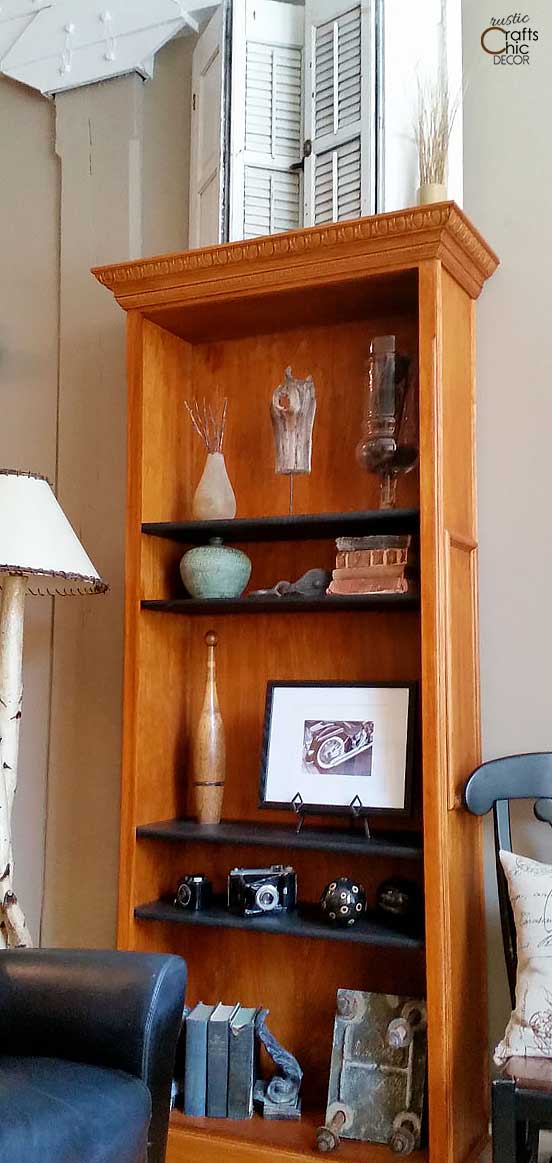 With the high ceilings in our loft, even the tall bookcase looked stubby without some help. By placing a set of vintage shutters on the top of the bookcase, extra height was added to take up the empty space. It was a solution that added a little vintage rustic to our more modern furniture piece.
Hang Shutters Sideways To Add Width
If you need to fill up more width of a wall space than height, try hanging a set of shutters on their sides. Then, to add more interest, hang small wreaths on the shutters.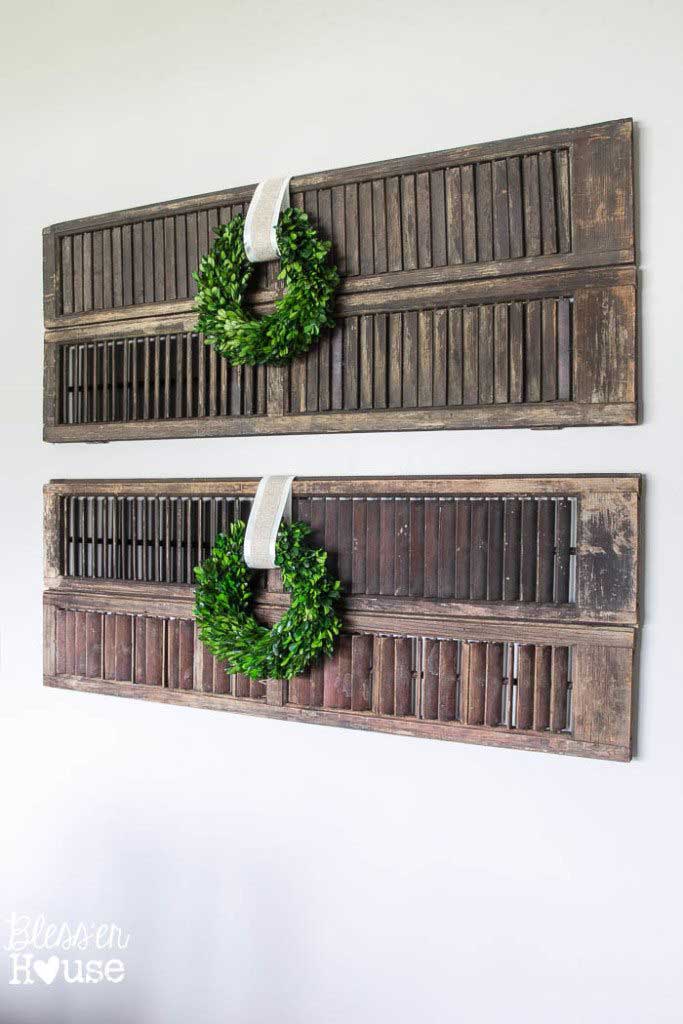 Make A Rustic Table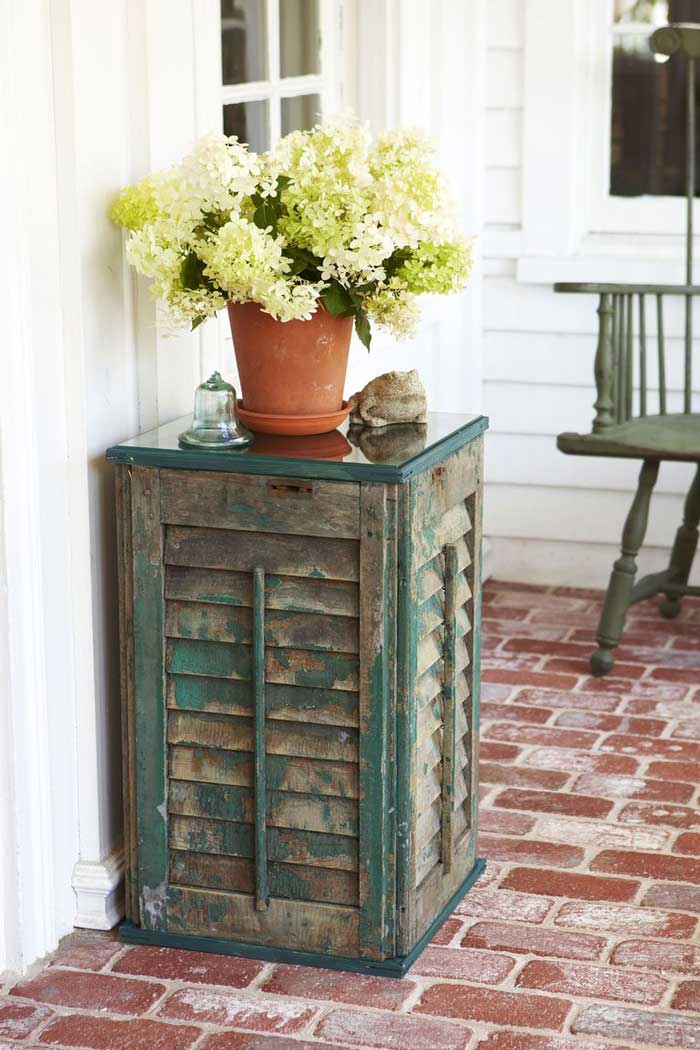 Using a couple sets of shutters, in the same size, you can build your own rustic pillar table. This simple design adds a ton of interest to the space.
Build A Console Table With A Shutter Top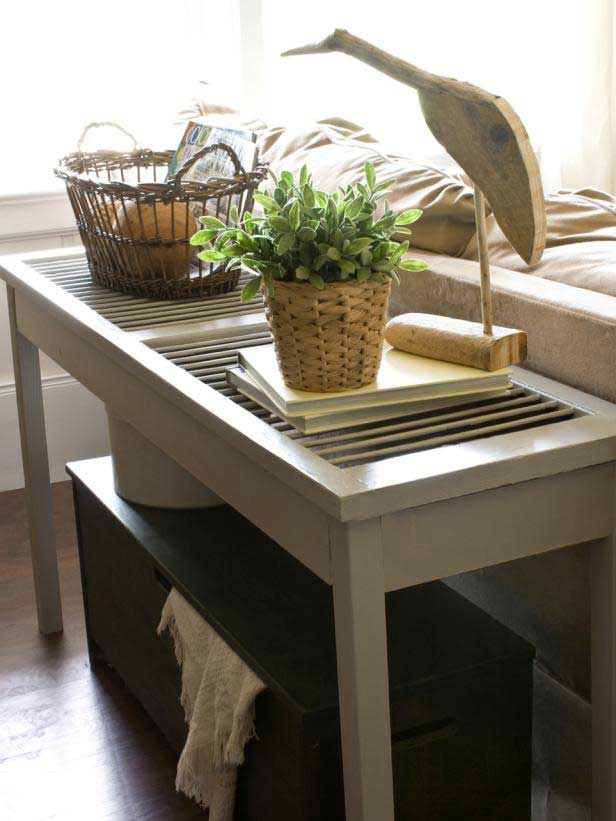 Who says the top of a table can't be interesting? Instead of using shutters for the base of a table, use one for a table top. This is a fun way to add character to a room. Building furniture is such a creative way of decorating with old shutters.
Build A Rustic Shutter Bench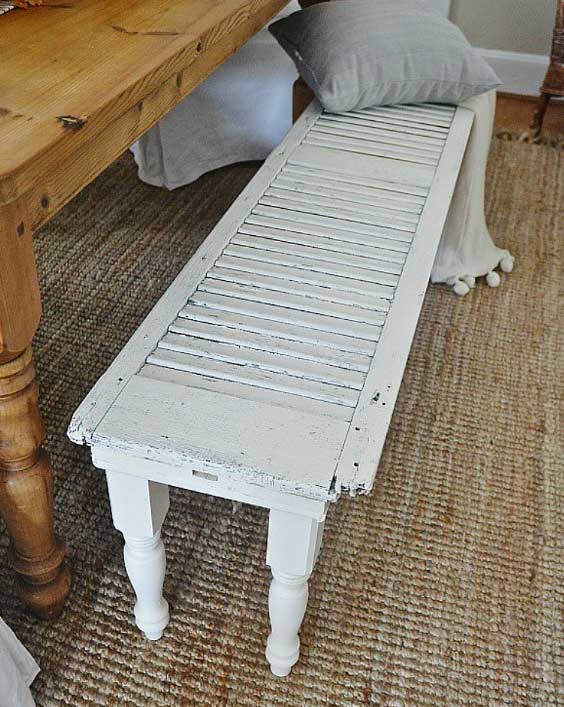 Using a similar method to the console table, build a rustic bench instead. You basically just use shorter legs. I like how the shutter was left chippy and distressed for more rustic charm.
Use A Shutter As A Table Runner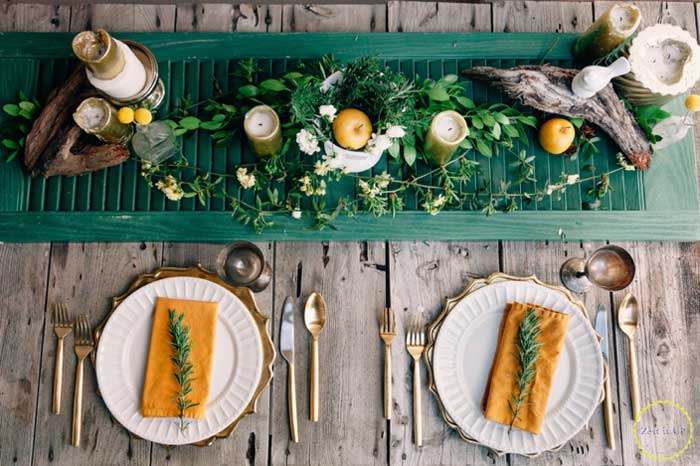 An interesting take on a table runner is to use a long wooden shutter in place of fabric. I love this idea which also makes a great rustic base to a centerpiece. It shows that decorating with old shutters almost has no limits.
Turn Shutters Into Kitchen Organization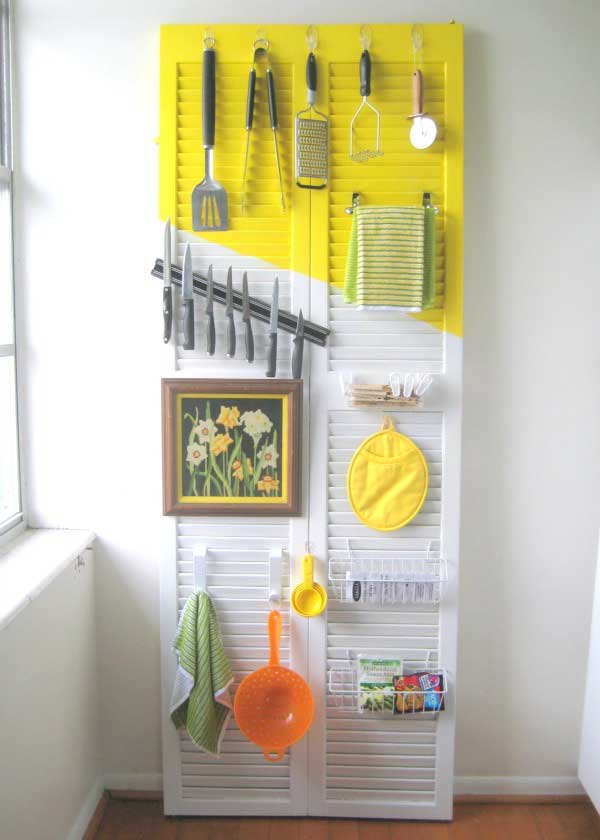 Here is a practical use for old shutters that is also super stylish. Because of the slats in shutters, it's easy to hang baskets and hooks from them. I love the added whimsy of the geometric splash of yellow paint.
Use this idea in the kitchen, bathroom, hallway or wherever you need some hanging organization. The slats of a shutter are also great for holding magazines.
Turn A Shutter On Its Side For A Plate Rack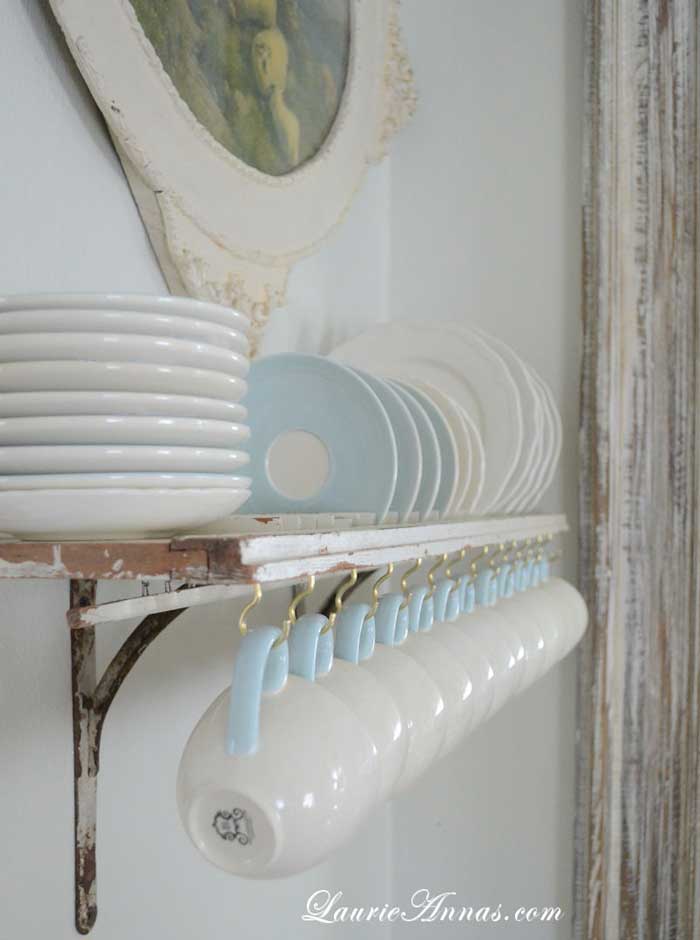 Shutters used for storing things can be done horizontally as well as vertically. Simply mount an old shutter on its side with brackets. Use the slats of the shutter to store plates on end.
Build A Shutter Rolling Kitchen Island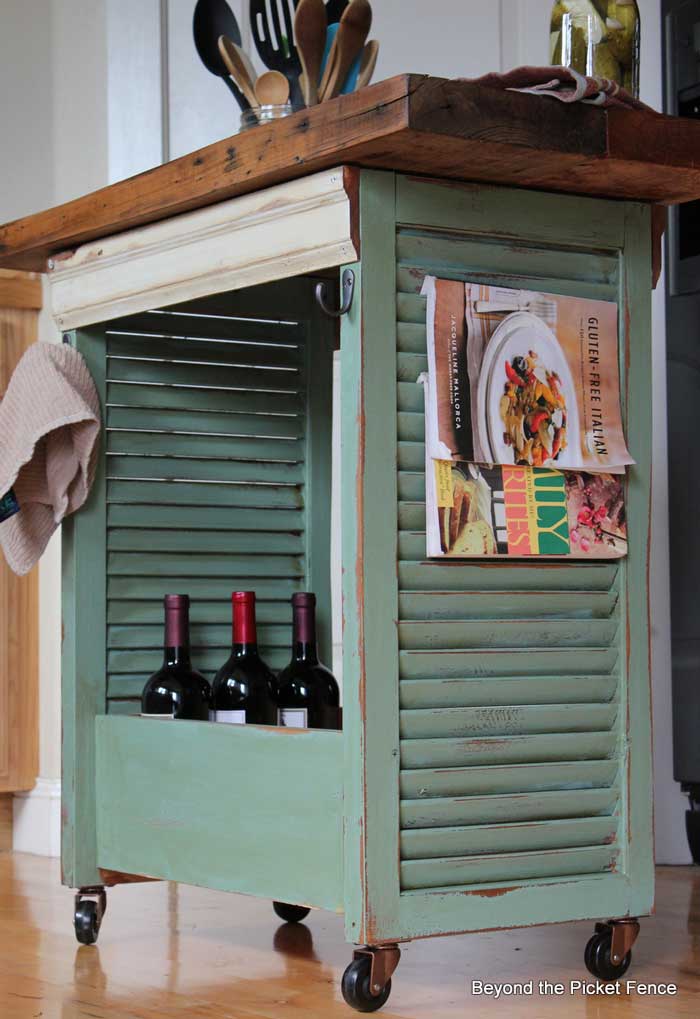 This project combines decor with functionality. You can't beat vintage shutters decor used in this way. Here, you can also see how the slats of the shutter are used to hold magazines. Also, the fact that this cart is on castors makes it easy to roll out wherever you need the work space.
Construct A Shutter Coat Rack

It's popular to hang hooks from some kind of salvaged wood for an interesting coat rack. Using an old shutter is a great option to salvaged wood.
Make An Industrial Shutter Shelving Unit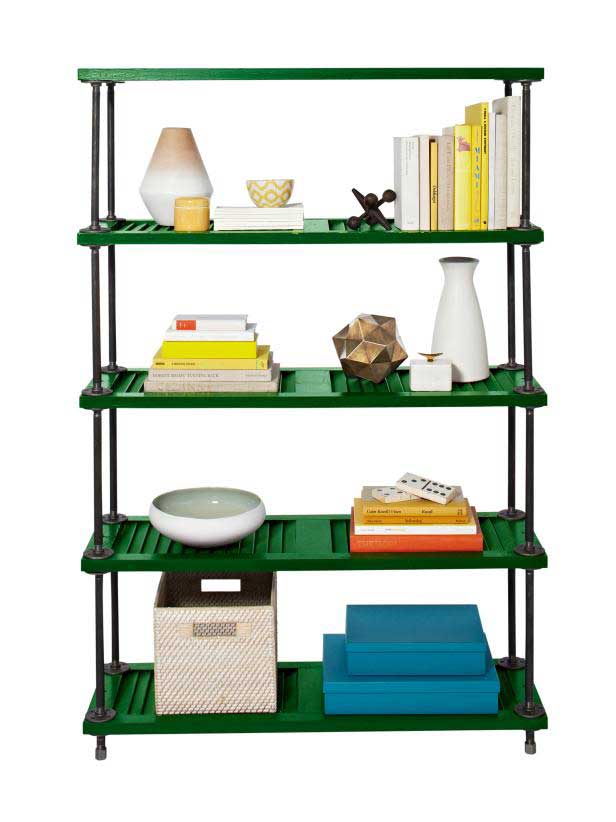 This gives decorating with old shutters a more modern industrial look. Although I love the concept, I would probably lighten up the shutters and distress them for a more rustic styling. However, I do love the industrial metal sides and the airy feel that this design gives. Using shutters as shelves also lets air breath throughout the whole unit.
Decorating With Old Shutters