If you like to collect vintage treasures, meaning anything old that speaks to you in a special way, you may also want to show those items off. After all, why collect something just to keep it in a box or cabinet to be pulled out every once in a while to look at. I love to make my vintage pieces a part of my home décor. Not only do they add a certain rustic appeal, but they can also be wonderful conversation pieces. If you are wondering how to decorate with vintage items, I have some ideas for you!
Inspiration For Decorating With Vintage Items
I have found that intermixing those vintage treasures with more modern pieces creates a more interesting design. Shelving units or window ledges are great places to display décor. Here are just a couple of examples of how I have displayed some of my vintage pieces in my home.

In this shelving unit, I have a mix of several vintage items along with art, photography, industrial scrap, and a few store bought pieces. I tucked a little vintage dog behind the chair for a little subtle interest.

Our windowsill seemed like a natural spot to hold our vintage violin. A set of vintage books fit nicely in the more modern style lamp that my husband built.
I looked around for more inspiration and found plenty of great examples. Here are a few of my favorites:

The barstools and locker are such a cool addition to this kitchen owned by Kirsty Brooker.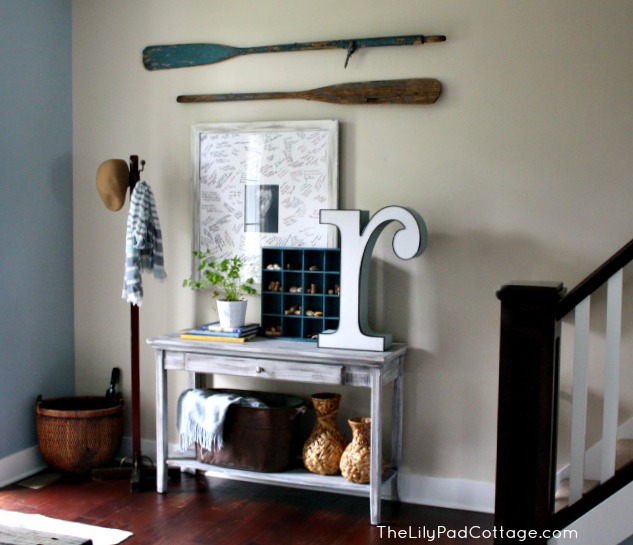 An entry way is a fun place to add a lot of character with vintage treasures. The bigger the variety, the more interesting the vignette!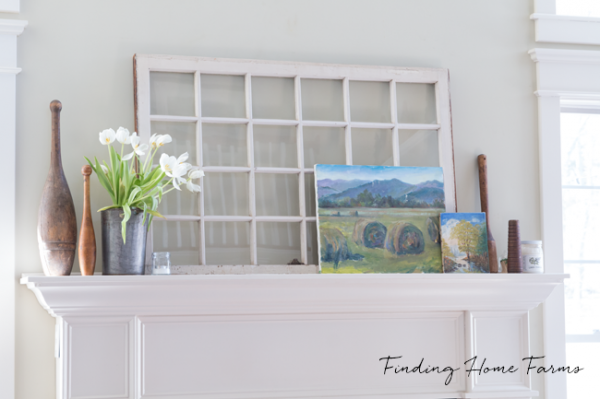 This Spring mantel, from Finding Home Farms, is another good example of mixing artwork with vintage pieces for more of a rustic chic look.
For more like this, see:
Decorating With Vintage Treasures
Antique Collecting For Your Home Interior
Vintage Decorating With Boat Oars