If you have never realized how many great shabby chic accessories there are available to purchase, then I am going to make you quite aware!  There is no sense in just having myself tortured with the temptation of buying these items.  I am going to showcase what I have been finding for you to drool over too!  HA!
Seriously though, I have found some goodies that will make decorating your home a breeze.  Because after all, sometimes after all of the diy projects and crafts that we complete, to use in home decor, it sounds good to just go out and buy a treat once in a while!
List Of Shabby Chic Accessories:
You can click on each of the photos to be taken directly to the stores.

Delfina covered jar sold by Crate and Barrel.Chic glass jars are a must for holding a variety of shabby embellishments such as pine cones or vintage bobbins.  A grouping of jars in varying heights and widths looks great on a table top.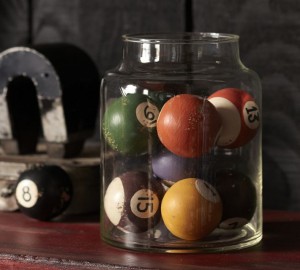 Pottery Barn sells vintage pool balls and other fun fillers for glass jars.
Happy Shopping!