If you own a cabin or cottage or dream of having one in the future, you may already have some thoughts on how you would decorate your retreat. It probably isn't quite the same as how you would choose to decorate your home. I'm thinking a relaxed atmosphere that is maybe a little more off the wall or quirky. A cabin is a place that you can experiment a little or go away from the typical norm. Since it should be a haven to go to for fun and relaxation, the decor style should also reflect a more carefree setting. Our own cabin is unique and more relaxed than our home. I found some unique cabin decor ideas to inspire you for your own retreat.
Some things to experiment with may be the flooring and wall materials, lighting choices, and unique decor accessories. All of these cabin decor ideas offer something out of the ordinary and fun. Give your vacation get away that little something special that you wouldn't find at home.
A Collection Of Cabin Decor Ideas
Use Quirky Finishes
Would you believe that we use just the OSB flooring, with a thick coating of poyurethane, as our finished floor? We also put plywood on the walls with a whitewash stain. It's definitely fun to experiment when it's not your main home. And, you may be surprised at how much you like the end result. Here is an example of putting corrugated metal on a wall.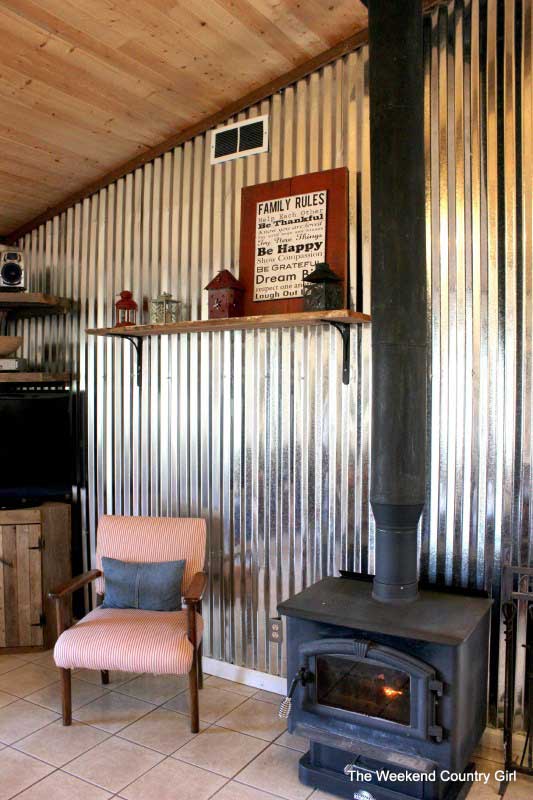 The look is edgy and rustic and does it's job of creating a more relaxed atmosphere. We actually used corrugated metal on a ceiling which also gives a fun look.
Incorporate Nature
Most likely your cabin or cottage is located in an area of beautiful nature. Why not bring some of that beauty inside to enjoy even more of it? You can make candle holders from logs, signs from branches, or simply display your favorite natural items. Here is an example of artfully hung greenery.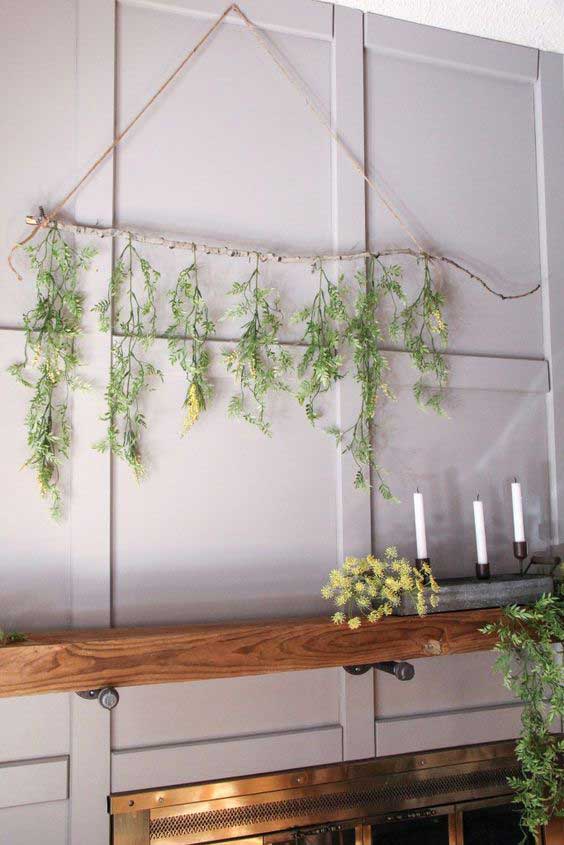 With nature, it's all about the display. You can get really creative with the things that you find. I love how this pretty greenery is hung from a simple branch. All you have to do is find a decorative branch and hang it to the wall with twine. Then, attach the clippings. I actually like this idea even better than fresh flowers!
Sleeping Nooks
When you have a cabin, you have visitors. And, a lot of time you have overnight guests. After all, it's fun to share your retreat with family and friends. To accommodate a large group, you need several sleeping areas. Sometimes this means getting a little creative. My husband came up with a double bunk bed design to fit four people. We also have a large window seat that can be used for sleeping. Wherever you can find an open space, think about incorporating a built in bed. Make use of that space under eaves like this example.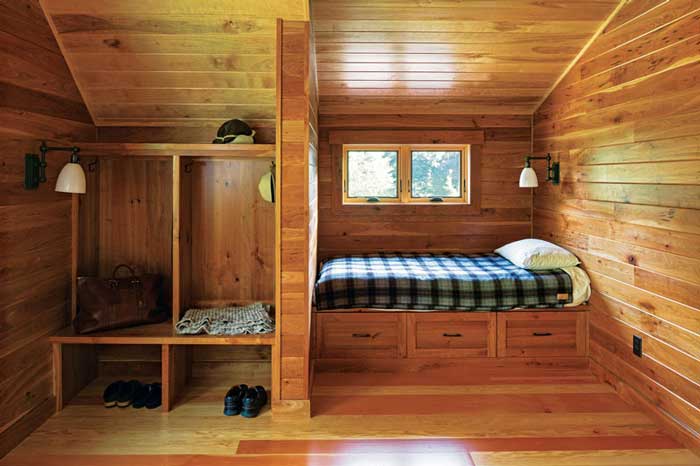 What may seem like wasted space under an eave can be turned into a cozy sleeping area for guests.
Accent Colors
Since a cabin or cottage is meant to be a playful place, don't be afraid to accent with some playful colors. I tend to stick with more neutral colors in my home, but I actually highlighted the color orange in one of our cabin bathrooms. Pick a favorite color and have fun with it. If your cabin or cottage is on a lake, a coastal blue color is fun to accent with.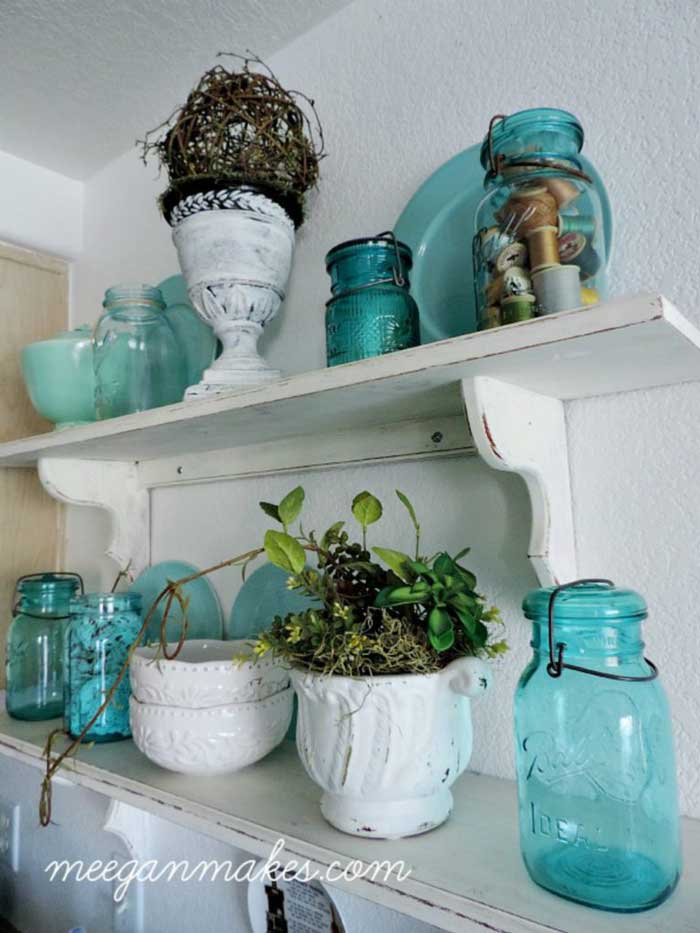 You definitely get a beachy and relaxed feel when you decorate with the color of water. It adds a splash of freshness to rustic cabin decor.
Fun Throw Pillows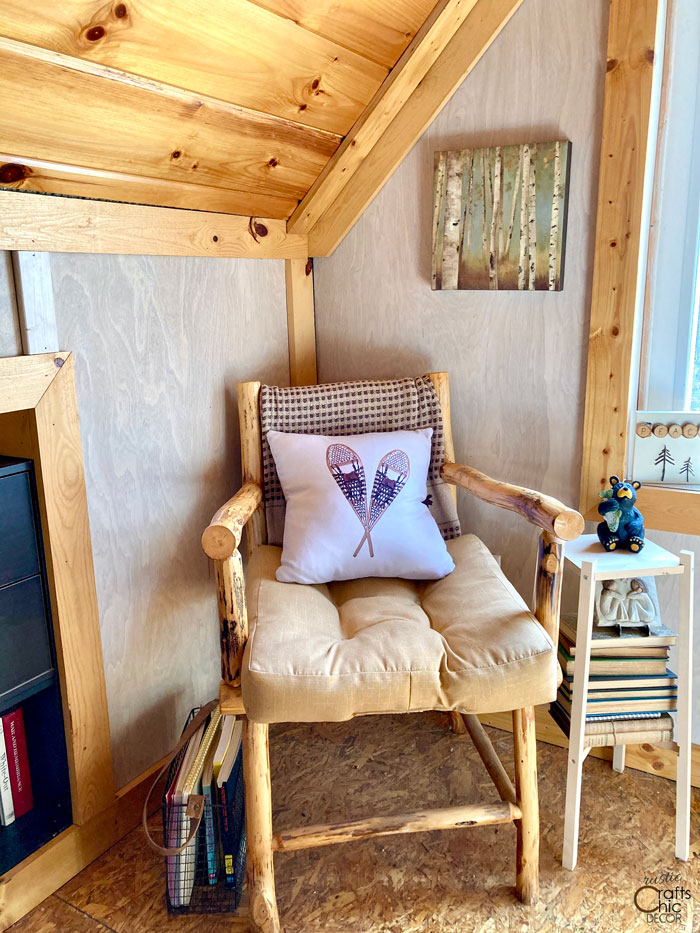 I definitely have a thing for throw pillows! While I try to go with more traditional pillows at home, my cabin pillows are all whimsy. Whether there is a cute saying or a fun rustic graphic, the pillows tell a story.
Cozy Blankets
You can't have enough blankets and throws available for those chilly days or evenings when you need to cuddle up. Keep them readily available by displaying the in baskets, on old ladders, or draped over furniture. Use cozy textures, colors, and patterns to make them even more inviting. I like to have interesting baskets set next to couches and chairs to hold warm throws. That way, they are readily available but still kept somewhat neat.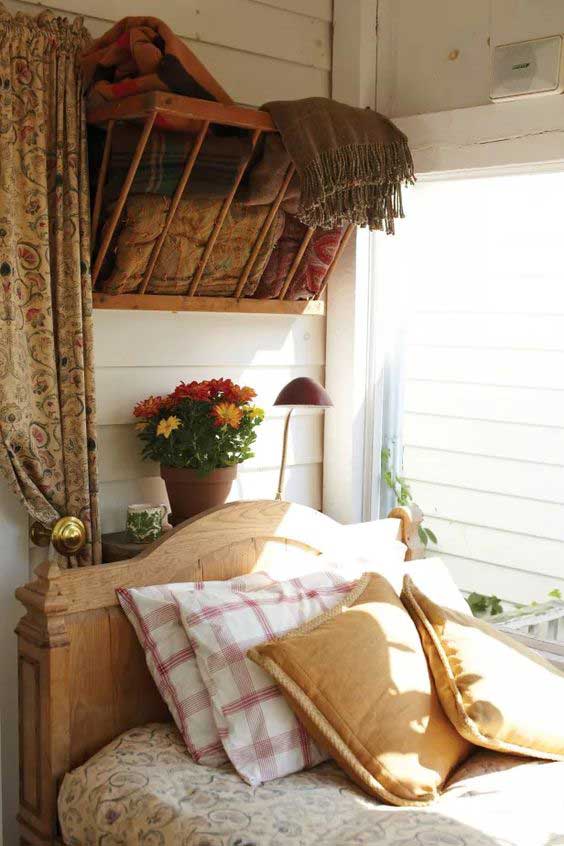 Here is a unique idea for blanket storage. Use a vintage hay bin for storing blankets overhead. Not only is this a convenient way to keep your throws but it also adds a whimsical touch to your decor.
Highlight Activities
What is your cabin used for? If you like fishing, display vintage fishing decor. Whatever your interest or interests, play them up with creative displays. Setting out things like snow shoes, skis, or vintage arrows are just a few more creative ideas. Canoe paddles are very popular to decorate with in cabin decor. You can display them as is or even make them into a coat rack.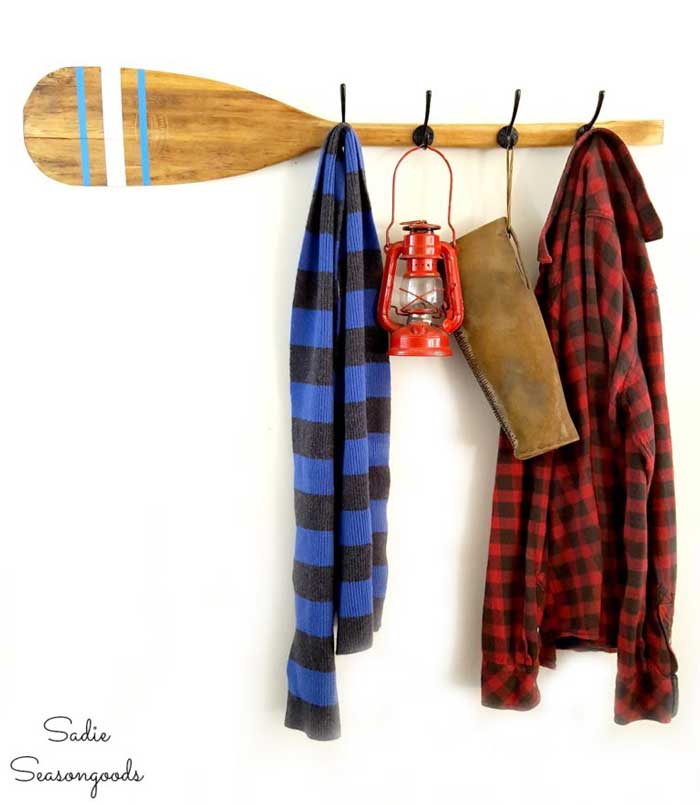 Painting a design, like stripes, on a canoe paddle just adds to the whimsy. It's also a good way to start incorporating fun color into your design.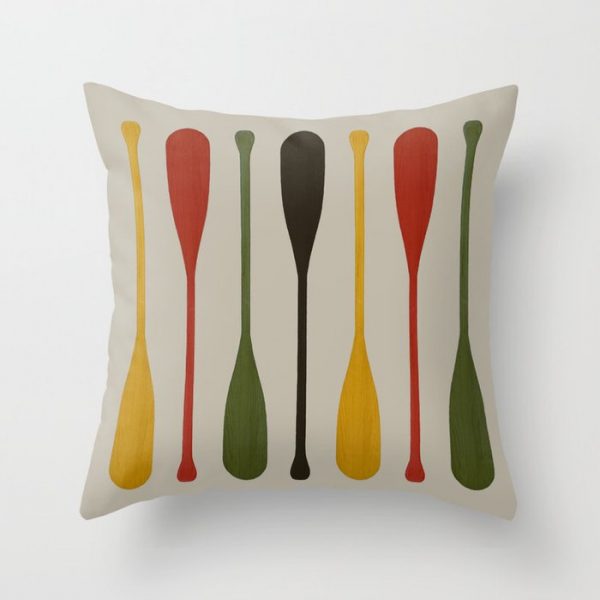 Kitchen Accessories
Stock up your cabin kitchen with decorative dishes and serving ware. A lot of cabins have open shelving so it pays to choose what you display with care. Displaying decorative dishes is a great way to enhance your cabin style. Like throw pillows, look for dishes with fun sayings or rustic graphics.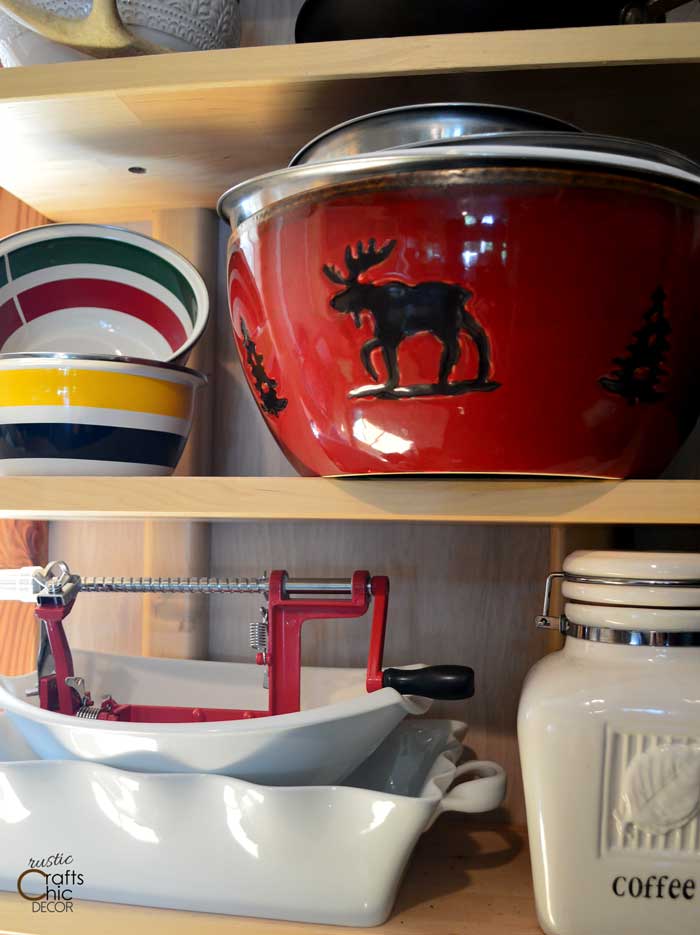 With all of the cute options available to purchase, you will have fun outfitting a kitchen in style.
Books
Out of all the cabin decor ideas, books are a must for any cottage or cabin. Since most of us are more relaxed on vacation, a cabin is the perfect spot to catch up on reading. Displaying lots of books makes a space even more cozy. Whether you stack them up or place them in bookcases, books have a way of warming things up. And, to really make things rustic, display a collection of vintage books. Go one step further and create or purchase a unique bookcase for displaying. My husband made a bookcase from an old canoe which goes perfectly in the corner of our cabin living room. Here is another idea that is anything but traditional.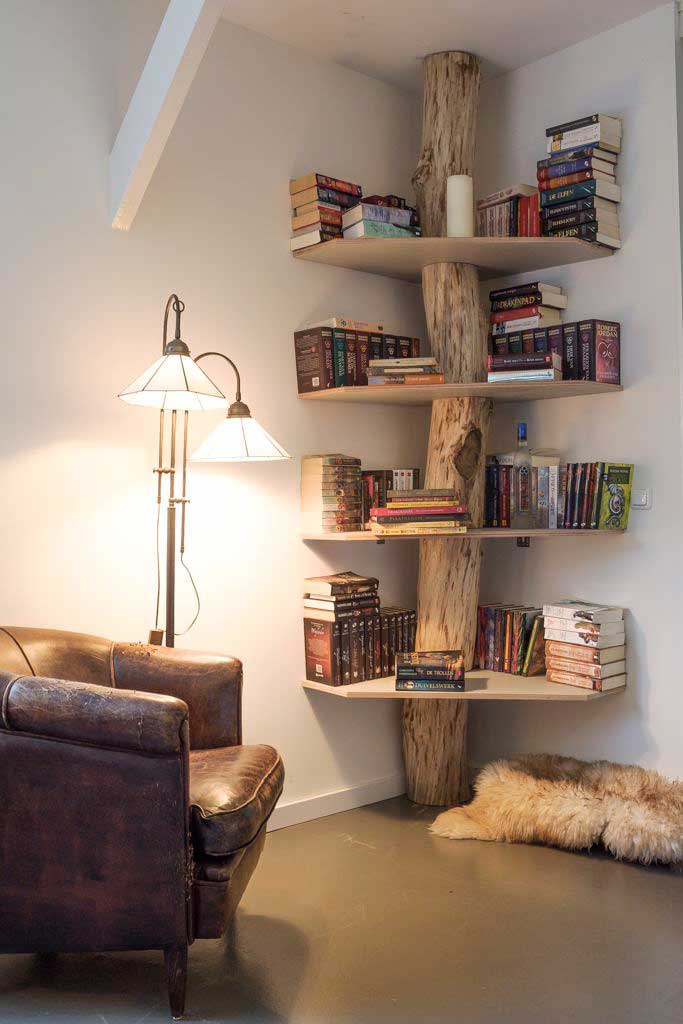 How is this display for inspiration? Remember I said to go whimsical with cabin decor? This project goes above and beyond. There was not a tutorial included and I imagine that every bookshelf, created in this way, will be a little different. It all depends on the tree log that you find for the support. Each one will have different curves to it so the shelves, that fit around the log, will have to be cut accordingly.
Basically, the tree that you cut should fit from floor to ceiling. Use a draw knife to peel off the bark for a clean look. Clean and prepare the log like we did for our log staircase. To make the shelves, use plywood to that is cut to fit around the log. The design is not set it stone. You just need the plywood to be deep enough to hold books. Use brackets that attach to the wall and underneath the plywood to keep the shelves in place.
Subscribe
Don't miss out on any of the decorating inspiration or DIY projects. Subscribe now to get the latest project ideas sent directly to your inbox.