Halloween is, of course, a time for tricks and treats and unfortunately all things spooky.  I don't really like scary but did come up with a craft idea that is spooky enough for me.  I happen to think that the works of Edgar Allen Poe, especially his poem The Raven, fall into the Halloween category.  Because of that, I thought it would be fun to incorporate the poem into a somewhat spooky, but not over the top scary, Halloween craft adorned with a couple of ravens.
I love crafts that incorporate old book pages anyway and thought that an old partial page from the long Raven poem would be a great accent.  Of course, the only problem was that I didn't have an old page of the poem…..so I made one!
First, I printed the poem off from the computer on plain white paper.  I then tore a section of the poem, that I wanted to use, from the page.  Then, I made myself a hot cup of tea…..but I didn't drink it.  I placed my poem section into a rectangular Tupperware container where it could lay flat.  I then took my tea bag and rubbed it all over the paper to give it a nice yellow aged look.  Since there was quite a bit of excess liquid in the container, I carefully removed the paper and placed it on a flat surface to dry.
While the paper was drying, I worked on the other parts of the craft.  The picture frame that I used was a black plastic or acrylic frame that I had.  I wanted to give it a weathered wood look and experimented with my weathered wood medium.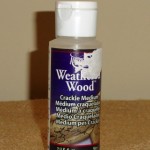 Usually I use this on wood and over one layer of paint.  However, I experimented and applied the weathered wood directly over the black plastic frame.  I applied a thin layer over the entire frame.  When that was dry, I applied a thin layer of copper metallic acrylic paint.  It worked like a charm to give me a nice crackled texture, allowing some of the black to show through.
I wanted a burlap base to work with so I simply cut a piece of burlap that was about 1/4 inch larger all the way around than my piece of glass.  I then sprayed my glass with spray adhesive and adhered the burlap directly to the glass, overlapping the edges.  I also sprayed a small amount of adhesive on the other side to secure the overlapped edge.  Then, I simply placed the glass back in the frame.
The most fun I had was making the raven cut outs.  I bought a Fiskars die cut punch from Joann.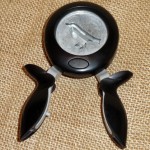 This was actually a crow but I say it passes just fine for a raven.  I used aluminum for a Coke bottle to make my die cuts.  First I cut the top and bottom of a Coke can with an exacto knife.  I then cut the can in half lengthwise and pressed it flat.  I made sure it was good and clean.  When I inserted the aluminum into the punch it cut as smooth as butter – I loved it.  I started whipping out birds like crazy.  I will have to come up with another craft!  I didn't necessarily want silver birds though so I used another fun new product.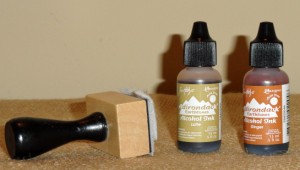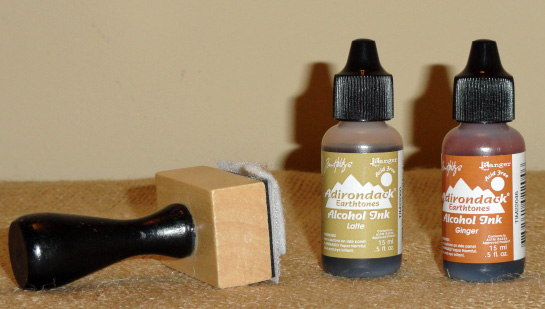 Alcohol inks!  These work wonderfully for coloring aluminum and it dries super fast.  All you do is apply a few drops to the applicator stamp and then press the applicator onto your aluminum die cut several times.  I used a couple different colors and I also used a black marker for accent.
Now I was ready to put everything together.  To adhere the poem to the burlap, I used Mod Podge decoupage.  First, I applied a thin layer of Mod Podge to the back of the poem and pressed the poem in place.  I then applied another layer over the top to seal and secure it further.
I always have lots of birch twigs stashed away in my craft room so I used a couple to make a tree trunk and branches.  I adhered these with tacky glue.
I again used tacky glue to place a couple of "ravens" into the tree.  I was going to make a pumpkin to place under the tree but as I was looking through my stash I found a pumpkin shape in my potpourri bag!  I sliced the back off of it so that it would lay flat and that was it.
Happy Crafting!

This project has been linked to the following link parties:
Whatever Goes Wednesday @ Someday Crafts
Transformation Thursday @ The Shabby Creek Cottage
Catch A Glimpse Thursday @ A Glimpse Inside
Delightfully Inspiring Thursday @ Delightful Order
Thrifty Thursday @ Saved By Love Creations