I love books! I love the smell of them as I read and I would never want to destroy a good book. However, there are always those books whose pages are better off in a crafty design than left in written form. For those, I have some great book page crafts for you to use to recycle them.
If you don't have your own books, you can always go to a thrift store and pick up a stack of paperback books for next to nothing. If it's garage sale season, that is a great place to pick some up as well. Of course, for most of these book page projects you only need one or two pages. This means that one book may be all that you need to do several of the crafts.
However, you can also make your own aged book pages with my simple aged paper technique.  Just print off your own papers to look like an old book page.  You can also use this technique on any paper back book page to give it an aged look.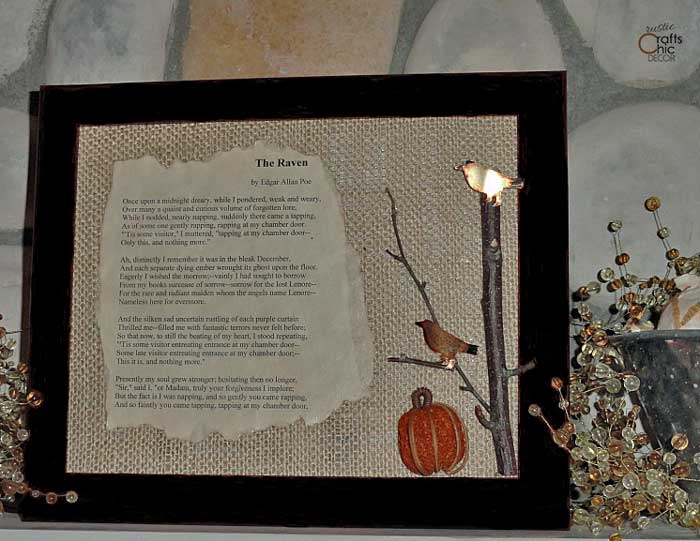 This is the craft that I made with my aged paper technique.  I did it for a Halloween poem but you could print off an excerpt from your favorite book or any poem and decorate a frame in much the same way. When you are looking for a particular book excerpt, it usually works best to print your own page rather than search for the book to use.
Book Page Crafts
Whatever you decide to use, I think you will enjoy some of these fun craft projects. All of the tutorials for these crafts are easy to follow and inexpensive to make.
Create A Book Page Bookmark

TUTORIAL: How To Create A Book Page Bookmark
A bookmark made with book pages is particularly fitting. Any book lover would enjoy a bookmark like this. For added style, I like to add sketches of flowers or other nature items to the book pages. If sketching is not your thing, you could always just use stencils to create a unique design. The neutral background of a book page works perfectly for highlighting sketches.
A Book Page Pumpkin Craft

TUTORIAL: Book Page Pumpkin Craft
One of my favorite seasonal book page crafts is this fun book page pumpkin. It is so much easier to make than what it looks. In fact, it wouldn't take long to make several of these, in different sizes, to set out as a Fall grouping. This project does require a full book per pumpkin. However, it is a great way to use up some of those books that you no longer need.
Craft Some Book Page Filler Balls

TUTORIAL: Book Page Filler Balls by Muslin And Merlot
These pretty and chic book page balls make the perfect vase fillers. Fill glass bowls and vases or set on a ledge or fireplace mantel. Wherever you put these balls they will definitely add a pretty touch.
Create A Dahlia Book Page Wreath

TUTORIAL: Dahlia Book Page Wreath by A Wonderful Thought
This unique wreath is a pretty way to decorate an inside door or wall. I love wall art that is unique like this. Although a book page wreath would look great on any wall, I especially like the contrast on a wood plank wall. It gives a definite rustic chic appeal.
Book Page Leaf Garland Craft

TUTORIAL: Book Page Leaf Garland by The Nester
Beautiful garland doesn't have to be expensive. In fact, some of the best garlands are practically free! Cut out leaves from book pages and string them together for a decorative garland that anyone would want. The neutral look is perfect for most spaces.
Craft A Strand Of Book Page Feathers

TUTORIAL: Book Page Feathers by Life Is A Party
Similar to the book page leaf garland, these chic feathers are great to adorn a shelf, mantel, or wall. The touch of gold glitter adds a nice touch of glam for a shabby chic space or to use during the holidays.
Book Folding For Unique Birdhouses

TUTORIAL: Book Folding Birdhouses by Red Hen House
With a little clever folding, you can turn a book into unique and decorative indoor birdhouses. Here is another book page craft that requires an entire book. I love the three sizes displayed together on the rustic wood table.
Simple Book Page Flower Wreath

TUTORIAL: Farmhouse Book Page Flower Wreath by Raggedy Bits
With a simple embroidery hoop, it's easy to create a wreath that is perfect for a farmhouse style home. Because the flowers are made from book pages, the look is especially rustic chic. The nice part is that you only need to cover a third of the embroidery hoop to get a ton of impact. Sometimes less is more!
Make Book Page Flowers

TUTORIAL: Book Page Roses by Krista Sew Inspired
Create roses to put in a vases by creating these book page flowers and attaching them to rustic birch branch stems. It's a fun look with great styling. You can also leave the stems off for adorning other objects.

TUTORIAL: Twiggs Studios
These book page flowers make the perfect embellishments for gift wrap, scrapbooks, or other craft projects. Although the flowers look intricate, they really are not too hard to make. 
Craft Some Book Page Bird Clips

TUTORIAL: Under The Table And Dreaming
This little bird clip is just so adorable!  I do have a thing for birds and this one is no exception. Use it as a clip or simply stand in on a shelf for a little rustic chic decor. I think it would also be cute to make several of these to clip to a Christmas tree.
Transform A Plain Candle Holder With Book Pages

TUTORIAL: Think Crafts Blog
A candle holder is something I would definitely use and one covered in book pages is the style for me!  I love this idea. The mosaic look of the book page pieces is very similar to the idea for making a Christmas ornament using a vintage song sheet.
Create Framed Artwork With Book Pages

TUTORIAL: Good Housekeeping
How about making artwork out of your favorite hardcover book? A shadow box works great for this display. I especially like this idea for displaying poetry or children's rhymes.
Create A Pencil And Supply Holder with Book Pages

TUTORIAL: Reduce, Reuse, and Redecorate
This book page pencil holder is so cool, I just have to make one of these for my home office! The styling of this holder is definitely a conversation piece. Something like this would also be a great gift idea for a book lover.
Decorate A Picture Frame

SOURCE: Wohler's World
Decorating a picture frame is always a great idea too. You could take a series of unmatched frames and decorate them all with book pages to make them uniform for a mantel or shelf setting.
After using all of those book pages for craft projects, you may be left with a few covers. Not to worry! You can easily turn an old cover into a fun and decorative picture frame.

TUTORIAL: How To Make A Picture Frame Using A Book Cover
Do you have a favorite from this collection of book page crafts?  Let me know your thoughts…….