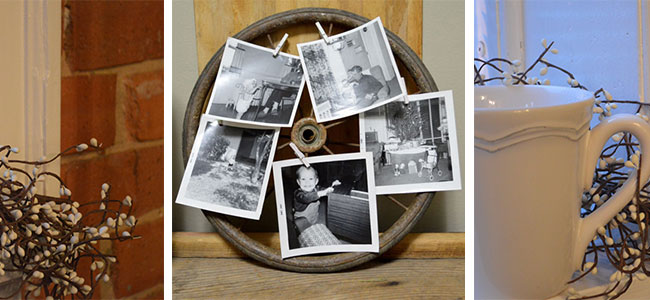 How To Make A Placemat Using Burlap Coffee Bags
Burlap Fabric provided me with the main materials I used in this craft project. The opinions I shared about using these materials are my own, and Burlap Fabric did not tell me what to say or how to say it.
I love the look of burlap bags, whether they had been used for coffee or grain, the motif on the burlap is always a great design. So, when Burlap Fabric contacted me about using some of their product in a craft project, I was pleased to see they offered authentic used burlap coffee bags. I figured, for one, I could make some placemats lined with plain white burlap, which they also offered.
How To Clean Burlap Coffee Bags:
Before I could start making the placemats, I had to do some prep work. Since the coffee bags were authentic and used, they were dirty! This is to be expected and can be remedied with a little hand washing. You don't want to just throw a coffee sack into your washing machine or the ink from the motif will fade. I washed one bag at a time in a deep sink with a tablespoon of laundry detergent and rinsed well. I then placed the bag on the spin cycle of my washer to get the excess water out. For the sake of time, I dried mine on low heat in the dryer making sure to empty out the lint trap afterwards. There were plenty of burlap fibers! You could also place the coffee bag inside a pillow case tied shut with a rubber band, while drying, to help collect any loose fibers. I then ironed it flat using a hot iron and a little spray starch.
How To Make A Placemat
1. I started by cutting a coffee bag in half to have the two sections of fabric to work with. I cut the back off of a bag just inside the side seam in case I wanted that seam left on for a different type of project, like the hot pad project at the end of this post. I had also used a seam ripper to open up the top fold of the bag to get the most out of the fabric.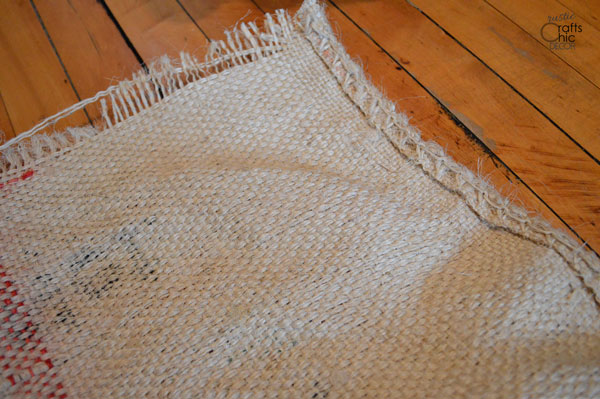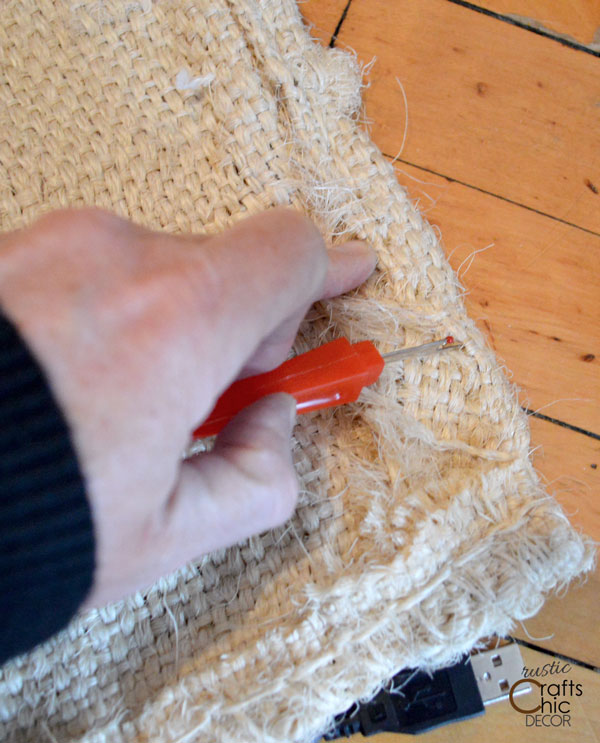 2. Next, I chose where I wanted the pattern of my placemat to be, from the coffee sack, and cut a rectangle 13 inches wide by 17 inches long. I then cut a rectangular piece from my white burlap at 12 1/2 inches wide by 16 1/2 inches long.
3. From each of the edges of the coffee sack rectangle, I unraveled approximately 1/4 inch by pulling single strands from the edges.
4. To keep more strands from unraveling and to adhere the white burlap to the coffee sack, I simple sewed the two together with an 1/4 inch seam allowance, back to back.
5. I wasn't worried about that raw edge because I am cleaning that up with some linen ribbon and fabric glue! I just cut out the lengths of ribbon to match the lengths of the placemat sides and glued them in place, overlapping in the corners.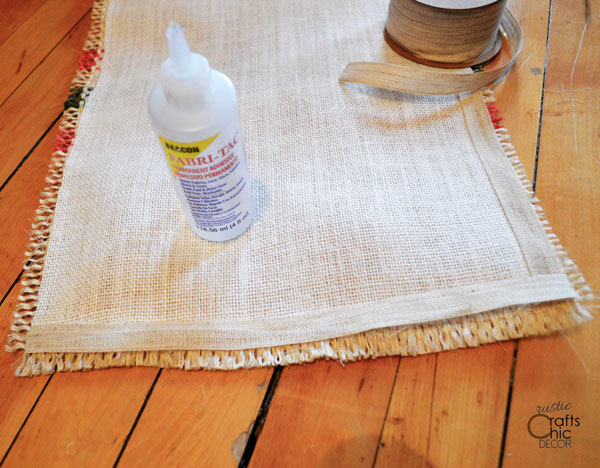 I was able to get four placemats out of one coffee bag so a set of twelve will only take three bags. I like the colors in the sacks I chose and will especially like to use these at Christmas time with the red and green. I am super happy with the thickness of this burlap as it is perfect for placemats. I really didn't even need to line the back with the white burlap for the weight but I still wanted to do it for the softness. The coffee bags have a bit of a rough texture and I didn't want to take a chance of getting any scratches on my maple dining table. They probably wouldn't scratch but I do like the softness of the white burlap fabric and the added security it gives.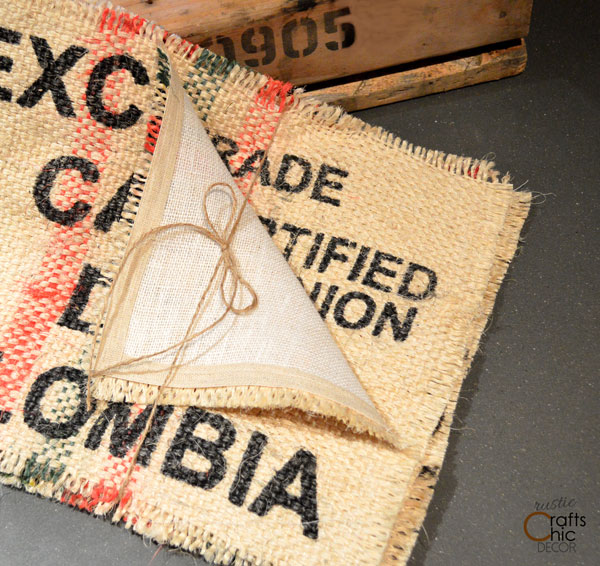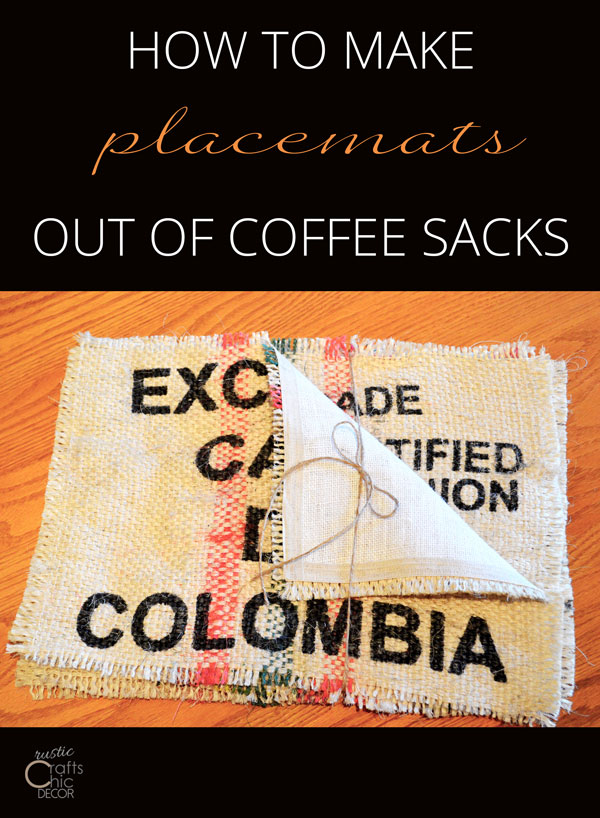 What To Do With Coffee Bag Fabric Scraps:
When I was finished cutting out my fabric for the placemats, I of course had some scrap fabric left over. I didn't want to waste these small pieces so I came up with a couple of quick small projects that could be useful and decorative.
My first idea was to make a simple hot pad. When I saw how nice the coffee bags stood up to a very hot iron, I thought wala! This burlap is so thick, it would be perfect for a hot pad. And, if I was going to line it too that would just be another layer of protection.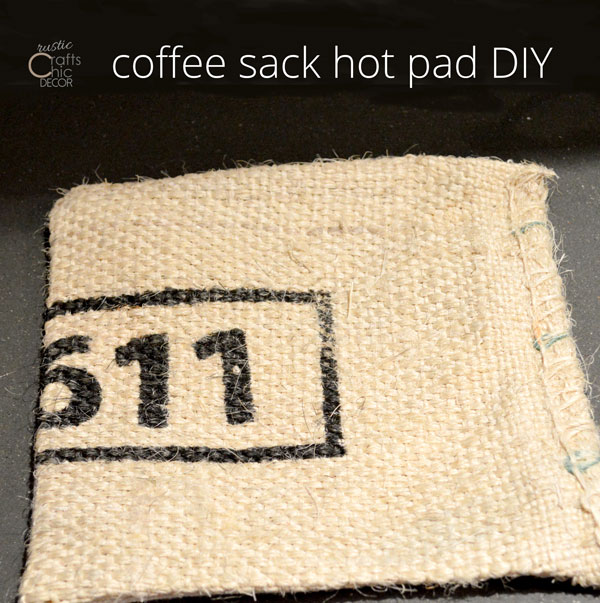 I just sewed a square of coffee sack together with a square of white burlap, right sides together – just like a pillow leaving one side open. I then turned it inside out and pressed the linen edge under and sewed in place. Here is the example where I left that thick side seam in place for looks.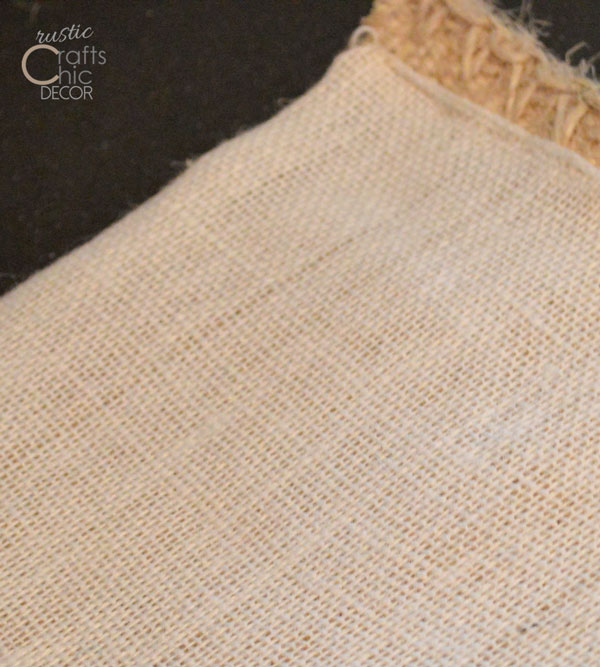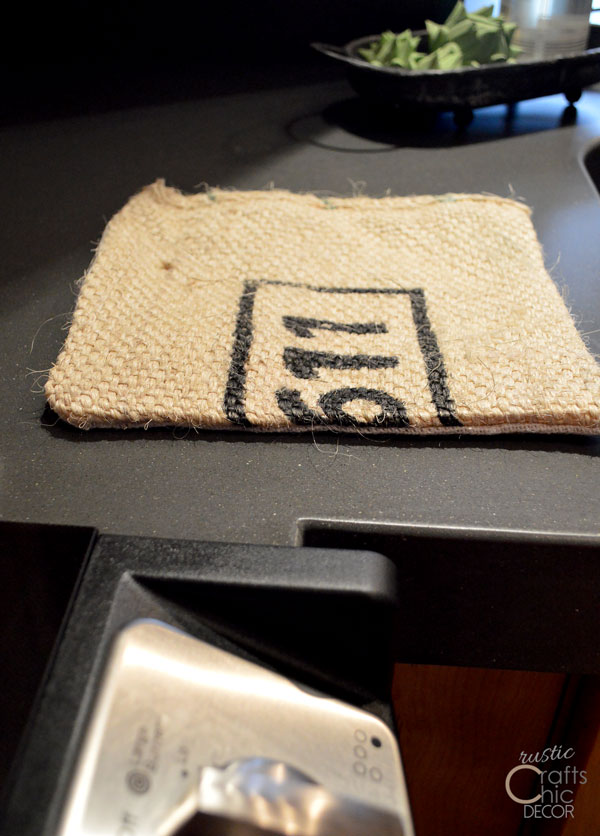 Probably the easiest way to use up a scrap, and maybe the most obvious, is simply to frame a piece. I have a few punches of red in my entry way so wanted a piece that was either just neutral in color or that had a little bit of red in it. I picked a number section with a little bit of red stripe to frame.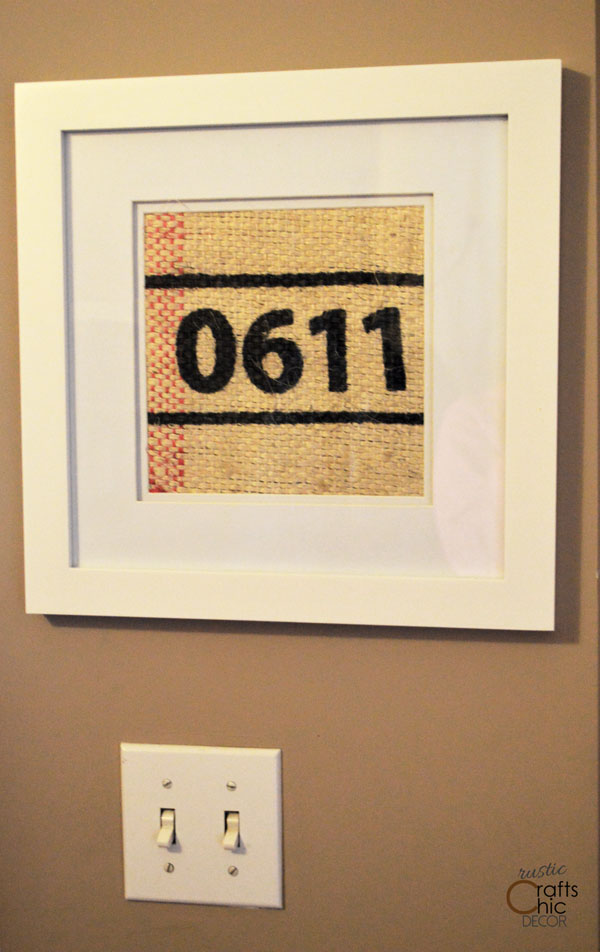 I have some ideas for more burlap crafts so stay tuned for what I have coming up!