Do you ever wander through lighting stores with high expectations of finding exactly what you are looking for, only to come up short on delivery?  Or, maybe you find exactly what you want but the price is three times higher than what you budgeted for!  Yikes!  If you need to outfit more than one room or even a whole house, you can quickly be spending a fortune.
I love seeing unique and interesting light fixtures and desire to have something out of the ordinary throughout my own home and cabin.  That is where homemade lights can really do the trick.  You have the control to create something with just the colors, texture and theme that you are looking for and you can better control the cost.
When we were building our cabin, we were on a tight budget.  I didn't have time, then, to even think about homemade lights because of all the other projects.  To save some money, I purchased a lot of my lighting by bidding on Ebay.  I did get some very good deals and most all of the lights I am happy with.
There was just a slight mis-calculation, however, on the sizing of the dining table light.  Also, we really wanted something a bit more rustic for the cabin.  This is what we had installed: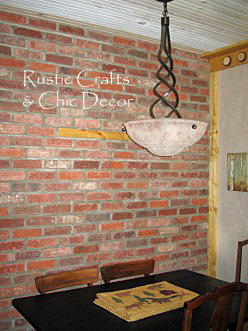 I liked how it looked against the brick.  I didn't like how big it was and it just wasn't rustic or vintage enough.  So….we kept our eyes open for something a little different.
And, sometimes inspiration comes from the weirdest objects!  We found an old sifter from an antique store that was the perfect size, color and texture that we wanted for a pendant light.  It was easy to convert it into a light by just purchasing a pendant light wiring kit and cutting a small hole through the small end of the sifter.
To make it look even more vintage, we used a vintage Edison bulb that you can find at almost every home improvement store.
Here is a close up of our "new" homemade vintage light: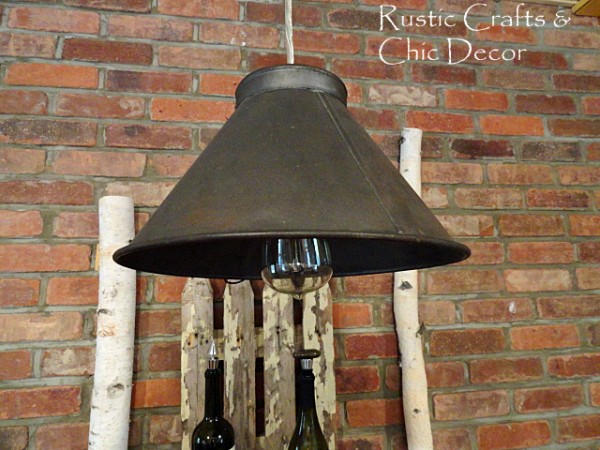 It is a much better fit for the theme of our kitchen.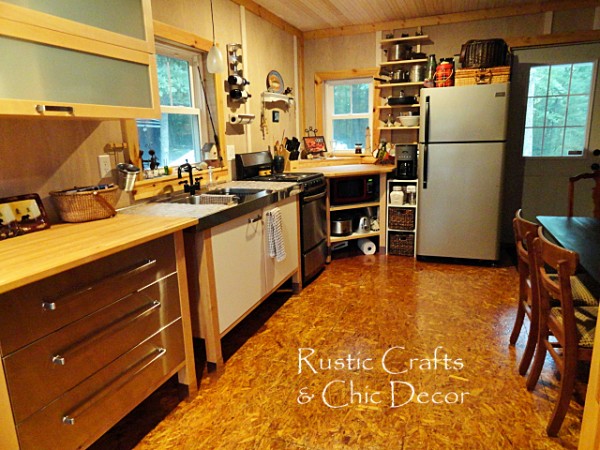 For more ideas on unique homemade lights, make sure to check out my post on DIY Lighting Ideas For A Shabby Chic Style.
Happy Decorating!