Of all the recycled materials that we have in our homes, plastic bottles or containers have to be one of the most abundant.  We have detergents and cleaners,  soda and water bottles, shampoos and conditioners…..you get the picture!
With all of those bottles, there has to be something fun to do with them.  And, of course there is!
You may have already seen some cute plastic bottle crafts around from toys to bird feeders.  But, did you know that there are some pretty classy ideas out there for re-using those plastic bottles in home decor?
I found a few that you might want to try that you will hardly believe are actually made from plastic bottles or containers.  So, prepare yourself to be amazed!
Plastic Bottle Crafts:
1.  Concrete Pendant Lights made from plastic bottle mold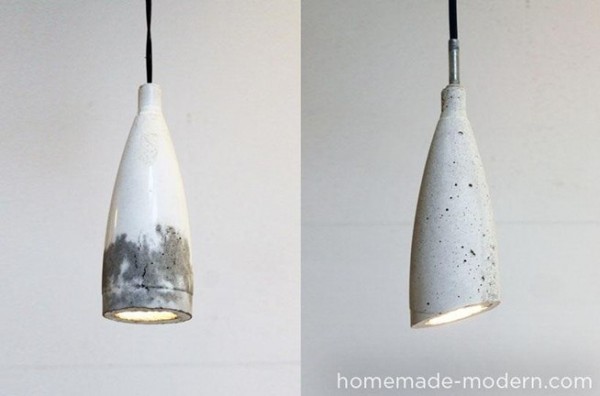 Here, plastic bottles are used as a mold to shape the concrete to make the ultra chic pendant lights.  You can create a variety of different designs based on the shape of the bottles that you use.  Check out the easy video tutorial for making these.
2.  Delicate Glass Looking Vase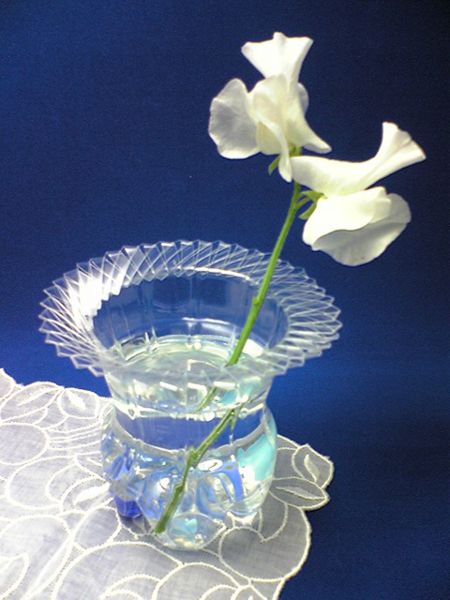 This pretty vase looks like it would be made from glass but it's actually made from plastic bottles.   No worrying about tipping over and breaking this vase!  Get the step by step instructions here.
3.  Plastic Flowers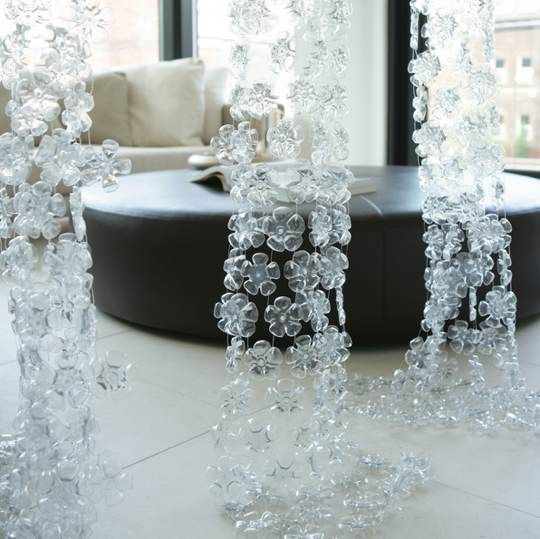 These super simple plastic flowers were made from cutting the bottoms of a plastic bottle and stringing them together.  Use the sections for wall art or window screens.  The full easy instructions can be found at Instructables.
4.  Tea Light Candle Holder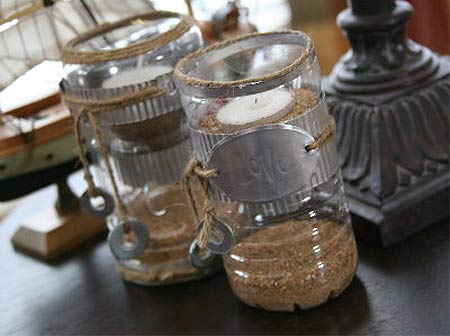 This tea light candle holder is such a fun design and uses two parts of a bottle to make up the entire candle holder.  The addition of the metal accents and sand gives it some serious design!  You will find that the tutorial is not too complicated to complete.
5.  Knitted Covers For Bottles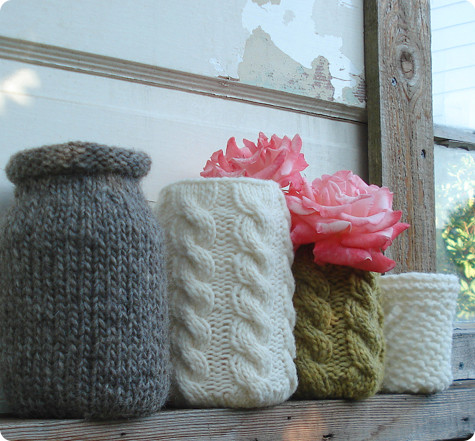 For all of you knitters, this is a great way to re-purpose those glass or plastic bottles.  This ideas, by Design Sponge, is for knitting a decorative sleeve for recycled bottles.  However, if you are not a knitter, there is a short cut.  You can recycle an old sweater at the same time.  Just cut the sleeve from a worn sweater and slip it over the bottle.  Fold the cut edge under the base and secure it with glue.
Happy Crafting!