I have been asked, by readers, what we used on our cabin walls to finish them off.
Well….as with most of our cabin projects, we went with an idea conjured up in our heads.  We wanted something rustic and yet still light and airy.  Our cabin isn't real big so I didn't want it feeling like a cave.
We went with a tongue and groove pine ceiling, which I loved, but wanted something lighter for the walls with a smooth texture…..and still rustic.
I liked the idea of just putting up sheets of wood quickly and easily to get a rustic look.  We used beadboard in our bathrooms stained a golden pine.  However, we didn't want quite that much texture for the main living area.
That is when we thought of something that I never saw anyone else put up on their walls…….plywood!
Finishing Cabin With Plywood On Walls
At first I thought…ewe……especially when my husband wanted to stain it!  I knew without a doubt that I DID NOT want to do that.  We, mainly I at the time, was after fresh and airy…..not dark man cave. I had to figure out how plywood on walls could work.
The first step was picking out the plywood.  There are a lot of variations!  We finally decided on a Tigerwood which had a little bit of nice grain but didn't get all crazy with color variations or knots.  It was a nice subtle wood.
We thought about painting over the plywood, but then we would lose the whole affect of putting wood on the walls in the first place.
Finally, I came up with the idea for a whitewash look that would allow the grain of the wood to show through.
How To Whitewash Plywood
We found the perfect product to use from Min-wax.  They have a great whitewash pickling stain.
It was fairly easy to apply but you had to brush it on and then rub the stain off.  So….my daughter and I worked on this in sections and we had to make sure that we were rubbing the stain off at the same consistency to give the walls a uniform look.
There were a few spots that we had to do a little rework by adding more stain and rubbing until it matched the rest but overall it was a smooth process.
How To Finish The Plywood Seams
Because hanging plywood sections leaves seams between the sections of wood, we also hung up battens.  We just used the most inexpensive pine trim for this and also applied the pickling stain.  Because of the difference in wood, the stain on the trim came out a more solid white.  This was just fine with us because we liked the trim to stand out a bit.
Everywhere there was a seam, we attached one of our battens.  Of course, we had this in mind when hanging the plywood so were careful about placement so the batten design would be uniform.  You do get a little bit of waste but you don't want to have seams in odd spots!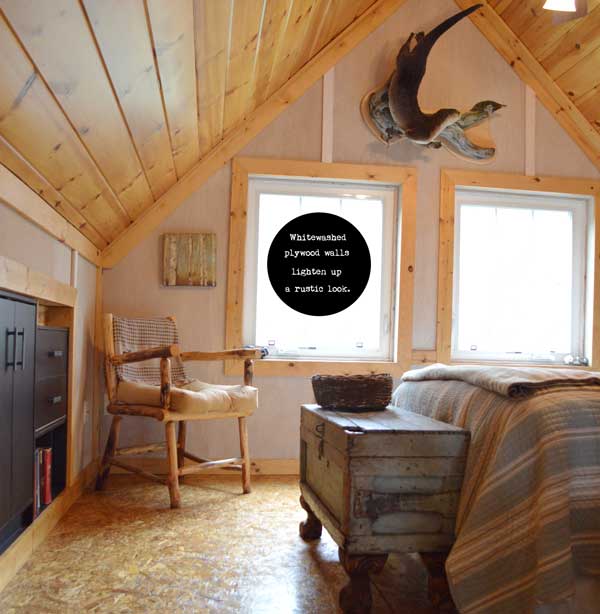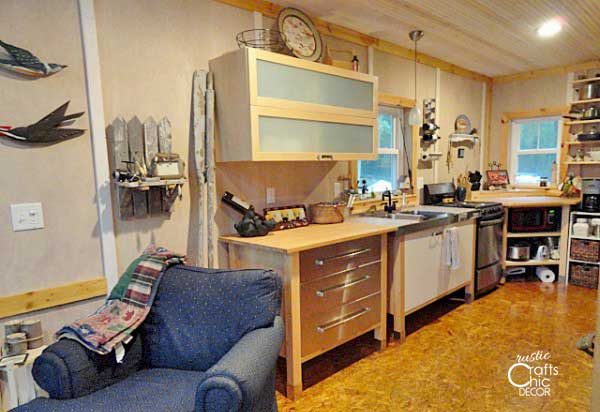 Also, as you can see in this photo, we finished the kitchen ceiling with a pine bead-board that we also applied pickling stain to.  There was a lot of variation in the wood colors which gave it a different look that blended well with both the pine stained trim and the whitewashed walls.