I bought a wood burning pen a while back and have just recently began to use it.  In fact, this is only my second project using the pen.  However, I will be doing a lot more because it is just so much fun!
I had seen Tikkido.com do wood burning on a birch vase before which gave me the idea to use it on some of my birch projects.  Since I had this lamp sitting around, waiting for a little pizzazz, I figured it was the perfect candidate to try out a little burning.  I liked the idea I had seen for putting initials and a heart on the birch tree.  After all, it is what you would expect to see carved out on a tree!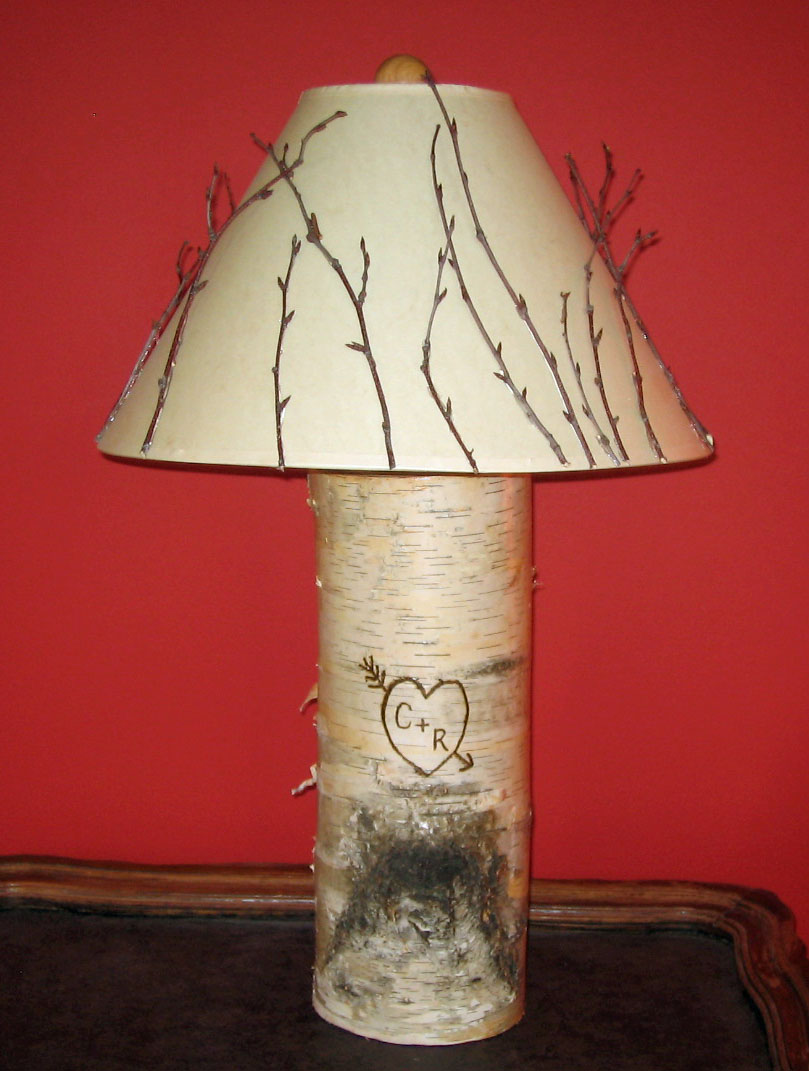 If you want to make your own lamp, first see my tutorial for building a lamp.  I have step by step instructions and ideas for many different lamps and shade options.
Supplies Needed For Complete Project:
birch log
lamp building kit
wood burning pen
lamp shade
birch twigs
hot glue
To make a wood burned design you can either first draw something out in pencil or simply use the wood burning pen free hand like I did.  I like to use the pencil tip end for the pen because it is easy to control and you can start with a thin line and go over it for a thicker line.  There should be several ends that come with the pen and a diagram for the types of designs you can make with each end.  Work slow and carefully to get a nice even line.
If you don't want to make a lamp, you could simply do wood burning on a birch log.  The craft tutorials that I have for birch candles and bird houses could also be embellished a little with some wood burning.
The Lamp Shade:
This shade was super easy to do.  I simply trimmed several birch twigs and hot glued them directly to the shade.  I tried to vary the heights and direction of the bend to give an interesting pattern to the finished shade.
**You can use any kind of twigs that you have available to you.  If you can't find any naturally, craft stores have plenty to choose from.  You could even add a little greenery if you wanted to.
3/28/3011   Update:
I found some inspiration as I was travelling up north over the weekend.  The temperature was just below freezing but the sun was shining brilliantly.  As I looked at the trees along side the road, I found the beauty of them to be breath taking.  The branches glistened like crystals as the sun beat down on the icy layer that was covering the trees.  It was beautiful.
I immediately knew what I needed to do to update the lamp shade that I had just done for this project.  The branches needed to glisten like the trees along side the road.  I figured that if I added some small clear glass sequins to the branches with a little tacky glue, it would give me the right look.
Here is what I ended up with: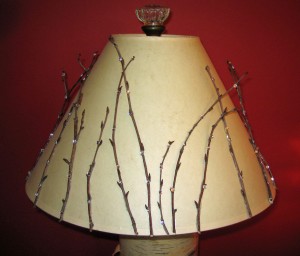 Click on the picture to enlarge