My husband and I have been fortunate enough to have inherited quite a few different antique beds that we have put to use over the years.  Our own set is one that I feel I could use forever.  The beds that we had gotten for the kids, however, have come to the end of their useful life.  Afterall, an antique twin bed is not really a true twin size.  They are definitely shorter and probably meant for a child.  Although, we have a full size antique bed at our cabin that is also definitely shorter.  Were people smaller back then?  We did manage to squeeze our standard size full mattress in the frame…but that bed definitely is going to go!
Anyway!
We had replaced the antique beds with bed frames quite a while back and didn't worry about headboards.  With teenage kids, the main concern is just finding the floor to get in and out of the room!  However, now I am working on redecorating my son's bedroom and feel inspired to create a fun headboard.  Plus I will be doing one for the replacement of that cabin bed too!
I had done one real easy headboard for our guest bedroom before: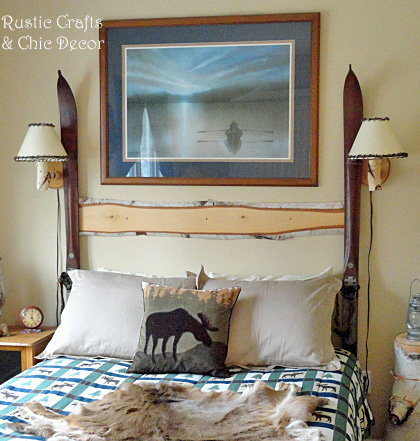 This one was just a matter of attaching a slice of a birch tree to the wall with screws.  Then I just propped up two vintage skis between the frame and the wall.  The way they are positioned, they stay in place perfectly, which is great because I didn't want to put a screw into the skis.  As you can see, there was barely any work that went into this idea.
So….
I started looking at different DIY headboard ideas, for some inspiration for my son's bedroom, that would be just as easy — I do have a whole room to decorate!   And, there are a lot of cool ideas out there that can be done real quick and easy – just my style!  Because of all these ideas, I thought I would share some of my favorites with you.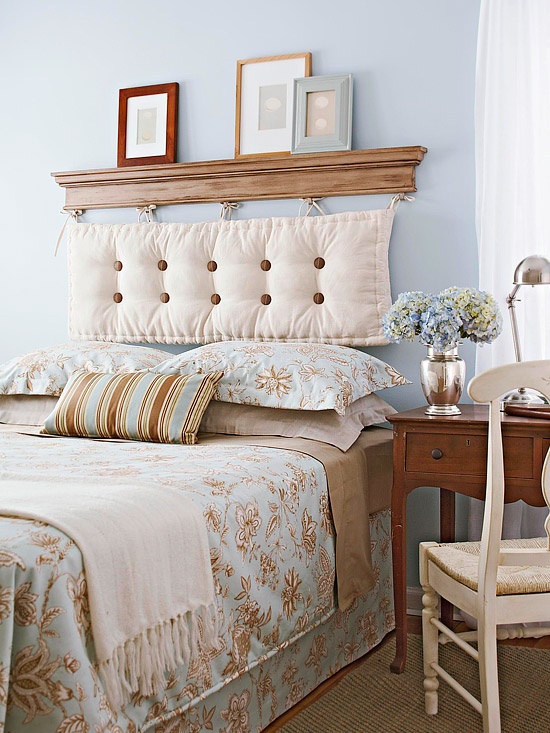 Upholstered headboards always looks so lush and comfortable.  Here is a super easy way to get the same look!  Just hang a bench cushion from a section of molding or a shelf and you have yourself an instant chic headboard.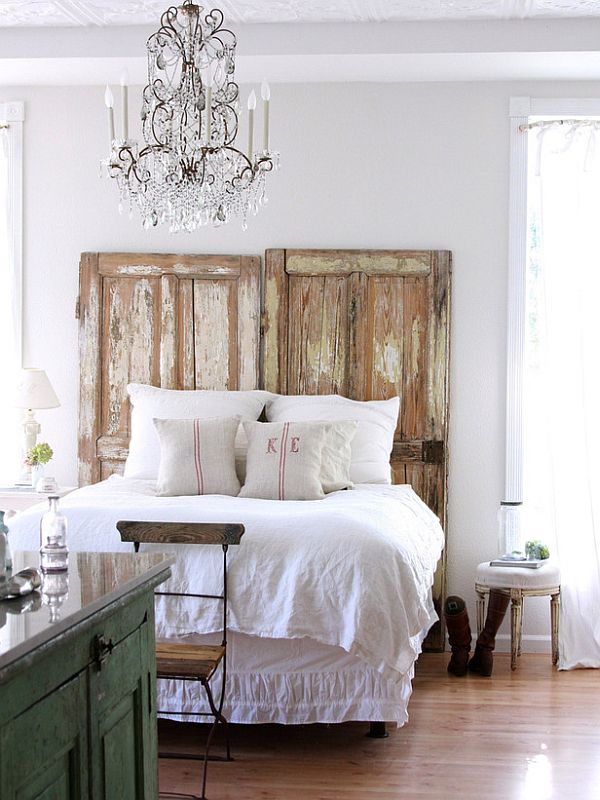 You can't get any easier than propping up a couple of old doors for a headboard and the look is so rustic chic!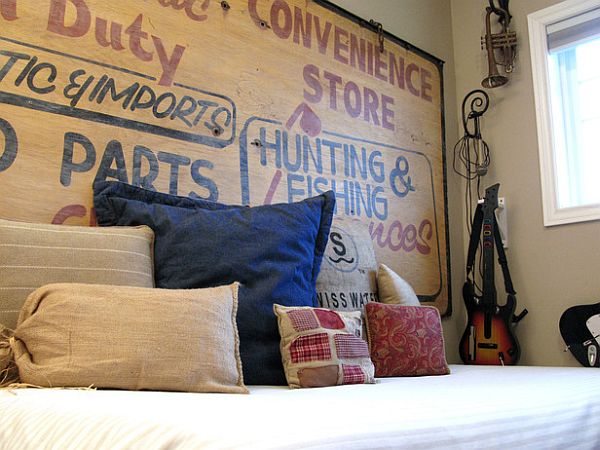 I desperately want to find an old salvaged store sign to hang it as a headboard like this!  So easy but packed with so much…WOW!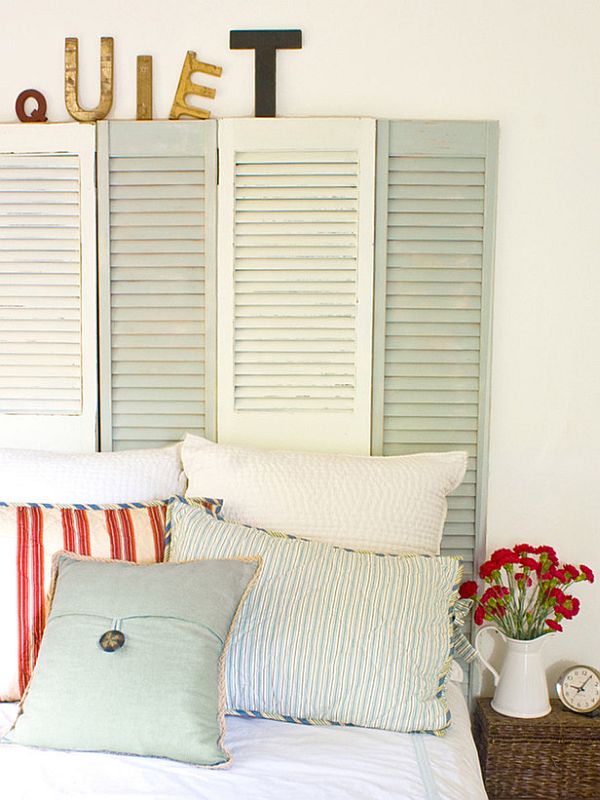 Old shutters are pretty easy to come by at antique or architectural artifacts stores.   I love the colors of these which give a light beachy feel and the added letters spelling the word "quiet" are such a fun idea.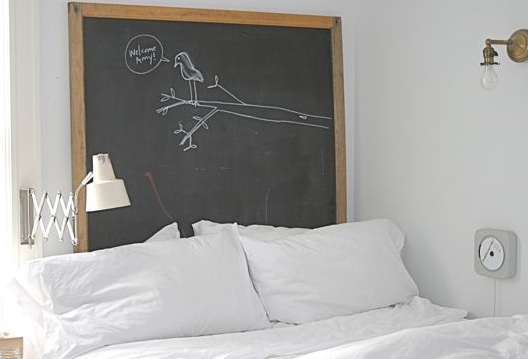 A chalkboard is a super fun idea for a headboard.  You can write..or draw.. any message you want!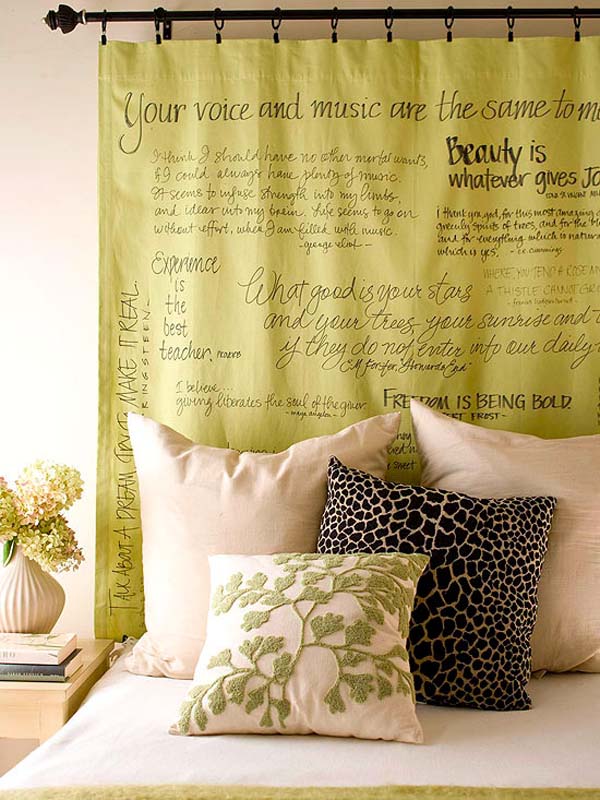 Here is a unique idea using a curtain panel and some sharpie markers.  Write out your favorite quotes or song lyrics for some hip decor.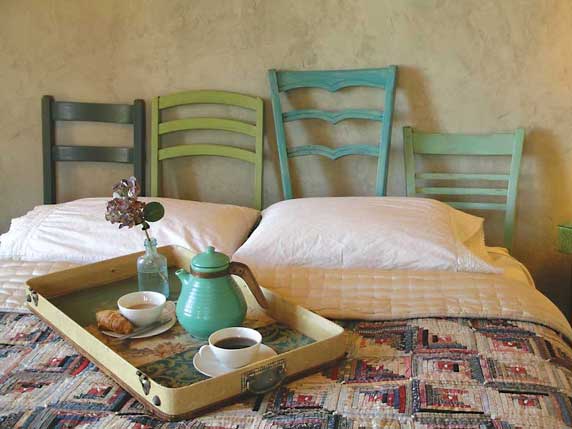 This one caught my eye because I already happen to have one chair back and I also love to collect wooden chairs.  It is such a fun idea!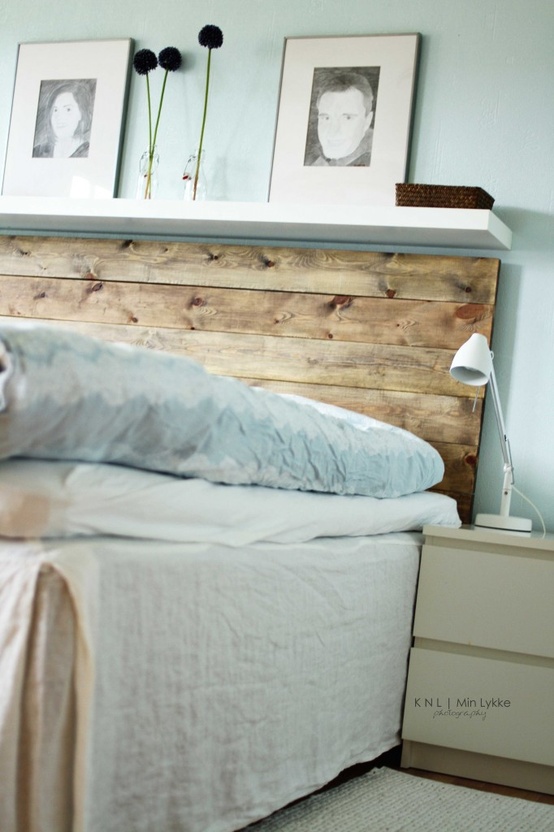 I love the fact that this headboard was made with new wood that was made to look old with stain.  It is a very simple construction and you can even get the wood cut to size at a home improvement store if you need to.  The added white shelf adds a nice amount of chic.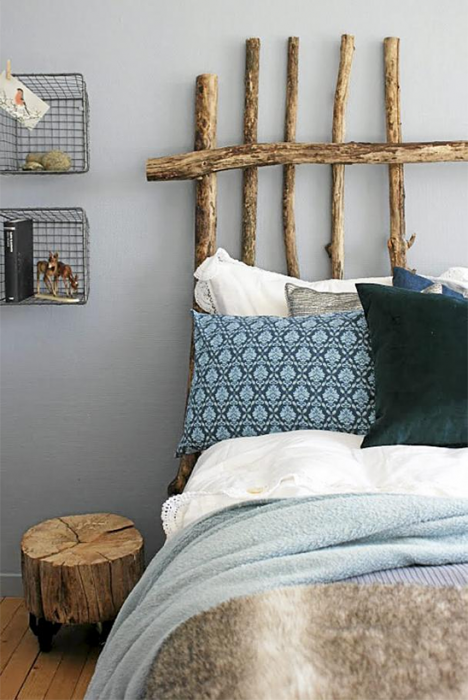 This last one is a definite winner in my book!  A big part of our decor is already made up of small trees so this would fit right in.
Do you have any easy diy headboard ideas that you would like to share?  Leave your thoughts and ideas below!
Happy Decorating!